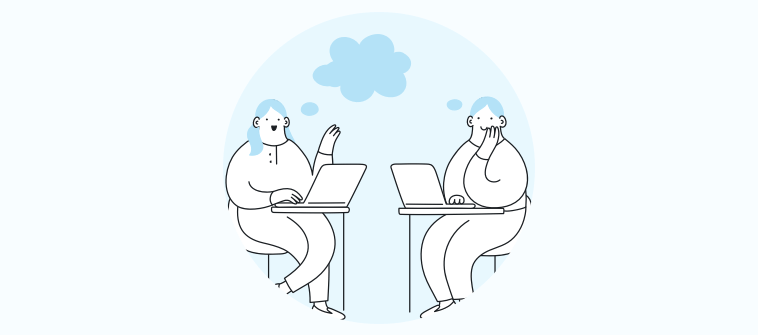 Do you remember the time when traditional offline training used to be a norm for corporates and educational institutes alike?
Surely, it did stand the test of time and reigned in the learning and development landscape for decades, but not without its share of flak from instructors and learners alike.
It's not just the exorbitant costs but also other aspects like selecting the venue, ensuring decent attendance, and low knowledge retention among learners that grappled the L&D industry.
Furthermore, offline training was considered dull & drab, and time-consuming, resulting in its inability to pique the learners' interest.
But then, with the advancements in technology came the big revolution. Technology metamorphosed the old-school system of conducting training and introduced the world to the online training software.
Given the bouquet of benefits it provides to both trainers and learners, online training has now taken center stage, garnering widespread acceptance and popularity.
The big question now is –
How you can make your learning management system even better to stay ahead of the game?
The best way is to make your online training more engaging and interactive. Something that drives communication among course-takers so that they can learn in real-time.
Adding a discussion forum is a good idea to achieve a vibrant LMS that immerses learners and elevates their appetite to learn. After all, learning in silos has never been the forte of humans. Their learning thrives on interactions and observations.
Therefore, including a discussion forum in LMS is an ideal solution to build collaboration by bringing learners and instructors on a single converging point.
Watch This Video:
How to Add a Discussion Forum to Your Learning Management System
ProProfs has come up with a unique way to help you add a discussion forum to your online training. Offering a one-of-its-kind integration between ProProfs LMS and ProProfs Collaborate, it aims to make online learning more collaborative, synergistic, and reciprocative.
The prime focus of the integration is to empower learners and instructors to form groups and indulge in direct interactions to get updates, share knowledge or solve doubts.
Major Benefits of Integrating ProProfs LMS and ProProfs Collaborate

Initiate Discussions
The integration helps learners to strike a conversation with peers and trainers on a user-friendly messaging interface. It also helps them post comments, ask queries and get answers right away.
Create Groups
Users can also form separate groups with like-minded peers. This enables them to talk to one another openly, brainstorm on topics and address concerns immediately.
Single Sign-On
The seamless integration of Collaborate and ProProfs LMS eliminates the need to create separate login credentials for switching to collaborate. LMS users can log in to collaborate directly and participate in discussions and conversations.
Create Topics
Users can also create topics on a query or question they have and share it publicly or privately with a group or an individual to get relevant answers.
Therefore this integration of ProProfs LMS and Collaborate can help you foster collaboration among your squad of instructors and learners and give them a supportive learning environment.
Do you want a free Training Software?
We have the #1 Online Training Software for employee training & assessment