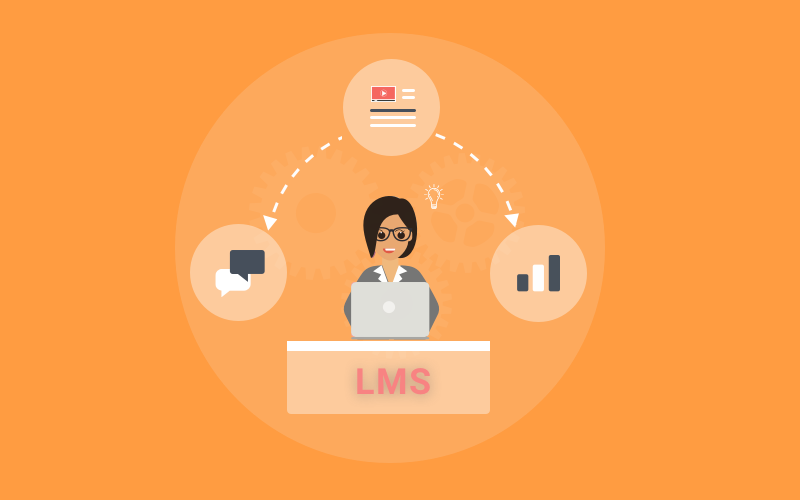 With an increased number of contract workers, remote employees, and freelancers, the onboarding process for new workers has become more complicated than ever. According to the Society for Human Resource Management, employee onboarding is a process of integrating a new member within a company and its culture. Although businesses rely on human resources for onboarding employees, the inconsistent training methods can cause immense frustration to the HR department. That's why businesses need to use a reliable Learning Management System to automate the onboarding process. Let's discuss its extended benefits.
Delivers Training Material Quickly
Too often, new hires accept an offer and have to wait for weeks to dive into training materials and get familiar with their position. This not only kills their time but also affects your business' cost. However, to deliver the right training material quickly and easily, companies need to incorporate an LMS. It helps to automatically send e-courses, company guidelines, and other materials right away. LMS not only reduces the down time but also ensures that every new hire gets the right information to succeed in the roles.
Helps Achieve Compliance
In some cases, the onboarding process includes helping new employees achieve compliance, whether you need to offer Human Resources, HIPAA, or safety training. On top of compliance training, you can also use your Learning Management System to automatically offer career development training or certifications that may help increase your new hire's chances of succeeding. Ongoing training can be an important part of employee satisfaction and retention, and automating the onboarding process can ensure that you don't delay in offering these opportunities to new hires.
Read More: Best Learning Management Systems (LMS)
Aids Better Communication
When you're onboarding a huge number of employees and contractors, it becomes difficult to communicate with each of them at the same time. Some LMS tools allow for automated messaging, which can help you remind employees to complete their training or communicate important information about your company's culture and policies. A robust human resources (HR) software that includes automated workflows will keep initial training moving and ensure that employees receive the right information at the right time. In fact, the HRs can also track employees' progress with the help of a reporting tool feature.
Read More: 10 Best HR Training Courses
Allows Performance Tracking
When you automate your onboarding process, the best part is you have access to all kinds of important data such as employee information or their progress in training courses. Do you wonder how well your employees understand the training? Do you want to check in on a new hire's progress? Maybe you want to learn more about how effective your e-courses are? Your LMS can deliver all of that data through reporting capabilities or post-lesson surveys. This way, it helps you improve your training materials and makes sure your new hires fully understand their job responsibilities.
Enhances Hiring Abilities
When you conduct training in person, you have to face issues such as time constraints and insufficient training material. You are just increasing the number of members in your team without giving them appropriate information. Thanks to automated onboarding designed using LMS software, you can train as many new hires as you want. In fact, you can use your onboarding program to train your remote employees as well. It gives the flexibility to take the courses irrespective of the location and time.
Interesting Read: Employee Onboarding: Your Company's First Impression
The Bottom Line
Onboarding without automation can take up a significant amount of your time and financial resources. If you leverage your LMS Software to automate some tasks, you can reduce administrative overloads and focus on strategic objectives. On top of that, automated onboarding could make the hiring and training process easier for employees, as well. If automating the entire process at once sounds overwhelming, keep in mind that you can start with just a few areas and go from there. Chances are, once you get used to the convenience of automated onboarding, you'll be excited to automate as many tasks as possible!
Do you want a free Training Software?
We have the #1 Online Training Software for employee training & assessment