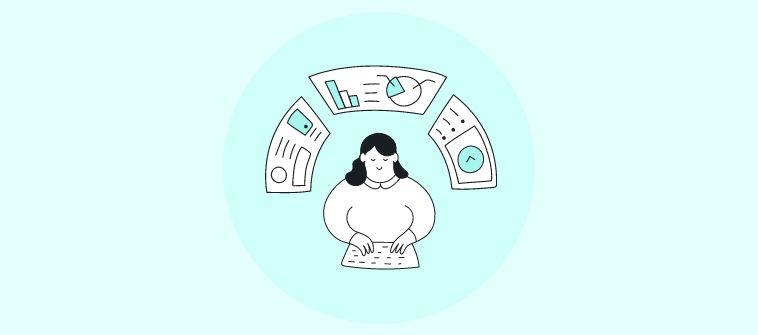 Looking for the best types of employee training methods for your learners? We'll help you. But before that, let's quickly understand the importance of finding the right methods.
Employee training plays a crucial role in an organization's success. A good training program makes employees more productive, which makes them contribute more to an organization.
Jack Welch, former Chairman and CEO of General Electric, once said that "an organization's ability to learn and translate that learning into action rapidly is the ultimate competitive advantage."
For such effective learning to happen, L&D teams must identify the corporate training methods suitable for their learners.
But how can you select the right method?
The answer is easy.
You first need to understand that every learner has a unique learning style. Some learners absorb information best by watching videos, some need help from instructors, and some need hands-on experience.
Let's now delve deeper into the top 10 employee training techniques to understand better what it's all about.
Let's start.
Why Choose the Right Methods of Employee Training?
94% of employees would stay with a company longer if it invested in their learning.
And for learning to be truly effective, choosing the right training delivery method can make a huge difference.
Proper application of a training method makes learning more organized.
It also raises learners' interest in learning
It also boosts their motivation.
This, in turn, leads to job satisfaction and greater productivity, minimizing turnover.
For example, web-based and social learning are effective forms of training that lead to higher engagement and completion rates.
As learner-centric learning is the trend these days, choosing a training method that your learners prefer can be a masterstroke.
Before choosing a method, you also need to consider the different learning styles of your employees:
Kinesthetic style: In which learning happens through direct experiences. Walkthroughs and simulations work best for this style.
Auditory style: Where learning takes place through listening, so traditional methods can work well for this type.
Visual learning style: Where learners absorb knowledge when information is broken down into bite-sized pieces and presented in the form of graphical representations, diagrams, charts, etc.
Based on this, let's look at the best types of employee training methods and their benefits. Go through each method and see what works for your business.
10 Best Effective Training Methods for Employees
Now that you've seen the significance of selecting the right training method let's look at the ten best effective employee training methods. You can adopt these methods for enterprise training and develop your employees.
1. E-Learning
This kind of employee training method is pretty standard nowadays regardless of which training you're administering, which departments you're training, and in which industry.
The E-learning method is beneficial because of the following reasons:
It's self-paced, enabling learners to engage in microlearning
The e-learning method is highly interactive as it contains a combination of images, videos, PDFs, and more
It requires no physical classroom
Learning can happen anywhere, anytime
It can be tracked to achieve the right results
E-learning is most effective when done through a Learning Management System (LMS). Nowadays, most e-learning platforms provide professionally designed, customizable, and ready-to-use courses and training templates.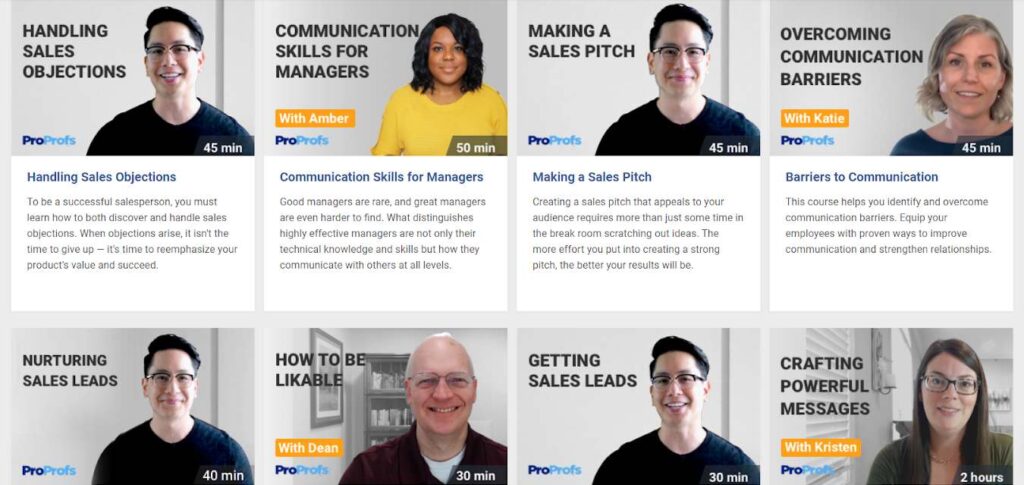 You can use these resources as-is or edit and personalize them with your existing materials, company policies, and branding. The best thing about online courses is that they contain worksheets, real-life scenarios, practical examples, and assessment quizzes.
2. Video Training
According to Wyzowl, the world's leading provider of animated explainer videos, 69% of learners said they'd prefer to watch a short video if given a choice of learning method.
Video-based training is considered one of the best techniques for training employees. This training method is known for increasing learner engagement and retention.
Like online courses, you can pause and resume videos at your convenience. Instructors can use videos to supplement traditional classroom learning and reaffirm various concepts.
Video learning is highly effective because:
It makes training programs effective and more interactive
Maximizes knowledge retention
Minimizes cognitive overload
Provides a simple and practical learning approach
And the best part?
You can fit a training video anywhere, no matter what other training methods you're using.
3. Mentoring
Sometimes synonymously used with buddying and coaching, mentoring is one of the oldest types of employee training methods. It is usually informal and provided by a peer or someone with more experience in the same team.
You can deliver this training in physical or virtual settings, which means you can train your remote and local employees with this method.
There are plenty of advantages of mentoring, such as:
It encourages a culture of learning in a company
Builds an amicable relationship between employers and employees
Encourages learners to ask questions that they may not feel comfortable asking in a classroom
Learners get to draw knowledge by watching their mentors
Watch: How to Mentor Employees | Training Course Introduction
4. Social Learning
Social learning is one of the effective types of employee training methods where learning occurs in an informal or friendly manner. A conducive learning environment and peers form the basis for social learning.
Online discussion & collaboration forums are perfect examples of social learning during training. Participants can exchange ideas on any relevant topic, for example, through questions & answers.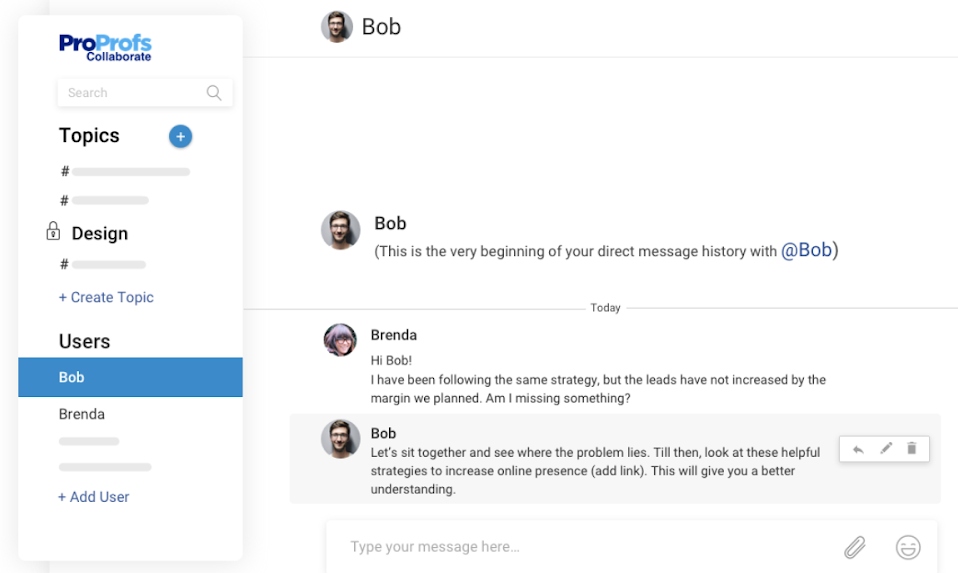 Companies can host these forums internally or use social media to enable learners to access peer knowledge and wisdom.
This type of training method ensures:
Better engagement of learners
Creates a knowledge-sharing culture
Encourages healthy discussion
Better knowledge retention
To give you an example, the online education initiative by Harvard Business School, known as HBX, registered increased course completion rates of over 85% after it introduced social learning.
In fact, the study also highlighted that online collaboration could reduce biases and behaviors that are more common in traditional classrooms.
This makes it an employee training method worth considering.
Watch: How to Enable Collaboration & Discussions in Your Course
5. Role-Playing
This is another effective training technique for employees. It puts learners in activities that simulate real work situations to pick skills and develop competency. As a result, learners gain the confidence to face actual work scenarios.
To enact a role-play, you can use an actual work location so learners can relate more easily.
Role-playing is a preferred training method for the reasons stated below:
Encourages learners to use their critical thinking and problem-solving skills
Prepares learners for challenging work scenarios
Relatable scenarios help enhance employee engagement
For this training type, you can videotape an entire act so that learners can revisit it and analyze their strengths and weaknesses. At times, you may seek the help of professional actors and consultants to train your employees in the best way possible.
As the name suggests, blended learning, also known as hybrid learning, is a learning method in which learners learn through a mix of online/web-based and traditional face-to-face systems.
This training type is extremely useful for an employee onboarding process and ongoing training. It involves a mix of digital courses, instructor-led learning, and face-to-face interactions for rich learning experiences. Offering the same materials in different formats can bring the best results and help in better knowledge retention.
Blended learning comes with various benefits, due to which most professional trainers consider it an effective employee training method. Some of the advantages are:
Promotes learner engagement
More autonomy over learning
Highly convenient in terms of scheduling
Better learning outcomes
Want to adopt this learning approach? Then you must know the right strategies as well.
Click here to know more about blended learning strategies.
7. Case Studies
In the case study method, employees are given a real-life situation where they are encouraged to apply their critical thinking abilities and make the right decisions.
Though cases might be difficult or complex at times, you should provide sufficient information so they can analyze the situation and make an informed decision.
The case study training method may be time-consuming because lots of effort goes into creating a professionally challenging situation. However, it is still considered effective due to the following reasons.
It encourages employees to use their creative thinking skills
When employees think out of the box to solve a particular problem or situation, they find it less challenging to handle similar situations in real life
Learners develop problem-solving and decision-making skills.
8. Job Shadowing
This is a technique in which new hires acquire knowledge and skills by observing other colleagues and professionals performing different tasks. The new employees learn how to tackle a situation or use a certain methodology to do a job.
Job shadowing is one of the common types of employee training where less experienced candidates work alongside experienced staff and extract all the knowledge and skills from those who have already mastered them.
This kind of training method is useful in the following industries:
Healthcare
Manufacturing
Hotel
It is also useful for internships, administrative roles, and skilled trades. Job shadowing is a popular choice among these industries because of several reasons.
Helps in continuous career development and employee improvement
Enhances relationships between employees across departments
Less time-consuming than internships
Learners learn by observing – so they receive first-hand knowledge
Establishes a strong relationship between new hires and experienced employees
9. Instructor-Led Training (ILT)
It is one of the popular types of employee training methods where instructors facilitate training in a physical or a virtual classroom setting.
Watch: How To Set up Your Virtual Classroom in 5 Minutes
In this training type, more than one instructor can impart training on essential topics or skills to one person or a group through presentations, lectures, demonstrations, and discussions. ILT is beneficial when the teaching materials are complex and when a group is small.
If you're dealing with technical products or have learners who aren't tech-savvy, then you can choose this training method.
One of the most significant advantages of ILT is the learner's ability to ask questions directly to the instructor and clarify doubts on complex materials, improving the learning experience. Some of the incredible advantages of this training type include:
Personalized learning where instructors can clear doubts on one-to-one basis
Hands-on experience
Immediate doubt clearing
Best method for complex subjects
10. Cross Training
Cross training helps learners acquire skills and knowledge required to perform a job function different from the role they've been hired for. This lets your employees provide support when the employee concerned is unavailable or when other needs arise.
Organizations can prepare their employees to perform different roles with this training method instead of outsourcing them. Cross training method has several pros, which are listed below:
Prepares employees to temporarily fill a vacancy in time of need
Helps learners acquire new skill sets
Reduces recruiting cost of companies
Most employees prefer this method because they get the opportunity to learn new skills, which aids in their personal growth and professional development.
Common Goals of Employee Training
Before you set out to deliver employee training, you should define your training goals. Depending on your employees' learning requirements, the goals can vary. Look at the following examples:
New Skills Development
In a fast-changing and ruthlessly competitive business environment, helping your employees acquire new skills is inevitable. This equips them with the capabilities to adapt to the new normal.

When employees learn new skills, they become more confident, motivated, and productive. A skilled workforce performs better, which is strategically significant for your business.
You can use any or all of the training methods for employees that we've discussed above to achieve this goal.
Watch: How to Set SMART Goals | Training Course Introduction
New Techniques For Old Skills
If you think your employees are too old to learn new ways of executing a task, think again.
There is always a more efficient and better way to perform a task. For example, manual grading was standard practice once for assessing learners. It was time-consuming, prone to human errors, and, at times, lacked transparency.
To help overcome this, there are now employee training platforms with built-in automatic grading tools that are accurate, unbiased, and reliable.
You must train your employees on these efficient and faster ways of working and save time and effort in the process. Trust us — your employees will thank you for it!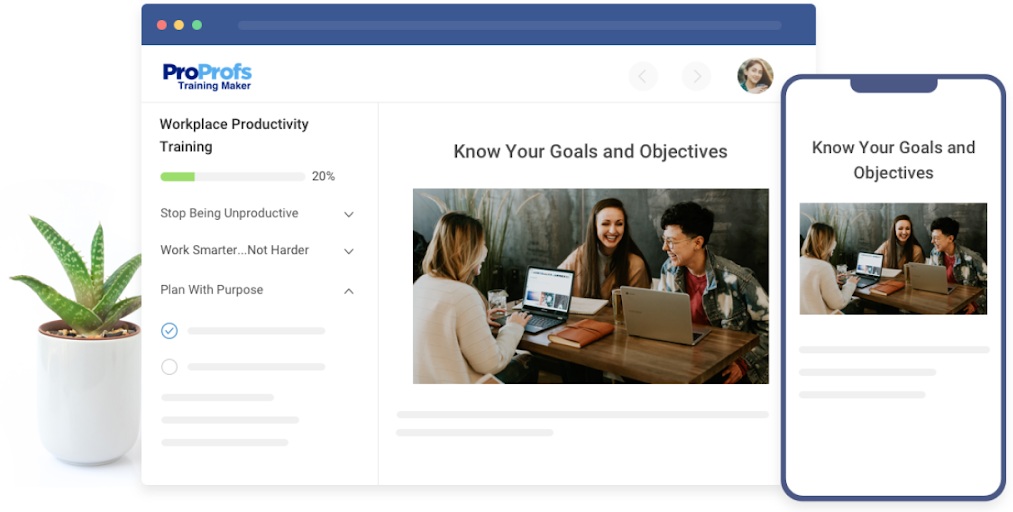 Better Workplace Behaviors
Building a team of professionals will remain incomplete without a session or two on workplace behaviors. Also known as workplace ethics, workplace behaviors training discusses how employees should conduct themselves professionally and know right from wrong.
You must aim to encourage good behaviors and nip unacceptable ones in the bud. This is because positive and healthy workplace behaviors impact interpersonal relationships in the workplace and check a toxic workplace.
To do this, you can include ethics training in the workplace as a part of your ongoing learning & development program.
Watch: How to Build a Strong Ethical Work Culture | Training Course Introduction
A Safer Workplace
Safety training is one of the main goals in any employee training program, especially in high-risk industries such as construction and manufacturing that use heavy machinery and handle hazardous materials.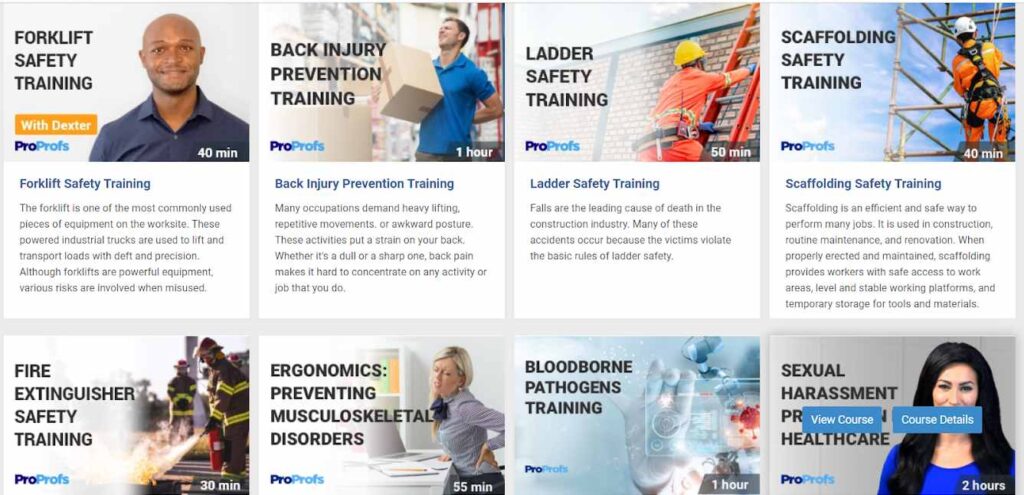 It is incumbent on all businesses to keep the work environment safe from illnesses, injuries, and violence. According to Perillon Software, an employee safety solutions provider, employees who feel safe in the workplace are happier and tend to stay longer with an organization as it impacts the following 4 factors:
Prevention of accidents and injuries
Engagement
Job satisfaction
Morale
Implementing an OSHA compliance training course can go a long way in ensuring workplace safety. It can help prevent workplace hazards and keep everyone safe, onsite or offsite.
Watch: What is OSHA Compliance Training? Requirements & Benefits
Discrimination & Harassment-Free Workplace
An American is sexually assaulted every 68 seconds.
According to i-Sight, a provider of case management software for investigations, 36% of organizations don't offer sexual harassment training. It also says that 37% of companies didn't implement any gender equality programs even after the #MeToo movement.
These are unhealthy trends considering that sexual harassment and discrimination occur daily, every minute, and many go unreported.
Companies should set sexual harassment training and anti-discrimination training goals and implement them in a time-bound manner.
This will help in the following ways:
Meet the compliance requirements of federal and state laws
Save your employees from unwanted incidents that can harm your business reputation
Save millions in fines that accompany harassment lawsuits
Watch: What Is Sexual Harassment Training?
Who Should Be Trained
Before deciding on the types of training methods for employees, you need to understand that employee training is often directed at different groups of employees to meet different learning needs.
For example, new employee training will be technically different from training a company's managers. So, there should be clarity on who you're training, how, and why.
New Employees
One thing that potential employees consider even before they walk into your company is — whether you offer well-designed training programs.
Training initiatives for new hires, such as the employee onboarding process, are a regular part of an employee life cycle.
They can help set the tone for future relationships with incoming employees.
These training programs can be on your company culture, new job roles, code of conduct, compliance, and many other topics. The idea is to engage and motivate new employees from day one to ensure productivity and job satisfaction.
Watch: How to Create an Employee Onboarding Training Program
Existing Employees
What's a cost and time-saving alternative to hiring new talent?
Training your existing staff.
You can train them on relevant and in-demand skills. After that, you can either promote them to a new role or assign additional responsibilities based on their work experience and competency.
Some of the top reasons to train your current employees include changing industry trends, succession planning, and dealing with a high attrition rate.
Management
Managers act as the captain of a ship, making their training so crucial. They are the ones who manage employees' day-to-day duties, performance, productivity, and annual performance reviews. They also keep employees engaged and motivated.
Trained managers are capable of becoming modern-day leaders who are versatile, adaptable, and flexible.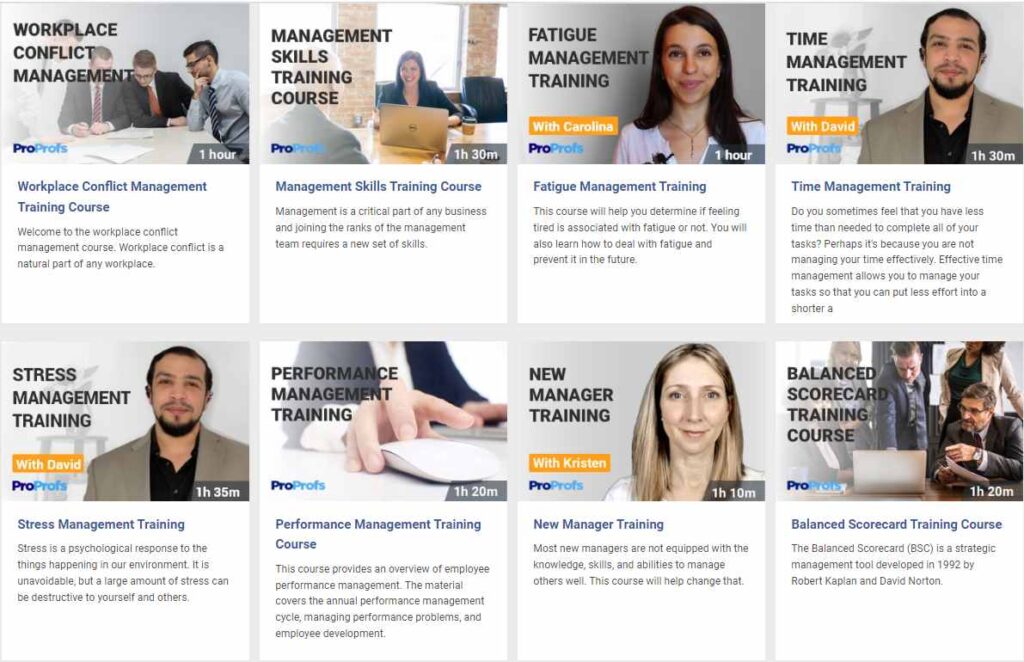 Topics you can cover in manager training include leadership, conflict resolution, workplace communications, and influence & building trust.
Training Budget Considerations
Employee training does come at a cost. You should be aware of it so that you can do the budgeting well. You should know how much you spend and where in terms of direct and indirect costs:
Direct Costs: Whether it is the cost of training materials, methods of training, or instructors' fees, the budget should add up well. Make sure you don't overspend or underspend in any area of training.
Indirect Costs: Such as employee absence and time away from work during training must also be considered.
Your training budget should make sense in terms of the duration of the training, the number of learners, and other factors. Do not forget to share the plans for your budget and get approval from all stakeholders before allocating it to training.
Which Employee Training Method Are You Using?
Are you getting any measurable benefits from the employee training method you're using? Or are you yet to choose the best method?
Whatever the case is, this post will certainly help you make the headway you need.
In this effort, you'll find ProProfs LMS helpful. It offers online employee training software that allows users to create, design, share, and track online courses, lessons, and tests. Not only this, you get access to a premium library of 100+ professionally designed and customizable courses.
The best part is the LMS is versatile and it supports online, offline, and blended learning methods, anytime, anywhere, and on any device
All you need to do is choose your preferred types of training methods and offer your employees the best possible way to learn.
Do you want a free Training Software?
We have the #1 Online Training Software for employee training & assessment