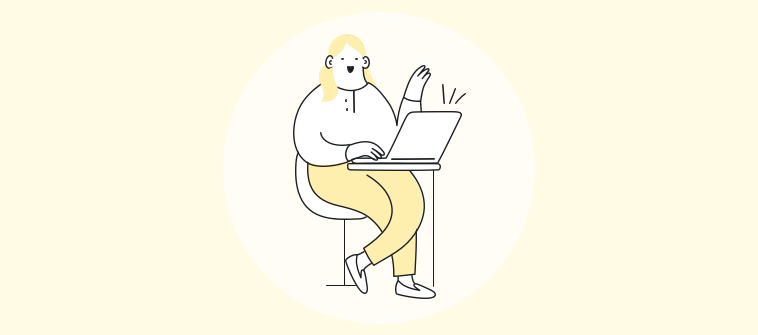 In a survey by Statista's Research Department, 42% of the respondents said they conducted all their compliance training online.
Online learning is an inevitable element in any corporate learning & development program considering the two important things it offers –
Flexibility and engagement level.
There are other types of employee training methods as well. You can use these methods in combination with each other or as a standalone.
Either way, you can rest assured that you'll get measurable results if you do it the right way.
With this in mind, in this post, I'll be exploring five types of employee training methods commonly used by most businesses today.
Watch: What Is Employee Training?

Why Is It Important to Choose a Training Method?
94% of employees would stay with a company longer if it invested in their learning.
And for learning to be truly effective, choosing the right training delivery method can make a huge difference.
Proper application of a training method makes learning more organized. It also raises learners' interest in learning and boosts their motivation. This, in turn, leads to job satisfaction and greater productivity, minimizing turnover.
For example, web-based training and social learning are effective forms of training that lead to higher engagement and higher completion rates.
As learner-centric learning is the trend these days, choosing a training method that your learners prefer can be a masterstroke.
5 Different Types of Training Methods
Now that you've seen the significance of selecting the right training method, let's look at some popular examples. You can adopt these methods for your enterprise training and develop your employees the right way.
Online training courses are pretty standard these days regardless of which training you're administering, which departments you're training, and in which industry. These courses are usually designed by experts and focus on one topic.
They are also self-paced, allowing learners to engage in microlearning.
For example, online training courses by ProProfs are professionally designed, customizable, and ready-to-use. You can edit them to add your existing course content and personalize them with branding.
The courses contain worksheets, real-life scenarios, practical examples, and assessment quizzes.
You can easily track course participation, progress, and completion using the real-time tracking features in ProProfs LMS.
Being cloud-based, you can access the LMS and the courses therein anytime, anywhere, and on any device.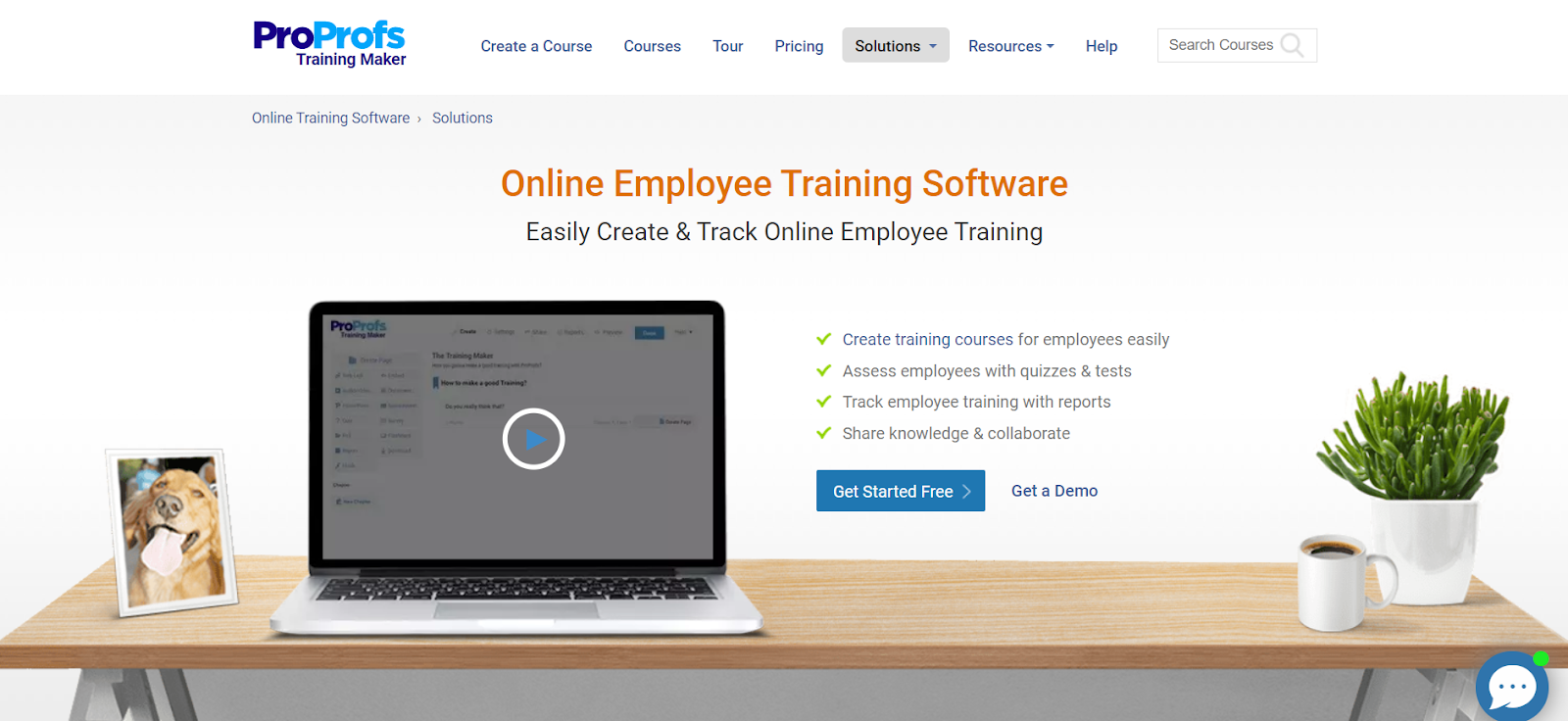 According to Wyzowl, the world's leading provider of animated explainer videos, 69% of learners said they'd prefer to watch a short video if given a choice of learning method.
In terms of engagement and retention, video-based training is considered the best method. Like online courses, you can pause and resume videos at your convenience. Instructors can use videos to supplement traditional classroom learning and reaffirm various concepts.
Since videos speak directly to a viewer, they create a personalized experience. Videos ensure consistency in learning as the same video is used to train different learners. Videos are also versatile as you can use different effective training techniques such as stop motion, animation, and live action. The only thing you should keep in mind is that your video must be of high quality. To help yourself with this, you can make a video using one of the free video creator tools.
And the best part?
You can fit a training video anywhere, no matter which other training method you are using.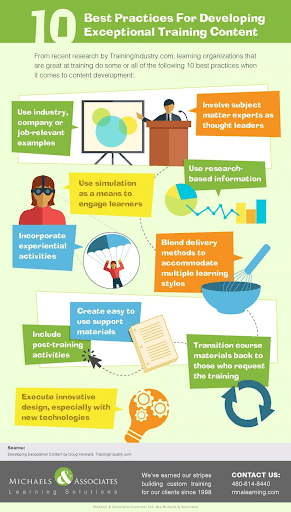 Mentoring, sometimes synonymously used with buddying and coaching, is one of the oldest methods of training employees. It is usually informal and provided by a peer or someone with more experience in the same team.
The mentor guides the mentees on their job roles in the flow of work.
Mentoring is easier to manage because it utilizes existing team members and resources for the training program. This eliminates the costs usually incurred in hiring external trainers.
Apart from providing opportunities to learners, mentoring helps develop close professional relationships. Sometimes, the participants can benefit from reverse mentoring.
It, thus, encourages a culture of learning in a company.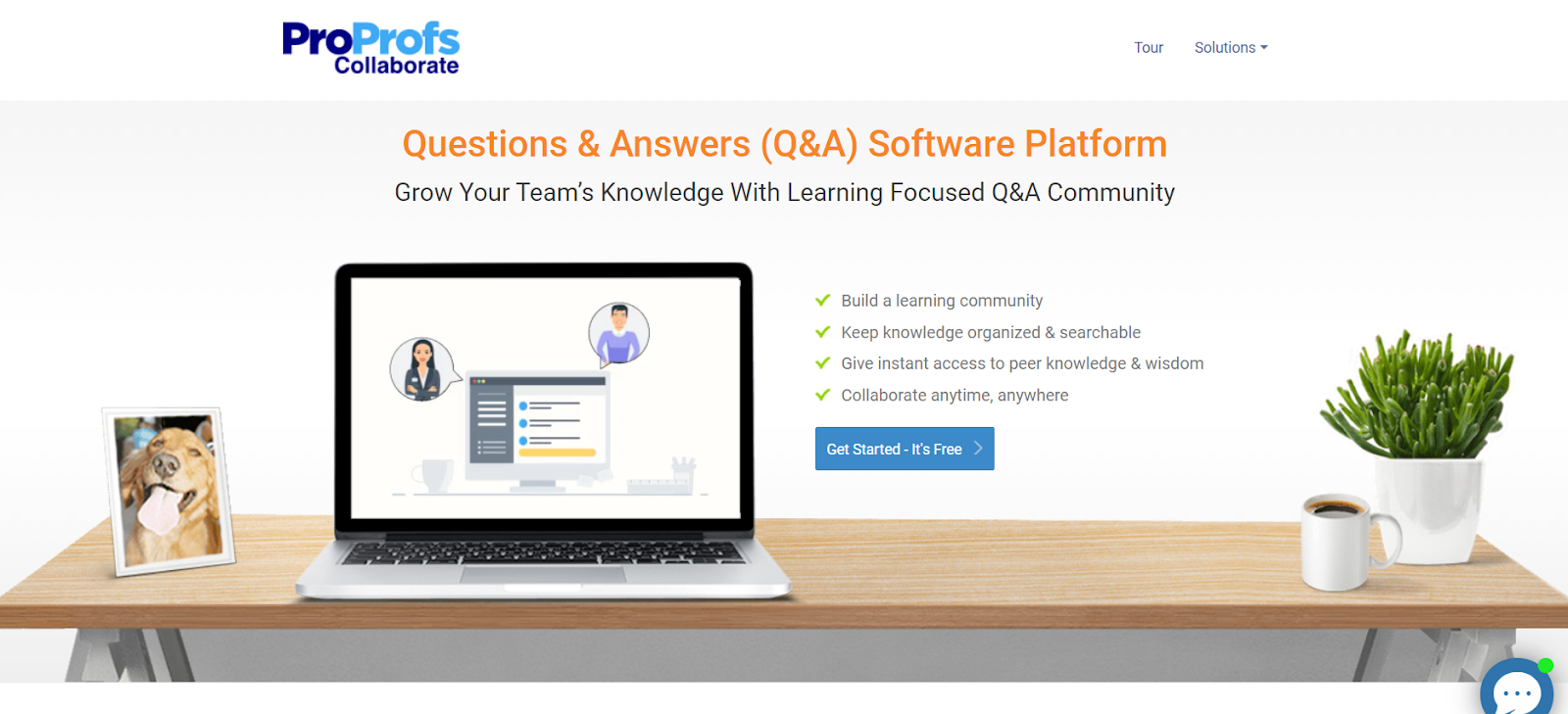 In a survey by Corporate Learning & Development advisor Jane Hart, it was shown that self-directed, collaborative learning, conversations with others, and networks were important ways to learn in the workplace. This is how social learning works. A conducive learning environment and peers form the basis for social learning.
Online discussion & collaboration forums are perfect examples of social learning during training. Participants can exchange ideas on any relevant topic, for example, through questions & answers. Companies can host these forums internally or use social media to enable learners to get access to peer knowledge and wisdom.
Social learning ensures better engagement of learners and better learning outcomes. To give you an example, the online education initiative by Harvard Business School, known as HBX, registered increased course completion rates of over 85% after it introduced social learning.
This makes it an employee training method worth considering.
Role-playing is another effective method of training. It puts learners in activities that simulate real work situations so that they can pick skills and develop competency. As a result, learners gain the confidence to face actual work scenarios.
By putting learners in challenging situations, you enable them to take part in creative problem-solving. This is an important trait for an employee in any position.
To enact a role-play, you can use an actual work location so that learners can relate more easily.
Additionally, you may videotape an entire act so that learners can revisit it and analyze their strengths and weaknesses. At times, you may seek the help of professional actors and HR consultants to train your employees in the best way possible.
---
Read More:- 4 Effective Training Methods for Different Learning Styles
---
Common Goals of Employee Training
Before you set out to deliver employee training, you should define your training goals. Depending on your employees' learning requirements, the goals can vary. Look at the following examples:
In a fast-changing and ruthlessly competitive business environment, helping your employees acquire new skills is inevitable. This equips them with the capabilities to adapt to the new normal.
When employees learn new skills, they become more confident, feel motivated, and become more productive. A skilled workforce performs better, which is strategically significant for your business.
You can use any or all of the training methods for employees that we've discussed above to achieve this goal.
New Techniques For Old Skills
You've certainly heard about old wine in a new bottle so many times. If you think your employees are too old to learn new ways of executing a task, think again.
There is always a more efficient and better way to perform a task. For example, manual grading was standard practice at one time for assessing learners. It was, however, time-consuming, prone to human errors, and, at times, lacked transparency.
To help overcome this, now there are employee training platforms such as learning management systems with built-in automatic grading tools, which are accurate, unbiased, and reliable.
You must train your employees on these efficient and faster ways of working and save time and effort in the process.
Better Workplace Behaviors
Building a team of professionals will remain incomplete without a session or two on workplace behaviors. Also known as workplace ethics, workplace behaviors training discusses how employees should conduct themselves professionally and know the right from the wrong.
It should be your aim to encourage good behaviors and nip unacceptable ones in the bud. This is because positive and healthy workplace behaviors impact interpersonal relationships in the workplace.
To do this, you can include ethics training in the workplace as a part of your ongoing learning & development program.
Safety training is one of the main goals in any employee training program, especially in businesses involving heavy machinery and handling hazardous materials.
It is incumbent on all businesses to keep the work environment safe from illnesses, injuries, and violence. Employees who feel safe in the workplace are happier and tend to stay longer with an organization.
Measures like deploying an OSHA compliance training course can go a long way in ensuring workplace safety. They can help prevent workplace hazards and keep everyone safe, onsite or offsite.
Discrimination & Harassment-Free Workplace
An American is sexually assaulted every 68 seconds.
According to the provider of case management software for investigations, i-Sight, 36% of organizations don't offer sexual harassment training.
It also says that 37% of companies didn't implement any gender equality programs even after the #MeToo movement.
These are unhealthy trends considering that sexual harassment and discrimination take place every day, every minute, and many of them go unreported.
Companies should set sexual harassment training and anti-discrimination training goals and implement them in a time-bound manner. This will help meet compliance requirements of federal and state laws and save your employees from unwanted incidents that can harm your business reputation and also save millions in fines that can be levied as part of harassment lawsuits.
---
Read More:- What is Sexual Harassment Training?
---
Whom You Should Train
Employee training is often directed at different groups of employees to meet different learning needs. For example, new employee training will be technically different from training managers. So, there should be clarity on who you're training, how, and why.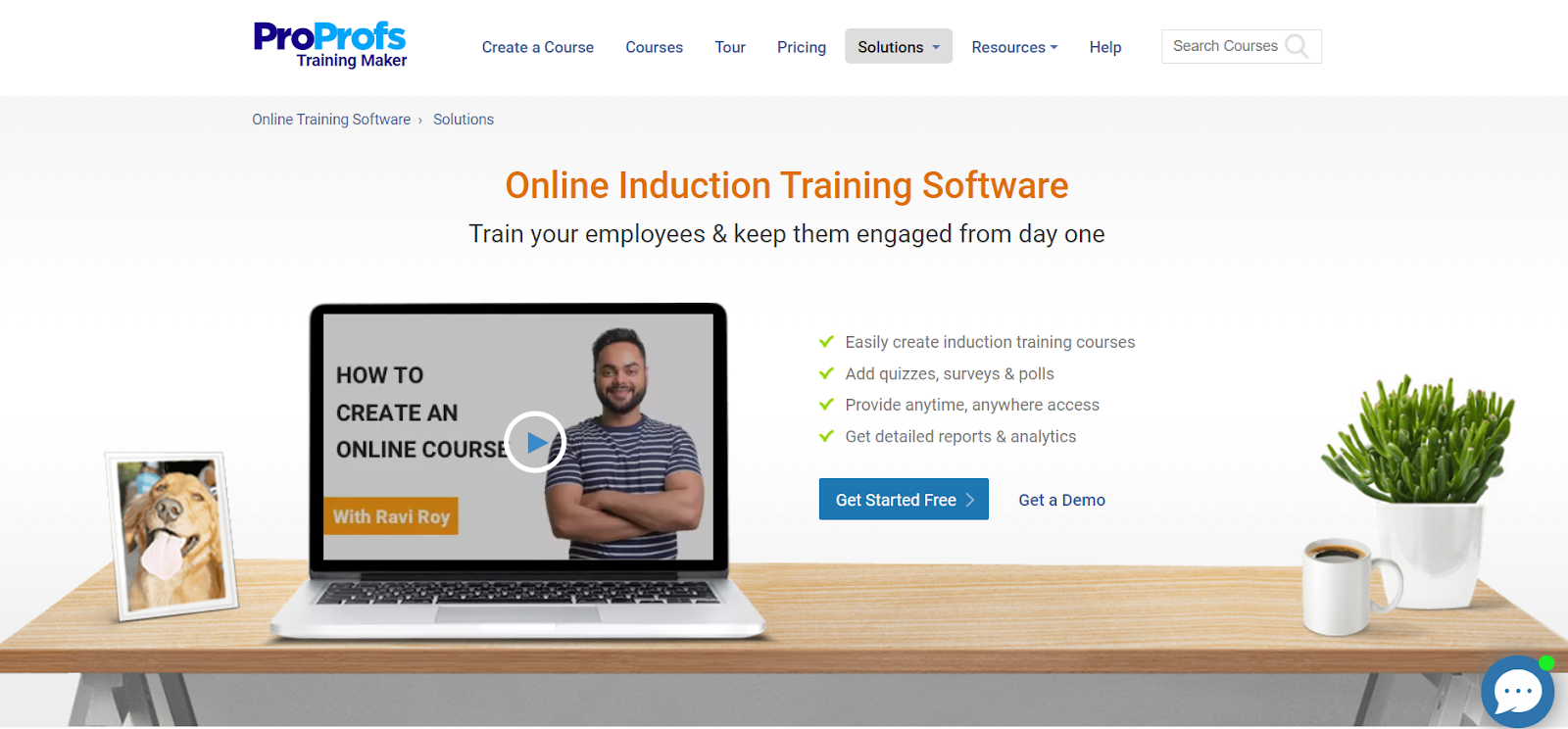 One thing that potential employees consider even before they walk into your company is whether you offer well-designed training programs. Training initiatives for new hires such as the employee onboarding process are a regular part of an employee life cycle.
They can help set the tone for future relationships with incoming employees.
These training programs can be on your company culture, new job roles, code of conduct, compliance, and many other topics. The idea is to engage and motivate new employees from day one to ensure productivity and job satisfaction.
What's a cost and time-saving alternative to hiring new talent?
Training your existing staff.
You can train them on relevant and in-demand skills. After that, you can either promote them to a new role or assign additional responsibilities based on their work experience and competency.
Some of the top reasons to train your current employees include changing industry trends, succession planning, and a high attrition rate.
Managers act as the captain of the ship and this makes their training so crucial. They are the ones who manage employees' day-to-day duties, performance, productivity, and annual performance reviews. They also keep employees engaged and motivated.
Online trained managers are capable of becoming modern-day leaders who are versatile, adaptable, and flexible.
Topics you can cover in manager training include leadership development training, conflict resolution, workplace communications, and influence & building trust.
---
Read More:- How to Develop Your First Employee Training Program
---
Training Budget Considerations
Whether it is the cost of training materials, delivery system, or instructors' fee, the budget should add up well, literally. Make sure you don't overspend or underspend in any area of training.
Indirect costs such as employee absence and time away from work during training also need to be taken into account.
Your training budget should make sense in terms of the duration of the training, the number of learners, and other factors. Don't forget to share the plans for your budget and get approval from all stakeholders before allocating it to training.
---
Read More:- 10 Best Employee Training Software For 2021
---
Which Employee Training Method Are You Using?
Are you getting any measurable benefits from the training method you're using? Or are you yet to choose the best method?
Whatever the case is, this post will certainly help you make the headway you need.
In this effort, you'll find ProProfs helpful. It offers online employee training software that makes it easy for users to create, design, share, and track online courses, lessons, and tests. Not only this, you get access to a premium library of 100+ professionally designed and customizable courses.
Choose your preferred types of employee training and offer your employees the best possible way to learn.
Do you want a free Training Software?
We have the #1 Online Training Software for employee training & assessment