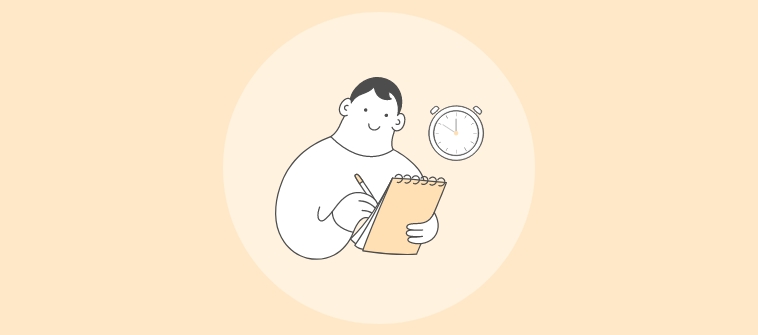 Just-in-time training is a natural offshoot of the convenience that today's online learning technologies bring. It is one of the most significant aspects of modern training systems. But it is also taking place outside of a company or educational institution.
Imagine the following scenarios.
You're eager to find out what's new in Elon Musk's SpaceX project for colonization of Mars or how Tesla staff strategically cuts delivery costs.
Or maybe you want to learn about cryptocurrency and how you can become the next Bitcoin miner.
The first thing that comes to your mind is to google it, and boom, all the information from official websites and industry experts is laid out there for you.
This is the beautiful part of just-in-time learning – It's instant and need-based.
In this post, we focus on this concept in the context of corporate training.
Continue reading to find out more about it.
What is Just-in-Time Training?
Just-in-time training is another term for on-demand learning or learning in the moment of need. It is how employees get access to the much-needed information right when they need it.
This type of learning generally takes place in the flow of work when employees are performing their daily duties without necessarily disrupting their workflow and productivity.
The learning occurs in real-time, anytime, anywhere, and so the tools and resources you use matter a lot. We'll learn more about them later in this blog so stay with us.
Learning is an experience. Everything else is just information. ~ Terry Heick, Education expert
Examples of Just-in-Time Training Programs
Now that you know what just-in-time learning is, let's explore some examples. They will help you understand the concept better.
1. Product Database for a Sales Team
Product updates and new product releases are common in software development companies to meet evolving customer demands. Sales representatives need to stay updated about such changes for better client servicing. They should be able to lay their hands on the latest information about their company's products.
Here, a company's database can be the best source to find the information they need at the time they need. Usually, they can access such information right from their PC or smartphone.
This is a greater time-saver than asking someone and waiting for their response or organizing a training session.
2. Short Videos for Field Service Technicians
Network technicians in telecom companies are out in the field or onsite most of their time. They are responsible for installing, configuring, maintaining, and troubleshooting communication equipment.
With limited time on hand, newly hired technicians who are still learning the ropes won't be too eager to go through a 100-page training manual during work hours.
In such a situation, a 4 to 5-minute-long instructional video can be a better solution. A technician can watch the video and quickly learn how to perform a task perfectly, saving time and increasing retention in the process.
3. HIPAA Compliance Training for Healthcare Professionals
Training in the healthcare industry remains incomplete with a program on HIPAA or The Health Insurance Portability and Accountability Act. It is a federal law that protects sensitive patient health information. According to it, healthcare workers cannot disclose confidential information without the knowledge or consent of patients.
Apart from physicians and nurses, health insurance providers, clearinghouses, pharmacies, and others who have access to private medical information can undergo a self-paced online HIPAA training program. Through such a program, they can learn the following:
What is HIPAA?

What is protected health information (PHI)?

Who is covered by the law?

Why HIPAA is important

HIPAA regulations

Guidelines for employers

How to meet annual requirements under HIPAA
Several Learning Management System or LMS platforms make such online courses accessible anytime, anywhere, so that learners can revisit them and refresh their knowledge whenever they want. This ensures ongoing compliance.
Benefits of Just-in-Time Training
From the above just-in-time training examples, you must have understood some of the real benefits of this type of training. Let's find out more.
Learning Becomes More Accessible

Since just-in-time training is generally delivered using nuggets of information in the form of modules over personal devices, information becomes readily accessible. Employees can learn on their way to work, during lunch breaks, or even while performing the actual task.
Improved Work Accuracy & Productivity
With professional tips, advice, and other helpful information available at employees' fingertips, just-in-time training reduces the chances of mistakes. It prevents reworks and delays. This translates to improved accuracy and productivity.
Training resources used in just-in-time training, such as short video lessons, flashcards, and knowledge base, are easier to update than a full-fledged course. With these regularly added resources, employees can access the latest information they need to perform their job successfully.
Increased Employee Engagement
Learning on demand is learner-centric and puts them in complete control over knowledge acquisition. This helps increase the engagement level and boosts their morale in the workplace.
There is a feeling of self-assurance that whatever information they will need in the course of their duties will be available instantly.
Increased Knowledge Retention
One of the best things about just-in-time training is that learners get to learn only what they need as and when they need it. So, there is no information overload resulting from a day-long training program. They find their minds less cluttered. This leads to better and longer retention of knowledge.

By making learning more accessible, engaging, and faster, just-in-time training promotes an organizational learning culture. Learning becomes second nature for every employee in organizations that support continuous learning.
Unlike this, specially arranged off-the-job training can be cost-prohibitive, especially for startups and small companies with limited resources. When learning becomes embedded in the workflow, it costs you less as learners don't have to take time off from work.
Ultimately, all of this reflects on your bottom line through improved performance and productivity of a knowledgeable workforce. Not only this, JIT is also inexpensive compared to long offline training sessions where you need to spend on the trainers, venue and other materials again and again with no guarantee of a high knowledge retention rate.
Many companies have realized these benefits and more through a learning management system. To understand it better, see how these businesses implemented convenient learning solutions using an LMS.

Problem: Tupperware was searching for an online platform to provide safety training to its operators.
Solution: Tupperware chose an easy-to-use tool for its just-in-time training program. Year by year, it extended the use of the tool for more training programs and for more employees. For this, Tupperware had access to a course library with 100s of ready-to-use courses on a variety of topics and used their platform to share courses on Quality Assurance Trainings for Functional Testers, Inspectors, and Molding Techniques.
Result: With online assessments, Tupperware can see and prove that people have understood what they are trained for. Now all its plants in Europe are using the tool.

Problem: This property management software company needed to create a compliance company training program. It was looking for a solution that would give it the freedom and capability of creating training material that would best fit its unique tech start-up culture and offer the best learning experiences to its employees.
Solution: AppFolio used a just-in-time training software to create the training program to comply with its industry's requirements while educating its employees in the best way. They had the flexibility and freedom to create training in any way and ensure employee engagement.
Result: The company was able to make the training unique and fun. It could create an approachable and practical experience for its workforce.
Best Practices for Implementing Just-in-Time Learning
You now have a fair idea about just-in-time training. Let's go further and see how to implement this type of learning so that you can realize its full potential.
1. Know Your Learners' Needs
To start with, identify what each of your learners need.
Most of them will be struggling with one thing or the other, at least in the initial days of their tenure with your organization. Find out what sort of information they are constantly looking for and why so that you can provide them.
For this, you can deploy different types of online employee surveys to gauge their needs.
2. Develop a Culture of Learning
Unless employees are enthusiastic about continuous learning in the workplace, they can't advance their careers through professional growth.
A culture of self-driven active learning is the best solution for this. Learners should be seeking out new information to develop their job-related knowledge and skills.
3. Share Engaging Training Materials
If you want to see your employees taking full advantage of just-in-time training, make sure you keep the learning materials engaging.
Start by keeping them well-organized and easily searchable. An LMS such as ProProfs training software can assist you in this effort.
Watch: What is a Cloud-Based Learning Management System?
Offer training content in different engaging formats, such as images, videos, audio files, infographics, presentations, and PDFs.
4. Promote Social Learning
Learning should not be an isolated activity. To ensure that your employees get the practical information and support for their day-to-day jobs, you need to encourage social interaction. This can be through an online discussion forum that facilitates collaboration.
You can also call on subject-matter experts (SMEs), either internal or external, to assist your employees during and after training. Their domain expertise can shorten the learning curve and enable employees to learn better and faster.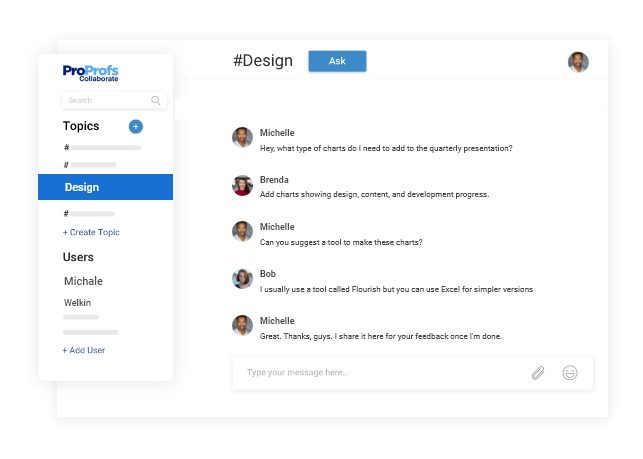 5. Use Responsive Learning Technologies
At the end of the day, just-in-time training is about microlearning. Regardless of the device they use, your learners should be able to view and understand training content easily and quickly. This means you need to make learning materials fit for all devices and learning environments.
Responsive web design and learner-centric tools such as an LMS are the main considerations you need to make.
6. Include Real-World Examples
People tend to learn better with real-world scenarios that they can relate to easily. Examples add context to topics under discussion and show how the information can be applied in real life.
Just-in-time learning with tangible examples also improves knowledge retention through greater engagement. In this sense, it's a great way to add excitement to learning in the workplace.
7. Support Knowledge Transfer
There are employees who learn faster and better than others. You can tap into these employees to train newer team members. Their job knowledge and skills can be valuable for just-in-time learning.
Using internal employees instead of external experts as trainers not only reduces training costs but helps you create and preserve institutional knowledge.
8. Take Feedback to Make Trainings Better
While measuring employees' learning needs beforehand is important, it's equally significant to know after a training session is over whether the learning needs were met or not.
Sample training feedback survey questions:
To what extent does the training session description match the actual content of the session?

To what extent did the actual training satisfy the intent of the training?

To what extent have you used what you learned at the training session in the performance of your job?

To what extent have you shared what you learned at the training with co-workers?

What areas could be improved to make the training more valuable?

To what extent was any follow-up information or materials offered to you after the training?

All things considered, what was your general opinion of the company-offered training?
You can gather learner feedback on training quality, areas for improvement, their opinion on instructors, and so on through surveys. These surveys can help you improve your training and offer upgraded learning experiences to your learners.
Deploying feedback surveys and improving the learning material or other factors can help you create a solid JIT program.
Read More: Top Benefits of eLearning
Best Software to Facilitate Just-in-Time Training
Once you implement the above best practices, everything will start falling in place. To maintain the momentum of learning, you can consider further actions.
For example, performance support tools or PSTs can serve as aids to learning in the moment of need. They can be in the form of:
manuals

explainer videos

guides

scenarios

case studies

mentoring
These resources offer real-world experiences and provide the necessary support when employees run up against a problem.
What's really significant here is that you can easily integrate these performance support tools into employee training software such as an LMS. This means all the resources and support for just-in-time training are available in one place instead of dispersed in different locations across an organization.
In other words, an LMS can help you do the following as just-in-time learning software:
Make learning centralized and engaging
Virtual classroom software can be handy here. It allows you to centrally manage all activities under one platform. It also keeps the learners engaged with a custom learner portal where they can see all their individual course and test assignments.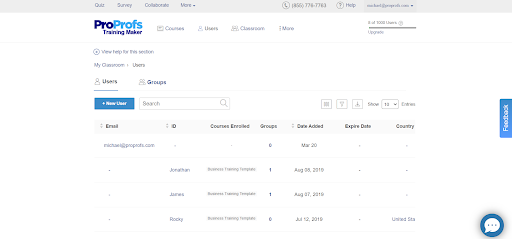 Make training modules easily accessible

You learners should be able to access and view training modules in virtually any device for just-in-time learning. Technology should not be an obstacle in the way of learning. This will make learning seamless and enjoyable.
Allow learners to engage in self-paced learning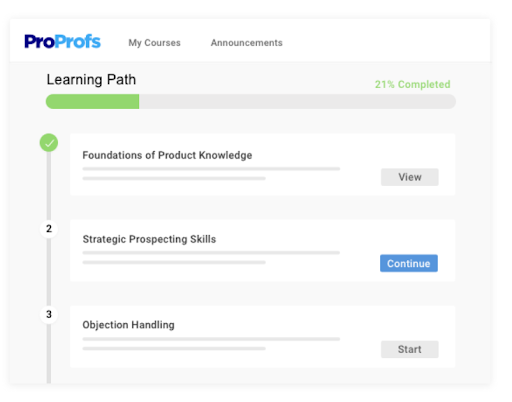 Enable learners to decide their pace of learning through clearly defined learning paths. These learning paths are made up of course bundles. For this, you can easily create the bundles using ready-to-use courses and templates that some LMSs provide.
Learners can start, pause, and resume any of the chapters in a course as long as they meet the due date. This lets learners easily work learning around their schedules.
Align training formats with preferred learning styles

The best learning experience is one that caters to different learning styles and preferences. Learners should be empowered to learn the way they want. An LMS allows you to add different file types, such as images, videos, audio, etc. This easily fulfills auditory, visual, and other forms of learning.
Watch: How to Add Media to Your Online Courses
Assess learners at the end of each module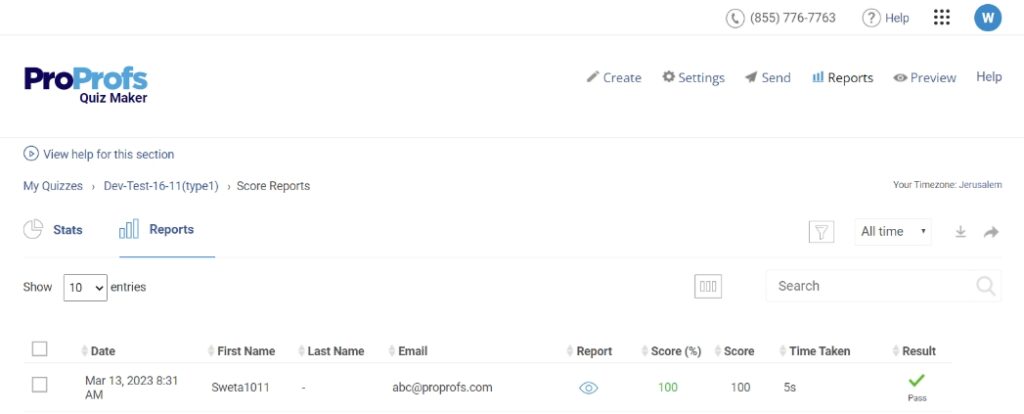 Without the ability to measure learning outcomes, learning becomes meaningless and unactionable. To assess learners' strengths and weaknesses, retention, and knowledge gaps, you can deploy quizzes of different types.
LMS quizzes offer an engaging and fun way to learn while allowing instructors to get a full picture of learners' comprehension.
Providing instant feedback in LMS assessments helps learners receive detailed explanation of their answers and even learn new information. It helps create a cycle of learning.
But that's not all. The best LMS software also lets you easily create a course or assessment in minutes. They come with a built-in eLearning authoring tool and virtual classroom software, making it super-easy to create and share micro-lessons and videos for just-in-time learning.
Here are some online mini-courses you can deploy for just-in-time learning:
Feeling Inspired? Start Delivering Just-in-Time Training!
Today, learning is no longer about fixed teaching methods, strict schedules, and one-off events. Learning environments have become more fluid, and they are focused on individual needs.
Just-in-time training is a revolutionary formula that can never go wrong. It improves employee productivity and work accuracy while building a culture of learning.
By providing the right tools, resources, and support to your learners, you can easily implement just-in-time learning and make it more accessible to learners. In other words, you make learning available to them whenever they need it and in the form they prefer.
Do you want a free Training Software?
We have the #1 Online Training Software for employee training & assessment