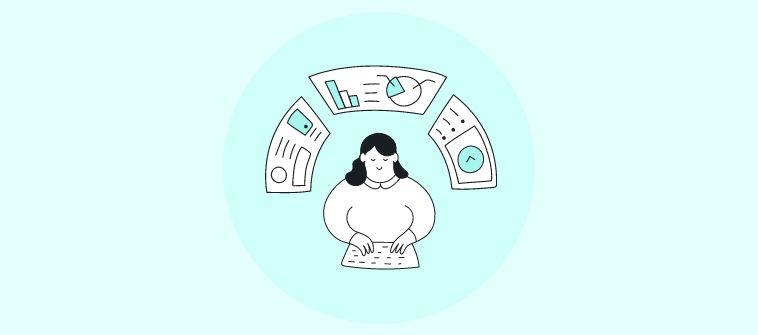 The global corporate learning management system (LMS) market is expected to grow from $5.05 billion in 2016 to $18.44 billion by 2025 at a CAGR of 15.52%.
It is gaining traction in terms of increased adoption across businesses and the educational sector. Corporate training is one area that can greatly benefit from this technology.
Using an advanced LMS, instructors can create courses for different training programs such as sales training, OSHA training, leadership training, and employee skills.
Apart from that, instructors can track, assess, and get reports on learning progress through an LMS.
Continuing the discussion, let's find out what a corporate LMS is, its attributes, use cases, and why you need such a tool.
Watch: What is a Learning Management System
What Is a Corporate LMS?
As the name suggests, a corporate LMS is an LMS designed for use in corporate settings. It serves as a tool for planning, organizing, administering, and assessing corporate training programs.
These corporate LMS platforms provide a centralized place to store all online courses and tests, create learner groups, assign admin roles, send notifications, and view reports. In this sense, a corporate LMS is a one-stop learning solution for businesses of all sizes.
Features of a Corporate LMS
Some of the valuable features you will find in most corporate LMSs are:
This feature may come in the form of an intuitive authoring tool or a content library, or both. With such enablements, course development becomes easy and painless. You can create custom courses by using an LMS.
Virtual Classroom Software
A virtual classroom makes an essential structural element in an LMS. It's a place where learners can find all they need while instructors stay in control of all activities. With it, you can:
add learner groups

assign courses and tests

assign admin roles

track progress

send reminders

view reports

issue certificates
Watch: How to Set up Reminders and Ensure Course Compliance
An LMS for companies with this support allows you to deliver online learning in different engaging formats. This is to add engagement and cater to different learning styles and preferences. They include: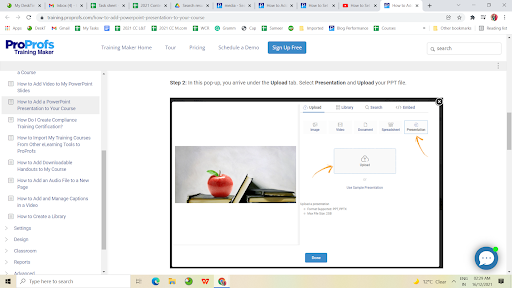 Knowledge testing systems such as quizzes are another significant feature in most corporate learning management systems. They make knowledge easily measurable against learning objectives. You can embed quizzes in a course as a final assessment.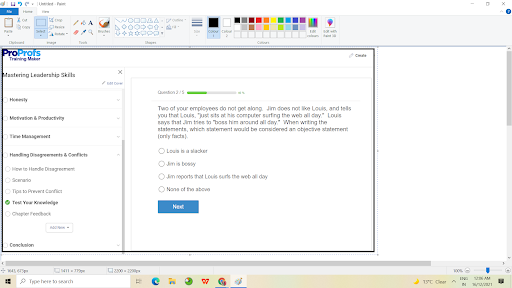 Equally significant is the feedback tool in LMSs. They usually come in the form of online surveys for collecting feedback from learners on courses, training methods, and instructors. They can be polls, pop-ups, sidebar, or in-app surveys.
Through feedback, you can continuously improve your course quality, delivery method, and choice of instructor.
Cross-Device Compatibility
Since learning management systems for businesses are generally cloud-based, training participants can learn anytime, anywhere, on virtually any device. Most LMSs are accessible from a PC, laptop, or smartphone. This platform-agnostic feature in LMSs makes learning in the moment of need possible.
An LMS with this feature collects and analyzes learning data. They then auto-generate reports and statistics on different learners. This enables you to get an overview of where your learners stand with regard to a topic and take steps accordingly.
Types of Corporate Training LMS
Get a feel of the different types of LMS systems for business available on the market as below:
It is an LMS designed for use at the enterprise level. Businesses of all shapes and sizes and in all industries use this LMS to routinely conduct workplace training. ProProfs LMS is an example of such an LMS.
An academic LMS, on the other hand, is used in an educational environment. They are strictly designed for delivering a classroom experience through teacher-student relationships, social learning, and collaboration. Examples include Google Classroom and Kahoot.
Customers in any sector can use this corporate learning management system as it is designed to fit divergent needs. Since they are a one-size-fits-all solution, they work well across different business models and their learning needs. Open edX, a highly flexible platform, is an example.
A vertical LMS is industry-specific and targeted to a specific segment of the market. It can be an LMS for insurance, real estate, or healthcare. Relias LMS is an example of a vertical LMS that caters specifically to the healthcare industry.
Who Can Use a Corporate LMS?
Individuals and companies in any industry can use corporate learning management systems as an online learning & development solution. They include instructors, training managers, HR, training departments, and commercial training companies.
These users may fall in one of the following sectors:
Retail

Finance

Transportation

Real Estate

Government
Watch: How to Choose the Best Corporate Training Platform
Use Cases of Corporate LMS Software
People mostly use corporate training LMS tools in the following scenarios:
View LMS Courses Designed for These Use Cases
Let's now see some case studies for ProProfs LMS.
Access to Counseling
Problem: As a growing company, Access to Counseling needed a significant amount of training for contractors and employees. Keeping up with the training records was a daunting task. The health agency needed to simplify and organize its training that was required by its accrediting bodies.
Solution: With ProProfs Training Maker, it became much easier to organize and maintain in one place the information of employees and contractors who have completed required training sessions. The agency has become paperless through electronic records. It finds the ease of setup, automated scoring, and completion certificates valuable.
Result: The ProProfs corporate learning management system has made the enormous task of maintaining training records simpler and much more efficient.
Thermo Fisher Scientific
Problem: Thermo Fisher Scientific faced the massive task of providing training/education to its global salesforce. So, it was looking for a solution that would make the coordination on that scale easy.
Solution: After adopting ProProfs, the scientific products supplier no longer had to manually grade nearly 600 exams. Statistics were automatically generated. It became easy to see the questions people had trouble with, allowing finer gradation of training. ProProfs offered the right price to value and it was easy to implement.
Result:It was painless to generate and share an exam with several 100 global employees. A valuable side benefit was the ability to quickly have insight into questions that were causing the most problems.
7 Reasons Why You Need a Corporate LMS
There are several compelling reasons to adopt a corporate training LMS and we present below seven of the best.
1. Standardization of Training
By embracing the best LMS on the market, enterprises can standardize their business training in a big way. How does an LMS enable that? It's pretty simple.
It streamlines workforce training from beginning to end – from creating courses on diverse topics to tracking and reporting the learning experience.
Process automation, reduced course development time, ease of content sharing and accessibility, maximized engagement, transparency, and accountability are some of the enablements in an LMS that set the online training standards.
2. Educational Path Planning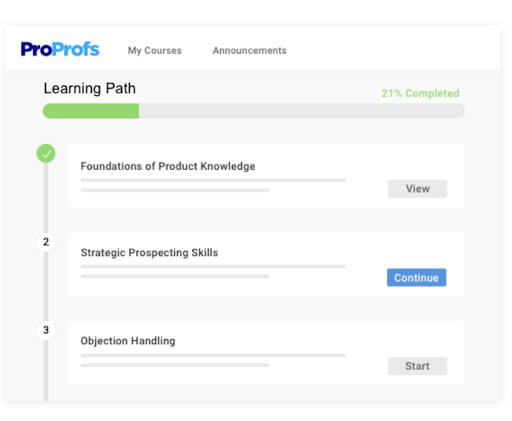 No two members in a team or department learn the same way. There are always some variations in how they absorb, process, and retain information. Keeping that in mind, instructors need to plan learning paths for each trainee to achieve SMART goals.
Instructors can simplify corporate training by using robust LMS software. They can personalize courses and set up designated learning paths for each learner so that the latter learn at their own pace and convenience.
For guided learning during onboarding, training for industry compliance, or refresher training for upskilling, a reliable LMS is the ultimate answer.
3. Centralization of Learning
Valuable features such as online classrooms, Learning Record Store (LRS), and knowledge base found in a high-quality corporate learning management system offer a delightful teaching and learning experience. LRS is a centralized location inside an LMS software where you can store data, record interactions, and analyze learning experiences.
Multi-tenant support enables instructors to train multiple groups of individuals (with different learning needs) in different environments simultaneously without having to resort to additional training tools.
The centralized learning system enables instructors to add, monitor, and track learners easily in one secure place. This reduces training time and expenses significantly.
4. Facilitating Flexibility of Learning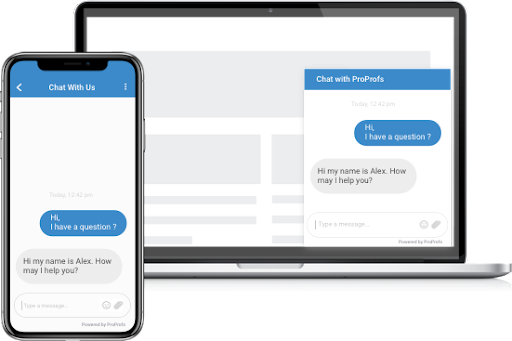 Some of the market-leading cloud-based SaaS LMS platforms are characterized by utmost flexibility. Users can access them from virtually anywhere, anytime, since they are compatible with nearly all devices such as smartphones, laptops, and tablets. So, anytime, anywhere learning is a key aspect of some of the best LMS for business today.
This way, they also function as on-demand, extended enterprise training platforms in the cloud. Trainers can use them for training stakeholders, including channel partners, resellers, and new customers remotely.
5. Encouraging Collaborative Learning
Knowledge sharing in a collaborative learning environment is one of the key features of an advanced learning management system. This feature allows participants to learn collaboratively by exchanging knowledge with their peers.
For instance, integration between ProProfs corporate learning management system and ProProfs Collaborate makes online learning more collaborative and reciprocal as it encourages collective problem-solving. Such powerful features definitely make a big difference in training outcomes.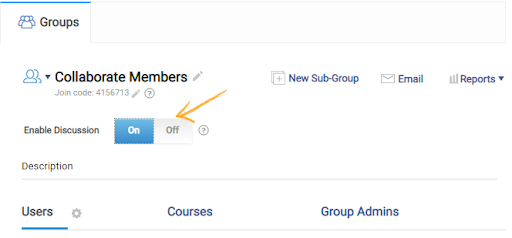 6. Safeguarding Training Data
If you are concerned about the security of your training-related data in a corporate learning management system, worry no more. Thanks to LMS features such as secure login credentials and access control, online trainers can keep courses either public or private at the click of a button.
Moreover, if you want to sell and monetize corporate training courses online, you can use a secure and simple payment gateway such as ProProfs Store. All you need to do is just create courses, set a price, and get paid.
7. Delightful Assessments & Reports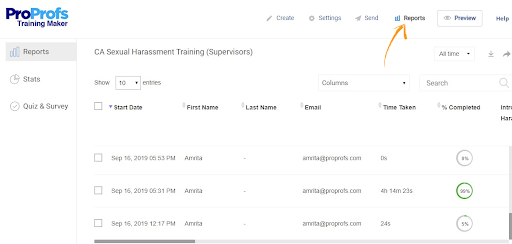 Any learning & development (L&D) program is meaningless in the absence of insightful analytics and reports. Instructors should be able to obtain data on each learner at regular intervals so that they get an overview of who took a particular course and when, course completion rate, retention rate, and overall learning experiences.
This is where an online LMS can contribute and make training assessments a cakewalk. When integrated with online quizzes and surveys, such software provides delightful feedback on learning based on the learning objectives.
Adopt the Best Corporate LMS For Your Business!
A corporate LMS forms the backbone of training in almost every organization today. These tools can help you standardize, simplify, and accelerate learning while offering the utmost flexibility. They prove that training outcomes are as good as the type of tool you use.
When it comes to applying one of the most cost-effective ways to enhance employee skills and improve business performance, corporate learning management systems are hard to ignore. Generally easy to use and highly functional, an LMS software can increase your return on investment.
Do you want a free Training Software?
We have the #1 Online Training Software for employee training & assessment