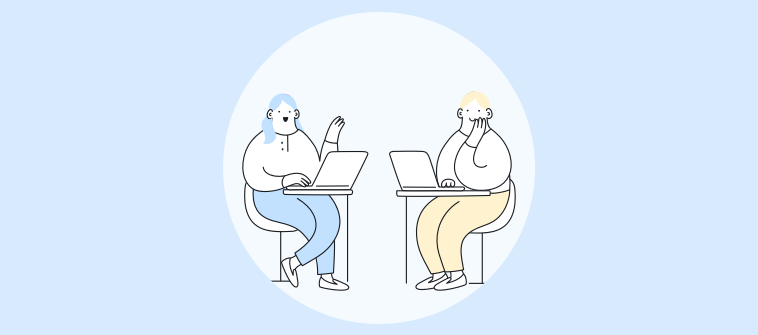 Many companies place so much emphasis on hard skills that it seems soft skills are playing second fiddle to the former. No doubt, job-specific technical knowledge & skills are necessary and form a core part of employees' functioning, but that doesn't mean that soft skills are overlooked.
Soft skills play a decisive role in one's career. They are significant from the perspective of developing and sustaining strong and positive interpersonal relationships in the workplace.
Let's look at some figures that drive home the point.
97% of employers surveyed termed soft skills as important or more important than hard skills.
89% of hiring failures are attributed to attitude, not to a lack of any technical skills.
With this in mind, in this post, let's look at the list of soft skills in the workplace that are in high demand across industries.
List of Soft Skills in the Workplace (With Examples)
Find out the 10 most important soft skills along with their examples. These skills are valued across all industries and professions.
1. Communication
Such timely and effective communication can clear misunderstandings and save businesses time and cost.
Examples of Communication Skills
✓ Verbal communication
✓ Written communication
✓ Non-verbal communication
✓ Empathy
✓ Active listening
✓ Constructive feedback
✓ Public speaking
✓ Persuasion
Watch: Persuasion & Negotiation
2. Leadership
The ability to motivate, engage, and lead others successfully toward a common goal is among the top soft skills. Today's fast-growing and forward-thinking businesses are especially in need of people with leadership skills. Whether it is managing and leading a team effectively or succession planning, great leaders are always in demand.
Examples of Leadership Skills
✓ Decision-making
✓ Management skills
✓ Project management
✓ Building trust
✓ Accountability
✓ Listening
✓ Selflessness
✓ Supervision
✓ Coaching & mentoring
3. Positive Attitude
A positive frame of mind in relation to people and situations is one of the rare soft skills that employers like to see in their employees. People with a positive attitude always see opportunities in problems as they habitually look at the brighter side. They are driven by a can-do attitude and possibilities in today's fast-paced and demanding work environments.
Examples of Positive Attitude
✓ Hopefulness
✓ Friendliness
✓ Enthusiasm
✓ Confidence
✓ Positive energy
✓ Cooperation
✓ Smiles & laughter
4. Teamwork
At the end of the day, business achievements and milestones are a result of teamwork. Employees discuss, collaborate, and get different tasks reviewed and approved before being finalized. So the ability to work in teams or groups through shared responsibility, whether in person or remotely, is highly valued.
Examples of Teamwork
✓ Interpersonal skills
✓ Coordination
✓ Cooperation
✓ Networking
✓ Social skills
✓ Negotiations
✓ Delegation
5. Problem-Solving
Employees with problem-solving skills work by first analyzing a problem and then devising a solution through creativity. It is one of the most sought-after skills across industries.
Examples of Problem-Solving
✓ Logical thinking
✓ Analytical mindset
✓ Research skills
✓ Decision-making
✓ Implementation
6. Interpersonal Skills
The capacity to communicate well with others and maintain healthy work relationships comes under this soft skill. The skill is tested when an employee interacts with their employer or other employees in the workplace. A large part of a candidate's employability is decided based on their interpersonal skills.
Examples of Interpersonal Skills
✓ Listening
✓ Communication
✓ Diplomacy
✓ Teamwork
✓ Negotiation
✓ Mediation
✓ Respect
✓ Sensitivity
✓ Sympathy
7. Time Management
Examples of Time Management
✓ Prioritization
✓ Scheduling
✓ Delegation
✓ Focus
✓ Dedication
✓ Decision-making
✓ Workload management
8. Adaptability
Adaptability or flexibility is a personality trait that's helpful whether you're working with just a handful of team members or hundreds. It is the ability to change with time as the nature of job or work situations demand. A willingness to keep on learning is tied to adaptability. Adaptability reduces conflicts arising out of rigidity and provides chances for career growth.
Examples of Adaptability
✓ Open-mindedness
✓ Continuous improvement
✓ Self-motivation
✓ Optimism
✓ Taking on different roles & responsibilities
✓ Accepting changes
9. Creativity
Creative thinkers bring innovative ideas to a task or problem. For this, they use lateral thinking or think outside the box. They always keep their mind open to new ideas and are not afraid to experiment with them. The seeds of innovation – a key factor keeping many businesses ahead – are sown by creative thinkers in any setup.
Examples of Creativity
✓ Innovation
✓ Questioning
✓ Imaginative
✓ Exploration
✓ Experimenting
10. Work Ethic
A strong work ethic is one of the soft skills employers look for in employees. Employees with this quality are always focused, dedicated, disciplined, and reliable. They play by the rules and people look up to them. Due to their professionalism and efficiency, they are always valuable to companies.
Examples of Work Ethics
✓ Ownership of tasks
✓ Punctuality
✓ Integrity
✓ Dependability
✓ Professionalism
✓ Proper business etiquette
✓ Self-reliance
Watch: What Is Employee Training?
How to Develop Soft Skills in the Workplace
After you go through this soft skills list, you must be wondering how to develop them in the workplace. Well, you need to practice doing certain things that are known to be effective in cultivating different types of soft skills. The first step is to develop a learning culture so that your employees continuously work on their soft skills.
👉 Increase Self-Awareness
By practicing self-awareness, employees can understand themselves better and identify their strengths and weaknesses.
👉 Develop a Learning Mindset
You're never too old to learn something new.
A learning mindset signifies an approach to learning characterized by confidence in one's ability to learn and in successful outcomes. A learner with a positive learning mindset is ready to take on any challenge and use smart tools and strategies to achieve learning goals.
Such a mindset is essential when it comes to sharpening soft skills as well. Through knowledge acquisition, observations, and practice, employees can develop a learning mindset that helps with their soft skills.
👉 Take Feedback Regularly
Constructive feedback from managers and colleagues at regular intervals can be a vital source of information to employees. Feedback lets them know where they stand in relation to the team and business goals. This, in turn, informs employees of which skill areas they need to improve to become valuable members of an organization.
How An LMS Can Help You?
Like other training programs, soft skill training can benefit from a robust learning management system or LMS. These tools are designed to help users standardize and streamline online learning and training for optimal results. An LMS can help you put your soft skills training online.
Many LMS software on the market support course authoring, customization, security setup, and branding. Some of these platforms even offer a course library so that you can get your online employee training up and running in no time.
So whether it is workplace communication, time management, or leadership skills training, you can create, design, share, and track soft skills training easily. Being web-based, anyone can attend these training sessions anytime, anywhere, using any modern device.
This means you can train a worldwide audience hassle-free.
Have You Implemented Soft Skills Training Yet?
If not, you may consider doing it now.
Lack of soft skills in employees will catch up with your business sooner or later. These skills are essential for a harmonious and healthy interpersonal relationship in the workplace. Remember, soft skills aren't that soft; they can make a difference.
This is a comprehensive list of soft skills that we discussed in this post. After you identify the soft skills gaps in your employees, you may use LMS software to administer and measure soft skills training effectively.
Do you want a free Training Software?
We have the #1 Online Training Software for employee training & assessment