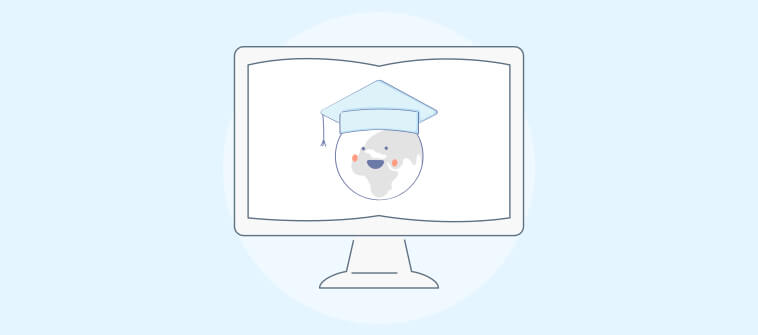 40 % of employees leave their positions within the first year citing poor training systems.
Only 13% of employees in the world are actually engaged in their training.
This draws our attention to the importance of using a robust training system that engages and motivates employees to learn while enabling you to achieve your learning & development objectives tied to your business goals.
An enterprise LMS can help you in this regard. In addition to the ease of training administration and control over learning, online learning platforms are changing the rules of the game in terms of learner engagement, consistency in training outcomes, training acceleration, and assured return on investment.
That said, many companies are still new to LMS or yet to adopt it fully. Once they realize the full potential of such powerful tools, there's no looking back.
In this post, I'll be discussing enterprise LMS, its features and benefits, and why companies should give it a thought. Also, you'll learn about extended enterprise LMS from different perspectives.
Watch: What is a Cloud-Based Learning Management System?

Let's start with the basics.
What Is An Enterprise LMS?
It is an LMS for businesses that you can use for enterprise training or learning at the enterprise level. Businesses of all sizes rely on it to deliver modern workplace training, such as compliance training, HR training, partner training, sales, and customer training.
ProProfs enterprise learning management system is an example. Training administrators can deploy this cloud-based training software to create, share, and track online courses and tests. Learners, on their part, can take the courses and tests by accessing them on any device, anytime, and from anywhere.
Enterprise LMS Features
Those days are long gone when employee training was limited to the four walls of a room, boring lectures were given in the conference halls, and learners had to desperately wait for breaks. However, with the rapid advancement in learning technology, traditional employee training has undergone a metamorphosis, giving rise to the online learning management system we know today.
The market is flooded with countless learning management systems that promise efficiency and extraordinary performance, but only a handful of them actually deliver.
If you are looking for such tools, you may be wondering:
What are the features that define and differentiate these few superior tools?
What are the values they bring to the table that attract and retain millions of customers across the world?
Let's find out one after another.
Read More: 10 Essential LMS Integrations in eLearning Platforms
Intuitive User Interface
You don't want your learners to struggle with an interface that's obsolete, inept, or cumbersome to use. Remember that your employees are tech-savvy millennials. A clunky interface might breed frustration and shatter their expectations.
That's why you should go for an LMS that offers an intuitive interface. The UI should be easily configurable to ensure that your employees get a seamless learning experience. Ideally, it should be lean & clean and remove any room for confusion or getting lost.
Online Course Creation
Enterprise LMS enables you to create online training courses easily and quickly. Every step of the process takes place online, and there's no longer the need for tedious paperwork and printouts.
Generally, such enterprise learning and development solutions provide an authoring tool to help you develop a course from scratch. Or else, you can utilize professionally designed and customizable courses and templates. Either way, you can make learning highly engaging and memorable by adding multimedia, quizzes, surveys, and flashcards.
Take for example, ProProfs' quiz-making tool Quiz Maker, which comes with customizable templates and 10+ question types. It is easy to get started free.
Scalability
The employee training software you choose must be capable of handling a large number of learners and still continue to deliver exceptional performance. As your employee strength grows, you should be able to add new users to your LMS easily.
Choose scalable software that doesn't slow down to ensure that your learning management system doesn't crash when the user base expands.
Multiple Language Support
Today most businesses have a presence in multiple locations around the world. They are marked by a diverse and multilingual workforce.
Training employees who speak different languages can be daunting if you don't have the right LMS in place. Opt for a corporate learning platform that supports multiple interface languages. This will help you deliver learning in a language that learners understand and remove any potential language barriers.
Anytime, Anywhere Accessibility
The modern workforce is not desk-bound all the time. They prefer to learn on the go, anytime, anywhere by accessing training resources via their personal devices.
To cater to this rising need and to give your employees the freedom to learn whenever and wherever they want, it's essential that you provide them with learning content that can be accessed easily on all popular devices, browsers, and operating systems.
Go for a learning management system that is compatible with both Android and iOS and helps you cultivate a remote work culture in your organization.
Bulletproof Security
Your training content might contain sensitive company information. To maintain the security of information and prevent unauthorized access to courses, you can assign login credentials to individual learners and groups. This will ensure that only authorized users have access to your course content.
Opt for an enterprise LMS that helps you create a secure and fool-proof learning platform for your workforce. Features such as password-protected courses, role-based permissions, GDPR-compliance, and a secure online login portal are worth considering.
Robust Reporting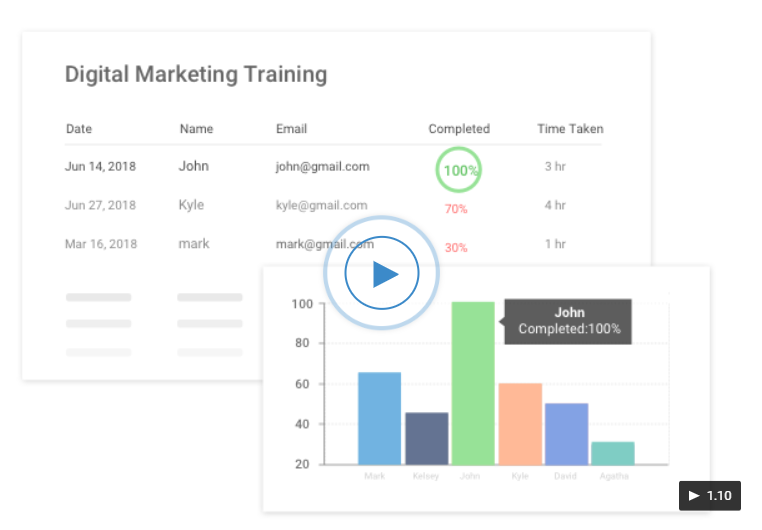 Simply creating a course and assigning it to your employees won't bring you any real benefits. For best results, you need to analyze learners and course performance, gauge your employees' engagement level, get feedback, and most importantly, assess the satisfaction level of your learners.
To achieve this, all you need is a learning management system that can provide you with insightful reports on learners' progress, their strengths and weaknesses, and knowledge gaps.
Look out for an enterprise LMS that offers robust reporting features and helps you launch surveys and quizzes in your courses with ease.
Branding
After you create a training course, you may want to add a personal touch to it in terms of the look and feel so that users can recognize it easily. A quality enterprise LMS system should allow you to work on the brand recognition part through branding or white-labeling your courses and tests with your company logo, color schemes, theme, and messaging.
Course Completion Certificates
Issuing certificates to employees on successful completion of courses is one of the best ways to keep them motivated and driven. The certificates should reflect your brand image. For this, you will have to design them professionally by adding your firm's logo and your signature. You should also add the name of the recipient who completed the course.
While considering an LMS, make sure you choose the one that helps you issue personalized certificates to learners.
Read More: 9 Types of Employee Training Every Enterprise Should Know
Why You Should Be Interested In Enterprise LMS
As many as 91% of organizations have made virtual classroom and webinar delivery a priority well before the COVID-19 outbreak.
If you have an ongoing requirement for training any number of employees, then an enterprise LMS is what you need. It provides the framework for creating, managing, and tracking online training. It also gives trainees access to the company's repository of courses anytime and from anywhere so that they can fit learning into their schedules. The biggest advantage of this type of training is that it is not as disruptive to day-to-day business operations as traditional classroom-based training.
There are several compelling reasons to invest in enterprise LMS. Some of the top ones are:
Watch: How to Choose the Best LMS Software for Employee Training in 2020

It's Convenient for Everyone
An LMS makes employee training convenient for everyone. Instructors can work at practically any location via the cloud and oversee training. Similarly, employees can attend training from virtually anywhere. This means that if people are busy during the workday, they can catch up on training during a bus ride to home or whenever they have free time.
In other words, an LMS empowers you to make training more flexible in ways that minimize disruption to your daily routine. As a result, you can expect to see high participation rates that lead to a highly productive organization of well-trained employees.
LMS Helps You Stay More Organized
Companies that have long ago embraced e-learning often face challenges while trying to keep their e-learning content well organized. This is especially true when there is no unified system in place. Courses often become dispersed across multiple hard drives, servers, and devices.
In such a tricky situation, an LMS can bring order to the chaos by consolidating all learning resources in a single centralized location. Not only that, it can help you by providing an environment where e-learning materials are easy to create and store. A secure catalog of resources ensures that no materials get lost.
Onboarding Becomes a Breeze
When you hire new employees, you need to acclimatize them to your company culture. Along with this, every team member should know how to contribute to your company's mission, values, and goals. Onboarding helps new employees understand how they should conduct themselves at work.
An enterprise LMS can streamline all this through a proper onboarding process. LMS can help you standardize your onboarding process, making it the same for every new employee. This way, you can ensure that every team member has received all the necessary information to assume a productive role in your firm.
Cost Savings are Huge
41.7% of the Fortune 500 companies could lower their corporate training expenses by implementing LMS.
Traditional training programs are time-consuming and labor-intensive. Besides having to pay trainers every time employees need training, you might also need to rent space and equipment.
Additionally, employees must leave their work areas to attend training classes. Sometimes travel can add to your training costs.
Enterprise LMS is a good investment because companies pay only one time to produce a course. After that, the course is available online for a long time.
In addition, employees can complete their training at their own pace. Meanwhile, current and future employees can attend classes as often as necessary, without requiring any additional investment.
It's Time-Saving and Responsive
Enterprise learning management systems are great time-savers. You save time on planning, scheduling, and conducting online classroom training. Due to this, your team can spend more time on their tasks while still completing their coursework.
Online training can also be more responsive than traditional methods. In the past, companies faced difficulty responding quickly to fast-changing technologies, laws, and industry regulations. With an LMS, you can rapidly roll out new courses or update existing ones so that your employees always have access to the latest knowledge and skills.
It Helps In Compliance Training
Many businesses operate in industries where adherence to strict laws and regulations is mandatory. To understand the regulatory requirements, both employers and employees need training.
If this sounds like your organization, an LMS can help you.
By acting as a compliance training software, the platform makes it easy to quickly create and publish training modules and upload them for use by your employees. By relying on an LMS, you can quickly give your team members the knowledge and skills that they need to keep themselves and your company in compliance.
In addition to making training available quickly, the LMS can also document attendance as a part of your employees' permanent record.
---
Read More: 10 Best Compliance Training Courses
---
Learning Data At Your Fingertips
Sometimes companies experience difficulty assessing the effectiveness of their training programs. In such a situation, an enterprise LMS with reporting & analytics features can help them analyze learning data, including tracking attendance and checking knowledge retention. This helps you identify courses and employees that need additional attention.
Employers can obtain progress reports and issue certificates to participants on the successful completion of training. This step enables instructors to monitor the performance of the trainees.
Moreover, users can provide feedback via surveys and quizzes that contribute to continuous improvement. The information you receive from your employees through the LMS can also help you improve the quality of the training by measuring the nature of content created and your learners' performance.
Continuing with the topic, let's now look at another version of enterprise LMS known as extended enterprise LMS.
What Is Extended Enterprise LMS?
An extended enterprise LMS is nothing but an extended version of an enterprise LMS with additional functionality. It is designed to assist users in training stakeholders who are outside the four walls of the main office. They include customers, dealers, volunteers, resellers, authorized support centers, channel partners, franchisees, suppliers, etc.
In this sense, an extended enterprise LMS is a close cousin of an enterprise LMS that serves multiple users under one roof. Such tools are usually optimized to train any number of learners anywhere and keep them connected to your business goals.
Importance of Extended Enterprise Learning for Businesses
According to a recent survey by Brandon Hall Group:
59.9% of respondents said that extended enterprise learning

increases awareness of products and services

57.8% said that it

reduces training costs

54.9% said that extended enterprise learning

improves customer relations
Extended enterprise learning is valuable because it addresses the needs and goals of an organization. In the long run, it makes a predictable and measurable business impact. If you neglect extended enterprise learning, it can cost your business dear.
The reason?
Stakeholders prefer to forge relationships with an organization that makes efforts to boost their product knowledge.
In today's ultra-competitive business environment, every company aims to develop a long-lasting relationship with its customers. And the use of extended enterprise learning can make all the difference.
There are businesses looking to boost their ROI and the use of extended enterprise learning is an excellent way to do it. Offering training outside the company is a strategic step that drives business growth and strengthens profitability.
How Extended Enterprise LMS Can Benefit Your Business
For a fast-growing enterprise with geographically dispersed business units and stakeholders, keeping all the people that matter connected is vital. An extended enterprise LMS can be an empowering tool for this purpose. It can put an organization in the driver's seat when it is a matter of easy but effective enterprise training.
Check out some of the significant advantages of such a system for a business:
Centralized Training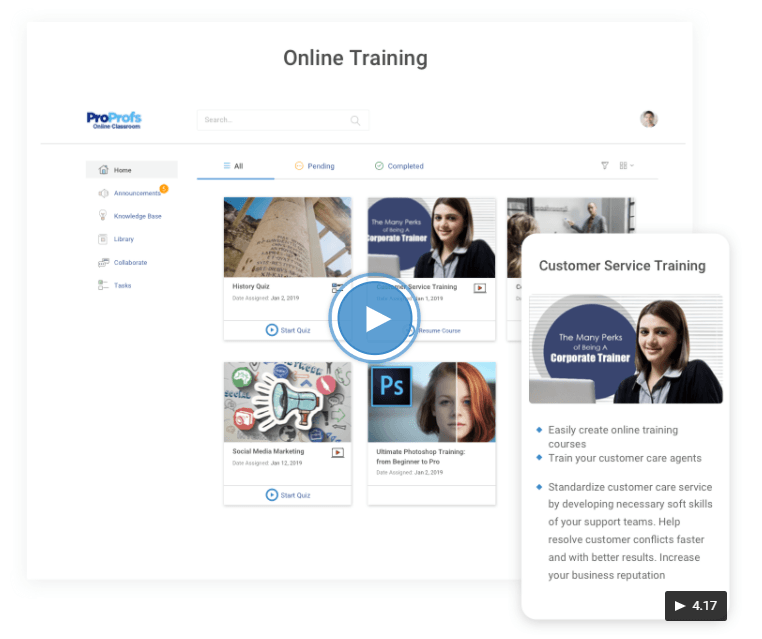 An extended enterprise LMS such as ProProfs Training Maker enables trainers and instructors to easily conduct training from one central location. You can now easily train remote employees and customers from your head office using centrally stored learning materials.
Consistent Design & Delivery
A uniform training design and delivery system using the same tool is likely to result in more consistent learning & development results. This, in turn, provides equal learning opportunities to learners at the same time.
Time-Saving
As a popular learning management system, extended enterprise LMS can save a lot of your valuable time. It removes the need for frequent in-person meetings or on-site visits to conduct training sessions. Everything is conducted via the internet.
Improved Business Process
A knowledge management tool such as an enterprise LMS system can help streamline business processes. It facilitates better knowledge transfer, which translates into:
better product and service knowledge

better customer service

increased customer loyalty

increased profitability
How Extended Enterprise LMS Software Improves Customer Experience
When you provide product and service training to stakeholders outside your immediate organization, such as partners and resellers, you are indirectly investing in improving customer experience.
Let's see how.
According to a report by Thomson Reuters and Interbrand, 75% of a corporation's value is intangible. In other words, brand and reputation make up a large chunk of a business' most valuable assets.
By training your external company representatives on your company policies, culture, and values, an extended enterprise LMS keeps these stakeholders well informed. As a result, your customers are more likely to receive from your representatives quality services that reflect everything you stand for.
A well-trained and informed channel partner equals an informed customer.
Whatever product and service training you provide to your partners is transferred to your customers. This helps your clients make informed decisions.
Unlike in the past, you can now deploy product training on time using an extended enterprise LMS so that your outside sales teams are updated on product releases, changes, and improvements. This enables your salesforce to inform your customers about new product features and their benefits by keeping them up-to-date.
The reporting & analytics feature in most extended enterprise LMS can help you monitor channel partners and distributors' performance. Based on the data, you can identify the weaknesses of external business representatives and address them. This ultimately improves customer experience.
For example, if a partner isn't meeting their targets, you can deliver targeted training to address the issue. This will help bridge gaps in their customer service.
How to Choose An Enterprise LMS
It's fairly simple. You just need to keep a couple of things in mind when you are researching the best enterprise LMS for your business. Find and compare corporate learning management systems based on the following points:
✓ Define Your Learning & Development Objectives: First things first, find out whom do you want to train and why. Is it your sales team, HR department, or resellers? Do you want to impart knowledge to them on your product line, emerging market trends, or strategies you need to employ to reach your goals?
Clear learning objectives are one of the fundamental elements that you need to know to move ahead with your training programs confidently.
✓ Easy Content Creation & Curation: A worthy enterprise learning platform should enable you to create, organize, and manage online training courses easily. This is because once you organize the content, knowledge transfer to the target audience becomes easy and smooth.
✓ Make Sure It's Mobile-Friendly: Enabling learners to access your training program anytime, anywhere, and on a personal device of their choice is a necessity today. Most learners prefer to learn on the go, and the enterprise LMS you choose should support this functionality.
A mobile-friendly LMS lets them engage in microlearning according to their own pace and schedules.
✓ Supports Learning in Different Formats: If you look at the profile of any modern-day learner, you'd find that they rely on different mediums to gather knowledge. Every business should respect and fulfill this expectation.
Make sure that the enterprise LMS you are considering supports learning through images, audio, videos, presentations, infographics, flashcards, quizzes, and more with courses. This will ensure that you cater to different learners having different learning styles and preferences.
✓ Social Learning Features: A major part of human learning behavior is influenced by social experiences (social cognitive theory). So, this is another feature that you should look for in your enterprise learning management system.
The tool should preferably offer a collaborative learning environment where learners' communities can collaborate to share knowledge and work on common assignments collectively.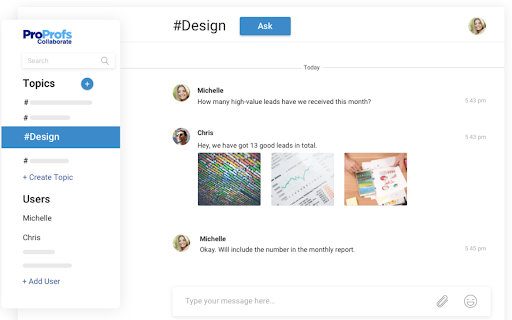 ✓ Learning Data & Analytics: Last but not least, the enterprise LMS should allow you to collect learning data at every stage of training. This will provide insights into participation, engagement, learning progress, course completion, as well as help you identify knowledge gaps.
Making data-driven learning decisions becomes easy with this information at your fingertips.
Why Choose ProProfs?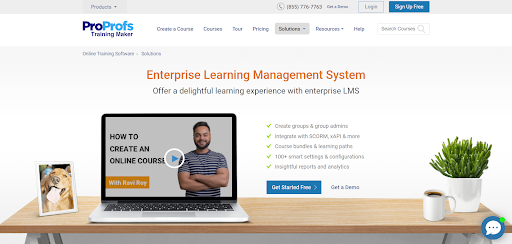 ProProfs LMS is the world's simplest enterprise LMS and among the best learning management systems today. It is used by enterprises of all sizes and in all industries. The platform serves as an all-in-one solution for creating, managing, sharing, and tracking courses and tests easily.
Let's go over some of the great reasons to adopt ProProfs.
Easy to Use
ProProfs LMS is easy to understand and use. It is designed for users of all skill levels. An intuitive interface simplifies online employee training. The tool requires no software download and installation.
Course Library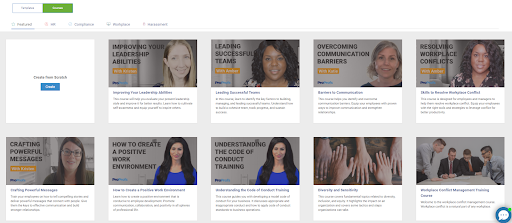 You get access to a premium library of 100+ professionally designed and ready-to-use courses. This makes training implementation time-saving and fast. These resources are easily customizable with multimedia and branding.
Some of the popular courses ProProfs offers are:
Easy Course Creation
If you want to create your own courses from scratch, you can do that with a built-in authoring tool. You can also import existing content to beautifully designed templates and replace the dummy content in the placeholders with text, images, videos, etc., that you need.
Used by Millions
Training Maker is used by over 4 million learners. Users have created more than 100,000 courses and tests so far and counting. They include corporates, educational institutes, government departments, and online tutors.
Trusted By Leading Brands
ProProfs is an award-winning learning management system used by well-known brands such as Acer, Dell, DHL, Sony, and Cisco.
All Essential Features in One Place
You'll find all the features you will ever need to deliver impactful online training in ProProfs LMS. From an intuitive UI to 100+ settings & configurations, ready-to-use courses, a centralized virtual classroom, automated grading, advanced security settings, and reporting — we have got you covered.
Works On All Devices
ProProfs courses and tests work on all popular devices and display perfectly on all screen sizes. It is compatible with all browser and operating systems as well. This empowers learners to learn anytime, anywhere, and on any device.
Powerful Integrations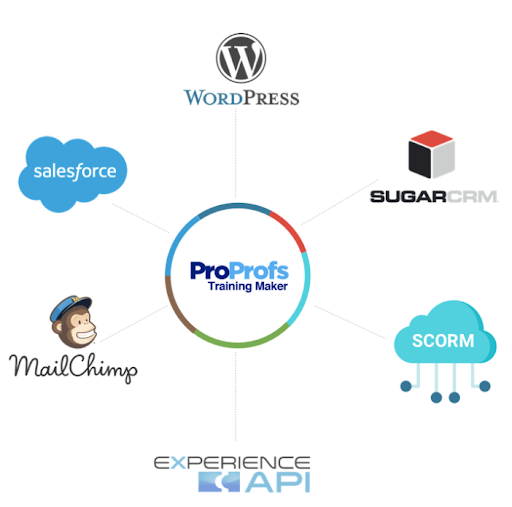 ProProfs LMS plays nicely with other software applications, including email marketing tools, CMS, and CRM. Get the benefits of two platforms in one solution without having to constantly switch between tools.
Awesome Service
The delightfully smart tools from ProProfs are complemented by its awesome customer support. The support team is patient, professional, and fast. This plays a big role in making it one of the best LMS platforms at present.
Simple Pricing
The provider follows simple pricing plans based on the number of learners and user type. The tool is not only low-cost by industry standards; there are also no hidden costs. It offers a 15-day free trial on all plans. No per-user fees.
Looking For An Enterprise LMS? We Can Help You!
Choosing the right enterprise LMS that works right for you may look challenging. But you can conquer this challenge by setting your priorities straight and being clear about what you want.
From the outside, all learning management systems look alike, with each offering similar services. It's only when you look under the hood that you realize the differences between them.
ProProfs not only offers an enterprise LMS but also a library of ready-to-use courses on different corporate training topics. Leverage both of them to deliver engaging, fast, and effective learning to your employees, partners, resellers, and other stakeholders.
Do you want a free Training Software?
We have the #1 Online Training Software for employee training & assessment