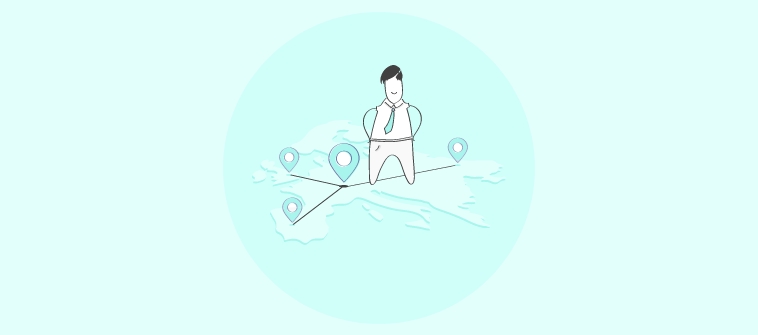 McDonald's. 7‑Eleven. Marriott — Big franchise brands that also boast of one common thing, i.e., excellent franchise training programs.
Over the years, franchisers have realized the difference that training makes in running operations successfully. That's why such training programs are now an important component of franchise agreements.
Why? Well, simply because franchisees play a significant role in replicating and promoting a business in a different location. They are instrumental in maintaining brand consistency, expansion, and success.
Numerically speaking, one out of every seven businesses in the world is a franchise.
An average of 300 companies start franchising each year.
Franchised businesses contributed $670 billion to the U.S. economy, representing 3% of the total nominal GDP.
From this, it's apparent that franchises are operating on a large scale and the need for training their employees is ever-present.
Want to replicate the success of the big brands and provide the best possible training programs to franchisees? Then it's essential to know what a formal program looks like, the types of training they can deploy, their benefits, and what tools are available.
We will discuss these and other related topics in this blog to empower you with all the information you need to set up a robust program. Continue reading to find out.
What is Franchise Training?
Franchise training is training provided to franchisees after they sign a franchise agreement with a franchisor and before they begin operating a franchise. The emphasis of such programs is on the capacity building of franchise employees so that they can successfully represent a brand in their chosen territories.
During the training, franchisees are groomed on entrepreneurial skills, people's skills, how to maintain brand consistency, how to develop a passion for work, how to keep oneself and others motivated, and many other topics.
Type of Franchise Training Program
There are three main types of franchise training commonly followed by most franchise networks. They are:
Training at Headquarters/Home Office
This is when the first hands-on training kicks off with the main franchise office as the venue. During this training, new franchisees are taken on a tour of the office facility, introduced to key team members, and briefed on how the business model works.
The training usually lasts a few days or a week. It's followed by testing and evaluations to determine the capability of the franchisees.
For example, 7-Eleven requires franchisees to fly to their Store Support Center in Dallas, Texas, for their "world-class LAUNCH training".
On-Site Training
On-site franchise training takes place at a new franchise location. At this time, a franchisee is familiarized with the business structure, the standard operating procedures of the franchised business, how to operate tools, if any, and other areas concerned with daily business operations.
This training can be considered an extension of the head office training. A franchisor's representative is often present to assist the franchisee at this time. The idea is to help a franchisee set up and run the franchise smoothly.
Marriott International, for example, conducts on-site training before the hotel opens and starts by deciding a team for the same. Their on-site training time averages 14 days but may last up to 21 days. This may also include a post-opening hotel visit.
Ongoing Training
Like most training programs in other sectors, franchise training is not a one-off event. Franchisees should remain current with the changes in management, product/service updates, market trends, and so on.
Retraining, recertification, and refreshers can help keep franchisees focused on the goals of franchising. You can set the requirements for the training from time to time based on business needs.
Top Benefits of Franchise Training
With a franchise, you have someone who cares as much about the business name and image as you do because they own it. – Jim Evanger
Franchise training is a key to each unit's success. Initial and follow-up training clarifies how a franchise works, what each employee's role is, and how they can together achieve objectives outlined in the agreement. Training also keeps franchisees aligned with what the franchisor stands for.
Here are some of the benefits you can expect from the training:
It lays a solid foundation and teaches franchisees how to replicate a franchise business unit
It equips them with the essential knowledge and skills to succeed in a franchise operation
The training introduces franchisees to all the tools, resources, and support available and how best to utilize them
Franchisees can acquire information on the technical aspects of franchise operation through formal training
Training can help them realize their full potential for franchise management and building brand reputation
Through training, franchisees learn how to ensure consistent and sustainable brand positioning
It helps develop motivated and committed franchisees who can build a thriving franchise
What Training is Available for New Franchisees?
Generally, training for a franchise comprises employee onboarding and regular training. Let's elaborate on them as below:
Onboarding for New Franchise Employees
The onboarding phase is important in every franchisee's journey. It is how franchisors formally welcome franchisees and make them feel a part of the team. The onboarding begins right after signing an agreement and prepares franchisees for a successful franchise operation.
Onboarding educates them on a company's mission and vision as well as communicates the expectations that a franchisor has from franchise partners. It brings the franchisees up to speed so that they can ramp up operations over time.
A professionally designed and engaging new employee onboarding course can be particularly helpful in this context.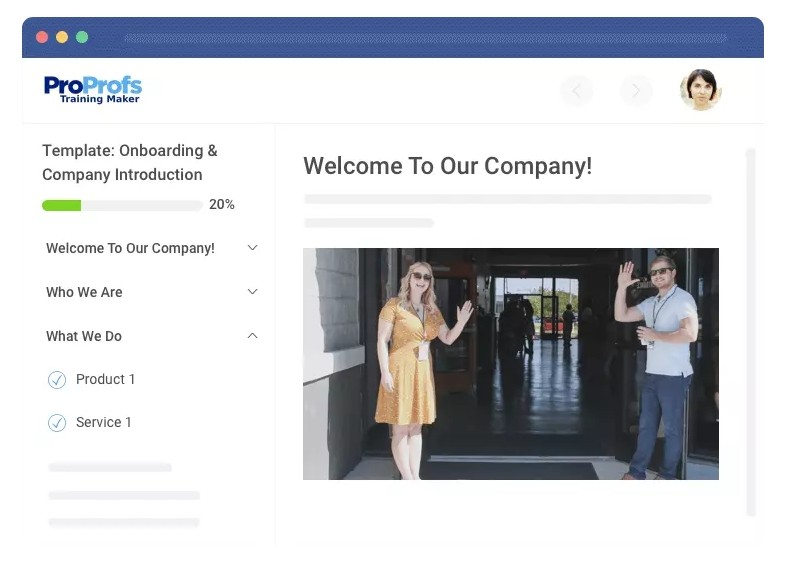 Staff Training for Franchises
Once the onboarding phase is over, franchise management and employees are put to mandatory staff training. Both the franchisor and franchisee can train employees. This training may relate to acquiring more franchise locations and growing a franchise network.
It can also instruct employees on promoting and selling products & services and increasingly generating more revenues. Both onboarding and regular training may take place in a franchise office, hotel conference room, or online.
Case Study: McDonald's – Training Every Owner & Operator for Success
One of the top-rated franchises across the world, McDonald's is the big daddy in the world of franchising. The success of their model depends hugely on maintaining consistency in operations where training the people plays a major part. Their aim is to maximize quality, service, and cleanliness, which helps franchisors optimize sales and profits. To ensure this, they provide:
12-18 months of training in a restaurant
Self-directed, part-time training with a duration of 20 hours per week
Seminars, conferences, and one-on-one training sessions
Assessment of success based on competency
6 Ways to Train Franchise Employees Better
When it comes to effective franchise training programs, it's no different from training employees in other industries. You need to make it accessible, engaging, include real-life examples, and provide regular feedback.
Consider the following six ways to train your franchise employees for best results and run a successful franchise.
1. Create a Positive Work Environment
Vibes are everything. Your franchise employees should feel positive the moment they step into your office. Create a supportive and nurturing culture as a prerequisite for their training and development.
With such an environment, you can expect motivation, collaboration, and the will to learn in your franchisees. For this, management can start by setting good examples and always remaining in touch with training participants.
2. Invest in Regular Training Sessions
To develop well-informed and smart franchise employees, it's important to provide them opportunities to learn at regular intervals. This will enable them to develop new skills that your business truly needs.
During these sessions, you can share training manuals with participants, show them videos on how a franchise works, discuss market trends, etc.
3. Provide Continuing Education
As mentioned before, learning can never be a one-off event. It has to be an ongoing process. When you provide them opportunities for self-development and career growth, employees are more likely to stick around.
Allow them to enroll in online courses and seminars. You can even sponsor the costs for earning a credit if your franchisees think a certain program can be advantageous to them.
4. Incorporate Brand Values in Training
At the end of the day, it's about your brand – how you promote it, how people perceive it, and what impact it creates on customers' lives.
So, regardless of the training topic, make sure you emphasize your brand values, especially how you address customers' needs with your products and services. Franchisees should associate with your brands well so that your clients also do the same.
Here's a quick guide on how to design online training courses to reflect your brand identity.
5. Let Professionals Take Over
At times, you may feel the need to get a different perspective on certain areas of franchising and for this, hiring outside professionals is one of the best ways out. Seeking external expertise's help can add depth to how your employees understand and perform their duties.
Since these outside partners or consultants specialize in training, they can bring employees up to speed faster and better than any internal supervisors or managers.
6. Provide Regular Feedback
Make it a point to provide timely feedback to your training participants. Let them know how they're performing, what they do best, areas where they can improve, and so on. This way, learners can continuously learn about their strengths and weaknesses and work on them.
Training feedback also enables learners to get the most out of every learning & development program and remain aligned to business goals.
How Franchise Training Software Helps?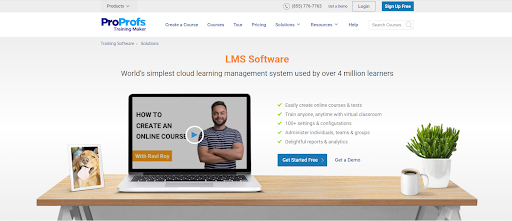 When it comes to the best tool for online franchise training, a learning management system or LMS can be an incredible choice. These tools work for all training programs for businesses of all sizes in all industries.
As a complete employee training solution, an LMS does everything you want it to do – create, design, share, and track online training programs easily.
Training administrators can build custom courses & assessments and learners can take them from anywhere, anytime, on any device.
Some of these platforms come with helpful assets such as courses, templates, videos, and quizzes on topics related to franchised businesses.
Franchisors can rely on LMS tools to deliver comprehensive and consistent training locally and remotely to ensure franchisees' performance and productivity.
Not Trained Your Franchisees Yet?
If yes, you should consider delivering it now.
Franchisees play a significant role in the unit expansion and replication of a business model in new locations. They own, manage, and give direction to a brand for consistent marketing and customer acquisition on behalf of a franchisor.
After understanding the types of training available for franchisees, how best to deliver them, and the tools available for the purpose, it's easy to get started. All you need is to formulate a standard franchise training plan first. In this effort, an LMS can be your greatest ally.
Do you want a free Training Software?
We have the #1 Online Training Software for employee training & assessment