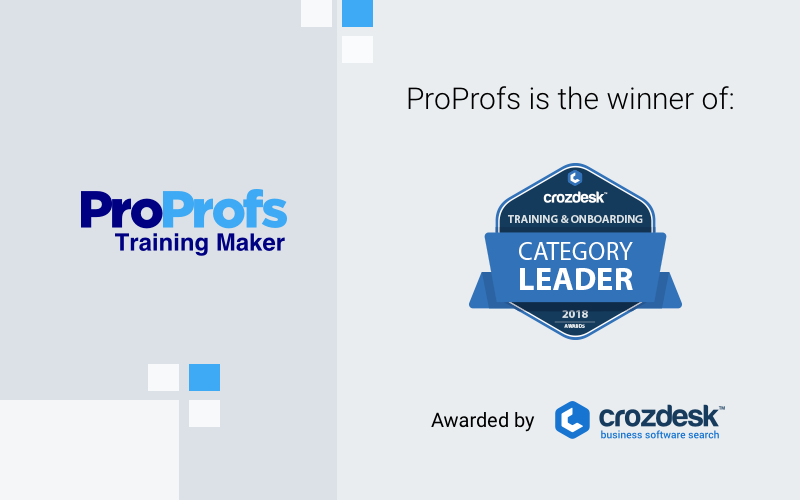 ProProfs Training Maker clinches the category leader award at a survey conducted by Crozdesk, a leading software search platform. While user ratings stand out at an impressive 4.5/5, ProProfs Training Maker also garnered outstanding scores in the Learning Management Category (88/100) and the user satisfaction category (88/100). Fully geared up with cutting-edge analytics and reporting features, ProProfs Training Maker also generated decent traction in Press buzz scores (44/100).
Fulfilling the promises of a new-age, cloud based LMS Software; ProProfs Training Maker proved its mettle in the all aspects of learning; creation, administration, distribution and reporting. Equally useful for both teachers and learners, ProProfs Training Maker stands true to its commitments of being a world-class LMS with over 100,000 courses and tests created so far. Not to forget that the courses our clients create caters to over 4 million worldwide users and still growing.
What helped ProProfs Training Maker occupy higher rankings than the counterparts is its ease of use and administration that even a high school graduate can get accustomed in no time. Asides this, ProProfs Training Maker always stays one step ahead with essential features such as Tin Can API and other integrations. Moreover, you can enjoy all the privileges of a full-fledged Learning Management System by adding quizzes, polls and surveys to every single course that you create. Not only you can improve learning outcomes, but you can also build on your existing knowledge for a delightful learning experience.
We are highly thankful to Crozdesk for the recognition that would continue propelling our vision to become the #1 Training Software in the world. Trying to create meaningful online courses within the shortest time frame? Give ProProfs Training Maker a shot for groundbreaking results in every conceivable aspect of your trainings, whether it's onboarding, safety or compliance. We bet you won't be disappointed!
Do you want a free Training Software?
We have the #1 Online Training Software for employee training & assessment