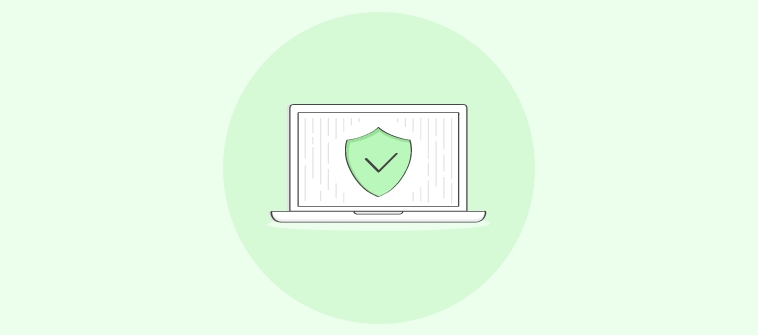 Finding the right computer-based training (CBT) tool is not as easy as placing an order at a restaurant.
With the latter, you are clear about what you want to do, like which cuisine to try, how much quantity you want to order, etc.
But when choosing computer-based training tools, you're most likely to get baffled.
Why?
You can find many CBT tools in the market, each with its own set of features and USPs. So, it becomes difficult to narrow down the choices. On top of that, advertising gimmicks make it even more confusing for buyers.
We're sure you must be confused as to which CBT tool would be the best.
Don't worry!
We have conducted some in-depth research on your behalf and compiled the top 10 computer-based training tools in this blog, along with their features, pros and pricing.
Go ahead and compare each tool to choose the one that best suits your requirements.
Watch: How to Choose the Best Corporate Training Platform
A Quick Feature & Price Comparison Table of the 10 Best Computer-Based Training Tools
10 Best Computer-Based Training Tools
Why Is It Best?
Pricing
ProProfs Training Maker
Ready to Use Courses

Roles and Permissions

Testing and Assessment

Track Learner Progress and Obtain Real-time Reports

Forever free for up to 10 learners.Paid plan starts at $1.97/active learner/month for large teams. Billed annually.
Docebo
Course Creation

Gamification

Certifications

Personalized Learning Paths

Get in touch with the company for a quote.
MindFlash
Course Creation

Quizzes & Assessments

Reports & Dashboards

Mobile friendly

Starts from $290/month, billed annually
Absorb LMS
Smart Administration

Reporting and Analytics

Artificial Intelligence

Content Library

Get in touch with the company for a quote.
Lessonly
Lesson Builder

Learning Paths

Quizzes and Surveys

Customizable Interface

Get in touch with the company for a quote.
Tovuti
Built-In Course Authoring

Gamification

Virtual Classroom

Course Tracking

Quizzes and Assessments

Starts from $775/month, billed annually
WizIQ
Virtual classroom

Tests and Assessments

Reports and Analytics

Mobile learning

Starts from $25/month, billed annually
Schoox
Learning Engagement

Social Collaboration

Track Learner Progress

Assessments

Starts from $5/user/month
EdApp
Course Library

Mobile-Friendly

Gamification

Peer Learning

Starts from $0/user/month
LearningStone
Reuse content without limits

Assessments

Surveys

Collaboration

Get in touch with the company for a quote
Before we discuss each of these tools in detail, let's quickly understand the meaning, features, and importance of using computer-based training tools.
What Are Computer-Based Training Tools?
Computer-based training tools are used for imparting computer-based learning or instructions. They are also known as online training or web-based training tools.
For example, a Learning Management System (LMS) is a computer-based training tool used for planning, implementing, and assessing a specific corporate training or e-learning program. These tools enable blended, self-paced, and collaborative learning.
CBT tools provide impressive features, such as readymade training courses, virtual classrooms, reports and analytics, and tests and assessments to facilitate this.
These training tools help deliver small chunks of information, let learners take self-assessments, provide instant feedback on their performance, and help create learning paths.
Features of Computer-Based Training Tools
There are several features that come with most computer-based training software. Some of the popular ones are:
Course Accessibility 24/7
The best thing about computer-based learning tools is that since they are generally cloud-based, courses are available 24/7. This means learners can access the learning materials at any time at their leisure and learn undisrupted, unlike a traditional classroom with fixed timetables.
With most computer-based training tools, you can access a premium library of online courses and templates on various topics.
Also, you can create a course from scratch using existing documents and learning materials. These readymade courses accelerate the training process.
In virtual classrooms, learners and instructors come together in an online learning environment and rely on communication tools to manage all the learning activities. It provides a centralized place to add learners, set up roles & permissions, assign courses, and track real progress.
Real-Time Tracking
You can get real-time feedback on learner progress. The robust reporting tools give insights into who has taken the course and who is yet to. You can view reports on a single dashboard.
Track completion rates, total time taken, scores, and monitor course engagement levels. Identify and bridge knowledge gaps.
The fact that computer-based training tools are mobile-friendly makes them an effective choice for online training. It enables learning on the go, and users can access course materials and download them on all personal devices, such as smartphones and tablets.
Create a roadmap for your learners to help them meet the learning objectives. Bundle courses into one and add more structure to keep learners on the right track.
Quizzes and Surveys
Through computer-based training tools, you can add beautifully designed quizzes to assess knowledge retention and gather instant feedback with surveys on what learners think about your course.
Why Use Computer-based Training Tools for Online Training?
There are many reasons to use CBT tools for online training. Computer-based learning tools help you create engaging courses, deliver them quickly to your learners and more.
Enable Self-Paced Learning
With online training software, learners can enjoy the freedom of learning at their own pace. They can access course content anytime, anywhere on their personal devices. Since courses are taken online, there's no need to commute, and learners can devote more time to the course.
Flexible Learning
Courses are accessible 24/7, so learners can take up the course at their leisure. This flexibility makes it easier for learners to maintain attendance and reduce dropout rates.
Consistent and Standardized Learning
With CBT tools like LMS software, you can consistently deliver courses in the same manner. Also, instructors do not have to create courses every time for a new batch of learners. Instead, the same materials can be redistributed, which will help in maintaining consistency.
Helps in Tracking Progress
Computer-based training programs help track learner performance through reporting tools. This is a great way to check
when learners have started the course,
how much the course is pending, and
whether they were able to pass the test after completing the course.
These analytics are helpful in understanding which course topic was most engaging and which one requires improvement. Accordingly, courses can be tailored to suit learning needs.
Higher Retention Rates
Besides engaging learners, computer-based training increases employee retention rates. It empowers such learners to have more control over their learning process.
By handling learning experiences in a unique way, employees get more engaged with the training, making it memorable for them.
That's why you should be using CBT tools to train employees. Next, let's look at some of the best CBT tools available on the market.
Top 10 Computer-Based Training Tools
1. ProProfs Training Maker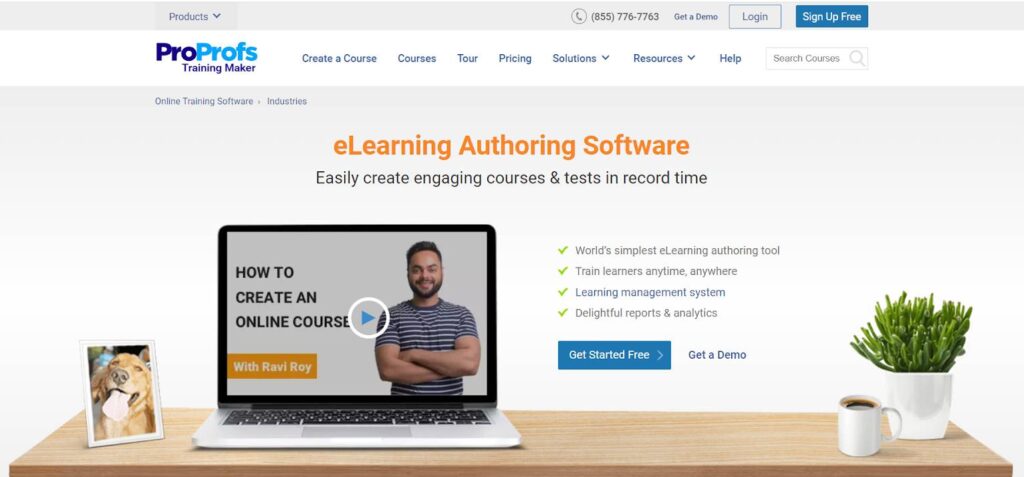 ProProfs Training Maker is one of the best computer-based training tools for creating, sharing, and tracking online courses and assessments. It has all the features necessary to plan and execute training programs online.
It provides a premium library, readymade templates, reporting tools, collaboration tools, virtual classrooms, and auto-generated certificates and supports English, Spanish, and 70+ languages.
With ProProfs, you can create learner groups, add user admins, assign roles & permissions, and set course due date reminders.
Features
Course Building
Create courses from scratch using existing documents, PDFs, and presentations. Or use the course library and edit the courses based on learning needs.
100+ Readymade Courses and Templates
Get access to 100+ customizable training templates on a variety of topics, such as employee onboarding course, business training, sales training, marketing training, finance training, and more. Similarly, get your hands on professionally created, editable, and ready-to-go courses on topics like customer service, HR, safety & compliance, soft skills, and more.
Mobile Friendly
ProProfs' mobile LMS appeals to learners in the modern workplace. It enables learning on the go. Accessing a course is easy, even if there's a poor internet connection. It delivers a personalized learning experience and facilitates real-time collaboration.
White Labeling
Get the look you want for your courses with your brand logo, background color, theme, font, styles, etc., to promote the courses under your brand.
Roles and Permissions
Assign roles and permissions to group admins and give them access to manage users and courses.
Testing and Assessment
Ask different types of questions and assess knowledge retention by adding assessments, such as quizzes to your courses. With ProProfs, you can also get video responses to questions and prevent question skipping.
Reporting and Tracking
Get real-time reports and monitor individual and group progress. Export reports as Excel or PDF. Get access to reports on pending and completed courses.
Privacy & Security Settings
Make your courses either public or private. Proprofs has 100+ privacy and security settings and access controls.
Pros
User-friendly
Intuitive user interface
Smart real-time reports
Needs more upgrades
Trial period is short
Pricing
Forever free plan (up to 10 learners). Paid plan starts at $1.97/learner/month (billed annually) for large teams. No hidden charges. 15-day money-back guarantee.
2. Docebo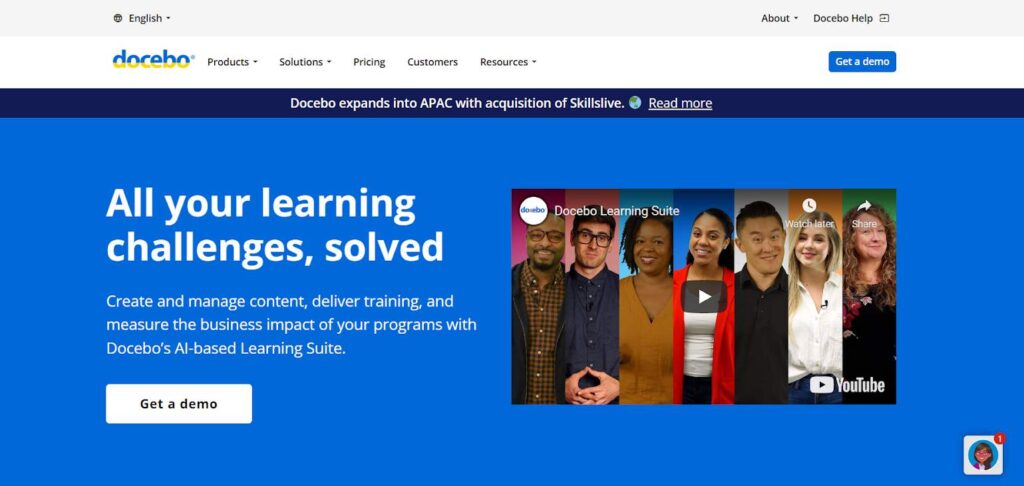 Docebo is one of the best LMS software for medium and large organizations with huge quantities of courses to deliver.
This learning suite lets you create courses and offers an extensive course library. You can do everything from content creation to tracking learner progress under a single platform.
With over 400+ software integrations, it lets you connect learning across all your business systems.
Features
Course Creation
Create engaging courses for your learners and deliver a memorable learning experience. Select and deploy content directly from Docebo's LMS and meet learning needs.
Branding & White Labeling
Build an intuitive and familiar learning experience for your learners by using your own branding elements.
Gamification
Gamify your training sessions and turn them into healthy competition. Add brain games and enhance learner engagement. Include exciting elements like awards, badges, and more.
Certifications
Create certificates and distribute them among your learners to validate skill levels for various topics.
Personalized Learning Paths
Create sequences of courses and show the order in which learners should take them up.
Pros
Value for money
Social approach to learning
Great customer support
Costly for small enterprises
Unintuitive UI
Pricing
Get in touch with the company for a quote.
3. Mindflash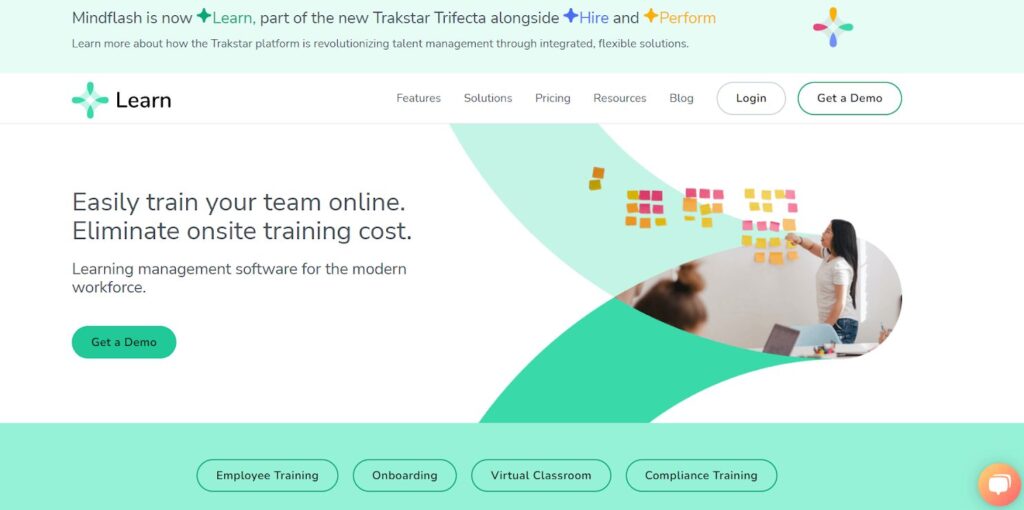 Mindflash is a leading computer-based training software tool enabling large and fast-growing enterprises to easily deliver online training.
The software delivers breakthrough innovations in content creation, program management, business analytics, and enterprise integration.
With a powerful set of tools, it lets you turn your trainees into experts, onboard employees, and retain top talent. It gives you all the resources to create and deliver an engaging program.
Features
Course Creation
Create and upload engaging content to enhance your learning experience. Add multimedia, teach live, and deliver an interactive e-learning experience.
Quizzes & Assessments
To ensure employees retain the materials, add different types of quizzes, such as picture labeling, multiple choice, open-ended questions, and more, to assess knowledge retention.
Reports & Dashboards
Get powerful reports in an easy-to-understand format. Through reports, you get actionable information to ensure employees are progressing in the right direction and to improve your course quality.
Mobile Responsive
Let your learners access the course materials from their personal devices, such as smartphones and laptops, anywhere and at any time.
White Label
Customize the feel and look of the courses using your brand colors and logo. Remove all Mindflash branding and use the white-label feature to rebrand your courses.
Pros
Easy to use
Highly flexible
Excellent reporting system
Doesn't allow scheduling and re-training
Needs more brand customization options
Pricing
Starts at $290/month, billed annually
4. Absorb LMS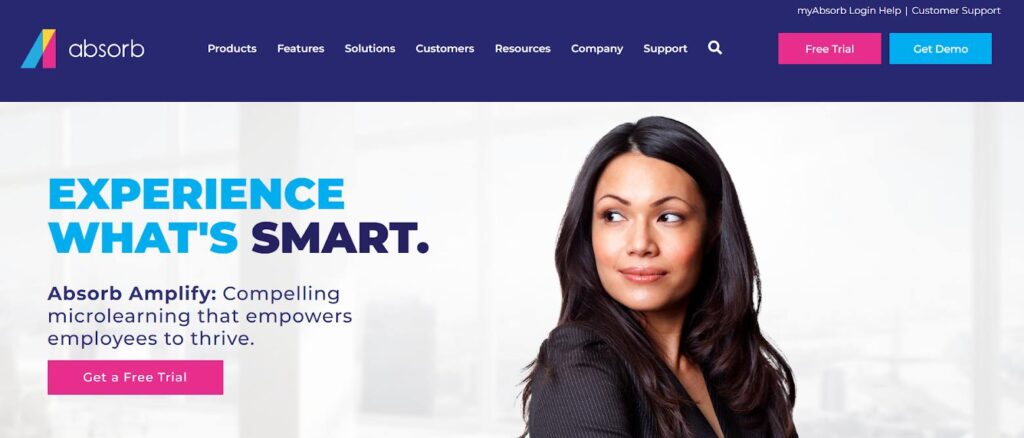 Absorb LMS surely deserves a place among the top 10 computer-based training tools because it is a holistic LMS solution that caters to all business sizes. The software easily aligns with users' learning needs and is packed with incredible features such as AI, an observation checklist, a content library, etc.
This LMS software empowers businesses to train employees on the skills they need to stay updated and relevant in today's fast-paced world. It is a great choice for learners with disabilities.
Through this LMS, learners who are on the go or need instant information on the field can easily access the training materials on their personal devices.
Features
Smart Administration
Shape your training programs as needed and run this software on your own terms and schedule. Features such as administrator dashboards, intelligent assist, etc., make it the best LMS for online training.
Reporting and Analytics
Get highly configurable reports, track learner progress, and take informed action based on the tracked activities. Get all information at your fingertips.
Artificial Intelligence
Leverage AI-powered capabilities and simplify admin tasks. Manage daily activities, get intelligent recommendations, and get results in optimal order through intelligent ranking.
Content Library
Get your hands on high-quality content crafted by professionals. Absorb LMS provides 160+ engaging microlearning courses, various content formats, and a wide selection of skill areas.
Software Integration
Integrate Absorb LMS with other tech solutions such as Okta, Skillsoft, Workday, OneLogin, G Suite, and more.
Pros
Great notification system
Intuitive user interface
Great customer support
Difficult to manage blended learning
Tracking learner progress could be better
Pricing
Get in touch with the company for a quote.
5. Lessonly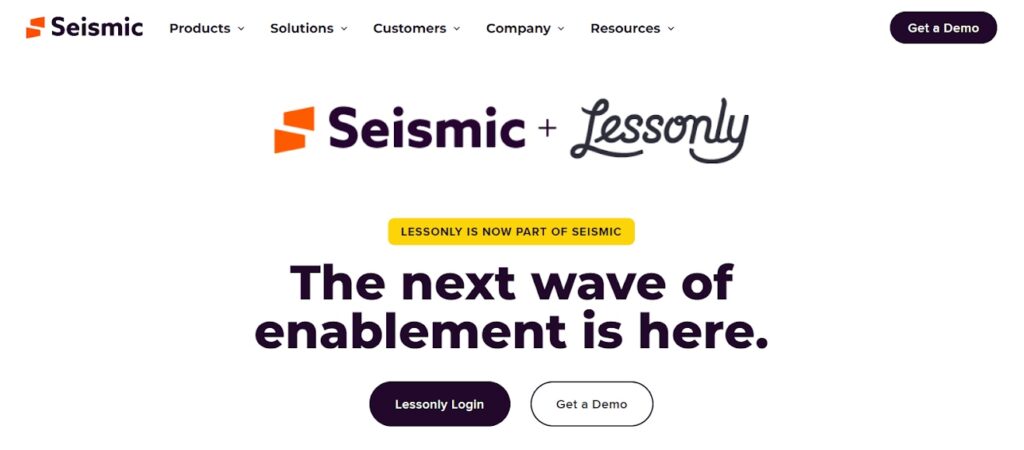 Lessonly is an online training software with more than 3 million learners. It is a cloud-based LMS that lets users build and track learning materials from a single location.
The software combines powerful course creation tools and time-saving features for an enhanced e-learning experience. The best thing is that learners can access training materials on their smartphones and tablets. The LMS is primarily used for educational, corporate, and HR training.
Create unlimited courses and personalize them using your brand colors, logo, and personalized URL. Get instant answers to your queries via live chat, phone calls, and email.
Features
Lesson Builder
Create, assign, and schedule your training courses in minutes. Import existing documents, embed media, and create interactive elements to improve knowledge retention.
Learning Paths
Lessonly supports learning paths to improve engagement and knowledge retention. Bundle courses into groups and add structure to your learning programs to give learners control over their learning.
Quizzes and Surveys
Add quizzes to your courses to track how well your learners have gone through the course, and insert surveys to get actionable feedback on your training program.
Customizable Interface
Lessonly has an attractive and intuitive interface that can be customized to fit your brand. The search function is simple and directs you to anything you might need.
Contextual Learning
You'll find lots of contextual help throughout Lessonly. The software will guide you and provide suggestions that give an interactive vibe.
Pros
Easy to create training videos
Allows adding different elements to courses
Great customer service
Hard to find old training videos
Can introduce more design ability when creating lessons
Pricing
Get in touch with the company for a quote.
6. Tovuti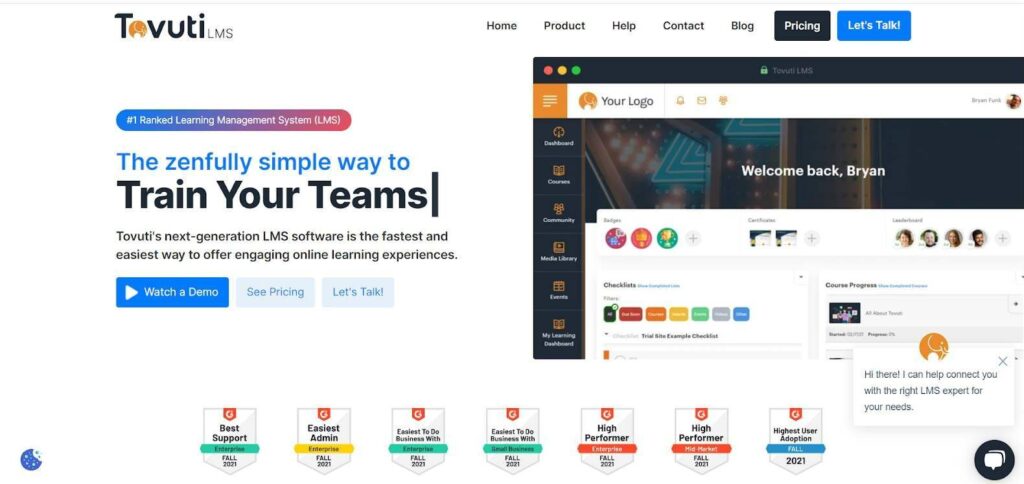 Tovuti is a computer-based training platform and has been featured among the top 10 LMS by Software Research. This platform gives you all the resources and tools necessary for course creation.
It has indispensable features such as course authoring, learning paths, gamification, adaptive learning, and more! Tovuti enables you to train your employees on different types of topics such as compliance, employee advancement, and so on.
Even though this software lets you create a course from scratch, it offers a vast course library with over 7,000 readymade courses. It gives you all the tools you need to create, deliver, and track your training programs.
Features
Built-In Course Authoring
Create more than 40 types of engaging courses using Tovuti's built-in course authoring tool. Add media, brain games, etc., to make your courses interactive.
Gamification
Reward your learners with badges and certificates and give them the chance to showcase them on their profiles.
Virtual Classroom
Get your hands on multiple premium virtual classroom features. Allow learners to work as a group, track learner attendance, and conduct your virtual meetings through Zoom, Join.me, etc.
Course Tracking
Monitor learner progress through system-generated customized reports. Virtually track learner engagement throughout a course.
Quizzes and Assessments
Add quizzes at any point in your course to assess knowledge retention. Ask a wide range of questions using multiple question formats and logic rules.
Pros
Easy deployment
User-friendly UI
Powerful automation
Multiple integrations
Custom email notifications can be improved
Has a steep learning curve
Pricing
Starts from $775/month, billed annually
7. WizIQ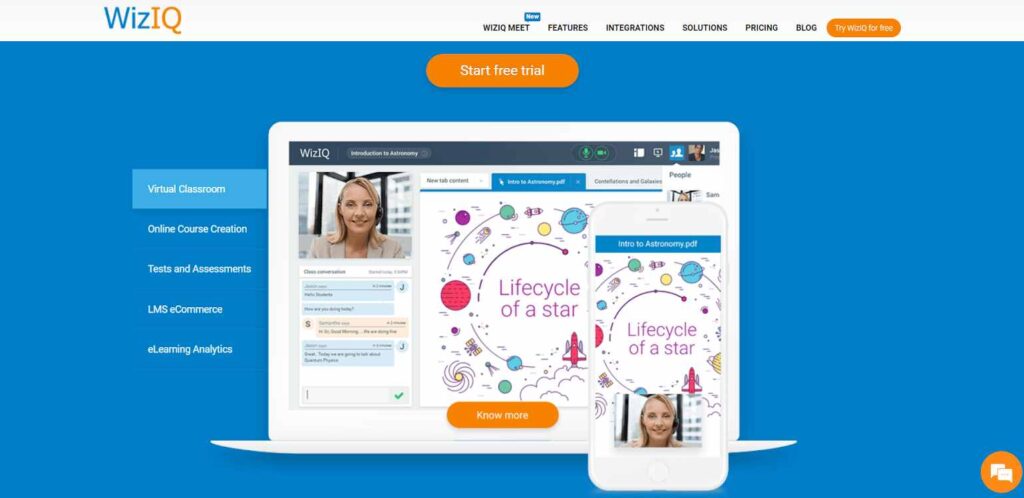 WizIQ is a cost-effective computer-based training tool equipped with virtual classrooms. It lets you create high-quality courses within a few minutes.
The software runs on WebRTC, has a simple and easy-to-use UI, and has all the features to replicate the physical classroom experience.
Unlike other training tools, WizIQ provides a video conferencing tool embedded within the system. Through virtual classrooms, instructors and administrators can quickly deliver live courses, monitor learner attendance, and track their performance in real time.
Features
Virtual Classroom
Conduct live classes with HD video conferencing. Collaborate live with your learners using breakout rooms, live chat, screen sharing, etc.
Create self-paced courses in multiple formats and set up your learning website/portal in just a few minutes. Get unlimited storage to upload unlimited content.
Tests and Assessments
The online exam builder lets you create tests and assessments in 9 different formats to assess knowledge retention.
Reports and Analytics
Get real-time reports on course and learner performance and take corrective actions to improve them. Spot the weak areas of your course and make necessary adjustments.
Mobile Learning
Provide mobile learning on the go and let your learners assess course content from smartphones and tablets for an interrupted learning experience.
Pros
Class recording in MP4
Supports multiple languages
Great customer support
Breakout room feature can be improved
The upload size of the content is restricted to 1 GB
Pricing
Starts from $25/month, billed annually
8. Schoox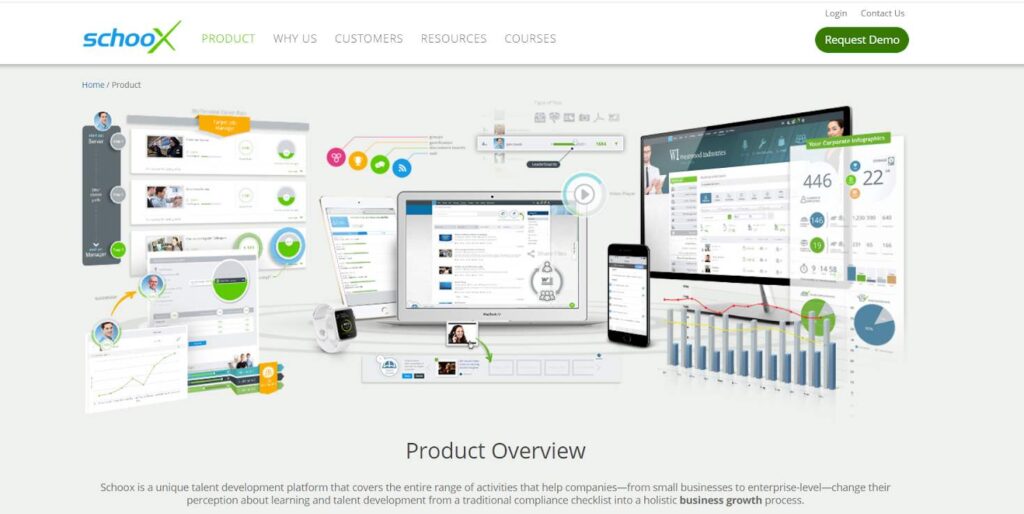 Schoox is one of the best computer-based training tools for enterprises of all sizes. This learning software is used for employee onboarding, employee training, compliance training, franchisee training, and more.
This agile LMS software offers user-friendly and powerful tools to create content, manage performance, peer collaboration, etc., under a single platform.
Keeping learners' needs in mind, Schoox has designed a simple UI that encourages learners to take courses and programs. Instructors can also manage and track learner progress through this e-learning platform.
Features
Content Creation
Create a course and add relevant categories and tags to ensure you share the right content for the right audience. Curate content, create a course out of it, and share it instantly with your employees.
Learning Engagement
Create courses with tracking capabilities, manage ILT and in-class events, get learner feedback through built-in polls, facilitate collaborative discussions, create tests & assessments and check results.
Social Collaboration
Schoox encourages collaboration and enables social learning, group communication and sending company-wide announcements. It helps build a connected learning culture to enhance learning initiatives.
Track Learner Progress
Identify skill gaps, measure learning impact, and manage manual assessments and talent strategy from a single platform.
Assessments
Schoox lets you conduct manual, automated, and self-assessments. Identify and track skill gaps and adjust your training programs to address them.
Pros
Easy test creation
Mobile-friendly courses
Great customer support
Automatic rules don't work at times
Polls don't work well on mobile devices
Pricing
Starts from $5/user/month
9. EdApp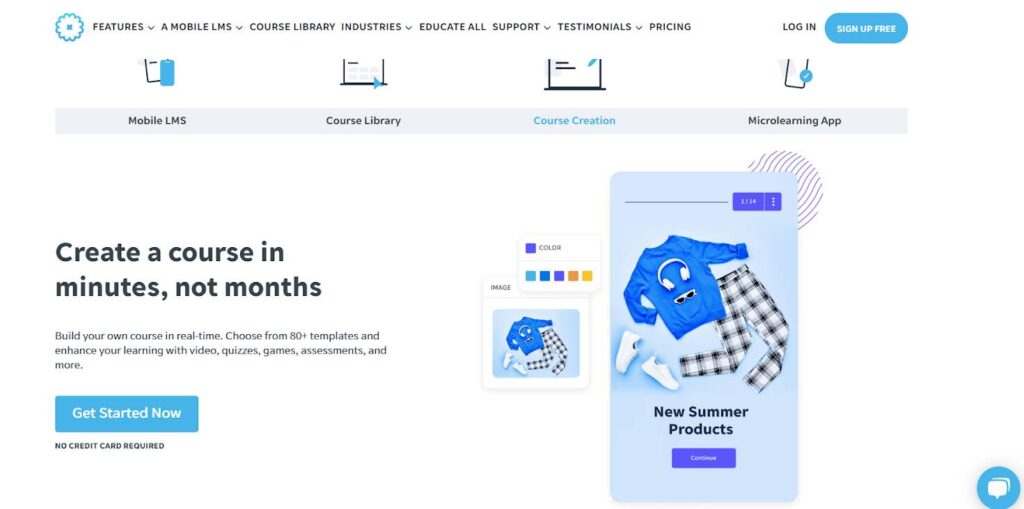 EdApp is a next-gen computer-based training platform that lets you deliver high-quality and effective training to learners in a format that suits them irrespective of the device and location.
With features such as gamification, spaced repetition, and push notifications, this online training software makes learning engaging and fun, improving knowledge retention.
EdApp can translate content into 105+ languages and processes around 50,000 lessons every day for large and multinational organizations.
Features
Course Creation
Create a course and add multimedia, such as videos, images, brain games, and assessments to make your content interactive. Choose from 80+ course templates, rebrand them, and deliver a top-notch learning experience.
Course Library
Use the readymade content library and explore topics on various subjects. Get access to 1,000+ courses and deliver branded learning to your learners within a few minutes.
Mobile-Friendly
Train your teams anytime and anywhere. Learners can assess the training materials at their leisure on their personal devices like tablets and smartphones.
Gamification
Add brain games and encourage your learners to get their training done quickly. Gamified content is a proven way to enhance knowledge retention, and leads to better engagement.
Peer Learning
Leverage the social learning features, such as discussions, assignments, and video conferencing to improve the overall quality of your training program.
Pros
Supports microlearning
Excellent software integrations
Document briefcase
Customer support can be improved
Pricing
Starts from $0/user/month
10. LearningStone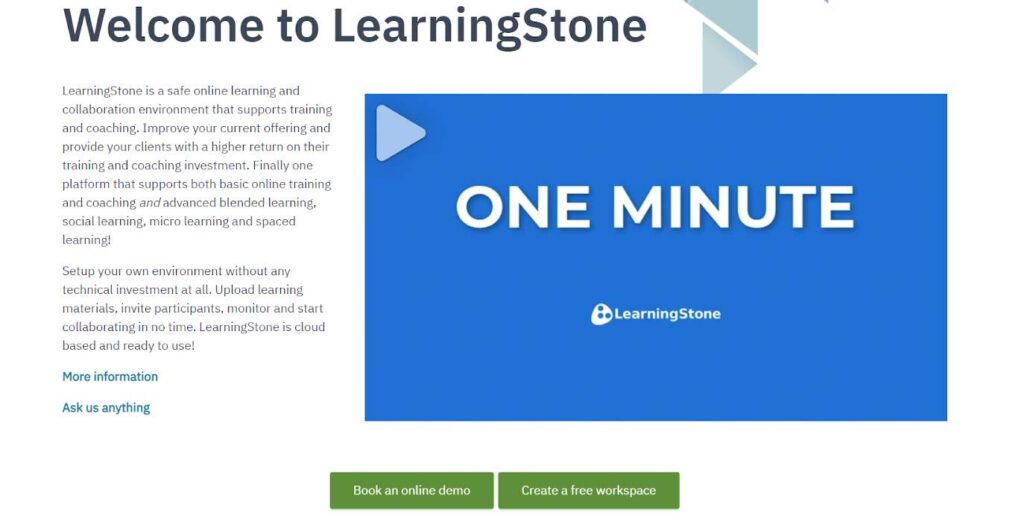 LearningStone is online employee training software that provides all the features that a modern LMS should have. Trusted by over 6,000 organizations worldwide, this unified platform is best for supporting online training, blended learning, coaching, social learning, and microlearning.
It lets you create content and access the course library crafted by experts. The best part is that it enables learning on the go and helps evaluate learners' understanding levels to a great extent.
Features
High-Quality Content
Provide your learners with high-quality content curated by industry experts for an effective training experience.
Reuse Content Without Limits
Use the existing content as often as you want to train your new and old employees.
Assessments
Test your learner's performance through assessments. Check how well they have retained the information from the course materials.
Surveys
Gain a clear picture of employee satisfaction through surveys and know more about your training programs. Make necessary changes to your program based on learner feedback.
Collaboration
Let learners and instructors collaborate and facilitate knowledge exchange during the training program.
Pros
Very easy to set up, requires no technical knowledge
Comes with chat wall, private messages, shared folders etc.
Great customer service
File uploading has issues
Need more software upgrades
Pricing
Get in touch with the company for a quote.
Adopt the Best Computer-Based Training Platform
We're sure this list of top 10 computer-based training tools will help you find the right solution for your business.
Though some of them share similar features, they have their own USPs. With most computer-based tools, you can access readymade courses, templates, virtual classrooms, collaboration tools, assessments, and more.
Make sure you identify all your training needs before choosing a tool. Find out which features of the tool you need the most. Do you have any other expectations apart from good features? If yes, make sure you thoroughly review each of the tools to make a choice. With the right tool, you can easily meet the learning objectives and empower your learners with the necessary skills and knowledge.
Do you want a free Training Software?
We have the #1 Online Training Software for employee training & assessment