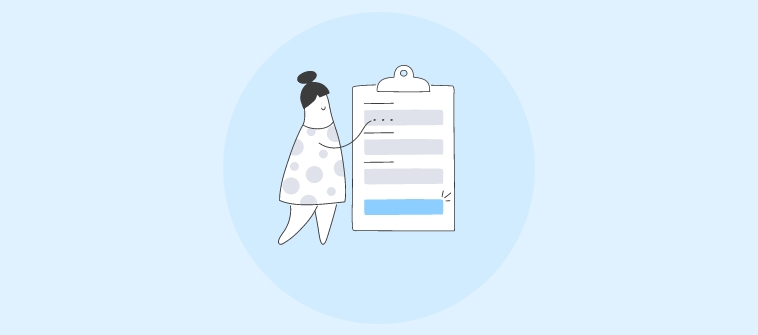 The 'distance' in distance learning is silent. Thanks to several powerful distance learning software applications available today, the physical distance between learners and instructors is not an issue anymore.
These distance learning platforms have bridged the gaps. The focus has, thus, shifted towards ensuring greater participation of learners in the process and monitoring learning outcomes.
Top distance learning solutions are in the spotlight these days. Hundreds of millions of learners worldwide are already leveraging the advantages of distancing learning.
If you're a first-timer, we can help simplify your transition to remote learning. If you already use a tool, then, by all means, you can now choose a better tool than the one you have.
The following list will give you a quick overview of the 10 best distance learning software to use and why.
Continue reading to find out.
Watch: What is eLearning and How Can It Help You?
Key Features and Price Comparison of the Best Distance Learning Tools
10 Best Distance Learning Software
Why Is It Best?
Pricing
ProProfs LMS
Creating Online Courses & Tests

Virtual Classroom Experience

Quizzes & Surveys

Discussion & Collaboration

100+ Customization Options

Reports & Analytics

Forever free for up to 10 learners.Paid plan starts at $1.97/active learner/month for large teams. Billed annually.
ezTalks
Instant Messaging

Audio Calls

Videoconferencing

Mind Mapping

Remote Control

File Sharing

Starting from $12.99 /month
GoToMeeting
Video Conferencing

Screen Sharing

Recording & Transcription

Mobile Conferencing

Conference Room Equipment

Anytime, Anywhere Scheduling

Starts at $12/organizer /month
ProofHub
Smart Time Tracking

Team Collaboration

Multilingual Support

File Management

Announcement

Advanced Search

Starts at $45/month
Troop Messenger
Instant Messaging

Voice & Video Calling

Advanced Settings

Executive Dashboard

Live Location Tracking

File & Screen Sharing

Starts at ₹75/user/month
Zoom
HD Audio & Video

Team Chat

Online Meetings

Conference Rooms

Phone System

Calendering System

Basecamp
Project Management

File Sharing

Social Collaboration

Project Templates

Instant Messaging

Task History

Starts from $99//month
Hubstaff
Time Tracking

Geofencing

Productivity Monitoring

Detailed Reporting

Employee Scheduling

Payroll System

Starting from $7/month
Blackboard Collaborate
Virtual Classroom

Web Conferencing

Fast File Sharing

Interactive Whiteboard

High-Quality Audiovisual

Chat Services

Available on contact
WizIQ
Online Courses

Mobile Learning

Virtual Classroom

Tests & Assessments

eLearning Analytics

Online Tutoring

Starts from $25/month
Before we look at each of these tools in detail, let's understand the following:
What is Distance Learning Software?

Distance learning software systems are remote learning tools instructors use to communicate with learners and assign courses, lessons, exams, and tests without in-person contact. In other words, it is a tool to conduct eLearning and online employee training through the internet and electronic devices.
For example, teachers and corporate trainers rely on a learning management system (LMS) to remotely create, administer, and track online courses and quizzes.
What's the Difference Between Online Learning and Distance Learning?

Though both online learning and distance learning denote web-based learning, there are a few subtle differences between the two. Let's understand them from the following table:
| Online Learning | Distance Learning |
| --- | --- |
| By online learning, we understand the learning delivery method, which is online as opposed to offline classroom learning. | Distance learning stresses on learning that takes place amid the geographical distance separating an instructor and learners. |
| It usually relies on a virtual learning environment to assign and access courses and tests in real-time. | It primarily involves self-study at home according to one's schedules through assignments shared via email or posts. |
| In its blended form, online learning may involve in-person interaction between an instructor and learners as well as among the learners themselves. | Distance learning relies only on digital tools such as messaging apps, video calls, and discussion boards to communicate. |
| Online learning is often used alongside other learning strategies as a supplement. | Distance learning lacks this variation as it focuses solely on online learning delivery. |
| Online courses and tests generally take 1-2 hours maximum. It is mainly used for short-duration and self-paced learning. | Distance learning, on the other hand, usually indicates attending degree courses that take from a few months to a year to complete. |
| It may or may not come with a completion certificate. | There is generally a diploma or degree certificate earned from an accredited body. |
Types of Distance Learning
There are seven main distance learning types. Each of them serves different purposes.
Synchronous
Synchronous distance education is where learners learn simultaneously at a fixed time each day. It uses chats, video conferencing, and screen sharing as the main medium. This system may not be that flexible but allows greater synchronization as all the participants can come together at the same time and day to teach and learn.
Asynchronous
Asynchronous distance learning is comparatively more flexible. For example, it has a deadline set over a week, but learners are allowed to learn at their own pace during this time. This gives sufficient time to learners while working on a time-consuming project or assignment.

Fixed Time

Fixed time is usually used for online courses, and learners need to log in to their online accounts at a specified time. eLearning or training sessions occur during that time as notified in advance by an instructor. Such courses are among the most common distance learning methods.
Open Schedule
Distance learning based on open schedules gives freedom to learners to learn independently without restrictive schedules. Just like asynchronous learning, learners can learn at their own pace and schedule as long as they meet the course deadlines.
Instructors would share the courses and other assignments via emails or bulletin boards, and it is left to the learners how they plan their progress and completion.
Correspondence

Most people take this learning type synonymously with distance learning. In this system, learners receive training materials and other resources in their leaner accounts. Learners then undergo training according to their personal schedules and at their own pace. They get notifications about upcoming assessments through online communications from instructors.
Video Conferencing/Webinars

This category of distance learning relies on video conferencing and webinars for virtual face time to make up the physical distance. It is one of the most engaging and impactful ways to impart distance learning.
Apart from facilitating direct interactions between instructors and learners, this method can accommodate many participants in a single session, ranging from 100s to 1,000. It lets learners ask questions and clarify doubts right there by speaking with their instructor.
Hybrid Model

Also commonly known as blended learning, hybrid distance learning combines synchronous and asynchronous learning. In this model, learners are required to attend classes at fixed a time via a virtual classroom or a video conferencing tool. The learners, however, can complete their assignments at their own pace and submit them online later on.
Now that you have nailed down the learning types, it's time to choose the right tool. But not before understanding how to choose such a tool:
What is the best distance learning software that I can use?
The tool you finally adopt will depend on the type of your audience and its learning needs. These distance learning platforms are designed to help you teach or train learners as if they are sitting inside a physical classroom. Integrated tools for file sharing, screen sharing, video conferencing, collaboration, and whiteboarding enable participants to stay connected in real-time. To this, you can add virtual classroom and project management software for effective learning.
Let's now zoom in and take a closer look at our list of the best distance learning tools.
10 Best Distance Learning Software
1. ProProfs LMS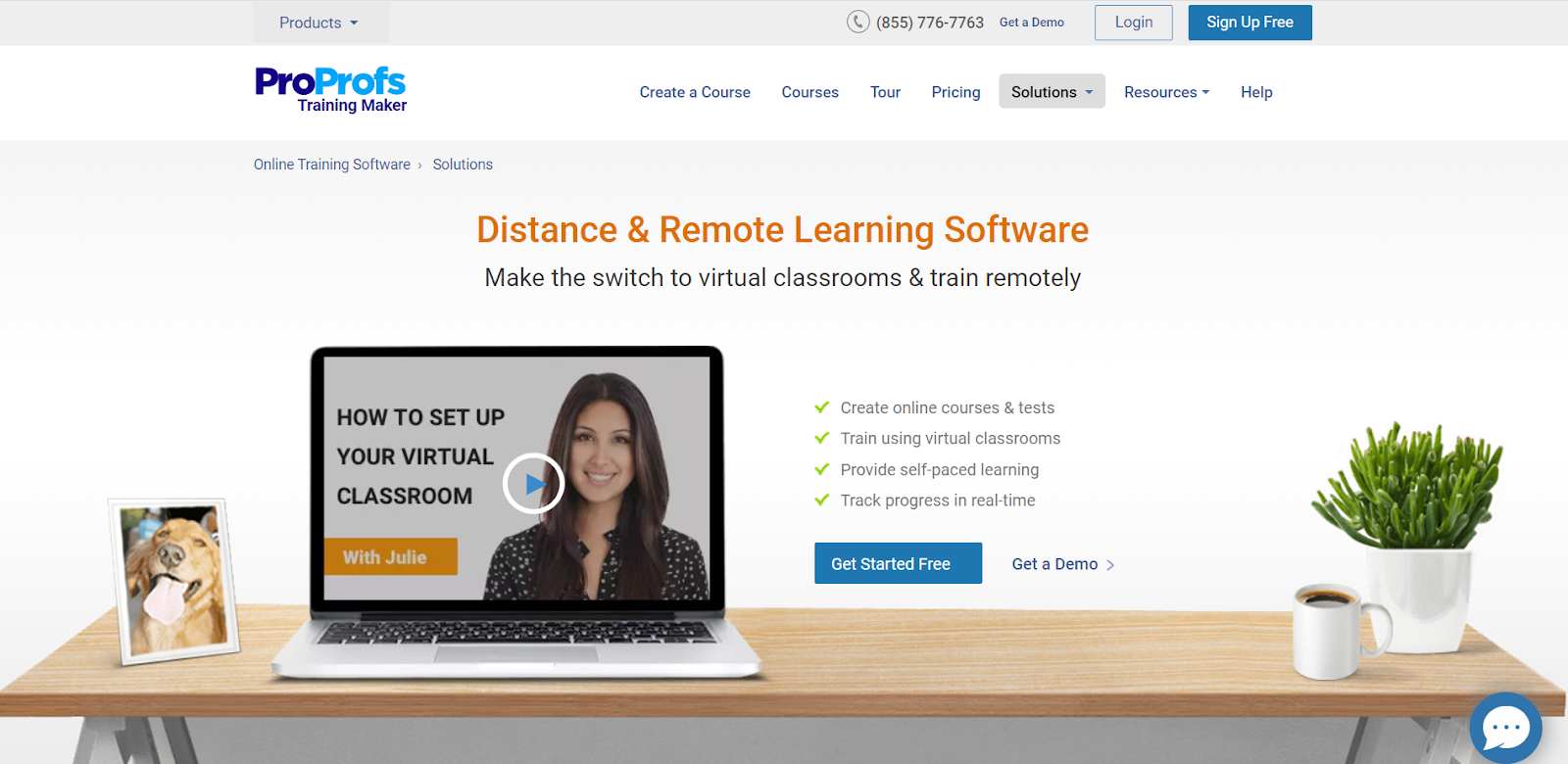 ProProfs LMS is the easiest distance learning software in the cloud. A secure virtual classroom platform, a well-stocked resource library, real-time progress tracking, and delightful reports are some of the key features that make it a perfect choice for distance learning.
Self-enrollment of course participants saves instructors' time, while ease of customization enables you to tailor it to meet your specific needs. Knowledge measurement also becomes easy with built-in quizzes of different question types.
The online learning platforms works across devices and in more than 70 interface languages including English and Spanish. This means you can deliver training to audiences in any linguistic region without letting language get in the way of learning.
The LMS is used by over 15 million people in 150+ countries worldwide and is dedicated to delivering delightful customer experiences each time.
Features
✓ Virtual Classroom
Train and manage remote learners easily using centralized and secure virtual classroom software.
✓ Course Creation
Easily develop online content in minutes, either from scratch or by reusing existing material.
✓ Course Library
Get access to 100+ professionally designed, customizable, and ready-to-use courses & training templates.
✓ Anytime, Anywhere Access
Facilitate self-directed learning anytime, anywhere, and on any device learning.
✓ Discussion & Collaboration
Encourage social learning through a Q&A-based online forum. Let learners interact and share knowledge in real-time.
✓ Testing & Assessment
Assess knowledge retention by deploying different types of quizzes. Embed them right into your courses and tests.
✓ Reporting
View individual and group reports on pending and completed courses. Track not only who took a course and when but also their IP address.
Pros
Easy to use
Fully customizable
Content library
Pricing
Forever free plan (up to 10 learners). Paid plan starts at $1.97/learner/month (billed annually) for large teams. No hidden charges. 15-day money-back guarantee.
2.ezTalks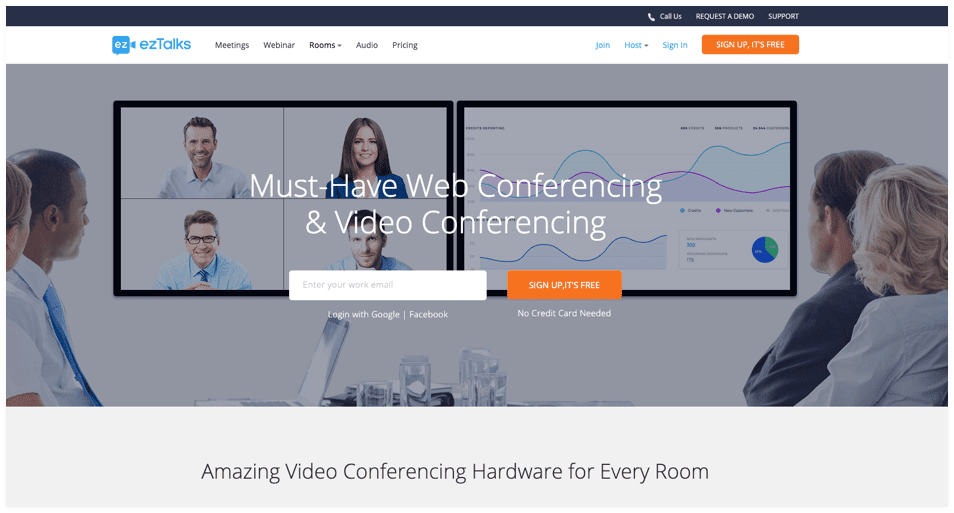 ezTalks is the world's leading provider of online video conferencing solutions and one of the best online distance learning software. Customer-centric quality video conferencing drives the company. It helps you stay connected with people anytime and anywhere.
The platform supports powerful features, including HD audio & video conferencing, file sharing, screen sharing, and remote control. Different industries encompassing government, healthcare, education, law, and military rely on ezTalks for their ongoing online conferences, meetings, and training needs.
As a professional video conferencing service provider with more than six years of experience, ezTalks unites virtualization, mobility management, networking, and SaaS solutions to empower businesses in the realm of distance learning.
Features
✓ Video Conferencing
Easily schedule, start, or join online video conferences. Join business meetings via telephone call-in. Leverage crystal clear audio and ultra hi-definition video quality.
✓ Mind Mapping
Create mind maps for online brainstorming sessions. Present ideas and concepts graphically and analyze them better. Improve the productivity of your employees, no matter where they are located.
✓ File Sharing
Share docs, presentations, images, or videos from one system to another during live meetings. Ensure data integrity with a secure cloud infrastructure.
✓ Remote Control
Allow a meeting participant to take control of another participant's computer screen. Give control of selected documents or the entire computer. Engage in cross-office and real-time collaboration.
Pros
Easy setup
HD quality videos
Aesthetically appealing
Pricing
Starts at $0

3. GoToMeeting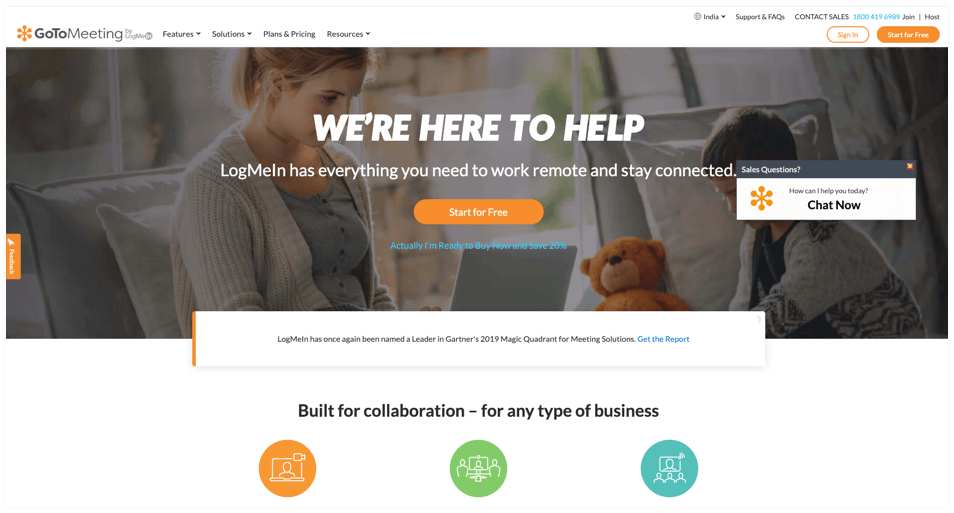 Listed among the top distance learning software, GoToMeeting is a video conferencing, online meeting, and desktop sharing software application. It is an intelligent business tool that facilitates real-time collaboration with employees, clients, customers, and other stakeholders.
With GoToMeeting, scheduling meetings, instant messaging, obtaining transcripts of meetings, and screen sharing become easy. It offers a wide range of solutions for administrators and is suitable for businesses of any type.
The tool makes virtual meetings and collaboration easy, with no downloads necessary. With 80+ million annual online meetings and 99.95% service uptime, GoToMeeting is the go-to solution. If you're looking for a fast, secure, and reliable video conferencing solution, GoToMeeting can be one of the best choices.
Features
✓ Mobile Conferencing
Initiate a conference right from your mobile device and continue it on the move. No need to remain hooked to your desk. Get more out of mobile conferences than you expected.
✓ Anytime, Anywhere Scheduling
Schedule meetings with remote attendees in advance. Avoid last-minute rush or confusion by adding meeting schedules to calendars.
✓ Screen Sharing
This feature becomes handy when showing visual presentations to conference or meeting attendees. It increases engagement and helps understand the context better.
✓ Personal Meeting Rooms
Take a personalized approach to online meetings. Create your personal meeting rooms featuring your name, photo, and location. Get over the issue of busy meeting rooms.
Pros
Easy to use
Feature-rich
Reliable
Pricing
Starts at $12/organizer/month
4.ProofHub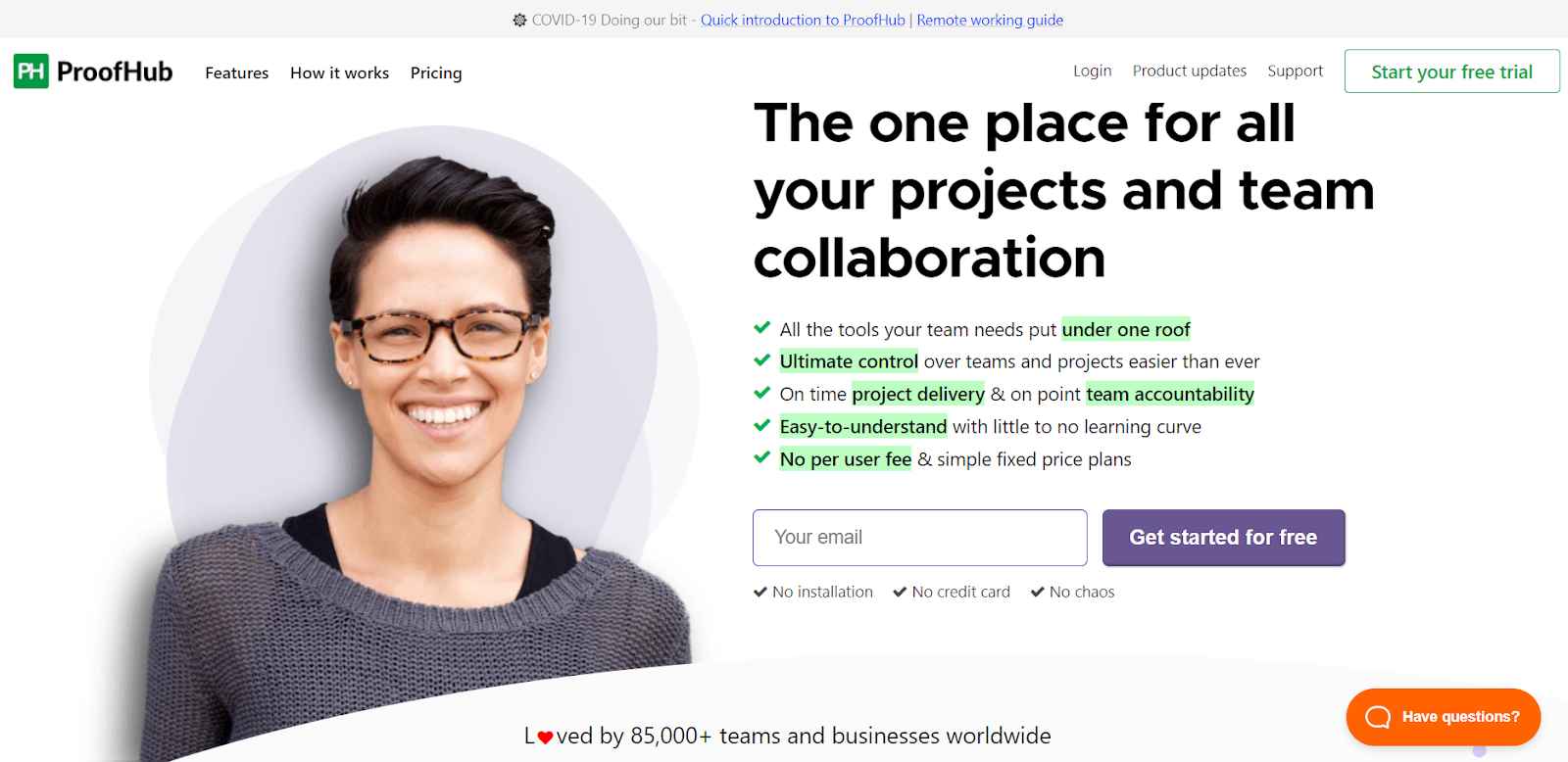 A project planning and management software, ProofHub is the ultimate solution that "helps you to stay on top of deliverables and deadlines." Using it, you can plan, organize, collaborate, and deliver distance learning projects of all sizes on time.
You can use ProofHub as remote project management software and get your remote teams to complete more work.
Easily keep all stakeholders in the loop and focus on what is important. Eliminate unnecessary and distracting emails and phone calls. Take project coordination and execution to the next level with ProofHub.
Create clearly defined agendas and workflows for each day. Keep your teams committed and on the same page all under one roof. The solution lets you keep an eye on what's important and gain complete control over remote teams and projects.
Features
✓ Calendar
Take control of schedules with automatic calendar reminders of recurring tasks. Merge your current calendars with the ProofHub calendar and avoid multiplicity.
✓ Files & Documents
Get over scattered or missing files. Keep all of them in one secure place and find them easily whenever you need them. Create multiple versions of a file.
✓ Chat Tool
Make direct messaging and conversation with your team easier and quicker. Chat with one individual or a group. Express more with less by using emojis.
✓ Language Options
Let users see the software interface in their preferred language. Choose from among the world's major languages. Communicate with your teams hassle-free.
Pros
Quick & easy setup
Good tool for collaboration
Great customer service
Pricing
Starts at $45/month. Up to 40 projects. Unlimited users.
5. Troop Messenger

Troop Messenger is a business communication and collaboration tool. This instant messaging and chat application ensures faster and better communication between people distributed in different locations.
As found in most distance learning tools, it also supports file sharing, desktop sharing, and video conferencing. Multi-layered security for all communications protects against data theft, which is helpful, especially for users in the government sector.
Troop Messenger apps support 12 languages and has a feature called Forkout for simultaneous group messaging, flagging important messages, and many more.
You can work smarter through the use of instant one-on-one messaging, voice-video calling, and many other mediums. This way, you can communicate your work and get things done faster.
Features
✓ Instant Messaging
Share work updates through one-on-one messaging. Reply, forward, recall, or delete messages. Make your online chats flawless, fast, and efficient.
✓ Voice & Video Calling
Communicate with team members via voice and video calling. Organize engaging discussions around projects, to-do lists, and meeting deadlines.
✓ File & Screen Sharing
Easily share files with individuals and groups. Share your desktop screen for a better explanation and understanding of ideas.
✓ Live Location Tracking
Get live location updates on your teams and know their whereabouts. Track live locations with the help of a predefined timer.
Pros
Extraordinary features
Live location tracking
Easy to use
Pricing
Starts at $2.50 per user/month
6. Zoom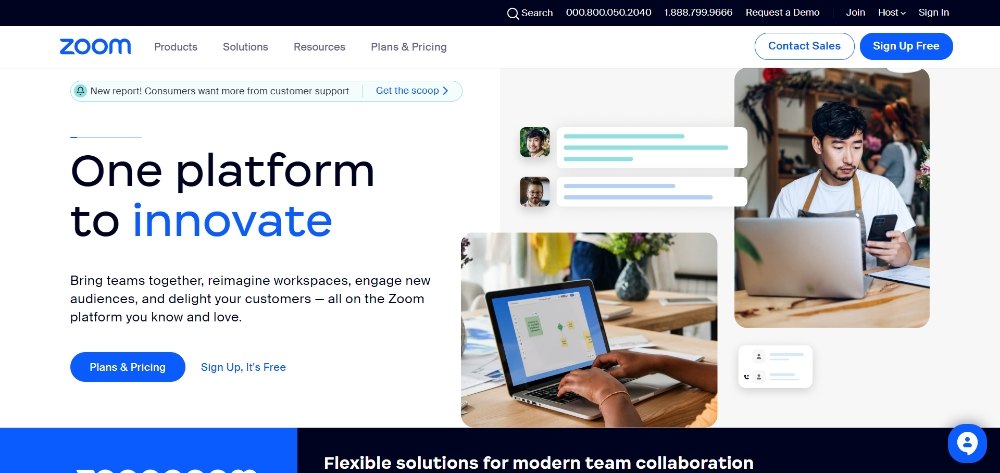 Zoom is a cloud-based provider of phone, video, and chat services and a household name. It unifies numerous services in a single easy-to-use platform that can act as an excellent audiovisual-based distance learning software. With the help of this application, you can keep yourself connected to your team anywhere in the world.
Zoom has been engineered and optimized to perform reliably every time. Users can expect to achieve a frictionless and consistent enterprise communication experience.
Eric Yuan, founder and CEO of Zoom, said his mission is to create customer happiness. Zoom helps people stay connected so they can get more things done together. It powers all communication needs with online meetings, webinars, chat, and phone. The high-quality and secure video platform is easy to customize, use, and manage.
Features
✓ Online Meetings
Leverage HD audio, video, and chat services for business meetings. They work on any device and anywhere. Record your meetings and maintain their transcripts.
✓ Conference Rooms
Start or join meetings easily from conference rooms in one tap. You can also join Zoom Meetings by connecting with existing conference rooms.
✓ Phone System
Enterprise-grade cloud phone system for modern users. An intelligent call routing system ensures that you never miss a call again. Retain your current carrier in virtually any country.
✓ Interactive Elements
Deploy Q&A, polls, and virtual hand-raising. Track user engagement with its Attention Indicator. Keep your participants engaged no matter where they are located.
Pros
Usability
HD audio & video
Unlimited meetings
Pricing
Starts at $300 /year/user
7. Basecamp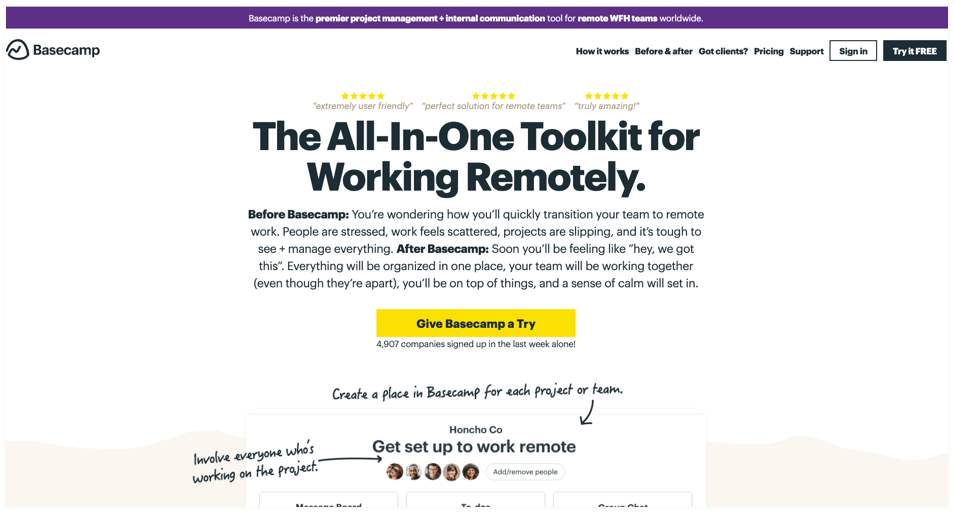 Basecamp is a project management tool for real-time collaboration. The tool brings everything you need in one place. With no files spread over different places, it makes remote working more organized and less challenging.
Freelancers, software development firms, media companies, schools, and non-profit organizations around the world use Basecamp to improve their workflow. The tool offers a better way to work, communicate, and increase productivity.
Basecamp doesn't just make software for remote work; it also authored an influential book about working remotely. The book shows how employers and employees can work together remotely from any desk, anytime, anywhere, and avoid common pitfalls.
Teams that have switched to Basecamp reported more efficiency and productivity. They are more organized and communicate better with fewer meetings.

Features

✓ Social Collaboration
Stay connected with your employees through a social network. Communicate with each other using phone and video calls. Share files easily and securely.
✓ Project Templates
Set up a framework for standard projects with Basecamp templates. Populate it with messages, to-do lists, and milestones. Save time by using the same template for similar projects.
✓ Direct Messages
Direct messages or pings, as Basecamp calls it, allow you to communicate with a person or group in real-time. The conversation is visible only to selected participants. Upload or view files in a ping conversation.
✓ Gantt Charts
These plugins in Basecamp help you plan projects – timeframe, resources required, and the order of tasks. Manage dependencies within tasks easily.
Pros
Intuitive
Flat monthly fee
Customer support
Pricing
Starts at $99/month. Unlimited projects. Unlimited users.
8. Hubstaff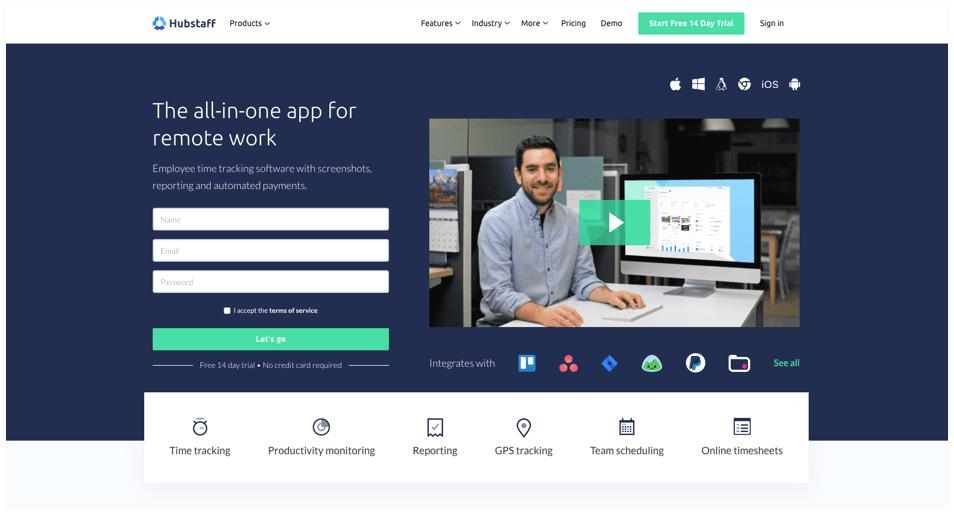 Productivity monitoring and time tracking software, Hubstaff is a simple yet powerful weapon in the hands of users. Using it, you can create new projects or import existing ones. Timesheets, team scheduling, GPS tracking, reporting, and other features in the tool enable you to work smarter.
Hubstaff integrates with 20+ productivity tools, making it truly a one-in-all distance learning software for continued learning and growth.
It builds workforce management and productivity tools to help growing remote and mobile teams work better together. It has already built five unique products and counting.
Hubstaff upholds freedom, transparency, accountability, and focus, and takes a customer-first approach. It ushers in an era of flexible and smarter work by making remote work, work for everyone.

Features

✓ Productivity Monitoring
Track and measure employee productivity. Know who is working on which task. Get more things done on time and improve team productivity.
✓ Geofencing
Manage your remote teams easily based on their locations. Start and stop time tracking automatically when a team member arrives and leaves a job site. Identify the routes they took, stops made, and time spent.
✓ Employee Scheduling
Simplify the way you manage employee shifts. Remove all the guesswork and know how long your team members have worked. Add transparency to employee schedules.
✓ Reports
Make data-driven business decisions with detailed reports. Access accurate timesheets, identify project costs, and pay employees according to their work.
Pros
Easy & intelligent design
Time-tracking app
Customization
Pricing
Starts at $0. For one user only
9. Blackboard Collaborate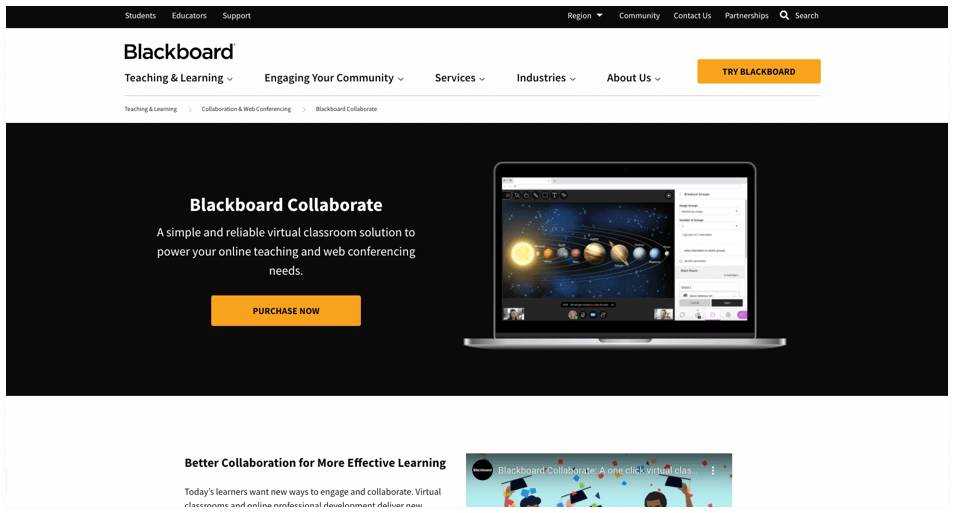 If you're looking for a simple and reliable web conferencing solution for your online teaching and training, Blackboard Collaborate is a good fit. The virtual classroom software offers an effective way to engage with modern learners.
Reach out to your learners wherever they are and collaborate with them on a new level with synchronous learning, HD audio and video conferencing, mobile learning, and more. Easily integrate Blackboard with LTI-compliant learning management systems.
The tool lets users redefine how they've been deploying training or organizing meetings until now with a futuristic classroom.
Blackboard Collaborate offers an education-first and reliable virtual classroom experience where learners can engage from their desk or wherever their busy lives take them. It is built on a true EdTech platform and allows easy personalization to meet every learner's unique needs.
Features
✓ Virtual Classroom
Collaborate with learners in real-time. Engage with them synchronously regardless of their locations. The virtual classroom adheres to data privacy policies and complies with FERPA.
✓ Web Conferencing
An easy-to-use browser-based web conferencing technology provides ready access to instructors and learners. There's no need for software installation.
✓ Interactive Whiteboard
Interact with your learners by using virtual whiteboards. Write, draw images, or give presentations. Manage the whiteboard pages, content, and access permission.
✓ Chat Services
Use the chat to interact with session participants in real-time. Engage in non-verbal communication with emojis. Get access to chat history anytime.
Pros

Simple & easy
Easily integrated with existing LMS
Session recording
Pricing
Available on contact
10. WizIQ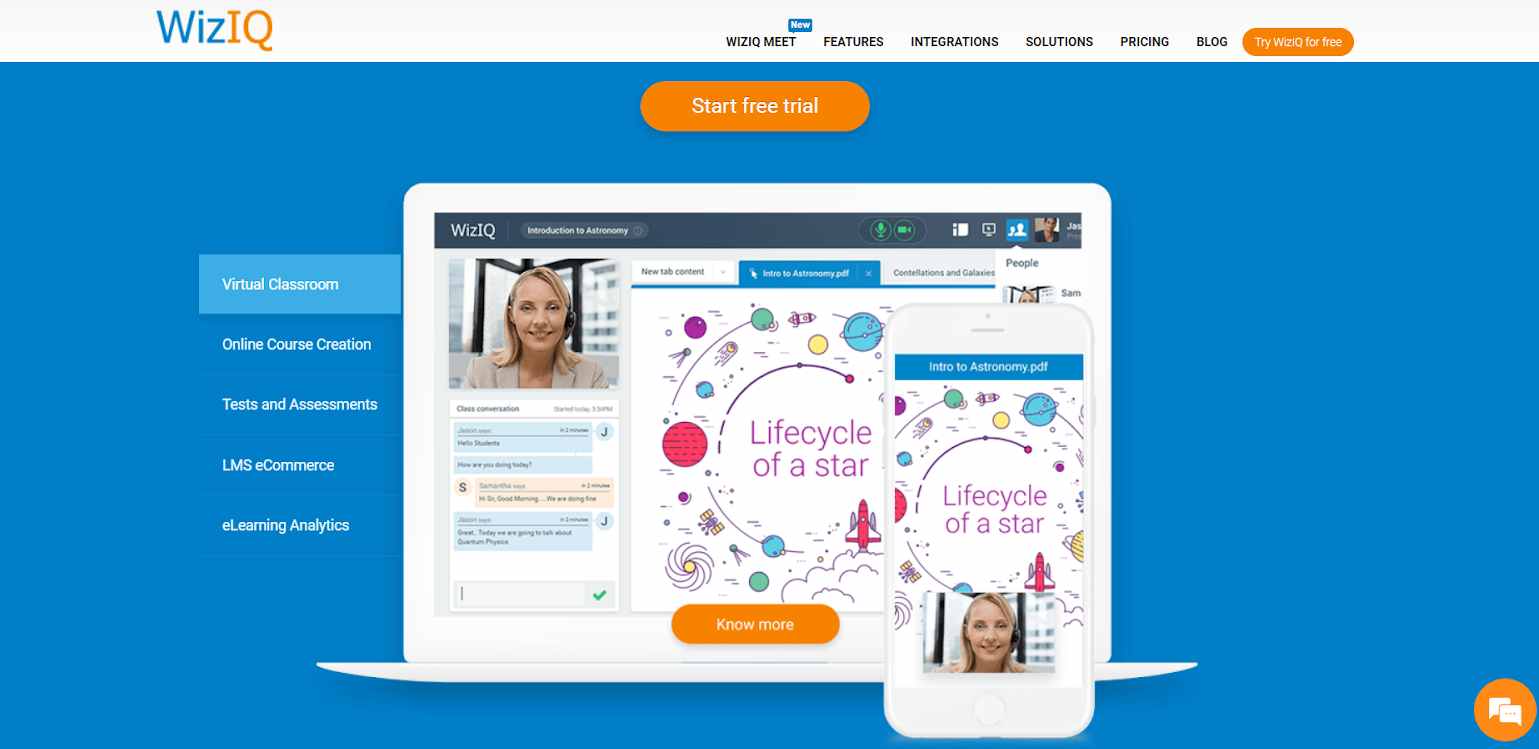 Finally, we have WizIQ on our list. It is one software for learning that truly works in favor of end-users by reducing the load of physical classroom learning. Connect with your remote learners by launching an unlimited number of courses. These courses are available for both public and private users as well as in free and paid versions.
You can also host an unlimited number of learners on this robust online platform. Take control of distance learning by automating admin tasks. Offer an engaging and holistic learning experience to your teams wherever they are located.
Be it digital whiteboard, video feeds, poll, recording, annotation, or class administration, WizIQ brings a remote classroom together in one intuitive platform through its built-in tools.
Since 2007, WizIQ has been used by 400,000 training companies & education service providers, and 4.5 million learners.
Features
✓ Virtual Classroom
Deliver live classes with HTML5 virtual classroom based on WebRTC. There is no need for a software download. Users can learn on the go. Record and share live sessions via email or social networks.
✓ Course Creation
WizIQ takes care of the online course creation part so that you can focus on learner engagement and collaboration. Brand your courses and make them interactive for best results.
✓ Mobile Learning
Let your learners learn with their Android and iOS devices. Increase the course completion rate. Chat in real-time and send course updates through in-app notifications.
✓ Online Tutoring
Become an online tutor for remote learners. Deliver public or private sessions. Manage users and assign them roles & permissions. Get everything you need under one roof.
Pros

Good interface
Excellent video quality
Technically stable
Pricing
Starts at $25/month (billed annually).
Pick the Best Distance Learning Software
These distance learning tools can make a huge difference between an isolated distributed team and one that feels like they are in the same room as you. They bring everything you need to plan, conduct, manage, and track distance learning programs – video conferencing, instant messaging, live chat, screen sharing, and many more.
Each of them offers a unique set of features, benefits, and price models. By learning the pros of each, you can form a fair idea of which one can meet your distance learning needs best and so is worth investing in.
Most of these solutions offer a free trial or a free version. Make it a point to try them first before you subscribe to a higher plan.
Do you want a free Training Software?
We have the #1 Online Training Software for employee training & assessment