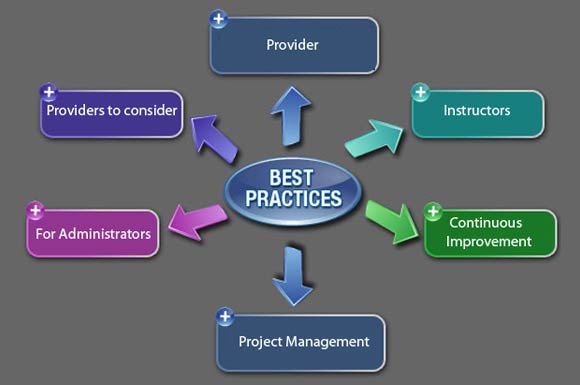 Maximize the use of the features of a learning management system (LMS) by considering the best practices indicated in the following guidelines on using an LMS.
LMS Best Practices: When Looking for a Provider
When looking for an LMS provider, follow these best practices for evaluation.
Consider the time to deploy and train.
Look at flexibility, ability to customize, and reporting capabilities.
Keep in mind ease of use.
Realize a cloud-based system can lessen your IT's department burden.
Demo the system.
Watch this video

LMS Best Practices: When Instructors Use the LMS
Instructors should follow these best practices for using an LMS.
Organize well and direct students to key documents.
Keep the course space clear so students can easily find the syllabus and course schedule.
Clearly name documents.
Use announcements effectively.
Use tools such as discussion boards to build community.
Complete the training.
LMS Best Practices: For Continuous Improvement
Best practices for continuous improvement include evaluating:
ease of registration and navigation
training and help
resolution of technical issues
completion rate of online courses
overall user satisfaction
Interesting Read: Best Docebo Alternative
LMS Best Practices: For Project Management
Classic project management techniques can add to the success of your LMS and include:
Start with the project sponsor and approved project charter
Identify critical elements to the project charter
Remember to manage by objective
Use a project plan
Remember inclusion and the perspective of others
Understand the project process that includes initiate, plan, execute, monitor and control, and close
Follow these best practices in project management:
Know the role of the sponsor, advocates, project manager, change manager, and vendors.
Keep up good communication to all parties involved including the end users.
Involve all parties early to help with buy-in and implementation.
Evaluate your product and implement improvements.
LMS Best Practices: For Administrators
Keep these practices in mind to address administrator issues.
Track and report on training activity
Provide online testing
Associate required training modules with annual certifications
Create pre-requisite training
Capture on-line and instructor-based training
Provide managers with access to training activity for their direct reports
Link to training records in an HR system
---
Read More: Best Learning Management Systems (LMS)
---
Some LMS system providers to consider
Some of the open-source systems include Moodle and WebWork. Some of the commercial LMS providers include JoomlaLMS, ProProfs, Saba Software, SAP, SharePointLMS, and Blackboard – the biggest provider. As an example of what is available, consider that ProProfs is a provider that offers the Training Maker product. This type of product can:
provide online learning software to companies such as Cisco and Dell and educators in schools that include Harvard, Yale, and the University of Phoenix
give you a chance to try a free demo
let you add media, quizzes, and certificates
allow for reporting and analytics
provide a list of client recommendations
allow for anywhere and anytime access
Do you want a free Training Software?
We have the #1 Online Training Software for employee training & assessment