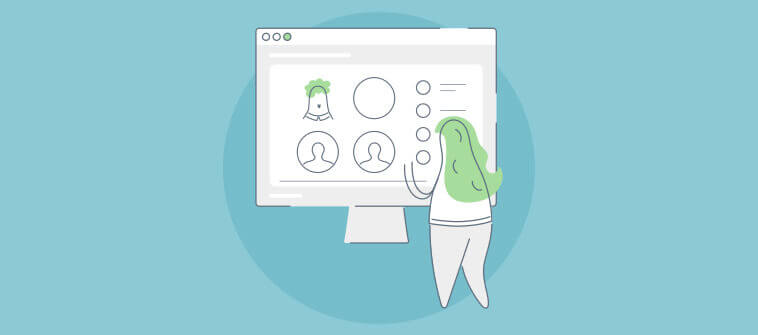 The widespread use of the internet and increased tech development has paved the way for the online learning niche to thrive. The interest in online learning became more prominent during the Coronavirus outbreak since many schools were closed, and we were forced to follow social distancing rules.
This led to a renewed interest in online learning platforms, such as Udemy, Skillshare, and Coursera. We expect the online learning market to reach $457.8 billion worth by 2026, becoming one of the most lucrative niches in the world.
Turning online course ideas into reality might be a good opportunity for many professionals to earn an additional income or become full-time online course creators.
To help you get started with this, here are 50 ideas for online courses you can use to create your online course, along with tips and tricks on doing it right.
Watch: How to Create an Online Course
But before that, let's look at some related topics.
Importance of Online Learning
The importance of online learning lies in the ability to pass on information.
With online learning, education has become more accessible.
Online learning allows learners to access the lectures any number of times and adjust the learning pace according to their needs. Since they can revisit the lectures whenever they want, learners can learn the material more efficiently compared to classroom learning.
What's more, since everything is online, every new resource and information can be updated quickly, allowing learners to stay up-to-date with recent trends.
Lastly, online learning is more effective compared to in-person learning. Studies show that, on average, learners retain 25-60% more information when learning online compared to in-classroom learning. Also, they take 40-60% less time to learn.
Top 3 Benefits of Online Courses
The benefits of online learning are endless. Some of them include:
1. Greater flexibility
Since learners can access their lessons online, they can take them at their convenience.
2. Ability to reread, relisten, or rewatch lessons
Since everything is online, learners can reread, relisten, or rewatch lessons and videos, ensuring that even the most difficult topics are understood.
3. Ability to create a custom learning pace
Taking group classes is always challenging because the pace is set by the class, not by the individual. By opting for online learning, learners can choose the pace they're learning new things and customize the process.
A Side Hustle or a Full-Time Job?
If you are knowledgeable enough and passionate about teaching, you can utilize some of the ideas for online courses you might have.
This will help you either earn a side income or turn online course making into a full-time job.
Turning ideas for online courses into reality is relatively easy, and it can prove to be one of the best ways to earn a passive income.
How to Create Your Online Courses
Creating an online course is easy if you keep certain things in mind. If you're considering turning your online course ideas into reality, here are some steps you will have to take.
Step #1: Choose Your Niche
The first step you should take is to choose your niche. This means picking the subject you're the most knowledgeable and passionate about. Your focus shouldn't be only on making money. It's also important to choose something you love. Otherwise, your audience will feel forced enthusiasm.
Step #2: See How Many People Are Interested
To avoid doing meaningless work, make sure you research the market before starting the course creation. You can start with creating a landing page with an overview of your course and collect sign-ups from people who showed an interest. Based on the response rate, you'll be able to see whether creating a course would pay off or not.
Step #3: Research and Make an Outline
Once you've determined there's an interest in your course topic, it's time to do further research and create a course outline. Check competitors, what they teach in their courses, find their weak points, and leverage them.
After you complete the initial research, you should outline the curriculum that will show which topics you'll cover and the lesson plan. You should break topics into smaller ones and make an individual lesson for each one.
You can also include assessments and worksheets in your course to make it more engaging and allow learners to learn the topics better.
Step #4: Choose the Right Software
The success of online courses greatly depends on how instructors distribute their knowledge to the learners. Choosing the right LMS is extremely important for course creators since it allows them to efficiently distribute resources, gather test results, grade learners, and streamline their learning pace.
If you're a course creator, you should find robust learning management software that will help your learners learn material effortlessly and quickly, and help you reach more learners in the future.
Watch: How to Choose the Best SaaS LMS Software
Step #5: Create Content
Once you've created the outline, it's time to build the actual content. You can focus either on written or video content, or combine it. Some course creators also use podcasts and host live webinars. If you already have old content, you can always repurpose it and include it in your online course.
Step #6: Put Your Content Online
Once you've created your course, it's time to publish and put it online and start making money. You can do this in several ways – either by putting it on websites such as Udemy or ProProfs or by building a website that will help you turn leads into paying customers!
50 Best Online Course Ideas in 2022
Now that we've explained how to make an online course, let's see what are some of the best online course ideas in 2022. We found these are the top 5 in-demand online courses ideas:
1. Accounting Course
Over the past decade, many people switched to the freelance working model and joined the gig economy. Many more decided to become small business owners and work for themselves rather than for somebody else.
While having a small business has plenty of benefits, such as working for yourself and pushing your idea, a more flexible schedule, and greater freedom, it also comes with a less glamorous and bureaucratic side.
Many small business owners have to do accounting by themselves and they might need every bit of advice on how to do it properly. Making accounting courses for small businesses might be one of the most lucrative course ideas for accounting professionals, either as a side gig or a full-time job.
2. Online Dating and Relationships
We're living in a digital era, and online dating has become the norm. Still, plenty of people need help learning how to master online dating– from setting up their profile photos, writing captions, or approaching a match.
If you are a relationship coach or have admirable experience in online dating, you might want to put that knowledge to good use and make an online course aimed at helping others find their true love.
3. Homeschooling (Any Subject)
With the beginning of the COVID-19 pandemic, we've experienced a rise in interest in homeschooling. In the U.S. alone, the number of homeschooled children grew by more than 5% in 2020, and the number has continued to grow since then.
Teachers and educators of any kind can leverage the surge in homeschooling and create courses for different subjects, from science to woodworking.
4. Health and Wellness Courses
Health and wellness courses were always popular. Since the COVID-19 pandemic started, these courses experienced a surge in interest since everyone had to adjust to a new work-from-home routine and preserve their sanity and well-being.
To make courses related to health and fitness, you need to have certain certifications. For instance, you need to be a certified gym instructor, nutritionist, or yoga teacher.
5. Career Courses
Whether you're an HR personnel, manager, or have experience with different employers, you could help others achieve professional success. You can advise people on how to get a raise, find their dream job, create a resume, choose a career or employer, share interview tips, and so on.
If neither one of these things fits the bill, here are 45 more online course ideas you can use to make the one for yourself.
6. Language Courses
If you are a language teacher, making online courses can be the right way to earn a passive income. You can record video lessons and put them online, or write e-books focused on language learning and sell them online.
7. Photography Courses
If you're knowledgeable about photography, you can use it to earn a passive income. You can organize online workshops, make video tutorials or write e-books focused on photography.
8. Web Design Courses
Web design has become one of the most lucrative career choices, and it's not surprising why many people want to follow this career path. Those experienced in graphic design can leverage this opportunity and earn an additional income by building online courses for others.
9. Leadership Courses
If you have enough experience and were in leadership positions before, you can share your knowledge with others by creating an online course. For instance, you can focus on communication with a team, organization, and time management.
10. Productivity Courses
In the era of distractions, everybody wants to find out how to stay productive and motivated. If you master this skill, you might want to share some tips with others by creating an online course. Success is guaranteed!
11. Public Speaking Courses
It's estimated that around 75% of the population is affected by glossophobia – the fear of public speaking. If you frequently speak in front of a public, you might try to share your tips and tricks with others and help them overcome the roadblocks associated with public speaking.
12. Motivation Courses
Seems like everyone is struggling to stay productive and motivated to do so. If you've mastered this skill, you can try to help others do the same by creating online courses they can follow for professional or personal endeavors.
13. Makeup Courses
Makeup artists' salary usually depends on how many customers they have. To secure your future and earn an additional income, having an online course on makeup might be a good idea.
14. Fitness Courses
Many of us gained weight during the pandemic. Now it's time to implement healthy habits and live our best lives! Professionals in the fitness industry can earn a living by creating online courses on workouts and nutrition, especially those who aim their courses at people living a sedentary lifestyle or spending too much time sitting in front of a computer.
15. Digital Marketing and Sales Courses
Digital marketing is one of the most lucrative niches, especially since everyone lives and breathes online. As a digital marketing professional, you can use your knowledge to help others improve their business marketing skills or become digital marketing managers by creating online courses.
16. Traveling Courses
Do you know how to travel on a low budget, what are the most beautiful destinations in the world, and which country has the best food? If you need a side income, you may want to create an online traveling course and help others make the most out of their travels!
17. Home decor Courses
If you have a sense of design, making a home decor course might be a good option for you. People are generally interested in how they can improve their living space on a budget, and, if you know how to do it, they'll rush to hear your advice!
18. Programming Courses
Programming is among the most lucrative business niches, and it makes sense why so many people want to learn it. If you know how to code, you might want to try to use this knowledge and turn it into a passive income.
19. Wedding Planning & Organization Courses
An awesome idea for those who know tips and tricks on how to save money while planning a wedding or what are the most common wedding traps to avoid.
20. Cybersecurity Courses
Today, everything is online, which means our private data might be put at risk. Cybersecurity experts can help others protect their valuable information from malicious attacks and earn a passive income at the same time.
21. Increasing Confidence Courses
Confidence is the key to success. If you have it, why not show others how they can become more aware of their skills and worth?
22. Cooking Courses
"What to cook today" is one of the most dreaded questions of every woman. If you're a cooking pro, you can help inspire others to be more inventive in the kitchen by sharing your advice.
23. Writing Courses
Becoming a freelance writer can prove to be a lucrative career. If you have experience in writing, you can help others improve their skills by teaching them how to write well.
24. People Management Courses
If you have years of experience in a management position, you can help others succeed. People management courses are popular, especially since the COVID-19 pandemic brought new working models such as hybrid and remote work.
25. Photoshop Courses
Today everything we see is photoshopped, starting from ads to Instagram posts. If you know how to do it, why don't you help others do the same?
26. Courses on Creating Online Courses
Course creation can be a challenging task, and those who do it for the first time might feel lost and lose motivation. You can create a course on creating courses and help others succeed.
Watch: How to Create Employee Training Courses Online
27. Programming for Children
Many parents want their kids to be successful, and given that programming is one of the most lucrative professions today, they want to set their kids up for success from an early age. If you love children and speak their language, why don't you create a course explicitly targeted at them?
28. UX/UI Design Courses
UX/UI design is one of the most popular professions, and many people want to learn how to do it. Courses on UX/UI design can prove very lucrative.
29. Crowdfunding Courses
You can help entrepreneurs bring their ideas to reality by sharing the best crowdfunding practices.
30. How to Create Podcast Courses
Podcasts are the new radio shows. Since they're popular, many people want to learn how to do it. You can help them with your knowledge!
31. Personal Branding Courses
In the digital age, personal branding is everything. If you know how to do it successfully, you can help other professionals achieve business success and earn a side income.
32. Fashion Courses
From how to dress for work to a cocktail party, fashion is everywhere and many people aren't skilled at it. If fashion is your passion, you can try to cash in your knowledge and help others dress well.
33. Meditation Courses
Since most of us live in a fast-paced world, we hardly have time to relax and recover from the troubles of our daily life. Meditation is something everyone can do, regardless of their location. So, why not teach others how they can become the best version of themselves?
34. Nutrition Courses
Eat avocado, don't eat carbs. Eat meat, don't eat meat. Sounds confusing? Many people struggle to maintain a healthy diet because there is too much contradictory information online. If you're an expert, why not help people stay healthy, and earn money from it?
35. Pet Care and Training Courses
Pet owners want to keep their furry companions happy, healthy, and well-behaved. Such courses can be helpful for this audience.
36. Personal Development Courses
If you're a therapist or a life coach, you can help others achieve their goals, even online. You can gather the most common steps someone could take to improve themselves and help them become the best version of themselves!
37. Learn How to Play an Instrument Course
If you're a music teacher or know how to play a musical instrument, you can share this knowledge with others and earn a side income.
38. Learn How to Sing Courses
If you're a professional singer, you can make a living by helping others improve their singing skills. You can even create an online video course others can follow remotely and earn a passive income.
39. Arts and Crafts Courses
If you have a creative bent of mind, you can teach others to express their creativity by making arts and craft courses and selling them online.
40. Online Courses on How to Make Money
Make a course on making online courses? If you know it, you can do it and help others earn a side income.
Watch: How to Make Money From Online Courses
41. Personal Finance Courses
Taking responsibility for your finances is something every individual should do. However, many people don't know how to do it properly. If you're an experienced financial manager, you can help people learn how to manage their finances well and earn a living at the same time.
42. Etsy Sales Courses
If you're a marketing expert, you can share your knowledge and show people how they can earn from their talent by creating an online course.
43. How to Start a Dropshipping Business Course
Dropshipping is one of the most popular ways people earn a living by selling online. If you know how to do it successfully, why not share your knowledge and earn money at the same time?
44. Google Ads Courses
Google is one of the most powerful search engines and learning Google Ads is a must for many people. Creating a Google Ads course is a great idea that can bring additional income to your household.
45. WordPress Courses
Today most websites are made in WordPress since it's easy to use and maintain. WordPress developers can use this opportunity to earn additional income by creating online courses others can use to learn WordPress management and development.
46. Home Organizing Courses
Clutter at home, clutter in mind! Many people struggle to keep their homes cleaned and organized. If you know how to do it, you can create an online course on home organization and start earning online.
47. Gaming Courses
Gaming has become pretty popular in recent years, and showing others how to do it well can earn you a decent living.
48. Cryptocurrency and Blockchain Courses
Cryptocurrencies have become popular in recent years, yet many people still don't know how they work. So why not teach them how they can mine, trade, and profit from Crypto if you know how to do it?
49. Outreach Courses
SEO is important for everyone working digitally. As a big part of SEO, outreach is crucial for a website's success. If you're an experienced SEO and outreach manager, creating courses on this topic might be a good idea to earn additional income.
50. Courses on How to Deal With Anxiety
Many people struggle with anxiety, from mild to all-consuming. Therapists and mental health professionals can use this opportunity to help others deal with everyday stressors more effectively by creating online courses.
Start Creating Your Own Courses!
With all that has been said, we can see how creating online courses can be a lucrative business. However, before you start making your own online course, make sure you're passionate about the subject, research the market, and offer something unique. I'm sure you'll find that one or more of these best online course ideas will help you get started right away. All you need is a good online course creator to build these just the way you want.
Do you want a free Training Software?
We have the #1 Online Training Software for employee training & assessment