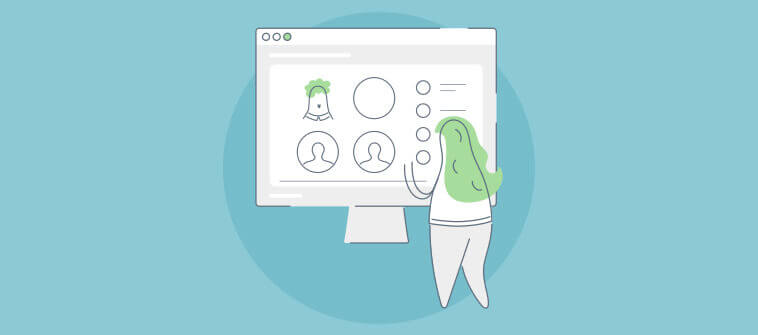 The widespread use of the internet and rapid development in learning technologies have paved the way for online learning on an unprecedented scale. As a matter of fact, half of all college students in the U.S. take at least one fully online course.
This spawns several online course ideas from course creators, eLearning experts, and educators.
Similarly, this trend leads to increased interest in online learning platforms, such as a learning management system (LMS), which helps users create, manage, and sell educational and training courses online.
The global eLearning market is expected to reach $457.8 billion by 2026, and online courses will be the main driving force.
Turning ideas for online courses into reality can be a good opportunity for many professionals to become full-time online course creators and earn additional income.
To help you get started quickly with your course business, here are 50 profitable online course ideas you can use, along with online courses examples. But before we dive into them, let's explore some related topics.
Why Should You Start an Online Course Business?
There are numerous reasons to invest in an online course business and build your own eLearning empire. The main ones are:
It's Profitable
Whether you want to do it as a full-time job or as a side hustle, an online course business can be a source of steady income. You can capitalize on your knowledge about a subject and turn it into a profitable business.
All you need is domain knowledge, creativity, and a robust tool to create, design, manage, and sell courses.
Online Courses Are in Demand
Online learning has been a significant trend for years. But the coronavirus pandemic reinforced web-based learning worldwide. Add to this an advancement in online learning technologies, such as a SaaS LMS, and you have a rapidly growing demand for online courses.
These courses are accessible anytime, anywhere, thus offering flexibility in scheduling, pace, and completion. Also, unlike physical classroom sessions, such courses are engaging, and they cater to different learning styles and preferences.
No Production & Shipping Costs
Unlike manufacturing industrial and consumer goods, online courses don't entail a huge labor force and production & shipping costs. All you need are some course materials like videos, audio, presentations, PDF files, recorded webinars, & quizzes, and an LMS to put them together.
In most cases, you can do it through drag-and-drop, set up learning paths, and add gamification & branding.
Once your courses are ready, you can sell them directly on your website or an eCommerce site by embedding their links. You can also do your own marketing and generate advanced sales reports.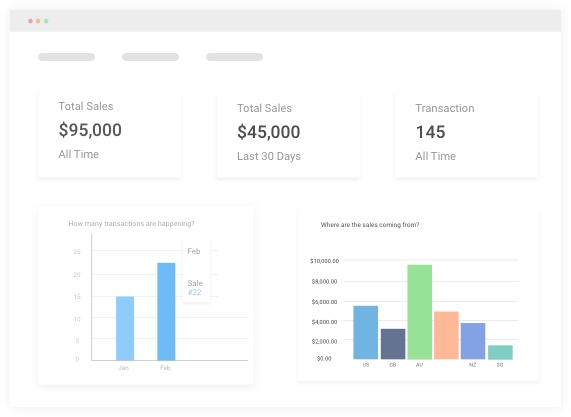 Authority in Your Industry
For subject-matter experts, an online course business is the best way to establish credibility and authority in their industry. Done the right way, you can become an influencer in the knowledge economy before you realize it.
Caters to Thousands at a Time
Given the accessibility of online courses, you'll find it easy to cater to a global audience with your work on any subject. You can promote and sell your courses in different linguistic regions and help students and professionals master numerous subjects of their interest, acquiring skills and certificates in the process.
Here again, a cloud LMS can assist you in more than one way. It enables you to reach out to remote learners without any barrier of language, time zone, and geography.
Do It From Anywhere
With the right platform, you can run your online course business from home or anywhere else. All you need to do is first identify your target audience, choose your core content, develop courses, set a price for them, and start selling. A superior LMS software such as ProProfs Training Maker provides integrated solutions in a single platform to manage it from start to finish.
These are some of the great reasons to run an online course business. Next, let's understand how you can create online courses.
How to Create Your Online Courses
Want to start quickly with online course creation and make the process sustainable? The following steps will help you put yourself on the right path.
Watch: How to Create an Online Course
Step #1: Choose Your Niche
The first step is to choose a subject you're knowledgeable and passionate about. Your focus shouldn't be only on making money. Otherwise, your audience will feel fake enthusiasm from you.
Step #2: See How Many People Are Interested
Make sure you research the market well before starting course creation to avoid doing meaningless work. You can start by creating a course landing page with sign-ups from interested people.
Step #3: Research and Create an Outline
Once you've determined there's an interest in your course topic, do further research and create a course outline. Check competitors, what they teach, and their weak points, and leverage them.
Following the research, outline the curriculum showing the topics you'll cover and the lesson plan. Break topics into smaller ones and make individual lessons out of them.
You can also include assessments and worksheets in your course for engagement and better grasp.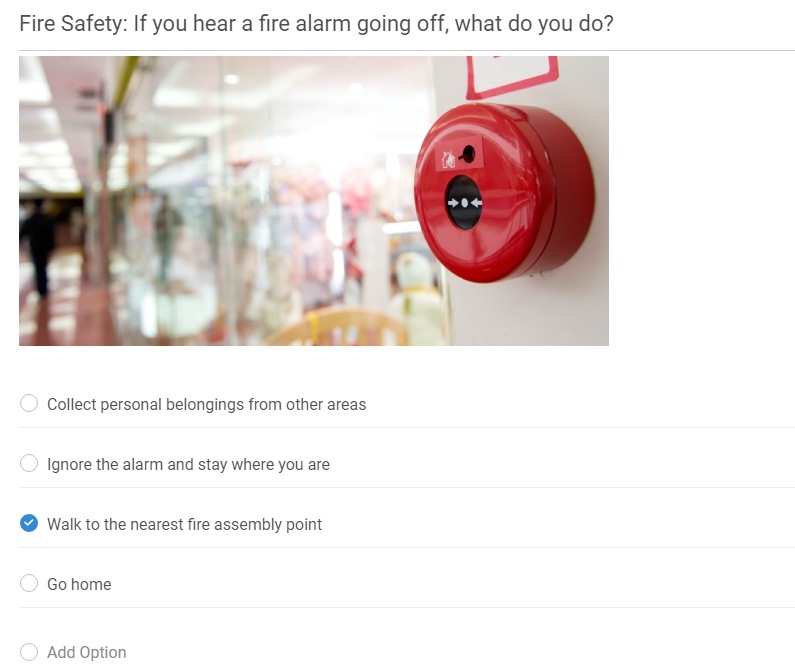 Step #4: Choose the Right Software
The success of online courses greatly depends on how instructors distribute their expert knowledge. Choosing the best LMS is vital for course creators to utilize resources efficiently and streamline course creation. Besides enabling learners to learn effectively, an LMS lets you reach more learners in the future.
Watch: How to Choose the Best SaaS LMS Software
Step #5: Create Content
Once you've created the outline, it's time to build the actual content. You can focus either on written or video content or a combination of both. Some course creators also use podcasts and host live webinars. You can always repurpose old content and include it in your online course.
Step #6: Put Your Content Online
After the course is ready, it's time to publish it online and start earning. You can do this in several ways – either by putting it on websites such as Udemy or ProProfs or by building a website that helps turn leads into paying customers!
50 Best Online Course Ideas for 2023
Now that you know how to create an online course, let's explore some of the best online course ideas for 2023 and beyond. We found these top 50:
1. Accounting Course
Over the past decade, many people switched to the freelance work model and joined the gig economy. Many more decided to become small business owners and work for themselves rather than for somebody else.
While having a small business has plenty of benefits, such as working for yourself, pushing your ideas, flexible schedules, and greater freedom, it also comes with a less glamorous and bureaucratic side.
Many small business owners have to do accounting by themselves, and they might need every bit of advice on how to do it properly. Making accounting courses for small businesses might be one of the most lucrative course ideas for accounting professionals, either as a gig or a full-time job.
2. How to Be Professional on a Video Call
Using video conferencing tools like Zoom, Google Meet, Skype, and Goto Meeting is popular among businesses and educational institutions. They enable you to stay connected with remote teams when physical presence is impossible.
But not everyone shows proper virtual meeting etiquette, such as attire and body language. Also, setting up a video calling tool and choosing the best environment for the occasion is not everyone's cup of tea.
A course topic on how to host or participate in a video call professionally can be a good idea for those who often need to interact with their team members virtually. More importantly, it will help first-timers put their best foot forward by mastering all the technical aspects of a video call.
Watch: How to Be Professional in a Video Meeting | Training Course Introduction
3. Homeschooling (Any Subject)
With the beginning of the COVID-19 pandemic, we've experienced a rise in interest in homeschooling. In the U.S. alone, the number of homeschooled children grew to around 3.1 million in 2021-2022. The number has continued to grow since then.
Teachers and educators can leverage the surge in homeschooling and create courses for different subjects, from science to woodworking.
4. Health & Wellness Courses
Health & wellness courses were always popular. But since the COVID-19 pandemic, these courses showed a heightened demand since everyone had to adjust to a new work-from-home routine and preserve their sanity and well-being.
To create popular online courses related to health and fitness, you must have certain certifications. For example, you need to be a certified gym instructor, nutritionist, or yoga teacher.
Watch: How to Manage Fatigue | Training Course Introduction
5. Career Courses
Whether you're an HR personnel, manager, or someone with experience working with different employers, you could help others achieve professional success. You can advise people on how to get a raise, find their dream job, write a résumé, choose a career or employer, share interview tips, and so on.
If neither of these topics fits the bill, here are 45 more online course ideas you can use to develop best-selling online courses.
6. Language Courses
If you are a language teacher, creating online courses can be an intellectually fulfilling and lucrative way to earn a passive income. You can record video lessons or write foreign language e-books and put them online.
7. Photography Courses
If you're knowledgeable about photography, you can transfer that knowledge into a course. You can organize online workshops, make video tutorials, or write e-books focused on photography.
8. Web Design Courses
Web design has become one of the most rewarding career choices, and it's not surprising that many people want to follow this career path. Those experienced in graphic design can leverage this opportunity and earn additional income by building online courses for others.
9. Leadership & Management Courses
Over the last few years, the roles of managers and business leaders have undergone a sea change. Today, they are visionary architects and coaches who help navigate the complex business environment, changing customer expectations, and ruthless market competition. They constantly redefine their perspectives and values.
All this calls for a new approach to leadership and management in every field. If you have enough experience and have been in leadership positions before, you can generate ideas for online courses on leadership and share them with others. For instance, you can focus on skills for team-building, communication, and motivating others.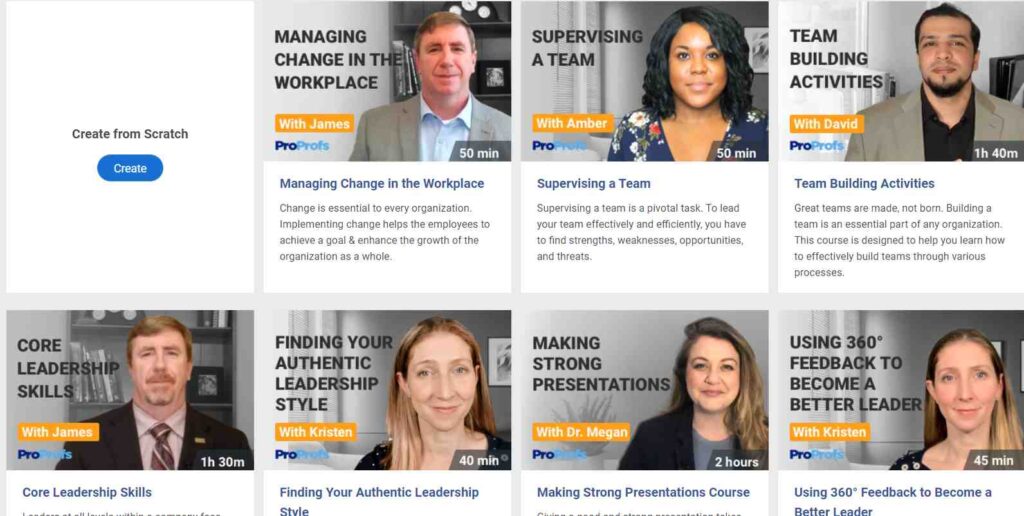 10. Productivity Courses
In the era of distractions, everybody wants to find out how to stay focused, productive, and motivated. Workplace productivity is important for employee morale, work culture, and business success.
If you've mastered this skill, you might want to share some tips with others by creating an online course on cultivating productive habits. Success is guaranteed!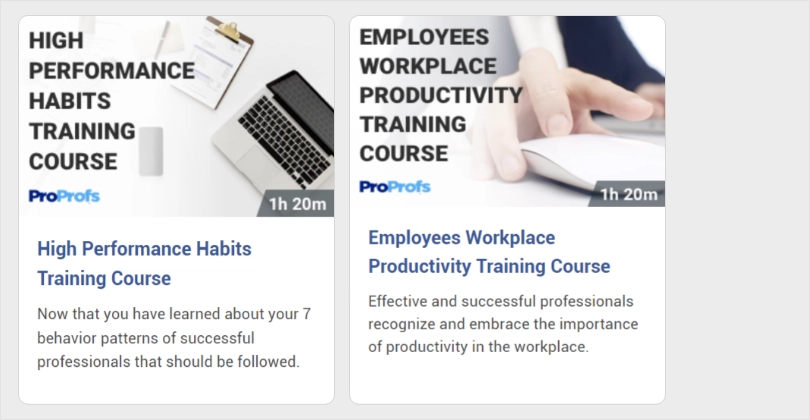 11. Public Speaking Courses
It's estimated that around 75% of the population is affected by glossophobia – the fear of public speaking. If you frequently speak in public, you might try to share your tips and tricks with others and help them overcome the roadblocks to public speaking. This can be another great course idea for an in-demand topic.
Watch: How to Make Strong Presentations | Training Course Introduction
12. Motivation Courses
At any given time, everyone is fighting their own battles in life. They often struggle to stay positive, happy, and motivated constantly. If you've luckily mastered this skill, you can help others do the same by creating online courses they can take for professional or personal purposes.
13. Fitness Courses
People around the world have become more health conscious following the Covid-19 pandemic. Many of us gained weight due to the lack of physical activities and high stress levels at that time.
But now it's time to implement healthy habits and live our best lives! Professionals in the fitness industry can earn a living by creating online courses on workouts and nutrition. Their target audience can be those living a sedentary lifestyle or reporting increased screen time.
14. Time Management Courses
Time management skills are important in professional and personal lives as they are closely linked with efficiency and productivity. The ability to prioritize, schedule, delegate, and execute tasks on time is valued in all walks of life.
If you're an expert in offering solutions to help people manage their time, you can develop the course ideas to sell them online. This will help your audience stay focused at work, reduce stress, find more free time, and increase their productivity.
Watch: How to Manage Time | Training Course Introduction
15. Digital Marketing Courses
Door-to-door marketing is as good as dead. Digital marketing has taken its place as a more effective alternative since today almost everyone is active online.
As a digital marketing professional, you can use your knowledge to help others improve their business marketing skills or become digital marketing managers by creating expert online courses.
16. Traveling Courses
If one is not eating out at their favorite restaurant or watching movies in a theater, they would most likely be traveling on weekends or holidays.
Do you know how to travel on a low budget? What are the most alluring destinations in the world? Which country has the best cuisines?
If you need a side income, you may want to create an online traveling course to help others satisfy their itchy feet and make the most out of their travels!
17. Home Decor Courses
If you have a sense of design, building a home decor course might be a good option for you. People are generally interested in how they can improve their living space on a budget, and, if you know how to do it, they'll rush to hear your advice!
18. Programming Courses
In a tech-driven world of automation and AI, a deep knowledge of computer programming is a must for not just the present but future generations as well. Coding knowledge gives you the ability to write machine instructions while teaching you abstract thinking and problem-solving skills.
For this reason, more and more people are keen to learn programming. So, if you know how to code, you might want to share the knowledge and turn it into an income-generating activity through online courses.
19. Wedding Planning & Organization Courses
Weddings are one of the most memorable events in one's life. So, it's natural for people to expect to give them their best shot.
If you're a professional wedding planner or an event manager, you can help clients with the design, planning, and management of their weddings. An online course can be a great way to share all the tips and tricks on how to organize a head-turner wedding, save money, and avoid common traps.
20. Cybersecurity Courses
Today, everything is online and this opens up several security vulnerabilities putting our private data at risk. But IT and cybersecurity experts can help others protect their valuable personal and business information from malicious attacks and earn a side income from it. You can deal with many topics, including security protocols and tools.
Watch: What Is Security Awareness Training for Employees? | Course Introduction
21. Confidence-Building Courses
Confidence is the key to success. If you're an expert in building confidence, why not show others how they can become more aware of their self-worth and boost confidence? In addition to seminars and other live events, online courses make a great medium to share skills related to improving one's self-esteem and confidence. So, you can always give it a try.
22. Culinary Courses
"What to cook today" is one of the most dreaded questions faced by a person. Also, there are scores of people who want to pursue a career in cooking or just win the next MasterChef title. If you're a cooking hobbyist or a chef, you can inspire these people to become more inventive in the kitchen by sharing your advice.
23. Writing Courses
Whether it's copywriting, technical writing, creative writing, or journalistic writing, becoming a freelance or full-time digital content writer can prove to be a lucrative career. If you have experience in writing, you can help others learn or improve their skills by teaching them how to write persuasively.
24. People Management Courses
If you have years of experience in a management position, you can help others succeed. People management courses are popular, especially since the COVID-19 pandemic brought new working models such as hybrid and remote work.
Watch: How to Supervise a Team | Training Course Introduction
25. Photoshop Courses
Today many pictures and videos we see online, from ads to Instagram posts, are photoshopped. If you know how to do it, you can help others do the same and get creative in their profession or just for fun.
26. Courses on Creating Online Courses
Course creation can be a challenging task, especially if you're doing it for the first time. You might feel lost and unmotivated at times. You can create a course on creating online courses and help others succeed.
Watch: How to Create Employee Training Courses Online
27. Communication Skills
Professional communication skills are in demand these days. In fact, it's one of the criteria for selecting a job candidate. People with this skill get along with others well, get things done on time, and ensure clarity and transparency in all tasks.
If you're a public speaker or a communication expert, you can use your knowledge and experience to help others become excellent communicators. This way, they can build healthier relationships with team members and customers.
28. UX/UI Design Courses
High-quality web designs lead to more leads and higher conversion rates, and this ultimately generates more revenues for businesses. UX/UI design is one of the most popular professions, and many people want to learn how to do it. Thus, online courses on UX/UI design can prove very lucrative.
29. Crowdfunding Courses
Help entrepreneurs turn their business ideas into reality by sharing crowdfunding best practices in the form of an online course. Educate them on how to crowdfund a project. You can also add instances of successful crowdfunding campaigns.
30. How to Create Podcast Courses
Podcast series are the new radio shows. They are versatile and you can embed them in any type of online content. Since they're popular, many people want to learn how to do this. You can help them with your knowledge!
31. Personal Branding Courses
In the digital age, personal branding is everything. It is about creating a positive, consistent, and sustainable identity for your business. If you know how to do it successfully, you can help other professionals achieve business success and earn yourself a side income in the process.
32. Fashion Courses
Whether it's dressing up for work or a cocktail party, fashion is everywhere. Unfortunately, many people aren't skilled at it and they don't know how to dress for the occasion. If fashion is your passion, you can cash in on your knowledge and help others dress well or make a career in fashion design.
33. Meditation Courses
Today, we live in a fast-paced world where most of us find it hard to get time to relax and recover from life's daily demands. So, setting aside time to de-stress oneself, focus on the present, and increase self-awareness has become a luxury for a few.
So, if you're a yoga or meditation guru, you can share this knowledge with people worldwide through educational online courses. Take this opportunity to help them become the best version of themselves.
34. Nutrition Courses
Eat avocado, don't eat carbs. Eat meat, don't eat meat. Sounds confusing? Many people struggle to maintain a healthy diet because there is too much contradictory information online. If you're an expert, why not help people stay healthy by sharing science-backed, practical, and credible information and earning money from it?
35. Pet Care Training Courses
Pet owners want to keep their furry companions happy, healthy, and well-behaved. They are always looking for the right resources and guidance to give the best care to their pets. You can develop online courses on these topics that pet lovers find helpful.
36. Personal Development Courses
If you're a therapist or a life coach, you can help others increase their employability and capabilities, realize their dreams, enhance their quality of life and more. You can do so through online courses on self-improvement plans.
37. Learn How to Play an Instrument Course
Many people play musical instruments as a hobby or profession. If you're a music teacher or know how to play a musical instrument, you can share this knowledge with others and earn a side income.
38. Workplace Conflict Management Courses
Conflict in the workplace is inevitable due to differences in opinions, bias, discrimination, harassment, power dynamics, and office politics. So, as an employee or manager, people should be able to manage workplace conflicts before they get out of hand. If you're a corporate trainer with expertise in workplace issues, including conflict, then you can turn your knowledge into online courses and reach out to people who need to master them.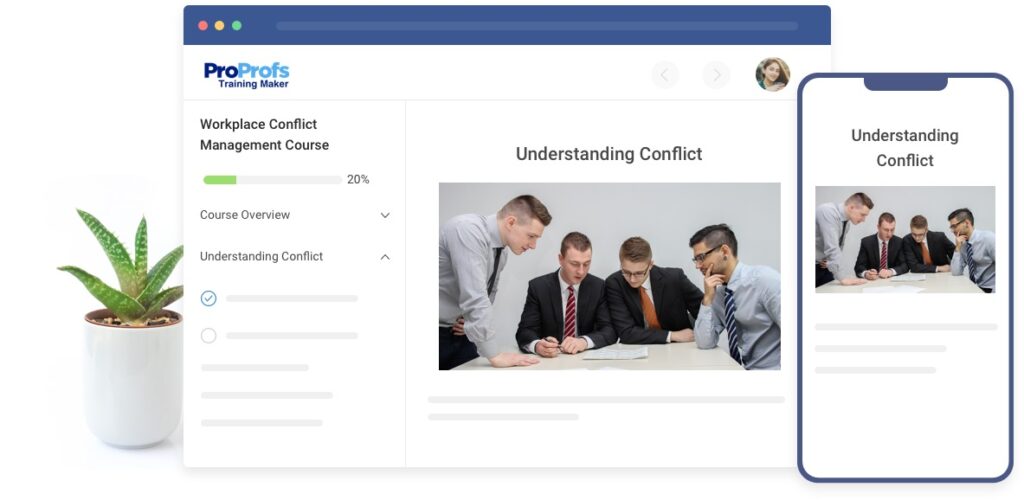 39. Arts & Crafts Courses
If you have a creative bent of mind, you can help others express their creativity by creating arts and crafts courses and selling them online. They can be for early childhood education or for adults, such as fine arts.
40. How to Make Money Online
There are several ways to earn online. It can be by selling courses online on topics of widespread interest, freelancing, or running a YouTube channel. If you know any time-tested way to do so, you can help others also earn.
Watch: How to Make Money From Online Courses
41. Personal Finance Courses
Taking responsibility for finances is something every individual should do. However, many people don't know how to do it properly. If you're an experienced financial expert or manager, you can help people learn how to manage their finances well while you earn for your noble efforts.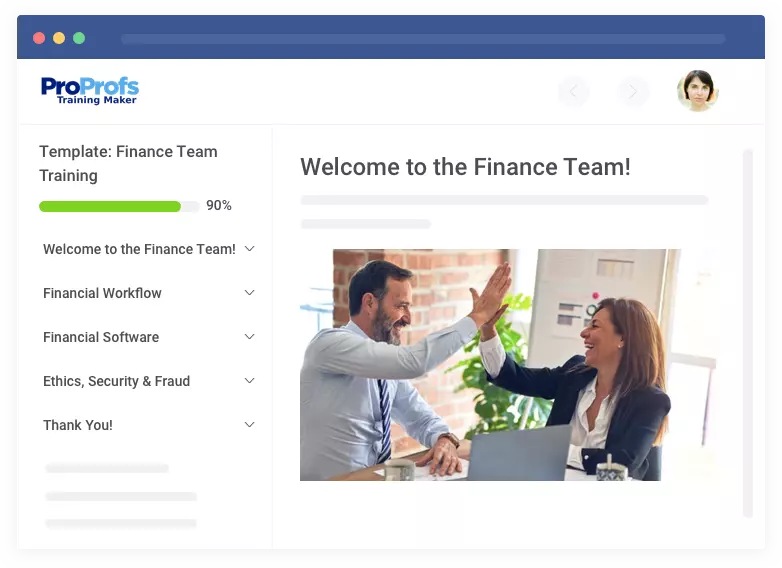 42. How to Start a Dropshipping Business Course
As a low-risk and thriving retail fulfillment business model, dropshipping is an attractive idea to many merchants. If you know a thing or two about dropshipping, you can disseminate information on how would-be merchants can set up and run this business method successfully.
43. Google Ads Courses
Currently, Google dominates the search engine market with more than 90% market share, and anyone would love to associate with it. Its online advertising platform Google Ads is a must for almost all businesses in any industry. Creating a popular Google Ads course is a great idea to help marketers manage their ad campaigns.
44. WordPress Courses
Today most websites are made using WordPress since it's easy to use and maintain. This makes it the most preferred content management system on the market. WordPress developers can use this opportunity to earn additional income by creating online courses others can use to learn the nuances of this CMS.
45. Home Organizing Courses
Clutter at home, clutter in mind! Many people struggle to keep their homes cleaned and organized. If you're an interior designer or decorator with expert knowledge of it, you can create an online course on home organization and start earning online.
46. Gaming Courses
Gaming has become pretty popular in recent years. So, those interested in games and sports can leverage this trend to document their knowledge, whether it lies in understanding chess tactics or learning game technology, and share it with a worldwide audience. In this effort, online courses can be a profitable medium.
47. Cryptocurrency and Blockchain Courses
The concepts of cryptocurrency and blockchain are new. While many people have heard about them at least once, only a few are fairly knowledgeable about them. This still leaves a lot to learn, such as what they are, how they work, and what benefits they offer to users.
So, it's a great opportunity for you to share information about how to use blockchains for business transactions as well as how to mine, trade, and profit from cryptocurrencies.
48. Outreach Courses
SEO is important for everyone working digitally. As a big part of SEO, outreach is crucial for a website's success. If you're an experienced SEO and outreach content manager, creating courses on this topic might be a good idea to earn additional income.
49. Courses on How to Deal With Stress
Many people struggle to cope with daily stress arising from their personal and professional lives. Therapists and mental health professionals can go out of their way to help others deal with everyday stressors more effectively by creating online courses.
Watch: How to Manage Stress in the Workplace | Training Course Introduction
50. Managing Customer Expectations
Without a solid customer base, no business can survive long. A key part of attracting and retaining customers is understanding and managing their expectations. If you're someone in sales or customer service, and you've done some client-facing work, you can definitely turn that knowledge and skills into a valuable online course.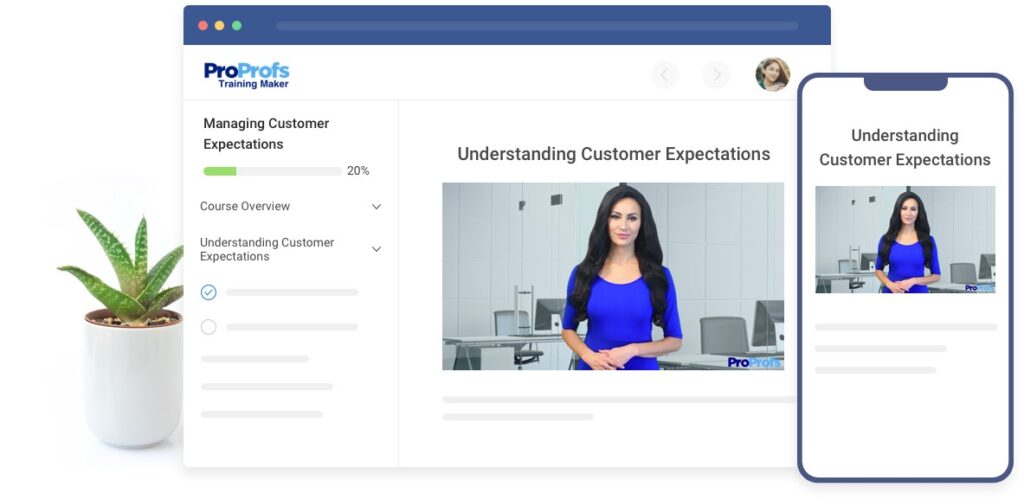 Online Course Creation & Selling Case Study
Here's a quick look at a real-life example of how an online course specialist benefitted from creating and selling various courses online using a robust learning management system.
Who: American Integrity Courses (AIC)
What Does It Do? AIC specializes in providing court-ordered educational and corporate training courses. Its mission is to provide excellent and affordable services for court-ordered courses to help individuals manage and promote their health & well being. Apart from court-ordered courses, AIC specializes in juvenile and adult health & wellness self-improvement education. Its courses are 99.9% nationwide guaranteed.
Problem It Faced: It needed a platform that offered templates for its educational courses. Creating these courses on a large scale was an uphill task. AIC thought that purpose-built quality templates would be immensely helpful for its projects.
Solution It Adopted: AIC used a cloud LMS that helped the company easily create educational courses, just the way it wanted, with ready-to-use, professionally designed training templates. It was a weight off its shoulders. The delightful customer service and technical team were a bonus.
Result It Got: The LMS helped AIC create a lot of educational courses quickly and sell them online easily. This was significant considering the fact that the company provided a wide variety of courses, ranging from anger management to DUI classes online.
Online Course FAQs
What online courses are in demand?
While courses related to employee skills, safety & compliance matters, and leadership & management always remain in demand, there is also a growing demand for data science, cybersecurity, AI, marketing, and communication courses.
What kind of online course can I create?
You can create virtually any type of course. It totally depends on your area of interest, your target audience, trending topics, and your primary goal of creating courses. As long as you have expertise in a subject and use the best tool for course creation and selling, you can create online courses.
What is a good course to take online?
It depends on which courses you're looking for. Whether you choose a professional or educational course, make sure it's expert-designed, self-paced, and engaging. Also, it should include scenarios, examples, case studies, handouts, flashcards, and end-of-chapter assessments.
Which online courses are most profitable?
Some of the lucrative and creative ideas for online courses include modern technologies, health & wellness, coding, SEO/Google Analytics, financial planning & investing, digital marketing, copywriting, and public speaking. These topics never go out of fashion, especially with businesses.
Start Creating Your Own Courses!
As you can see, creating online courses on any of these topics can be a lucrative business. I'm sure you'll find these online digital course ideas compelling and worth trying. They can help you get started right away.
All you need is a good online course creator, such as a cloud-based LMS. These tools can assist you in creating, designing, managing, selling, and tracking online courses just the way you want.
That said, before developing your own online courses, make sure you're passionate about the subject, research the market thoroughly, and offer something unique to your target audience. Only then will success be on your and your customers' side.
Do you want a free Training Software?
We have the #1 Online Training Software for employee training & assessment