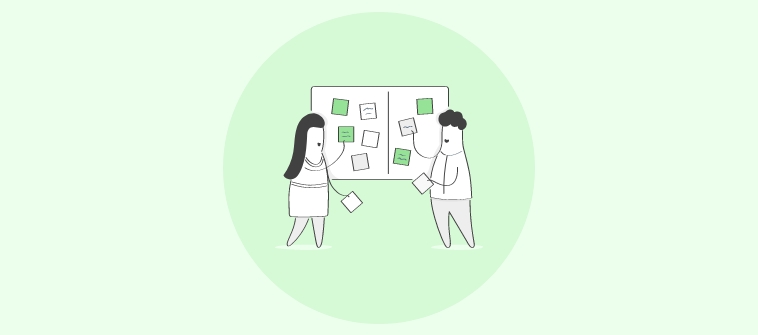 Did you know e-learning is more effective than traditional learning?
With the inception of online learning and the rise of specialized e-learning platforms, it has become easier for instructors to create courses. Most importantly, it has allowed learners to access learning materials anytime, anywhere.
The best e-learning platforms have all the tools and services essential for delivering quality online training. But, the question is, how can you find the right platform for your business?
We have the answer for you.
Read this article to find out the list of online learning platforms we've handpicked for you and learn the tips to choose the best one.
A Quick Feature & Price Comparison Table of the 10 Best E-Learning Platforms
10 Best E-Learning Platform
Why Is It Best?
Pricing
ProProfs Training Maker

Course Library
Quizzes and Surveys
White Labeling
Roles and Permissions
Real-Time Tracking
Consolidated Reports
Great Customer Support

Starts at $1/learner/month (billed annually)
Udemy

Course Creation
Instructor Capabilities
Certifications
Mobile-Friendly
Testing and Assessments

Get in touch with the company for a quote.
Teachable

Course Builder
Course Website
Student Discussions
Live Classes
Reporting and Analytics

Starts from $0/month
WizIQ

Virtual Classroom
Self-Paced Courses
Online Exam Builder
Track Learner Progress
Mobile Learning

Starts from $25/month (billed annually)
Coursera

Certified Courses
Auditing Features
Automated Coaching
Smart Reviews
Financial Aid

Starts from $319/user/year
LearnWorlds

Course Creation
In-Platform Assignment Feature
Quizzes And Assessments
Gamification
Track Progress

Starts from $24/month (billed annually)
edX

High Course Quality
Official Certificates
Blended Learning
Flexible Learning
Track Progress

Starts from $50 per course
Thinkific

Course Creation Tools
Assessments and Certificates
Collaborative Learning
Mobile-Friendly
Student Progress Tracking

Starts from $0/month
Skillshare

Unlimited Access to Courses
Community Based Learning
High-Quality Courses
Live Courses
Accessibility on Multiple Devices

Starts from $159 (billed annually)
Kajabi

Course Creation
Assessments
Quiz Creation
Supports Multiple Languages
Easy Course Delivery

Starts from $119/month
What Is an E-learning Platform?
An e-learning platform is an online learning and training system used for imparting online education or training creatively and consistently.
These platforms allow learners to learn anytime, anywhere, and instructors can track their performance through assessments and quizzes.
They act as a web-based method of delivering online learning. E-learning courses can be coupled with images, videos, polls, multiple-choice questions, quizzes, and surveys to make the experience interactive and engaging.
But why are these platforms in high demand?
The answer is simple.
E-learning is constantly evolving, and its growth is tremendous.
And the following statistics prove the same.
IBM has saved a whopping 200 dollar million after switching to e-learning.

50% of educational institutions and 80% of corporate sectors extensively use e-learning platforms.

28% of organizations use e-learning tools for

compliance training

.
The above discussion clearly shows why e-learning platforms are in high demand.
There is nothing like taking control of your learning at your own pace.
Whether you're training students or employees, managing courses while receiving real-time feedback on learners' performance can be an additional arrow to your quiver.
And this is possible only when you pick the best online e-Learning software.
This context helps to know why you should adopt online training platforms as your primary teaching/training method.
Why Should You Choose Online Training Platforms?
E-learning platforms promote independent learning with 24/7 accessibility to course materials. Moreover, they allow learners to interact with their peers from anywhere through private chats and group discussions.
Apart from this, there are various other benefits of using an e-learning platform.
Robust Learning Experience
One of the significant benefits of online e-learning software is that it supports a robust learning experience. It gives a real classroom vibe with all the features and characteristics of a traditional classroom.
Imagine the situation how life would have been without these platforms?
You had to email each learner about upcoming training and track their progress manually, which would have required a lot of time and effort.
That's why an e-learning authoring software should be in place to streamline the training process.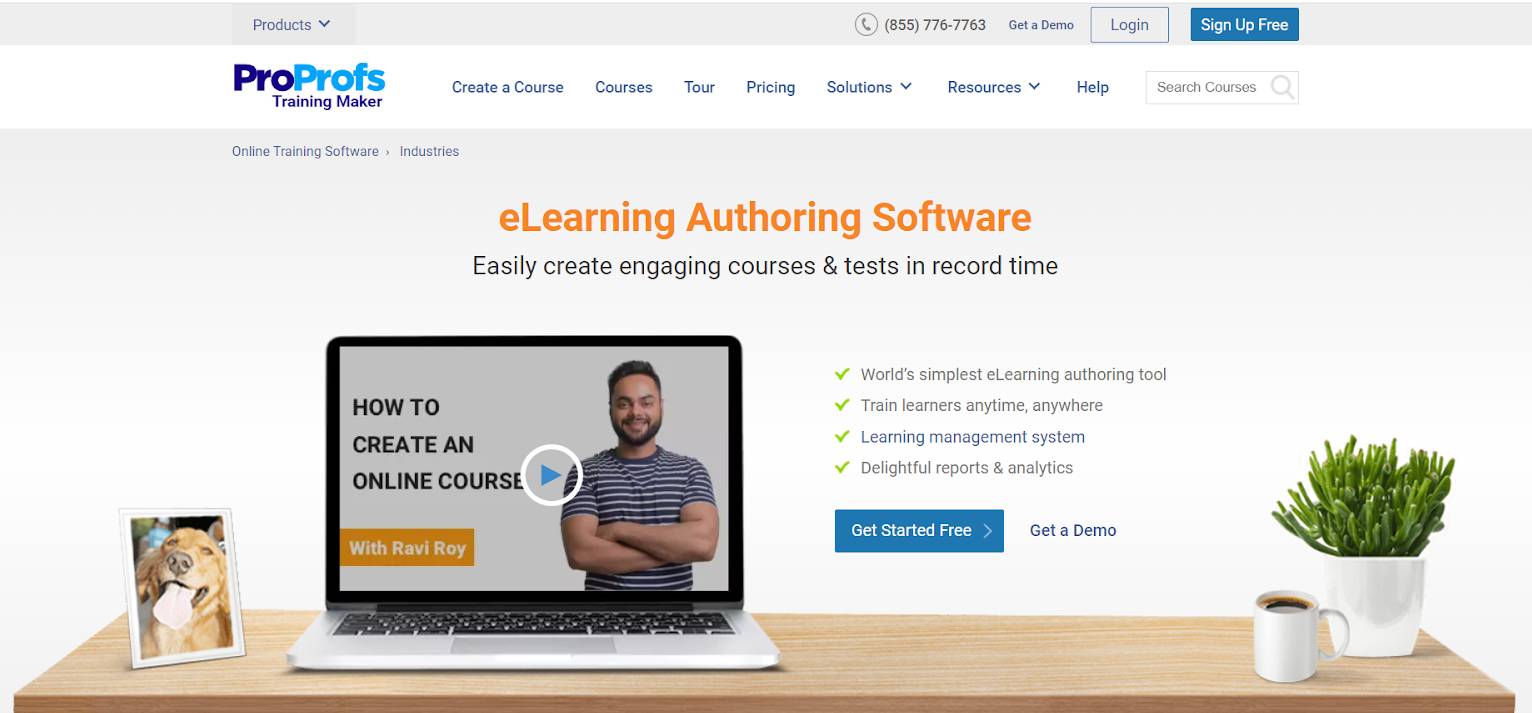 A good e-learning software can bypass all this and automate the entire process by scheduling triggered emails, adding participants and group admins, and monitoring learner progress and course engagement.
Readymade Training Resources
Most online training platforms now provide readymade courses and role-based training templates on multiple topics.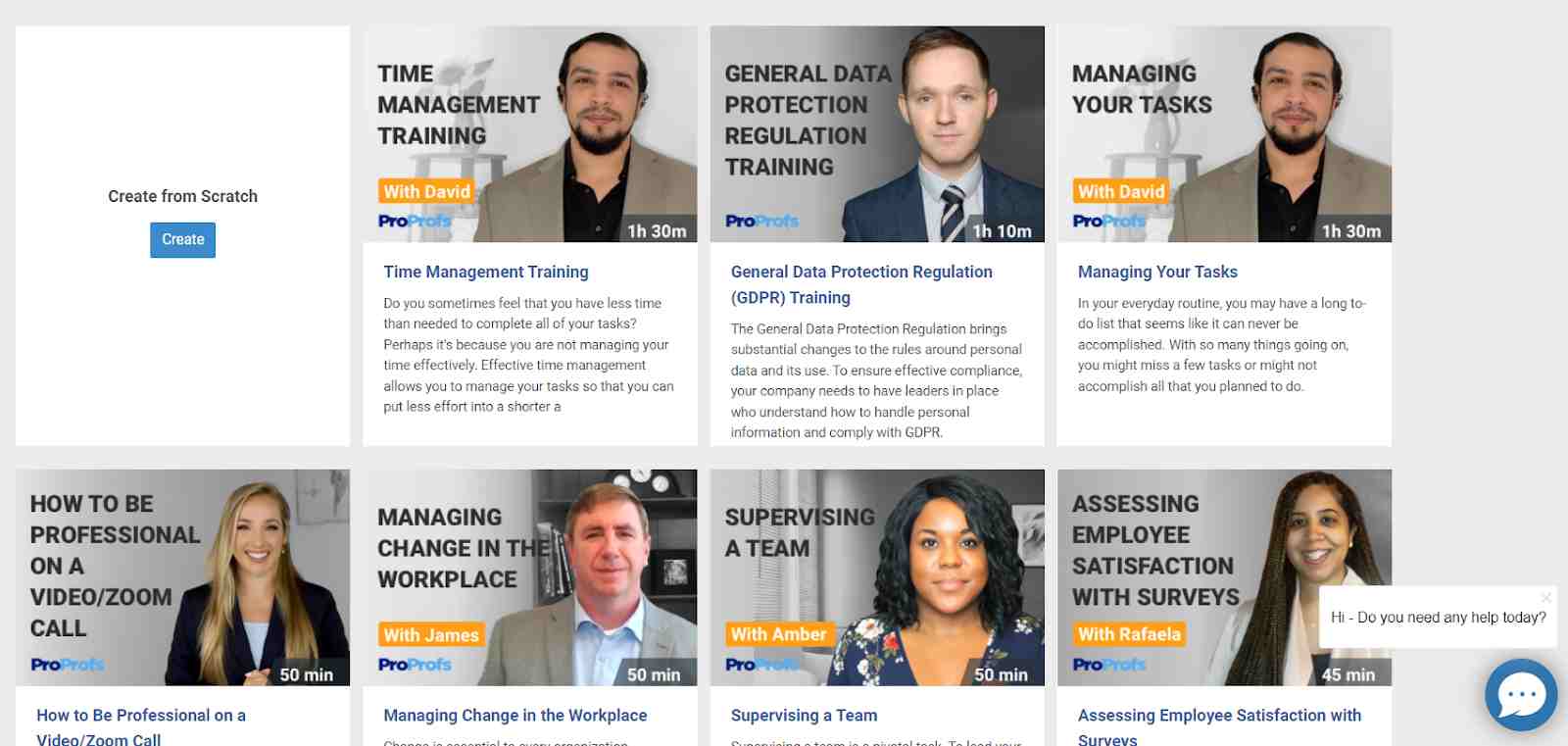 Though you can create your own course by importing existing content, these ready-to-use resources prove helpful in speeding up the training process.
These readymade training resources are made by industry experts and can be edited based on individual preferences. The most exciting part is you don't have to spend hours creating training materials; instead, you can focus on managing learner progress and outcome.
Virtual classrooms are probably the biggest plus point of e-learning. They provide a centralized and secure platform for instructors and learners to come together. It is where you can assign courses, make announcements, and pull out individual & group reports. Learners, on their part, can find assignments, learning paths, and alerts about upcoming training inside the classrooms.
The best online learning platforms offer virtual classrooms that allow learners to sign in seamlessly using single sign-on (SSO) integrated with LDAP, API, and Active Directory.
Watch: How to Set Up Your Virtual Classroom in 5 Minutes?
Additionally, these classrooms allow learners to assess training courses 24/7 from any time, anywhere.
They can take up the course in leisure time while instructors can track real-time progress to manage learning objectives and outcomes.
An online learning platform is both flexible and accessible – that's why most educational institutions and organizations are consistently trying to replace traditional learning with e-learning.
When courses are accessible 24/7, it becomes easier for learners to complete them. And it drastically reduces the dropout rates as well!
Track Progress in Real-Time
The top e-learning platforms let you track individual progress. You can check who has taken the course and who is yet to, how much time learners spend on each module, challenging areas, and total scores.
Furthermore, you can set reminders for the course due date and certification expiry. This ensures that learners complete all training modules on time.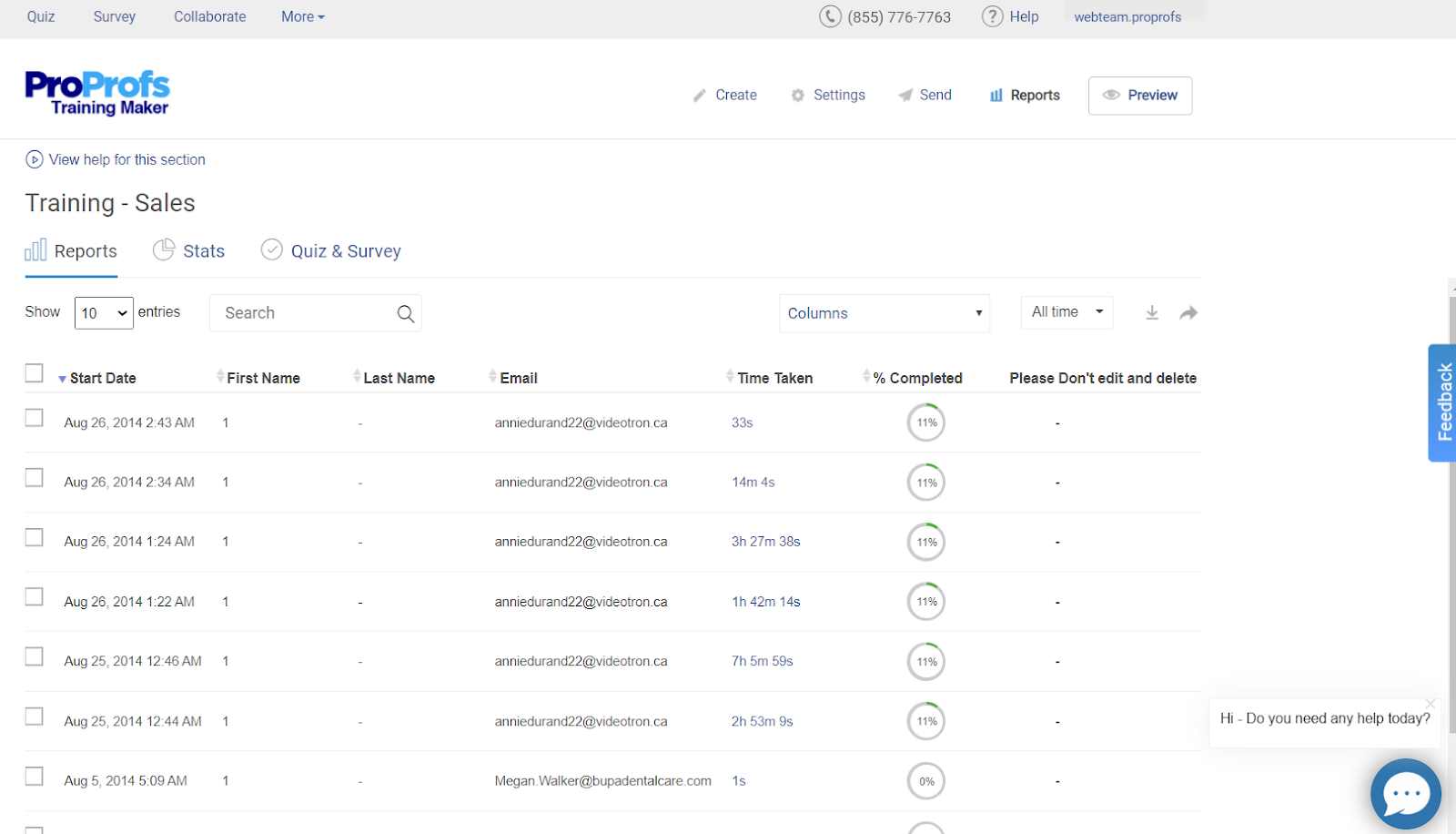 Most e-learning platforms are mobile-friendly. In simple words, both instructors and learners can access the course on portable devices like tablets and smartphones.
Online training software like a mobile LMS eradicates the need for learners to become desk-bound. This is significant because most learners use personal devices to download training materials, access them offline, and learn on the go.
---
Read: 7 Key Benefits of the Mobile LMS
---
In a nutshell, online teaching platforms fulfill the needs of modern learners.
Unlike traditional classroom settings, e-learning improves course delivery.
To put it more accurately, you can reduce at least 30%-60% learning time by adopting the e-learning mode.
And how is it possible?
Very simple!
Learners can progress at their own pace due to 24/ course accessibility.

Secondly, your learners can skip the learning materials they don't find helpful.

Thirdly, they can test their knowledge independently, while instructors can track their progress anywhere.

Reports and Analytics
Are your learners completing all the training modules on time? Was their performance satisfactory, and did it meet the learning objectives? You can get these answers through insightful reports.
WATCH: How to Analyze Training Course Results?
Most online e-learning platforms have robust reporting features to assess individual progress, track completion rates, monitor course engagement levels, and assess the learners' extent of involvement. Through e-learning reports and analytics, you can also assess knowledge gaps and take corrective measures.
10 Powerful E-Learning Platforms
Let's now take a closer look at each of these e-learning platforms listed above for your knowledge and information.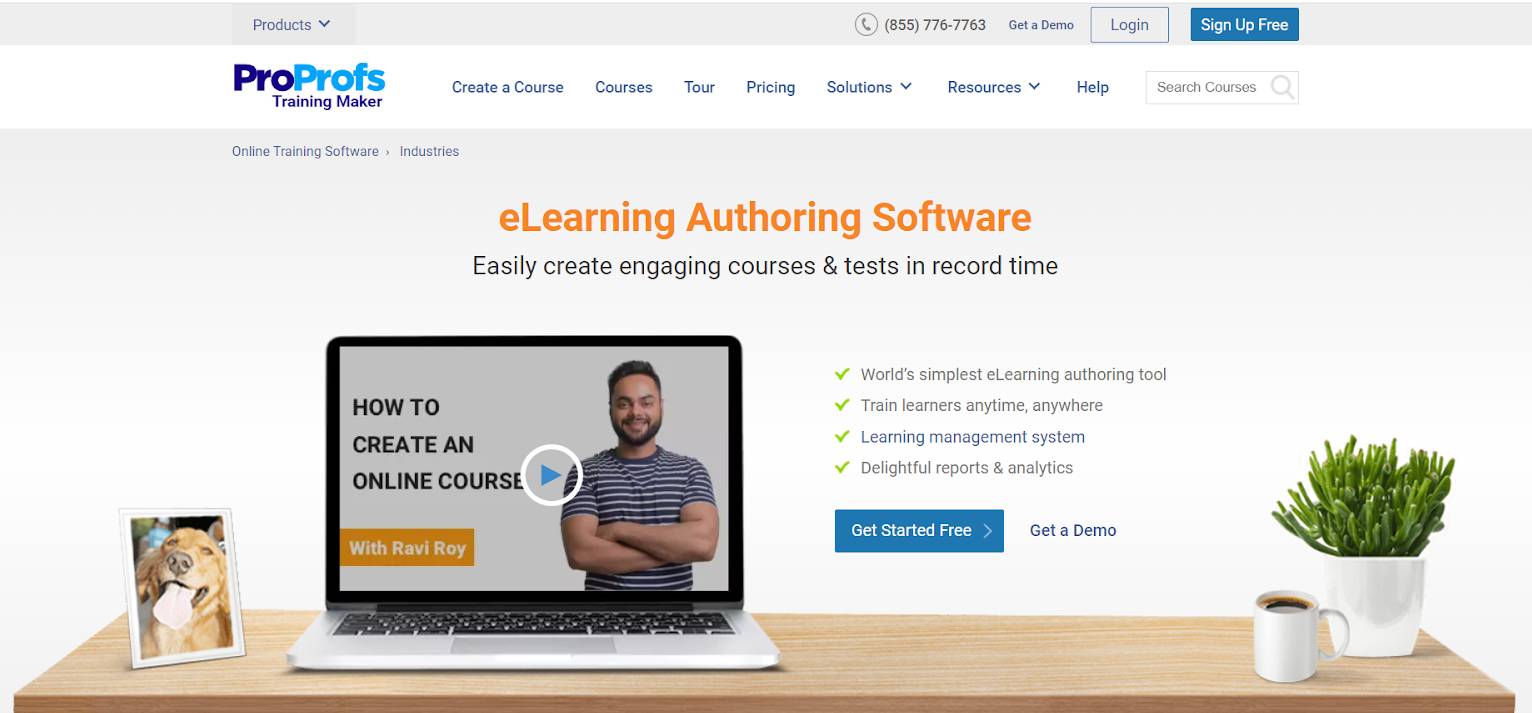 ProProfs Training Maker is the world's easiest and most versatile Learning Management System (LMS) to create, share, and track online courses for businesses and educational institutions. Apart from creating courses and integrating quizzes and surveys, this online learning software lets you track real-time progress and get insightful reports on course engagement levels and learners' involvement.
This LMS offers many powerful features to help streamline training processes. You can use existing training materials such as docs, PDFs, videos, and presentations.
With ProProfs, you can create learner groups and sub-groups and assign different roles and permissions based on group, team, department, and location.
The software has excellent features like due-date reminders, reports and analytics, and a fast-growing library of customizable courses designed by experts.
Features
Get your hands on 100+ professionally designed and fully editable courses. Share them with your learners via online classroom, email, or embed course links on your website.
Make your training more interactive and engaging by adding beautifully designed quizzes for assessments. Allow or prevent skipping questions. The quiz-making tool in the LMS includes an option for recording video responses from participants.
Similarly, you can use surveys to collect feedback from your learners about their satisfaction level, suggestions for training improvement, and learning challenges.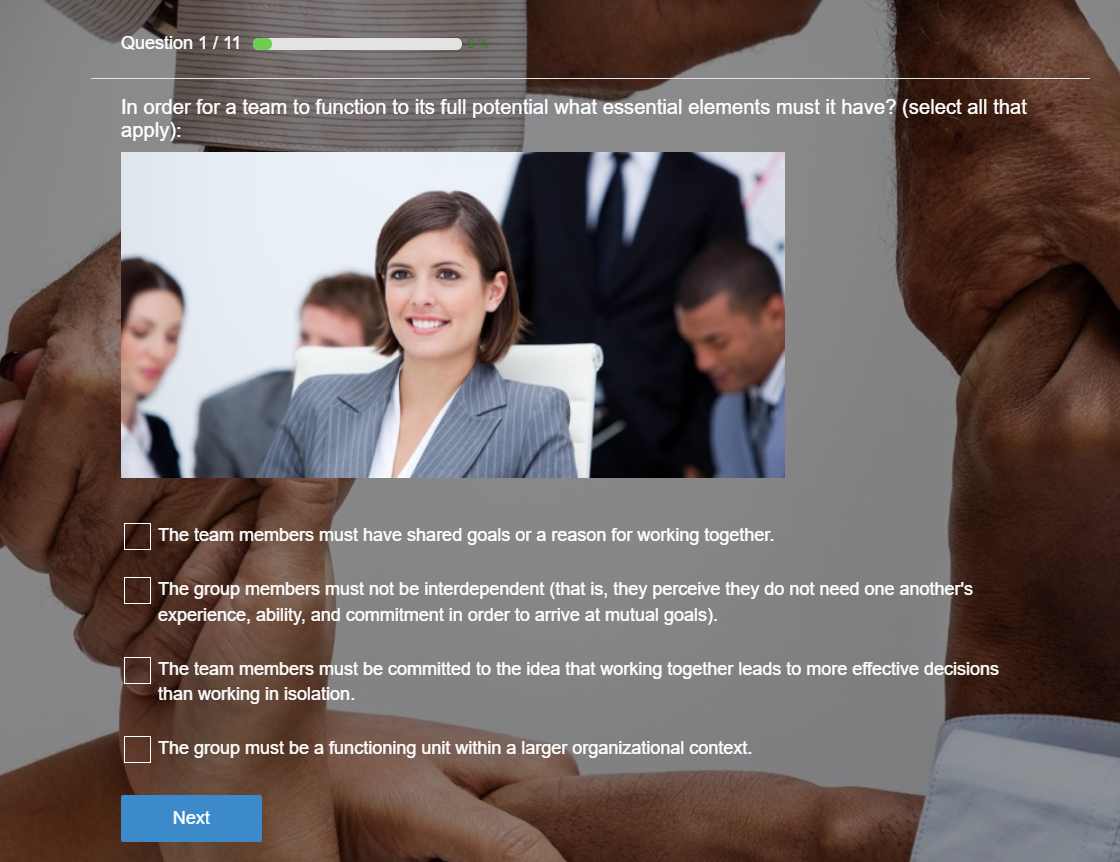 Remove ProProfs branding and feature your courses under your own brand. Add topic-specific themes, custom designs, and beautiful certificates by using your creativity.
Grant roles and permissions to group administrators and instructors so they have access to courses, learners, and user settings. Enable self-registration for your learners and allow them to log in to the classroom.
Drive actionable reports to get a real-time update on learner progress. Check the completed and the pending courses, find out the total time needed to complete a course and track their level of engagement.
Get delightful reports and analytics to monitor individual and group progress, completion rate, and average scores. Export reports in downloadable formats such as PDF, Excel, and CSV, and share them with your learners via emails.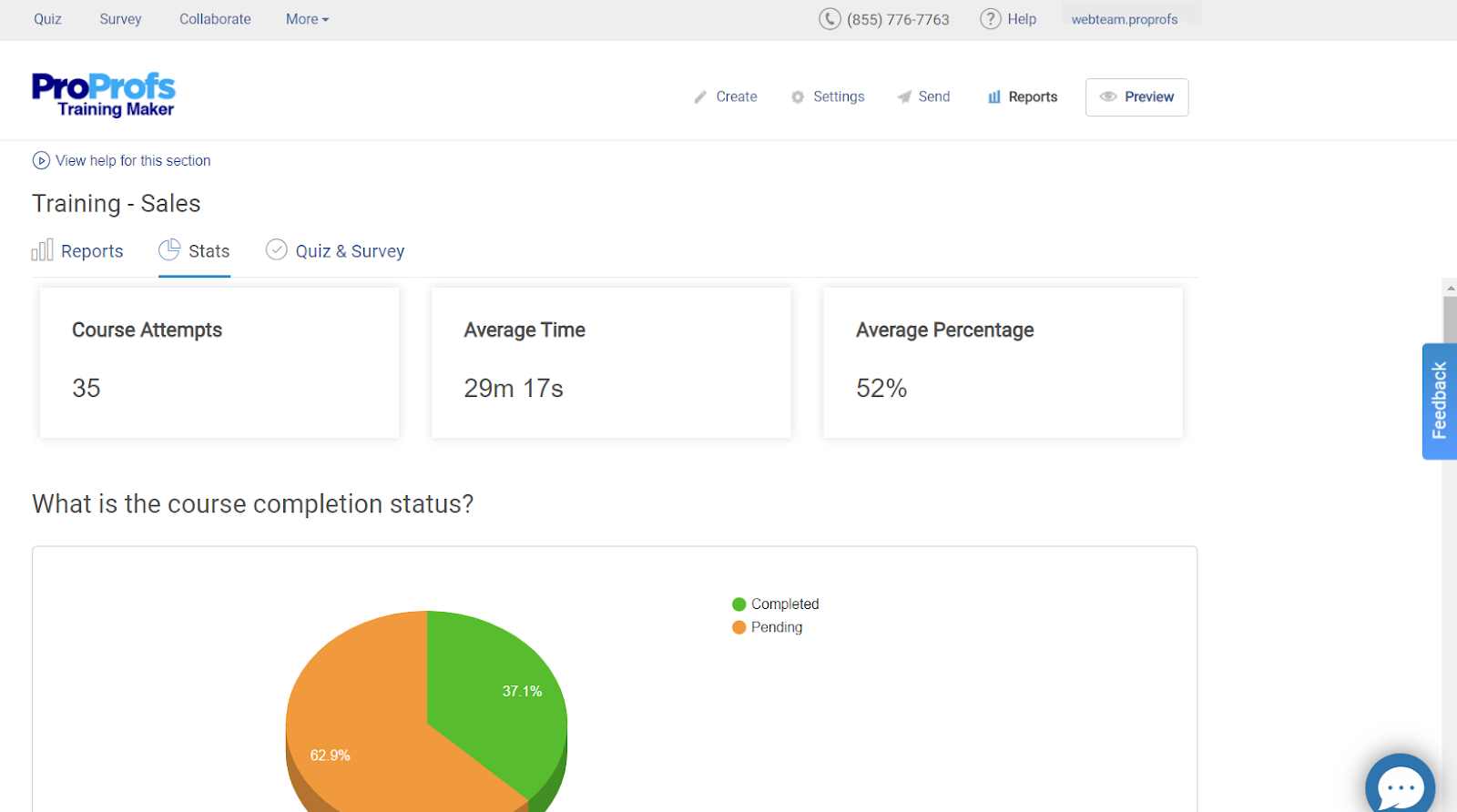 Keep your courses public or private and allow users to have their own login credentials. This will allow you to make your courses available to specific audiences at a time.
Pros & Cons
User friendly

Readymade courses

Excellent customer support
Need more upgrades

Doesn't integrate well with other LMS
Pricing
Starts at $1/learner/month (billed annually). Free trial on all plans for 15 days.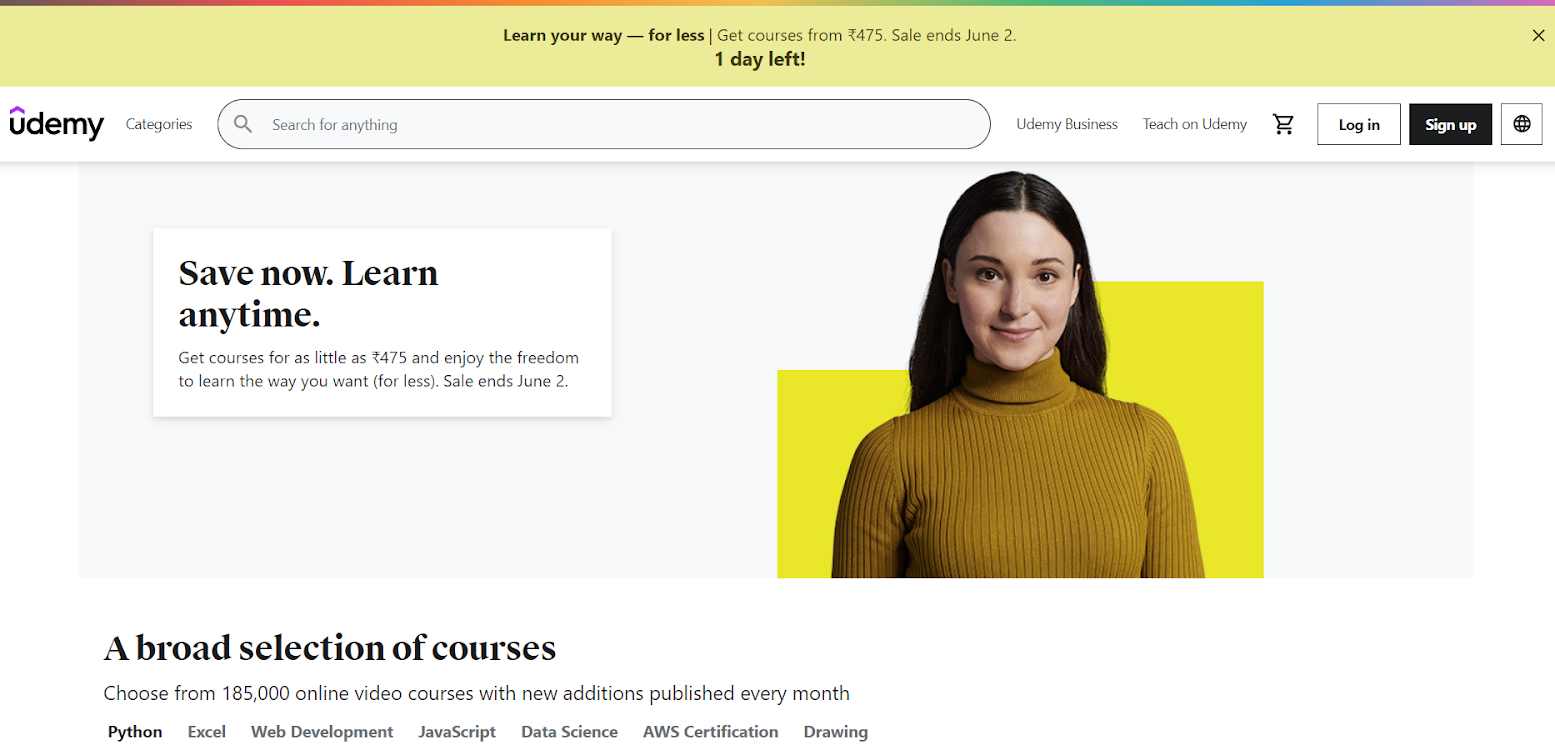 Udemy is one of the best online learning platforms where users can take online courses on different subjects.
It's a Massively Open Online Course (MOOC) platform, allowing instructors to create courses using images, videos, PDFs, ZIP files, and live classes.
Creating a course on any platform requires time and effort. But Udemy has done an outstanding job of simplifying it for new instructors.
Apart from course creation, it also allows you to market them to your students. And this has been made possible through email campaigns, retargeting ads, external partner promotions, and search & delivery.
This software has partnered with popular niche content sites to help instructors in course promotions. Its course quality checklist ensures the courses are professional, marketable, and worthy of delivering a great learning experience to the learners.
Features
Creating courses has been made super easy by Udemy. Create and manage lectures, videos, slides, multimedia, and other resources bundled together for courses. Use practice tests and quizzes to track learner performance.
Find out how well your course is performing using the instructor dashboard. Design lessons to help your learners upgrade their skills.
Instructors own the right to all the class materials. And the best part? Students can connect with their instructors via announcements, Q&As, and messaging.
Reward your students with certificates when they complete paid classes. These certificates can be directly accessed from the course page, and it's an excellent component for displaying expertise.
Udemy is a robust software designed to work seamlessly on smartphones and tablets. Users can download lessons and go through them at their own pace, even in offline mode.
An essential part of learning is testing knowledge. Use different testing strategies like practice tests, quizzes, and coding exercises to track learner progress.
Pros & Cons
Great training tool

Self-paced learning

High-quality courses

Upskills workforce

Price

Courses are not accredited
Pricing
Get in touch with the company for a quote.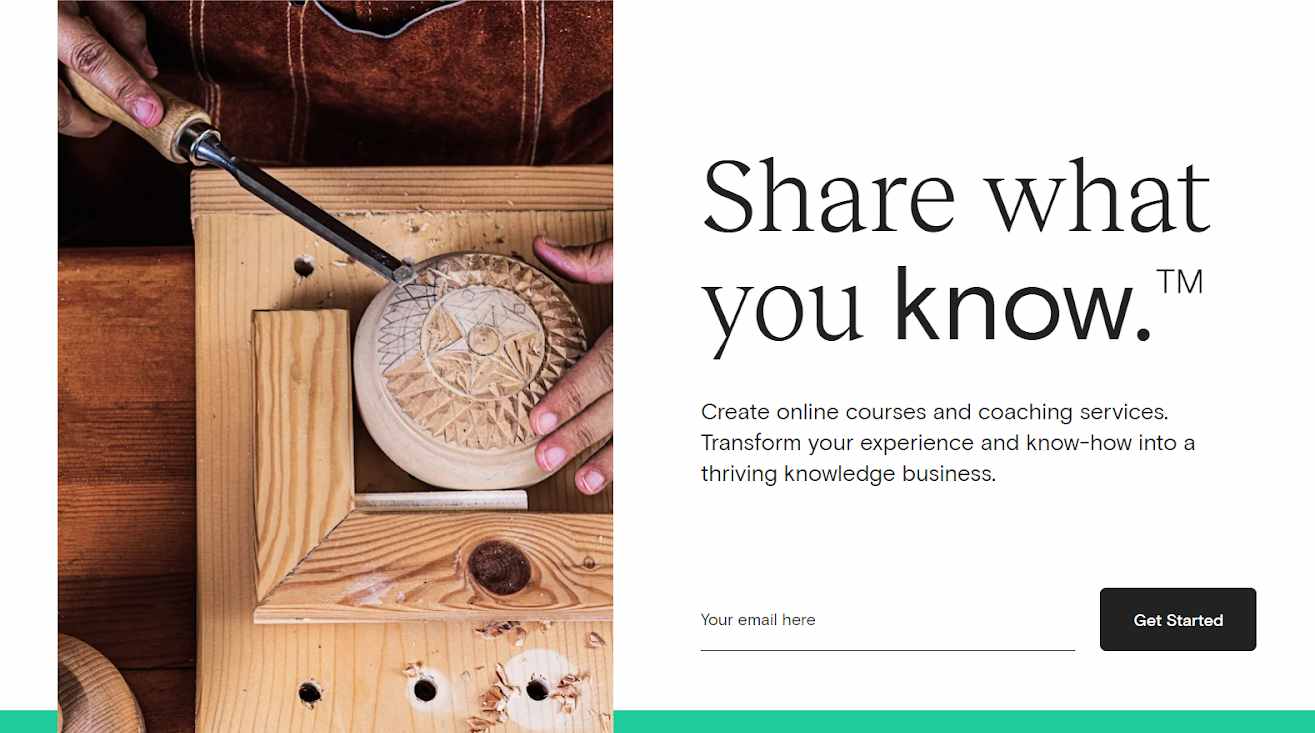 Teachable is a Learning Management System where instructors can build subscription-based courses for learners. This online software doesn't require you to have knowledge of CSS or HTML.
This online teaching platform is suitable for those who need a high-quality mid-tier solution. It's a great pick for small businesses and beginners who are creating courses for the first time. Thanks to its user-friendliness and affordability.
Overall, it's intuitive, and you don't need to go through too many complicated settings and options.
Apart from course creation, you can include quizzes, custom brand your course, and use live classes, drip feeding, and certificates for course delivery.
Features
Use the drag and drop builder to create and publish courses online. Each course comprises a series of content blocks organized into lectures that are further classified into chapters. Add images, audio, videos, PDFs, and quizzes to make your lessons exciting and engaging.
Teachable has all the elements needed to launch your course website. The funky design templates, custom branding features, and the option to configure your domain make it one of the best software for creating a course website.
Create an engaging learning environment through student discussions. Instructors and students can connect by replying to each other in the comment box.
Instructors have the liberty to decide if students can upload images along with their comments or whether the comments need moderation from the instructor's end before it's uploaded.
Live classes are great for keeping your students engaged. There's an option in Teachable to live-stream your classes. But you need to have a third-party platform and embed the code into your course. That means some knowledge of coding is required.
With the platform's higher plans, you can access granular reports consisting of detailed information and a holistic view of students' course completion rates, student leaderboards, video stats, and quiz scores.
Gain powerful insights into your business through data reports and analytics and align your strategies accordingly.
Pros & Cons
Course marketing

Simple and user-friendly interface

Best for beginners

No free plan

Limited site customization option

Limited multi-lingual support
Pricing
Starts from $0/month. Unlimited students and one course.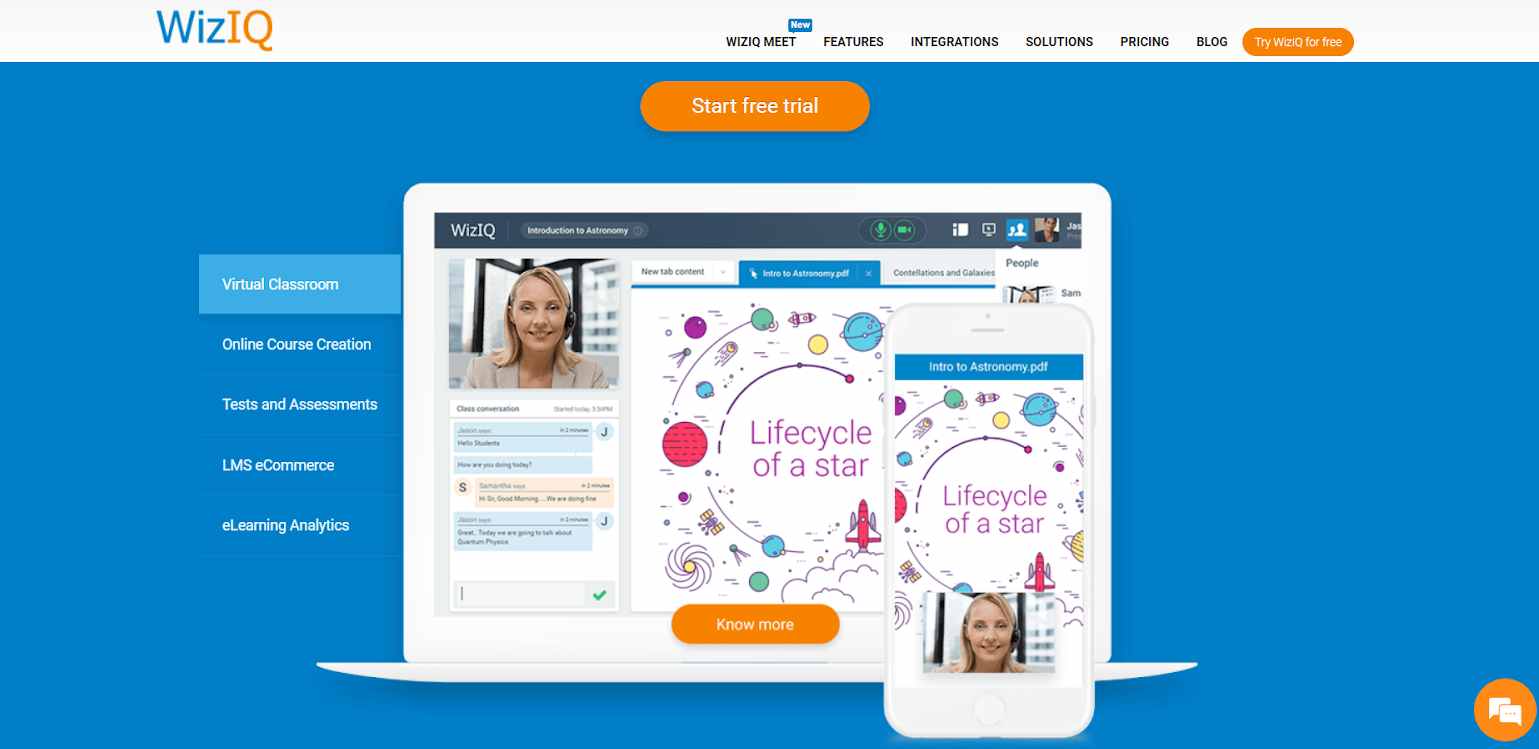 WizIQ is a web-based LMS for high school students and businesses. It offers a comprehensive solution to instructors and organizations to deliver online courses efficiently. You can now replicate your physical classroom experience with this feature-rich platform.
The software allows instructors to develop self-branded teaching programs that can be delivered in real-time or recorded lectures. Also, WizIQ supports live classes, HD video streaming, and multiple instructor accounts.
As one of the top online learning platforms, it provides testing functionality and reporting tools that help track students' engagement, progress, and performance of the training course.
Features
Deliver a high-quality learning experience to your students with WizIQ's virtual classroom. It lets you live-stream your classes through echo-free audio and high-resolution video. With the e-learning tool, you can code in real-time, collaborate with your learners live, and integrate the classroom plugin with your existing LMS.
WizIQ offers self-paced courses to provide learning flexibility at all times. Students can take up the course at leisure, while instructors can track real-time progress anywhere. Self-paced learnings offer high knowledge retention and give the freedom to use learning models.
Create engaging exams in different formats to test your student's performance. This online exam builder lets you create an online test in nine formats, set rules and guidelines, and assign time limits to avoid cheating.
Assess learner performance through automated reports. Know how effective your course was and monitor student engagement. Take remedial actions and deliver personalized training to weak students. Know the challenging topics or areas of your syllabus and make necessary adjustments.
Let your learners access course materials from their personal devices. WizIQ provides mobile learning on the go where learners can instantly take up the courses without investing in expensive laptops or desktops.
Pros & Cons
Intuitive interface

Easy integration with other LMSs

Feature-rich tools

Virtual classroom

Customer support

Live streaming can be improved
Pricing
Starts from $25/month.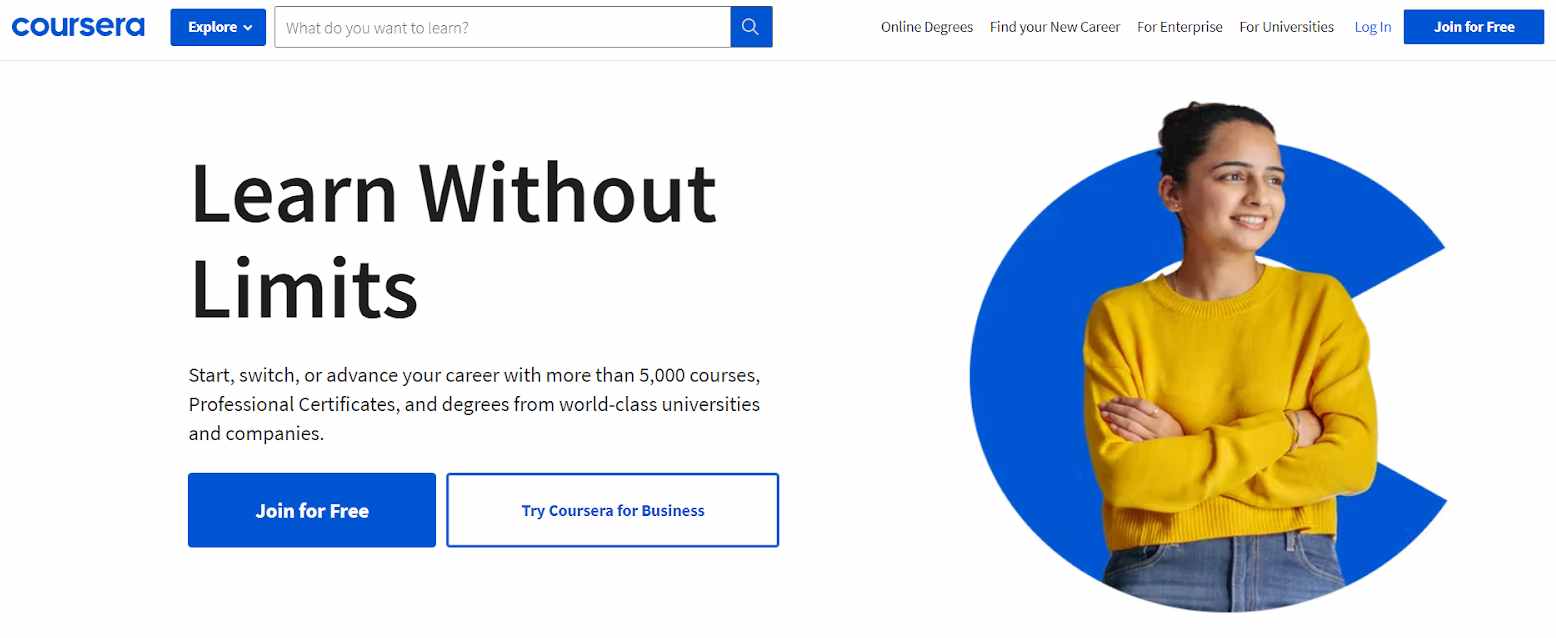 Coursera is one of the online learning platforms where expert instructors can create courses on any topic they wish to teach. This platform is available to a global base of learners. And students can have access to unique courses which they might not get under traditional learning schemes.
No matter wherever you are in your teaching journey, Coursera has all the resources and tools you need to accomplish your goals.
With Coursera, you can create resilient learning models. Along with the University of Michigan and Duke University, Coursera has developed the best practices and guidelines to deliver an excellent learning experience and measurable learning outcomes.
Features
As the best online teaching platform, Coursera offers university-level courses produced and taught by reputed professors from top universities like Yale, Stanford, and Princeton. This platform has partnered with over 200 universities to deliver a real learning experience. Get access to certified courses on plenty of subjects like Data Science, Computer Science, Mathematics, Arts and Humanities, etc.
You can choose to audit a course if you want to learn the course material but do not wish to pay for it (maybe because it's expensive). When you audit a course, you get access to the learning materials for free. However, you cannot apply for a certificate, participate in course activities, or submit assignments for grading.
The in-course help system is referred to as automated coaching by Coursera. Through this approach, instructors and lecturers can A/B test a content course. A/B testing, also known as split testing, is an experiment where users randomly get to see two or more versions of the same page. Tracking metrics are used to understand which version performed better.
This is probably one of the most exciting features of Coursera. Students are redirected to relevant course materials when they make a mistake in a quiz. The quiz questions are matched with the relevant course content to identify which course helped the student pass the quiz they had previously failed.
Coursera provides a satisfying learning experience – thanks to the flexible timetables. The professors (course creators) are masters of their creation, so you can expect high-quality knowledge irrespective of the course you've taken. As far as the timetable is concerned, students can learn the courses at their own pace.
Pros & Cons
Bachelors and Masters Degree Program

Audit classes

Financial aid

Flexible timetables

Limited course availability in arts and humanities

Courses can be a bit difficult for beginners
Pricing
Starts from $319/user/year. For small organizations and up to 5000 courses.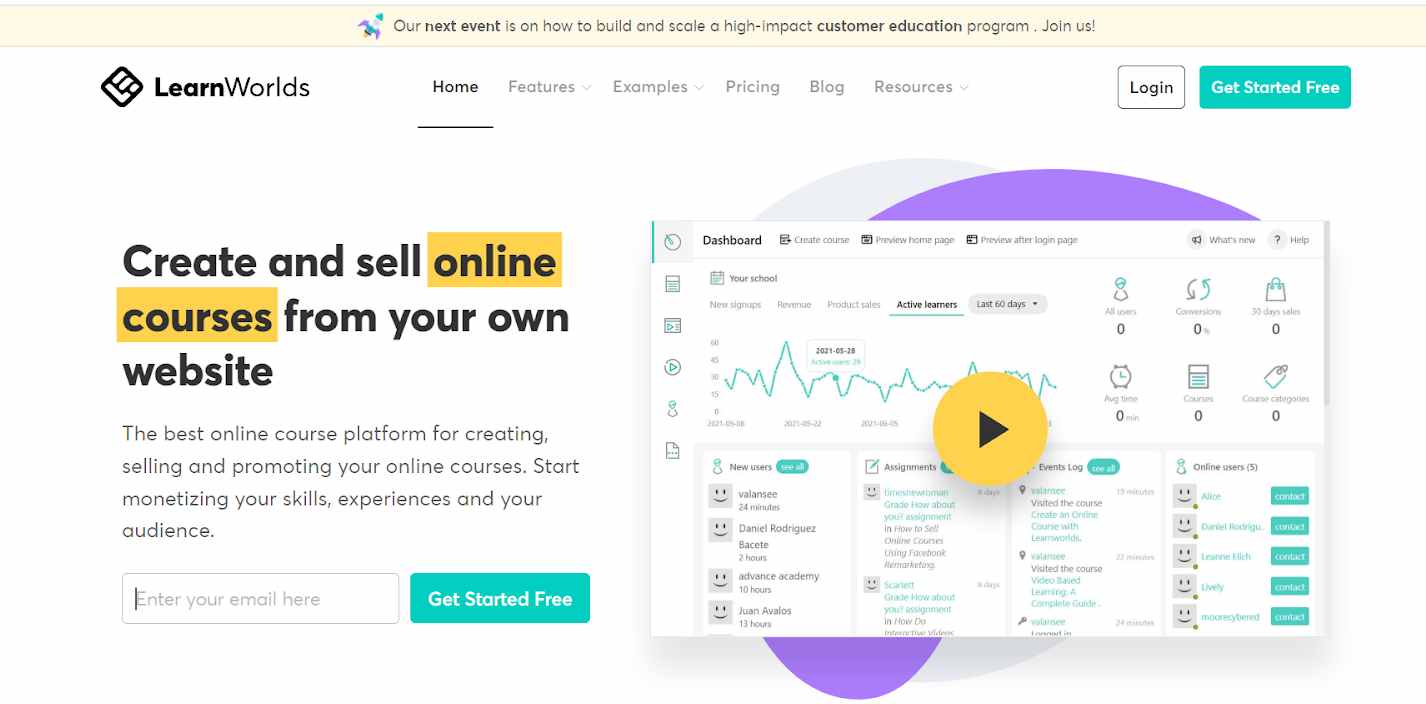 LearnWorlds is a robust course creation platform that lets you create and sell your courses. The software solution is packed with core and advanced features like gamification, site builders, student feedback, etc.
This software solution offers a high level of customization. But it has a steeper learning curve compared to the other course creation platforms.
With so many impressive features, this online learning software deserves a place among the top 10 solutions. Leverage their readymade catalogs once you're ready to create your course. These catalogs have interesting traits like video players, downloadable attachments, online tests, etc.
Features
Create engaging courses for your learners through the LearningWorlds course builder. It has a wide range of customization options. For instance, you can add videos, images, eBooks, and brainstorming games to your courses.
Get an insight into how your course is performing. Know your learners' experience with your course and share feedback on their performance.
Track your learner performance through quizzes and assessments. Choose from various quiz types like text with feedback, multiple-choice questions, true or false, polls, etc.
Assessments/exams, on the other hand, have a long format, and it helps in understanding how well your learner has grasped the course.
It's a great way to make your lessons interactive and engaging. LearnWorlds lets you award badges, points, and other incentives to motivate your learners and provide a sense of achievement.
Self-brand your courses and translate them into nine other languages apart from English. This platform supports multiple languages like French, Spanish, Dutch, Italian, Japanese, Chinese, and German. This software also supports live classes, course scheduling, and student interactions.
Pros & Cons
Excellent customer support

User-friendly interface

Pre-built templates

Mobile friendly

Expensive

Course builder doesn't support bulk uploading
Pricing
Starts from $24/month (billed annually). One admin and unlimited paid courses.

The concept of edX is quite similar to Coursera's in that they bring certified courses created by top universities to everyone. Learners get access to more than 2,500 courses on diverse subjects like History, Chemistry, Medicine, Biology, Physics, EVS, Music, Law, and more.
edX provides an online discussion forum to collaborate, share ideas, and get answers to your questions. And the best part is that it provides an e-book to gather more knowledge from tutorial videos.
edX's ability to train and upskill aspiring entrepreneurs and business owners with top-notch learning quality makes it one of the best e-learning platforms.
Features
Each of the courses available on this platform is curated by prestigious universities like Harvard University, Boston University, Massachusetts Institute of Technology, etc. So, you can always expect high-quality courses on this platform.
Since edX partners with top-notch organizations and universities, students can receive accredited certificates after course completion.
This learning platform supports blended learning, which is a bonus for the instructors. Blend technology with traditional classroom settings to enhance learning experience and outcomes. Prepare your students for success and help your university stay at par with workforce demands.
Learn at your own pace and access learning materials from anywhere. At edX, the mission is to provide education to everyone, including those with busy schedules.
There are over 500 self-paced courses available on edX, and learners can get access to them instantly after enrollment. Self-paced courses let you work on your own terms and at your convenient speed.
The platform provides learner dashboards to get powerful insights into learner progress and milestones. The progress report is categorized into two sections – overview and full report.
The overview section provides insights into the total number of registered participants at edX, the courses covered by them, etc. On the other hand, the full report section provides detailed information on each learner like their course title, email address, the date they completed the course, etc.
Pros & Cons
Verified certificates on course completion

Partnership with prestigious organizations and universities

Free course auditing option

Self-paced learning

Lacks a course structure

Limited topics
Pricing
Starts from $349/learner/year. Up to 30 learners or more.

Thinkific is online e-learning software for entrepreneurs to create and market courses. It has all the tools necessary to build an e-learning curriculum and improve learners' experience.
The software was launched in 2021, aiming to reach more learners. It is ideal for e-learning experts who want to offer educational programs as a part of their existing business or those who want to share their knowledge with others.
The opportunities provided by Thinkific are endless, and it lets you stand out from the crowd – thanks to the learning tools and useful customization features.
It provides an intuitive toolkit for instructors and learners to navigate with ease. You get access to a help center regularly updated with guidelines, tips, and ideas from other course creators.
Features
Thinkific's intuitive design lets you create a customized course site, and it doesn't require you to have technical or coding knowledge. This is made possible through external integration, multimedia support, and drag-and-drop features. And the best part is that you can add images, videos, surveys, quizzes, and presentations to make your content engaging and interesting.
Assessments and Certificates
From open-ended surveys to multiple-choice surveys or formal exams, this platform gives you endless assessment options. On top of that, instructors can distribute customized certificates upon course completion.
Thinkific supports the idea of cohort-based learning. The platform offers impressive functionalities like drip scheduling, live lessons, and student groups and communities to achieve collaborative learning.
This online learning platform supports mobile learning so that learners can access your courses on smartphones and tablets. They can easily navigate through every chapter of your course from their personal devices.
Student Progress Tracking
Thinkific provides various tools to measure learning outcomes and course completion rates. You can monitor learner engagement and identify what needs to be updated in your course materials.
Pros & Cons
Simple and easy interface

Enables delivery of high-quality courses

Excellent customer support
Affiliate link functionality needs to improve

Limited A/B testing options
Pricing
Starts from $0/month. Unlimited students, limited courses, and one admin account.
Skillshare is a new online learning community where students can learn in self-paced settings. This platform is more focused on maintaining a collaborative environment rather than lecturing – and it's a unique feature of Skillshare that sets it apart from the other online e-learning platforms.
This learning platform is for everyone who wants to teach or take up a class. However, it is ideal for people interested in learning leadership, photography, analytics, and creative writing.
The seamless instructional features, user-friendly interface, and excellent customer support make it one of the most reliable e-learning platforms for instructors and learners.
Features
Unlimited Access to Courses
Skillshare members get unlimited access to courses available on this platform. It's a great place for those who want to devote time to learning. Skillshare allows students to switch courses/teachers to learn a topic. So, even if they don't like a course, they can change the teacher or the course to understand a particular topic.
Course creators and learners can engage in collaborative learning to ask questions, share tips, and discuss progress. For instance, Skillshare workshops are courses with more community involvement and a timeline of projects that learners need to follow.
Skillshare offers a range of valuable tools to build high-quality courses. It lets you create a self-introductory video for your learners. Certain platforms require you to have degrees or formal requirements to become a teacher. But Skillshare doesn't have any such formal requirements to publish a course.
Learners have to choose 'chroma courses' to access live classes. While there aren't as many live courses as pre-recorded sessions, these are highly effective if you wish to interact with your learners directly. Share instant answers to their questions in real-time.
Accessibility on Multiple Devices
Courses are available on any device – be it smartphones or laptops. Skillshare aims to deliver a flexible learning experience, so it supports self-paced learning.
Pros & Cons
Easy to use

Free classes

Free trials available
Full course content is not available for free users

Too many ad pop-ups
Pricing
Starts from $159/user/year. Unlimited access to 35,000+ classes.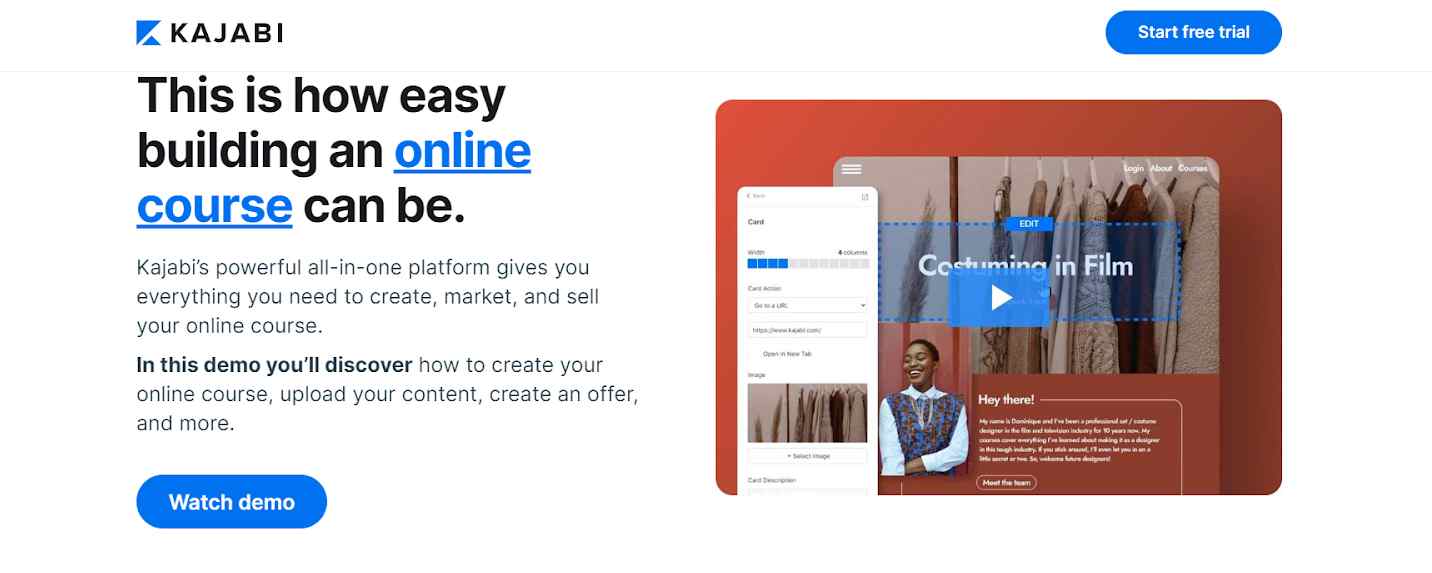 Kajabi, one of the top online learning platforms, provides an advanced course builder to build, market, and sell courses under one roof. This course creation solution offers exciting features like course automation, email campaigns, etc.
This platform has a steep learning curve, but it is highly customizable. Kajabi is suitable for experienced course creators requiring high-end design capabilities and marketing tools.
The entire idea behind this platform is to offer a range of tools to run your business efficiently. It empowers you to create different content like coaching programs, online courses, podcasts, and more. Kajabi provides a simplified system to market your products.
Features
Kajabi provides a course builder to create different content for your learners. You can add images, videos, codes, and assessments to your course. Most importantly, you can adjust comment visibility and add automation. For instance, if your learner completes a lesson, you can automatically send them to a congratulation page.
The assignment feature in Kajabi lets you create assessments to check learner progress. Get an insight into how your learners are handling your course and how much information they've been able to gather. Did they take up the course sincerely? You can test their knowledge through assessments and share feedback on individual progress.
Kajabi supports quizzes as a great way to know the overall performance of your learners. Get a better understanding of their progress, and communicate how they can work on the areas of improvement.
Supports Multiple Languages
Kajabi allows you to translate your courses into 16 different languages, including Japanese, Spanish, French, Russian, etc.
Kajabi lets you market your courses through built-in pipeline schematics integrated with this platform. This feature gives you an email copy for successful campaigns and a glimpse of revenue through analytics.
Pros & Cons
Diverse themes to suit different course needs

Easy integration

Free trials available

Funnel building

Email functionality is clunky

Font choices are limited
Pricing
Starts from $119/ month. For one website and one admin user.
How to Choose the Best E-Learning Software
Now let's throw light on one of the main topics for this post: how to choose the best online e-learning software.
If you're already in the process of choosing an e-learning platform, you must be aware that the market is flooded with a plethora of e-learning platforms. The sheer abundance often makes it overwhelming to decide on the right tool.
In this context, we'll highlight some of the best tips you should keep in mind when choosing an online learning platform.
Understand Your Objectives
While searching for a platform, you first need to determine your learning objectives. What are the outcomes you want to achieve? Do you simply want to add texts to your course or wish to integrate audio-visuals, quizzes, surveys, assessments, and gamification into your courses?
Knowing what elements you are looking for and the objectives you're trying to achieve out of them is vital in finding the right e-learning software.
Identify the Features You Need
When looking for e-learning software, it's important to know your pain points. Choose learning solutions wisely, and don't get enticed with what you find attractive at first glance.
Almost all e-learning software offers a free trial, so you can leverage that to understand if it would be the right choice for your business.
In the meantime, you can go through some of the features that your platform should provide:
Course Builder

– The platform should have an integrated

e-learning authoring tool

that

allows you to develop online courses quickly.

Ready-to-Use Courses

– Make sure the software provides readymade courses and role-based training templates to shape them into a module of your choice.

Device Compatibility

– Learning on the go is the trend, so your platform should work seamlessly on all devices, including tablets, smartphones, desktops, and laptops.

White Labeling

– Make sure your platform supports white labeling. Remove the logo or brand name of the software provider and replace it with your brand name, logo, themes, and colors.

Quiz and Survey Creation

– The software should allow you to add quizzes and surveys for knowledge retention and evaluate your course quality.

Reports and Analytics

– Another essential feature to look out for in an e-learning platform is reports and analytics. Through real-time reports, you can get an insight into learner progress, course completion rates, course engagement, and more.
Prioritize Your Learners' Needs
Understanding the needs of your learners will let you create tailored programs for positive learning outcomes.
For example, when you choose an e-learning tool, you need to understand whether your audience will need those proverbial 'bells and whistles' at all!
Are they going to get the most out of your course if you add audio-visuals or a simple demo presentation will do?
It is therefore important to closely look into your learners' needs, skills, and technical knowledge. Go through the learning platforms' list and their features discussed above to make the right choice.
Know Your Budget
Budget is another yardstick for deciding on the best e-learning platforms. Understand your affordability because this will help in shortlisting those platforms that are available within your price range. There's no point in focusing on software out of your budget.
Customer Support
Another thing to look for is your vendor's quality of customer support. Once you buy the software, you'll need support services for product installation, maintenance, and upgrades.
Don't forget to check the client testimonials on customer support. It gives clarity on the kind of services you can expect in the future.
Are You Ready to Deploy the Best E-Learning Software?
Now that you've got ideas on the best e-learning platforms in the market, the final decision rests on you.
After all, an appropriate tool would simplify your training process and enhances the task's efficiency.
So take the time to analyze the factors you need to consider before choosing an e-learning platform. Make sure it fits your budget and brings you close to your business goals.
Do you want a free Training Software?
We have the #1 Online Training Software for employee training & assessment