What are the best online collaboration tools for remote teams?
There are many. These tools enable users to work collaboratively and stay productive, regardless of the location. Using these software applications, participants can work on any projects from anywhere. They come integrated with powerful tools for instant messaging, video conferencing, screen sharing, and time tracking. This makes them a must-have tool not only during the present COVID-19 pandemic but even during normal situations.
Today the number of U.S. workers who work remotely stands at 4.7 million or 3.4% of the total population.
Until recently, working from home was considered a luxury sanctioned to selected employees under special circumstances only.
The current coronavirus pandemic has compelled more people to work from home than ever before.
For any company to deploy remote working successfully and communicate with their employees effectively, team collaboration tools are necessary. And if you're out to do it for the first time, you may find the task a bit tricky but it is not impossible.
To simplify your efforts and save your time, here's a glance at the 10 best remote collaboration tools for 2023. Take a look:
Let's now take a closer look at each of these real-time collaboration tools for the top enabling features as well as current pricing.
10 Best Remote Collaboration Tools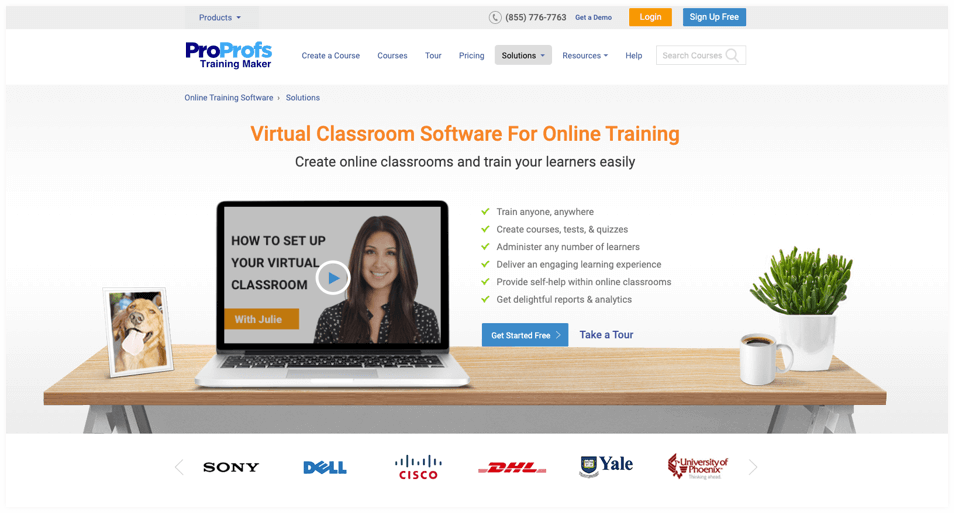 ProProfs LMS is a cloud-based SaaS that makes an ideal solution for online employee training anytime, anywhere. The software application comes complete with a virtual classroom and online discussion & collaboration platform. A well-stocked library and eLearning authoring capability ensure that you have access to the courses, tests, and exams you need.
Also, the learning management system provides supplementary tools for quizzes and surveys that you can easily add to your training material to increase the engagement level. The reporting feature fetches all the learning statistics on individuals and groups on a dashboard for easy tracking & analysis.
Features:
Virtual Classroom Software
Train your learners located anywhere in the world. Create online content and share them with learners easily. Continue learning uninterrupted.
Self-Paced LearningLet your learners take courses at their own pace. They can utilize the pause & resume feature. Both slow and fast learners can progress at their preferred speed.
Discussion & CollaborationPromote interactive learning through discussion and collaboration among learners. Let them take advantage of a Q&A-based online community.
Project Management
Streamline your
project management tasks
. Share files and collaborate effectively with multiple teams. Meet deadlines easily.
Quizzes & Surveys
Make learning exciting by adding
quizzes
to courses. Gather user feedback via surveys. Use different templates and question types.
Course Creation
With ProProfs, developing
online training courses
becomes easy. Access a library of 600+ ready-to-use courses and templates. Train learners on any popular topic.
Multilingual SupportDeliver training in any linguistic regions through localization. Let learners pick up the necessary knowledge and skills in a language they prefer. Remove all language barriers.
Shared FoldersA shared folder enables multiple instructors to access courses, quizzes, and other training resources in one common place. They can view and edit the folders, and collaborate in real-time.
Learning Reports & AnalyticsDetailed reporting at the end of each training session gives you an overview of the learning progress, pending and completed courses, participation rate, and engagement level.
Pricing:
Forever free plan (up to 10 learners). Paid plan
starts at $1.97/learner/month
(billed annually) for large teams. No hidden charges. 15-day money-back guarantee.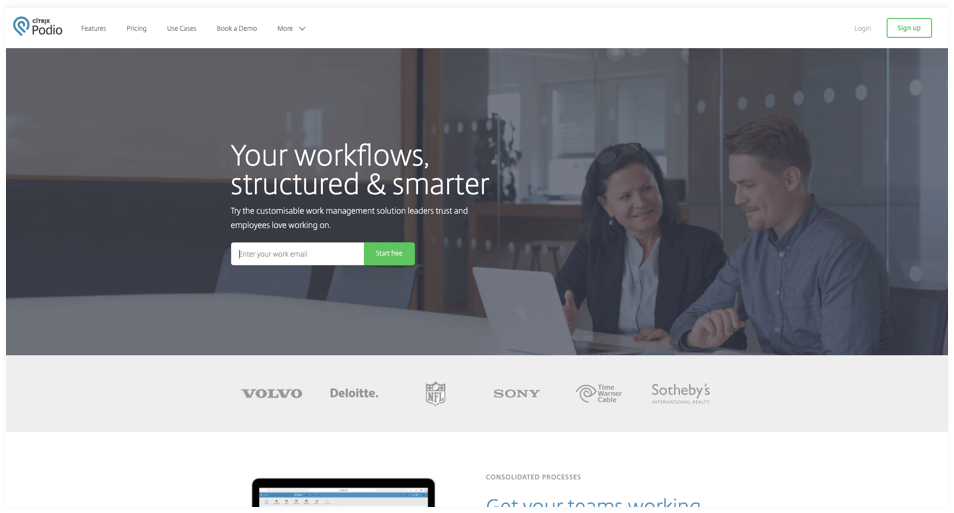 Podio is a web-based platform for project and workflow management. It can help you set up virtual workspaces for team communication, collaboration, and streamlining business processes. Using it, your teams can work in sync to get work done.
The tool is straightforward, stable, and secure – features users need to collaborate with their remote staff successfully. If you work in a modern project-centric work environment, Podio can help you consolidate all the data, conversations, and processes in a single tool, thereby enabling you to stay focused on things that really matter.
Features:
Project ManagementThe tool handles the management part so that you can get on with your project. Speed up your projects by getting all stakeholders on the same page.
File SharingOrganize, share, and track files in one place. There's no file storage limit. Podio integrates with top file-sharing services, including Google Drive, Evernote, and Dropbox.
Mobile AppsPodio mobile apps keep you and your teams connected at your fingertips. Access and share all kinds of content from mobile devices.
ExtensionsAdd-ons from time-tracking software to Gantt charts built by third-party developers help extend the Podio experience.
Pricing:
Starts at $9/employee/month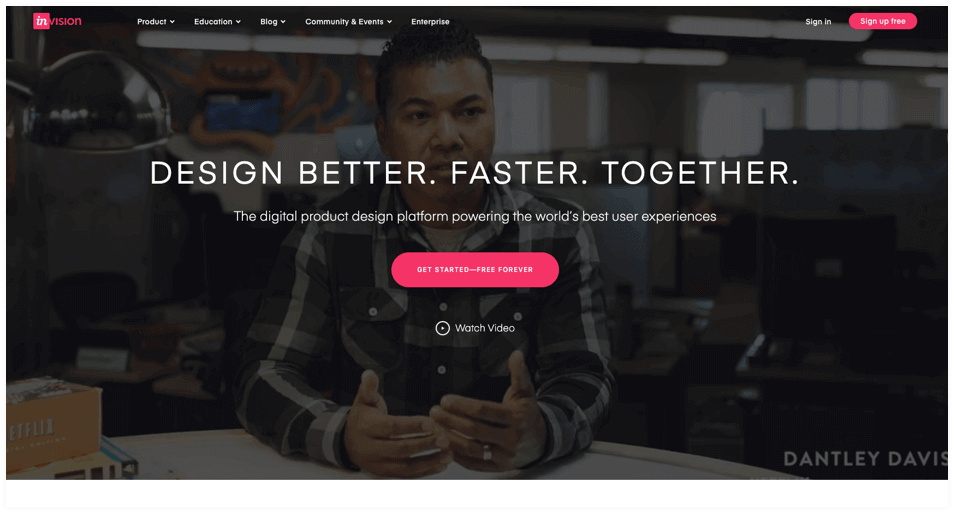 Created by designers for designers, InVision is a tool for prototyping, collaboration, and workflow management. It hands over all the control users need to deploy a design process.
Communicate with your team members in real-time, gather feedback, and take your projects forward. Draw and develop design wireframes using digital whiteboards. Share your creative ideas easily on smartphones and tablets.
Features:
Digital WhiteboardsDigital whiteboards by InVision support real-time collaboration. Bring your team together and co-create design ideas. Brainstorm and gather feedback in one place.
Design Sharing & PresentationShare and present beautiful designs to your stakeholders and clients. Let them view the designs just like a finished product. Identify who viewed your designs and when.
Feedback & CommentatingGet instant feedback on design works that are in progress. Add comments and emojis while collaborating on prototypes. Choose from different comment types.
Mobile AppsMobile apps for Android and iOS bring InVision functionalities that designers can use on the go. They can now view, review, and share new designs directly on these apps.
Pricing:
Starts at $13/3 prototypes/month (billed annually)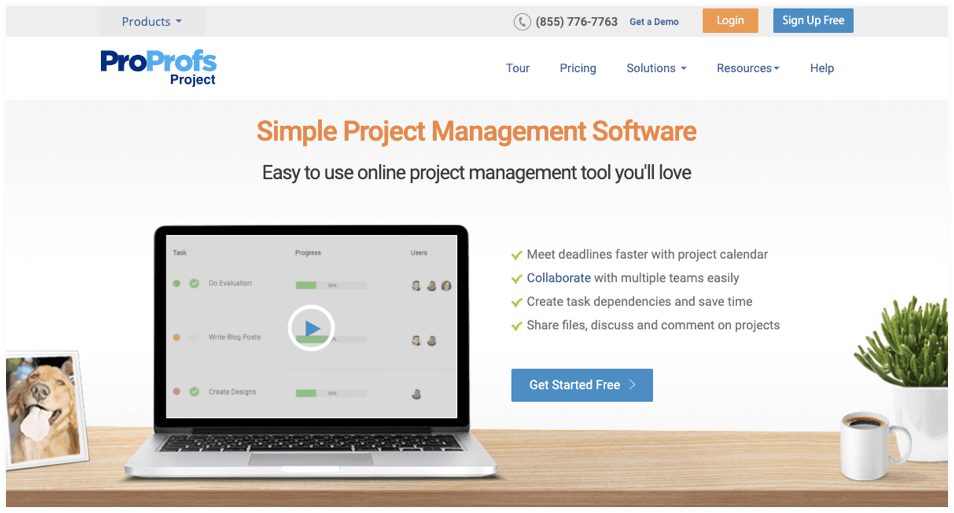 ProProfs Project, a project management application, lets you handle remote teams aptly by facilitating team communication, project tracking, time management, and file sharing.
It has a simple user interface, and that eliminates the need for comprehensive product training. Plus, mobile apps are available for both iOS and Android users, which promise ease of accessibility.
Features:
Gantt chartsMonitor the progress of your projects via Gantt charts to keep the deadlines intact.
Shared project calendarPlan all your tasks for the entire month by using the 'Calendar view' feature. It brings clarity for the whole project team regarding which tasks they need to focus on a particular day.
Task commentsShare your feedback for each task by using the 'Task comments' feature. All the concerned individuals will receive email notifications so that necessary changes get made quickly.
Time tracking Easily monitor how much time your team dedicates to each project with automated timers. Also, use timesheets to maintain a precise record of productive hours.
Pricing:
Starts at $2/user/month (billed annually)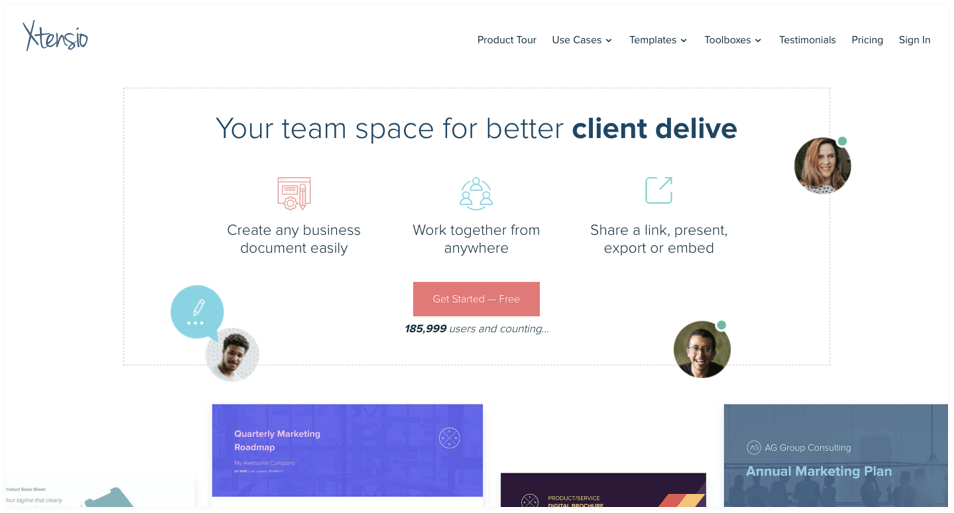 Xtensio, a creative collaboration platform, lets you develop living documents, collaborate with internal & external teams, and share your work in different formats.
Create stunning presentations without breaking a sweat, as Xtensio lets you use images, videos, tables, and so on. Thanks to this collaboration platform, you get an immersive user experience while developing sales sheets, reports, case studies, and so forth.
Features:
Customized dashboard You get access to an intuitive dashboard that lets you enjoy customization. Xtensio enables you to use your company logo, custom URL, website's colors, and custom fonts to add your brand touch.
Data securityKeep all your confidential information safe by using Xtensio. It supports 128 bit SSL encryption. Plus, you can share password-protected links to ensure only authorized members access classified data.
Better organizationManage your documents according to different categories like project, client, type, etc. Keep track of team activity effortlessly, thanks to in-app notifications.
TemplatesCreate templates by copying and merging folios. You can also use elements from different projects for template creation. It saves you a significant amount of time.
Pricing:
Starts at $8/user/month (billed annually)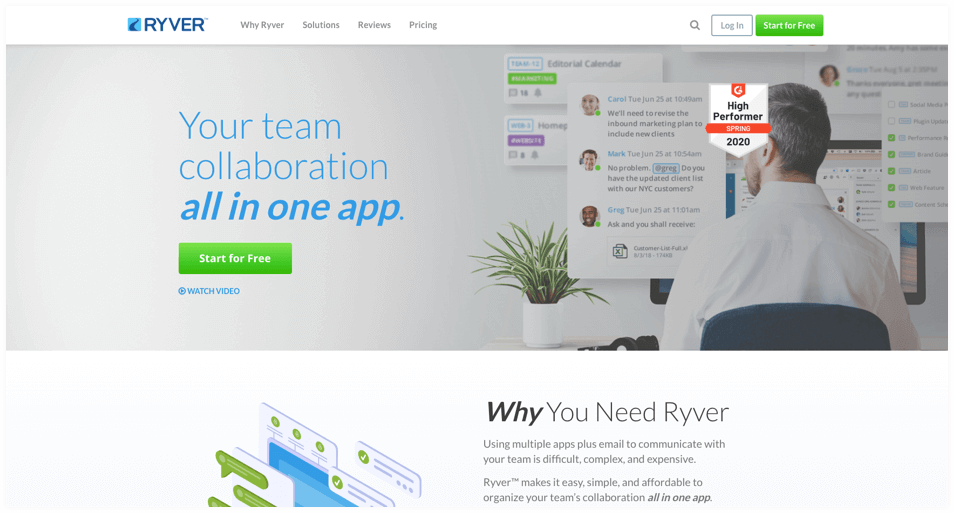 Simplify team communication and collaboration by using just one app. Whether it is group messaging, voice & video calls, or task management, Ryver helps you consolidate and optimize the processes on a single platform.
Maximize the productivity of your team by using one of the best collaboration software. Access Ryver on any device and integrate it with your favorite tools.
Features:
Online ForumsInitiate open discussions and make company-wide announcements using online forums. Create forums based on departments, projects, or training topics.
ChatIt is an ideal solution for unplanned, quick chats. Start live chats and attend to user queries with ease. Add users to chat by simply sending them an invite.
Voice & Video CallsInteract with your internal as well as remote teams via voice and video calls. Join any call in just one click. Leverage crystal clear audio and HD video quality.
Team & Individual CommunicationCommunicate and collaborate with your team anytime, either individually or as a group. Organize communication by functions such as customer support and sales.
Pricing:
Starts at $49/up to 12 users/month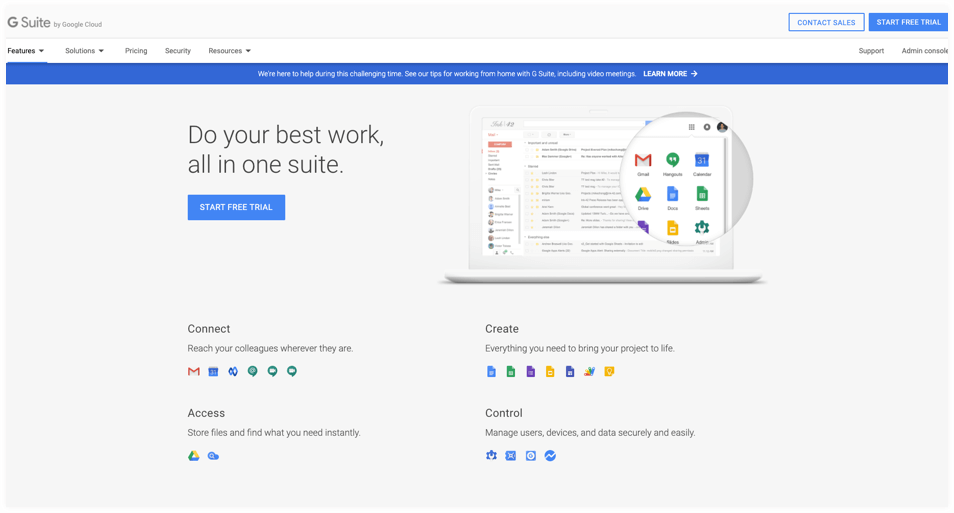 G Suite is a suite of cloud computing, collaboration, and productivity tools. It is committed to addressing the common productivity problems that man companies face today. Towards that end, it offers a software suite including email, spreadsheets, calendars, word processing, and many more.
Get work done faster and smarter by collaborating better with your team members. Enable everyone to stay on the same page by deploying these powerful tools.
Features:
Online CalendarsSpend less time planning activities and more on executing them. Use shared calendars to schedule meetings. View schedules right from your mobile devices.
Video ConferencingGoogle Meet, included in the G Suite, provides enterprise-grade video conferencing solutions. It gives users peace of mind with this built-in security system for data and privacy protection.
Docs and SpreadsheetsCreate, use, and edit text documents in your current browser. Allow multiple users to work on the same docs at the same time. Also use spreadsheets for greater agility and frictionless collaboration.
Endpoint ManagementEasily set up and use endpoint management with G Suite. Manage endpoints based on all operating systems from one location. Keep all your data secure.
Pricing:
Starts at $1.63/user/month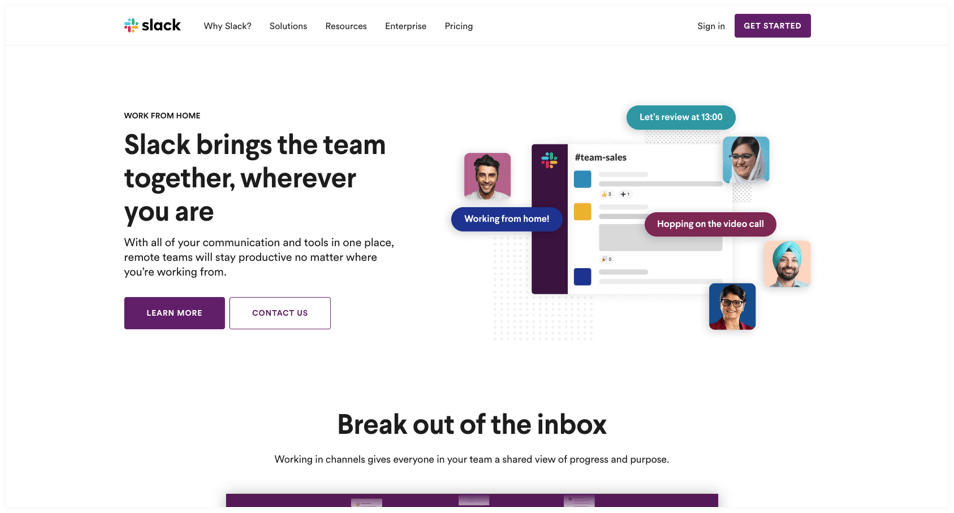 Slack is yet another tool that you can deploy for business communication and collaboration, regardless of where your teams are located. Teams of every shape and size around the world that are working remotely have made it their staple collaboration software.
Use dedicated announcement channels to share updates with your remote teams. Bring all the tools that you use every day under one roof.
Features:
MessagingWork together in an organized and better way with team chats. Reach out to your team members, either individually or in groups, by using just one tool.
Video ConferencingMeet up with your team through video calls. Let everyone see and hear what each has to present. Share screens to brainstorm on important ideas and topics.
Workflow BuilderAutomate routine activities so that you can focus on more important matters. Maximize productivity with workflow automation, avoid delays, and get moving quickly.
Pricing:
Starts at $2.67/active user/month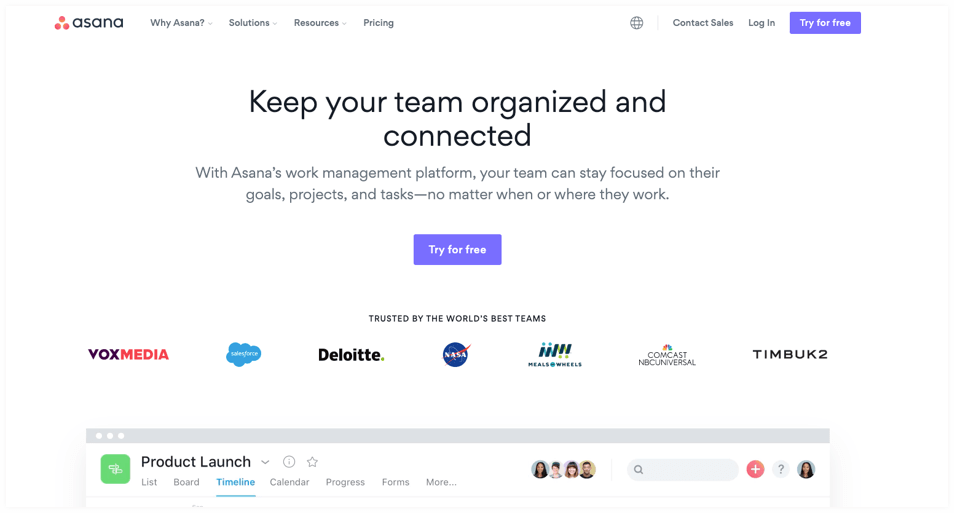 Working remotely has never been easier with the best collaboration tools. Asana is designed to help you keep your distributed teams organized and focused on projects. Shared workspaces mean you know who is working on what.
Let them share status updates easily. Simplify the way you follow up with your team and gather feedback. Keep everybody on track and meet project deadlines.
Features:
Project ManagementManage all your critical projects professionally, from start to finish. Know who is working on what and till when. Visualize dependencies, due dates, and milestones.
TimelinesBuild project plans and stick to your schedules so that you meet deadlines easily. Share your plans with stakeholders and make sure that they all are in agreement.
Process AutomationStreamline business processes, cut back manual work, and reduce human errors and bottlenecks. Allocate more time to strategic areas through automation.
Workload ManagementLearn what each team member is up to project-wise. Make sure they are neither lacking work nor overloaded with it. Get an overview of everyone's capacity.
Pricing:
Starts at $10.99/user/month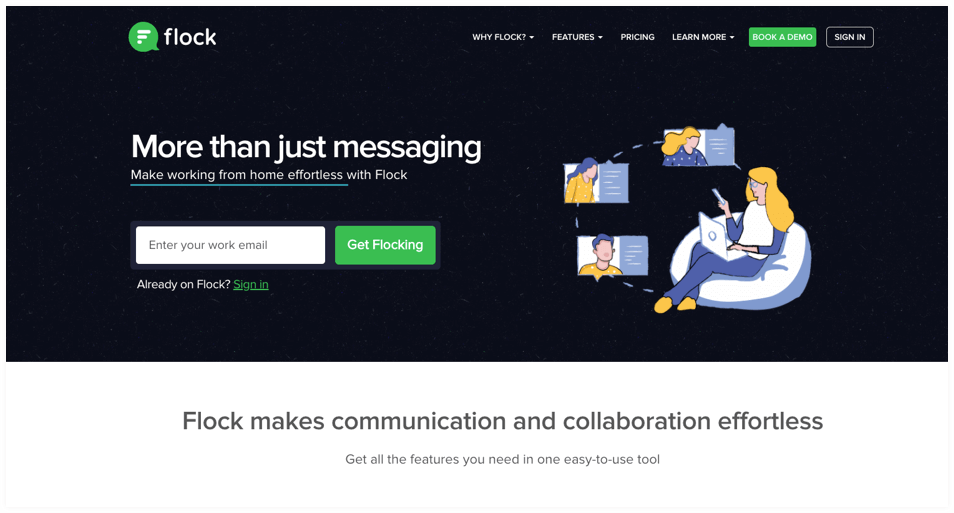 A proprietary messaging platform, Flock is what you need for effortless communication and collaboration. It enables users to work together by organizing all the productivity tools in one place. You can use it as your collaborative online workspace to stay connected with your remote teams anywhere in the world.
Communication with Flock is convenient, seamless, and takes place in real-time. It is more than a messaging tool but a software that makes online collaboration less scattered.
Features:
Video ConferencingMake up the absence of in-person interactions with video calls. Use the in-app video conferencing tool and connect from any device.
File SharingShare files with your teammates using direct messaging and channels. Documents, spreadsheets, presentations, and code snippets – share any type of material with ease.
Voice NotesForget about endless text messages; send personalized voice notes instead. Verbalize your ideas, suggestions, or feedback to make things clearer.
RemindersSet reminders for important tasks and never miss them again. Create reminders for yourself or along with everyone else. View all upcoming reminders for the entire team.
Pricing:
Starts at $2.60/user/month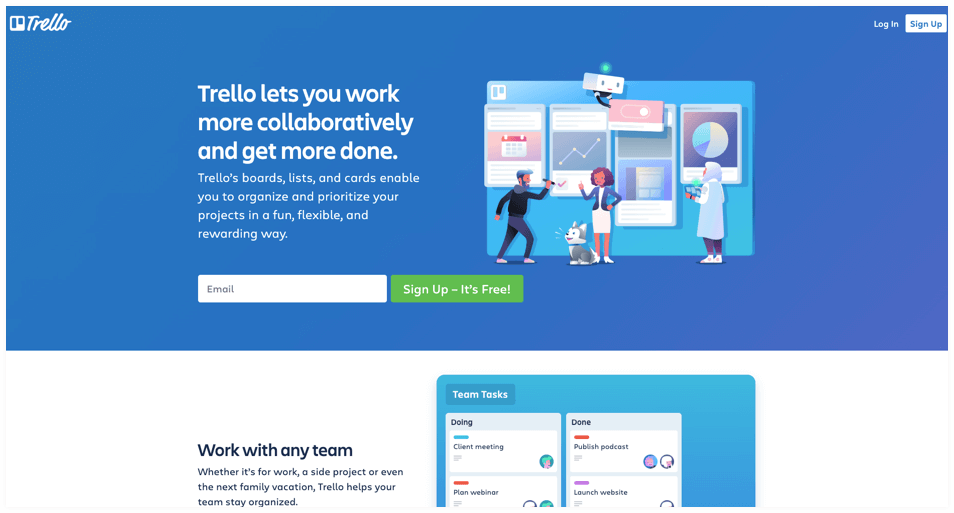 Trello is a collaborative and visual tool that can help you organize your work with lists, Kanban boards, and cards. Add due dates, comments, and attachments to the cards to keep everyone on track. The tool is flexible enough to adjust to the working style of any team, anywhere.
Share perspective with your team on any ongoing projects in an easy and fun way. Get a clear idea of the work on hand and keep everyone on the same page.
Features:
Board & Card SystemManage workflow within your team with visual boards and cards. Segregate tasks under to-do, doing, and done. Get moving with your projects and get more done.
MobilityWork seamlessly, no matter where you are. Trello supports Android and iOS devices. Keep your remote teams connected with status updates, meetings, brainstorming sessions, and so on.
Task ManagementSimplify your daily task management. Organize tasks according to their current status. Set reminders for priority tasks so that they never slip through the cracks.
Team CollaborationTrello makes it easy for you to work with others. Access all the information you need in one place. Get everyone onboard through regular meetings and team bonding.
Pricing:
Starts at $9.99/user/month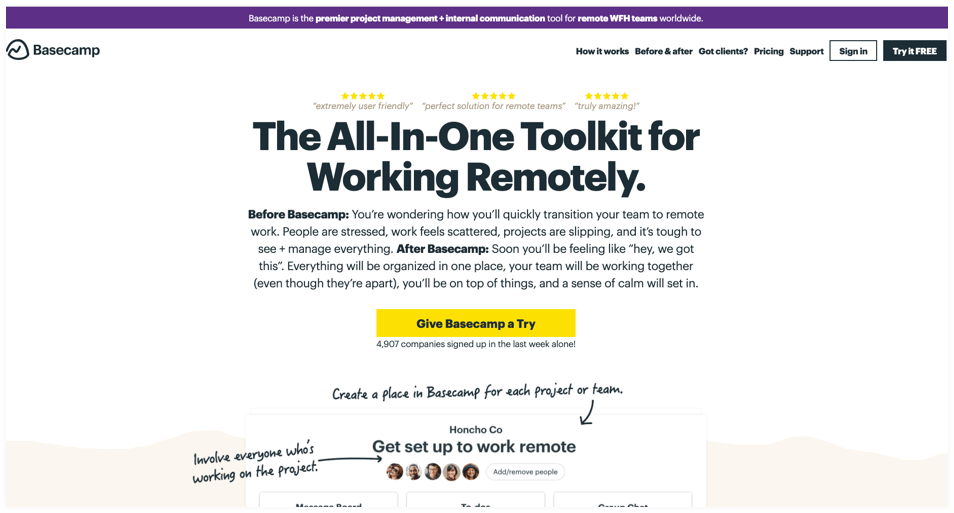 If you truly want to avoid all the pitfalls of working collaboratively with your remote teams, you need Basecamp. It helps you work better by enabling you to focus on things that matter most.
Keep all your projects organized as well as keep everyone in the loop without sending unnecessary emails. Forge greater collaboration and ensure accountability while working with a remote team.
Features:
Group ChatShare an idea and get feedback quickly from chat participants. Reach out to your team with instant information. Create a sense of belonging to a group, no matter how remotely you are from each other.
Message BoardKeep the entire thread of conversations on a specific topic in a single place. This feature is particularly handy when you've an announcement or update to make that everyone needs to get. Leave your comments and reactions to any post.
File SharingUpload and share files related to a project quickly with the rest of your team. Keep files public to the entire team who is working on a specific project.
Automatic Check-InsBasecamp makes checking in with your team daily or weekly easy. Automate notifications to team members with the right question and timing. Get responses from the team in an organized manner.
Pricing:
Starts at $99/unlimited users/month
Adopt the Best Remote Team Collaboration Software
Whether you are looking for online collaboration tools for students or employees, your search ends here.
Even after the present lockdown period ends, remote collaboration tools will continue to be helpful in staying connected with your teams. So, get down to choosing one from this list of 10 best remote collaboration tools.
ProProfs LMS can be your primary weapon in the remote communication and collaboration arsenal. Take a quick tour. Check all the LMS software solutions we offer.
For details, call (855) 776-7763 (toll free) or leave a comment below.
Do you want a free Training Software?
We have the #1 Online Training Software for employee training & assessment