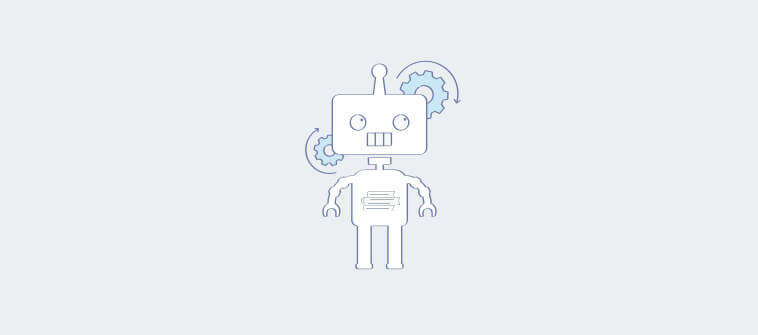 Artificial Intelligence and Machine Learning are gaining widespread adoption in the past few years. Interestingly, the education industry hasn't been shy in implementing both of these advancing technologies. In this blog, we'll discuss how ML and AI are transforming the education system.
In this era of rapidly-evolving technology, the way we learn has undergone a tremendous change. Thanks to Artificial Intelligence and Machine Learning, the education sector across the world is no more confined to a physical classroom. From improving students' learning curve to providing support to teachers, the use of AI and ML is taking the education system towards greater convenience and transparency.
But what exactly are AI and ML?
Artificial intelligence, as the name suggests, is the human-like intelligence demonstrated by machines. The technology of AI makes the machines think and act like humans with capabilities such as learning, information processing, speech recognition, and problem-solving.
Machine learning, on the other hand, is thought of as one of AI's subsets. ML enables systems to learn, as well as improve, automatically from its experiences. In simple terms, ML concentrates on creating computer programs that can access and use data to learn for themselves.
The advent of these technologies has made our lives simpler. Whether it is navigating through Google Maps, buying a suggested product from Amazon, or binge-watching a recommended Netflix show, AI and ML have transitioned a majority of sectors – from retail to entertainment.
The role of ML & AI in the education system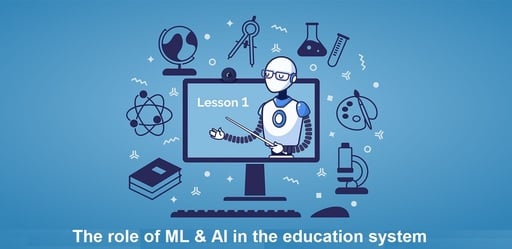 When it comes to the education industry, AI and ML applications are making learning fun and interactive experience. The AI technology offers customized and interactive software tools packed with virtual and augmented reality. The fact that these tools are deployed on digital devices, such as tablets, smartphones, and laptops/computers, make them easily accessible to learners, regardless of their geographical location and age group. It, thus, opens up a door to quality education for all.
At the same time, AI and ML technologies are automating the repetitive administration tasks for school or college staff. For instance, the AI-automated grading process, as found in the reporting & analytics feature of a learning management system, is already being utilized for assessing multiple-choice tests, saving a lot of time for teachers.
Apart from that, the technologies are transitioning the education system in a lot of ways. Let's look at how.
5 ways ML and AI is transforming the education system
Outcome Prediction & Learning Pathways
The technology of ML and AI has the ability to predict outcomes on the basis of already existing sets of data. This proves to be a huge benefit with respect to the education sector.
Thanks to such predictive outcomes, it becomes possible to generate a distinct learning path for each individual student. These pathways can then help students concentrate more on the areas of the subject they are weak in or assist them in their assignments and self-study at home. Such systems become incredibly resourceful when students are preparing for critical examinations.
The prediction and learning pathways also help in boosting the knowledge of students, organically, in an engaging manner.
Every student is different from the other, and so is their subject-grasping ability. For this very reason, the learning content that works for one student may not necessarily work for the other. That's exactly why there is a need to customize the study material, which is being done with technologies like AI and ML.
With ML and AI, there has emerged a scope for providing students with customized educational content that meets their unique learning requirements perfectly. Students' learning requirements can be gauged through their individual learning pathways or interactions and engagements with other apps or software.
As the content becomes more targeted and precise, students gain a more extensive understanding of the subject with ease.
Virtualization & Gamification of Learning
The smart-world that we live in has changed the way we consume information. The virtualization and gamification wave has hit a majority of sectors, including commercial and education. Everything is online, in the form of text as well as videos. That's the reason why there has been a rise in the use of virtual classrooms for training & development.
By incorporating AI and ML, learning providers have started virtualizing or gamification of the study material, making the learning process more engaging. This change is especially helping those who find it difficult to learn in a conventional classroom setting or old methods like blackboards and textbooks. What's interesting is, such technologies can also include other technologies like augmented reality for increased student attention.
In a traditional classroom setting, it generally becomes tough for a teacher to track and provide feedback on each student's progress. However, the implementation of AI and ML have made this task easier.
By using AI and ML-enabled learning management systems, teachers can trace the performance of all their students through the collection and analysis of their distinct data. The tracking results are accurate in providing information whether the students understand what is being taught or if they are lagging behind in a particular topic. Based on these results, students are given a learning plan that resolves their individual learning issues effectively.
Read More: Best Learning Management Systems (LMS)
Managing a school or any educational institution is never an easy task. There are a hundred things to do, right from managing student records to scheduling lectures. While earlier everything was being done manually, AI and ML have automated it.
AI is being used for managing student attendance and information, school transportation, recruitment, recurring admin activities, budgeting, scheduling classes, as well as maintenance activities, saving a great amount of time for teachers so that they can focus more on students on a one-on-one basis.
Wrap Up
In addition to the ways we explored above, AI and ML are making education easier for differently-abled students through its speech recognition and VR technology. AI and ML in education are also accelerating teacher-student collaboration and helping students connect with each other.
The Brainly app is an example that lets students network with their peers and discuss and work on answers collaboratively. The app uses ML to verify genuine users and the answers they submit.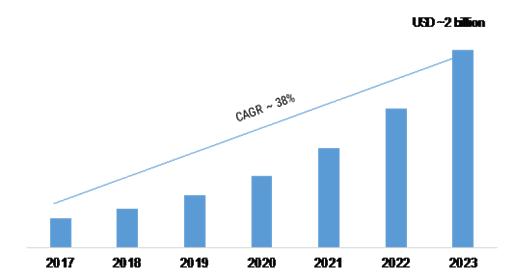 Source: MRFR Analysis
Interestingly, as per the Market Research Future's data, AI's presence in the education sector is anticipated to hit the market value of 2 billion USD approximately by 2023, rising at a CAGR of 38% during the period of 2018-2023.
That clearly indicates that the education sector is only going to continue embracing both AI and ML, with the best interests of learners along the way.
Do you want a free Training Software?
We have the #1 Online Training Software for employee training & assessment