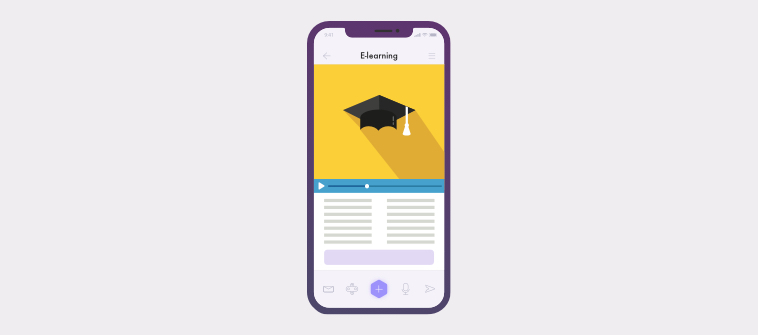 A decade ago who would have thought that m-learning is going to sell like hotcakes?
But, the present scenario narrates a completely different story. The advent of digital media and smartphones have contributed towards breaking new grounds for the entire education and training sector. The corporate world stands to benefit more especially when training through the learning management system was introduced. Presently, there are companies which strictly follow the 'BYOD' rule.
BYOD stands for 'Bring Your Own Device' to the office. Since smartphones and laptops exert a greater influence in a person's day-to-day life, training and development through laptops and smartphones are considered the wisest and viable option for the companies, thereby, replacing the age-old methods.
Today, it is easier for any organization to quickly create and share training modules online especially when training maker companies like ProProfs are ready to offer feature-rich software such that ready-made and customized training programs are available exactly when new recruits ask for corporate training and development.
There are facts and figures which justify the above paragraph on the learning management system. Let's see:
According to a report put up by Towards Maturity,
90% of young corporates own a smartphone or tablet.

84% of users download and engage extensively with apps.

74% users access resources from their smartphones to do their job.
Gartner, on the other hand, predicted that:
By the year 2018, more than 50% of users will prefer a tablet or a smartphone to conduct their online activities.
Further, into the study by Towards Maturity, it is discovered that:
57% of the employees prefer accessing learning modules on the go.

37% like accessing work-related resources when traveling

Out of all the figures, only 18% are still learning at their work desks.
The same study also highlights that nearly 67% of organizations now offer m-learning in some form such as:
37% of companies provide learning and development through smartphones or tablets.

38% of companies enable learning resources for mobile devices

40% of companies support the Bring Your Own Device (BYOD) concept.
The report 'Towards Maturity' also points out that:
Over 90% of large organizations like to offer 'flexible work' patterns which include:
24X7 learning

On-the-go learning

Anytime and anywhere learning,

The preferred device, usually a mobile for learning.
Therefore,
58% agree that learners can and, in fact, prefer accessing resources at any time.

35% agree that learners can and, in fact, prefer learning at places convenient to them.
It is the same convenience and flexibility in learning and development that has triggered the explosive growth of the learning management system. And since it is understood that smartphones are more portable than a hefty laptop, m-Learning is the smartest choice for the young millennials.
The facts and figures thus presented already established the importance of having a composite corporate learning culture through mobile LMS.
So, now it is time to shed some light on the benefits enjoyed by both the small and big organizations when m-learning is properly incorporated into the corporate training programs?
Over the past 20 years, a learning management system has managed to evolve by countering many challenges and overcoming endless hurdles. But the rapid improvement in modern technology and altering workplace habits have boosted the future of modern learning.
And when it is the mobile world, there is no denying acceptance of m-learning in the corporate world.
Read More: 10 Best Employee Training Software
Mobility and Flexibility
Mobility and Flexibility are the primary points of benefits obtained from mobile LMS. The best part of mobile learning is that it not only allows on-the-go learning but also supports easy access to the material if the device is offline or the connectivity is poor. The dominance of smartphones further makes it the primary work device. BYOD has given the leverage to the employees to work from home or any place which is comfortable for them that includes work when traveling as well. Such preferred flexible work patterns have raised the demand for flexible learning as well. This is only possible if mobile learning management system is introduced into the corporate culture.
Read More: 20 Best Learning Management System (LMS) Software
Need to Connect
As per Deloitte's infographic, 'Meet the modern learner,' employees:
Check their smartphones at least 9 times an hour which means they are usually spending an average of 3 hours each day.
They are easily distracted since smartphones dominate the core of their day-to-day function which includes both their social and corporate lives. Since employees wish to complete their task on their mobile devices than laptops or PCs, there is a shift in demand for mobile apps to cater to every aspect of work which includes both learning and development. Mobile Learning, therefore, fires that same familiar feeling to maintain the connectivity through routine mobile interactions.
Attention and Retention
College lectures have always been a bore for students. The same batch of freshers when joining any organization, the laid-back and attention-lacking attitude follows. So, any organization following the traditional method of training employees can fail in their attempt to smoothly onboard them. On the contrary, mobile LMS with engaging content, images, videos, and presentations can not only interest them to learn but also help them retain information for a longer duration. The freedom to study anywhere and anytime is yet another factor that will definitely gain their attention and help them in their retention of the information.
Just-in-time Learning with Continuous Learning Experience
People are so prone to turning towards their smartphones for little things that they practically stay glued to it through the day. Then again, the sales workforce especially need assistance in the reinforcement of information learned earlier especially when they are about to pitch a client on their company product. They might feel the urge to quickly brush up on the product features and prices etc. A mobile LMS, being available 24X7, with or without the internet, act as a one-stop solution for them. Also, the best part of LMS mobile is that the documents can be downloaded and save in the phone itself to permit unhindered and continuous learning in the absence of minimal or no internet connection.
Tracking and Reporting
Developing an optimized learning platform online is not the end of the story. It is equally important to understand whether or not the process is fruitful for the employees and the company at large. The feature on 'tracking and reporting' capture useful data to identify the effectiveness of the process incorporated. Usually, Mobile LMSs are equipped with syncing and tracking mechanism which possess the ability to draw reports on different learning metrics. Such data determines:
The success of the training program,

Search for areas that need improvement,

Help improve the overall quality of learning.
Saves Time and Curtail Expense
The first point is pretty similar to this point. Both flexibility and mobility offer the convenient method of learning new things at leisure without hampering the productive work hours. Recruits can even go through the online training modules from their home if shared before they actually join the organization. Needless to say, the process saves time and money. Money, in the sense, the company do not need to hire a trainer or send the team to a different location for training. Companies with global business outreach find it the only option to onboard new workforce without spending much on the travel. And since the whole process is online so it costs less to prepare the training modules. If you hire the service of Training Makers like ProProf then it is a one-time investment that promises long-term high returns.
The Future of Corporate Learning
The facts, figures, and 6 reasons have painted a most promising picture for the future of corporate learning. If you ask the question: Does LMS have a future or not? Then the answer is a 'BIG YES'. The increased dependency on mobile devices and smartphones will just take mobile learning management system to further stages of development.
A report by Gartner already points out that by 2018, a consumer in a mature market is likely to use and own more than three personal devices.
When the market trend is bending more towards extensive usage of smart mobile devices and immersive learning through new technologies, you are likely to see a more advanced form of mobile learning management system incorporated not only into the corporate culture but as a necessary form of education across sectors in the near future.
Do you want a free Training Software?
We have the #1 Online Training Software for employee training & assessment