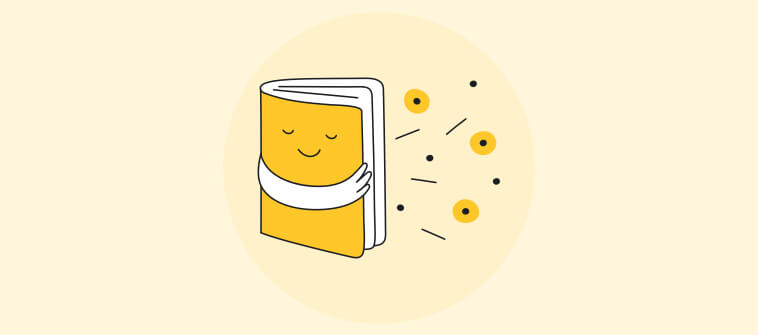 Is eLearning still a challenge for you?
If yes, turn it into an opportunity no matter what. Why? That's because the world is rapidly changing by capitalizing on this amazing learning system.
Let's look at it statistically.
According to Brandon Hall Group, eLearning takes 40% to 60% lesser time than the conventional learning method.
IBM saved around $200 million by embracing web-based training.
The projected worth of the eLearning market worldwide in 2025 is $325 billion.
Sounds Impressive? Because it is.
Continuing with the discussion, let's find out everything about eLearning courseware. In particular, you'll learn about the trends in courseware design, how to create eLearning courses, and where to find some of the best eLearning courseware.
What Is eLearning Courseware?
The term courseware is a combination of two words – "course" and "software". While there are different definitions, courseware generally denotes a full course's worth of educational materials bundled into a single package for ease of use.
It is designed for electronic devices such as a PC, laptop, or smartphone.
eLearning courseware may consist of several types of elements you can bundle in a variety of ways. For example, there may be:
Documents
Instructional videos
Downloadable PDFs
Audio files
Images
Surveys
In other words, the courseware includes everything necessary to run a complete eLearning course online.
Watch: How to Create an Online Course
What Can You Do With eLearning Courseware?
The primary objective of using eLearning courseware is to deliver an efficient, engaging, and effective online learning experience.
Let's see how it helps both instructors and learners.
Courseware for Instructors
Courseware gives instructors in one place all the materials or resources they need to deploy a course. It can be used either as a part of traditional in-person learning, eLearning course, or self-study option for learners.
Here are a couple of examples:
Example #1: Your company needs to provide training on business ethics. Since this is a common training topic, you decide that a prepackaged course will work for your purposes.
You purchase eLearning courseware on business ethics, load it up onto your company's Intranet, and send out the link so that everyone who needs the training can take it.
Example #2: Your company needs to provide advanced training on HIPAA compliance. Most of the training in this area is standard, but there are a few content areas that may apply specifically to your company or industry.
You purchase eLearning courseware on HIPAA compliance and supplement it with some extra resources as a way to quickly supply the training your employees need.
Courseware for Learners
These days, with the availability of online courses, many people are taking control of their own professional learning and development. Many websites provide free or low-cost courseware that learners can download and buy.
If you are looking for a way to enhance your knowledge and skills, either for your career or just for your own interest, you can easily find a courseware package on the market that fits your specific needs.
5 Trends in eLearning Courseware Design
Regardless of the industry you are in, it always helps to know the trends in elearning. This way, you can become a part of it and give the best learning experiences to your learners. It can guide you in the right direction.
For example, the following eLearning course design trends can help you develop the best course materials based on the best practices. Similarly, if you are considering ready-to-use courseware, you can look for courses that incorporate the latest in elearning. Leveraging some of the best content development techniques for eLearning courses can be effective.
Mobile Learning
A mobile-first eLearning design is inevitable at present as it caters to the needs of a majority of learners who prefer to learn on the go. While enrolling in an online program, they expect the flexibility to learn right on their personal devices such as smartphones and tablets.
The ability to learn at the moment of need by working around their busy schedules is what most learners demand these days. Fortunately, eLearning being a web-based method of learning, facilitates anytime, anywhere learning.
Most course creators, thus, have mobile learning in mind while creating and designing their courses. They use the best eLearning authoring tool to keep the content concise and aesthetically appealing. Optimization of the size of multimedia for problem-free upload and display on all devices is another key consideration.
So, this is one of the top trends in elearning, designing a mobile-responsive eLearning courseware.
Microlearning
Microlearning is the most learner-friendly way of learning and this makes it another strong trend in the sphere of elearning.
Course creators have long realized that breaking large content in small modules or units improves retention. Besides that, it makes knowledge transfer more efficient as it focuses on one topic or concept at a time.
When learners read a summary of a lesson or watch a 2-3 minute eLearning video, they find it engaging and easy to remember. It also removes the mental fatigue resulting from having to read a course in bulk.
Since microlearning doesn't demand much time from learners, they can learn at any time as long as they meet the course completion deadline.
All these merits make microlearning an essential element in eLearning courseware design.
Video Content
An equally popular ingredient that goes into eLearning courseware development these days is video content. Short and engaging training videos lead to faster and better learning experiences. It also gives a personalized, one-on-one feeling to viewers.
When your learners watch a video, they can easily visualize important concepts and gain understanding quickly. Videos are also known to reduce training time and cost by replacing long-drawn-out lectures and demos.
Learners don't have to be present at an educational or training venue to learn something. They can watch videos wherever they are and save time away from their busy tasks.
Whether it is a screencast video, demo video, or simulation video, training administrators and instructors have made these videos a standard element in their eLearning programs.
Gamification
Gamification in eLearning works on the premise that learning should be fun and engaging. The use of game mechanics has been a success in online learning as it ensures greater interactivity and better retention of various concepts.
In other words, it makes the journey of learning enjoyable, from start to end.
Course objectives, learning paths, badges, leaderboards, and feedback are some of the popular game elements courseware developers use in designing eLearning materials.
Course creators also add elements of challenges, competition, and teamwork in gamified learning by arranging lessons in increasing difficulty, encouraging learners to get more scores, and facilitating learner collaboration.
Customization Options
The ability to mold courseware through customization and personalization is another trending design consideration. Such eLearning resources make it easy for users to tailor them to meet the specific needs of individual learners or groups.
Additionally, custom eLearning courseware supports branding exercises whereby you can add a logo, color schemes, theme, background images, and messaging with ease.
You can also upload to this courseware any custom content crafted to achieve your distinct learning objectives.
Both instructors and learners welcome eLearning customization as it gives them a choice of what and how learning takes place.
Watch: What is an eLearning Course Authoring Tool?
How to Deliver Effective eLearning Experiences
Implement the following best practices to make eLearning more effective.
Choose the Best Courseware
If you decide to go for one of the pre-built courses out there, make sure you choose the best one. Ideally, it should be professionally designed, engaging, and cover broad topics. Also, it should be customizable so that you can add your own content.
Equally important is that the course should deliver learning in a variety of formats such as images, audio, videos, infographics, and presentations. This will address the needs of course participants with different learning styles.
Choose the Right Tool

Once you take care of the course, the next item on the to-do list is selecting the right tool to administer the course. Generally, corporate trainers and teachers use a learning management system (LMS) to create, manage, share, and track online courses and tests.
LMS software such as ProProfs LMS makes it easy to centrally manage a learning lifecycle, covering pre-training, training, and post-training activities.
To choose an eLearning tool that is the right fit for your requirements, it is important to first identify your learning needs, the audience type, the number of learners, and your eLearning budget. Once you do this, it becomes easier to know which solution you should buy.
Keep the Objectives Clear
Learning objectives make the tasks of assessing learning outcomes easier for instructors. It also provides a clear purpose for learners to focus their attention and efforts.
Make the objectives specific, practical, and measurable. They should provide an idea of what learners should be able to do by the end of a course or lesson.
Basically, you should outline the purpose of a learning activity and the expected result as well as specify what learners need to do to get to the goal. Finally, you should be able to measure the results to ensure that they meet the objectives.
Promote Social Learning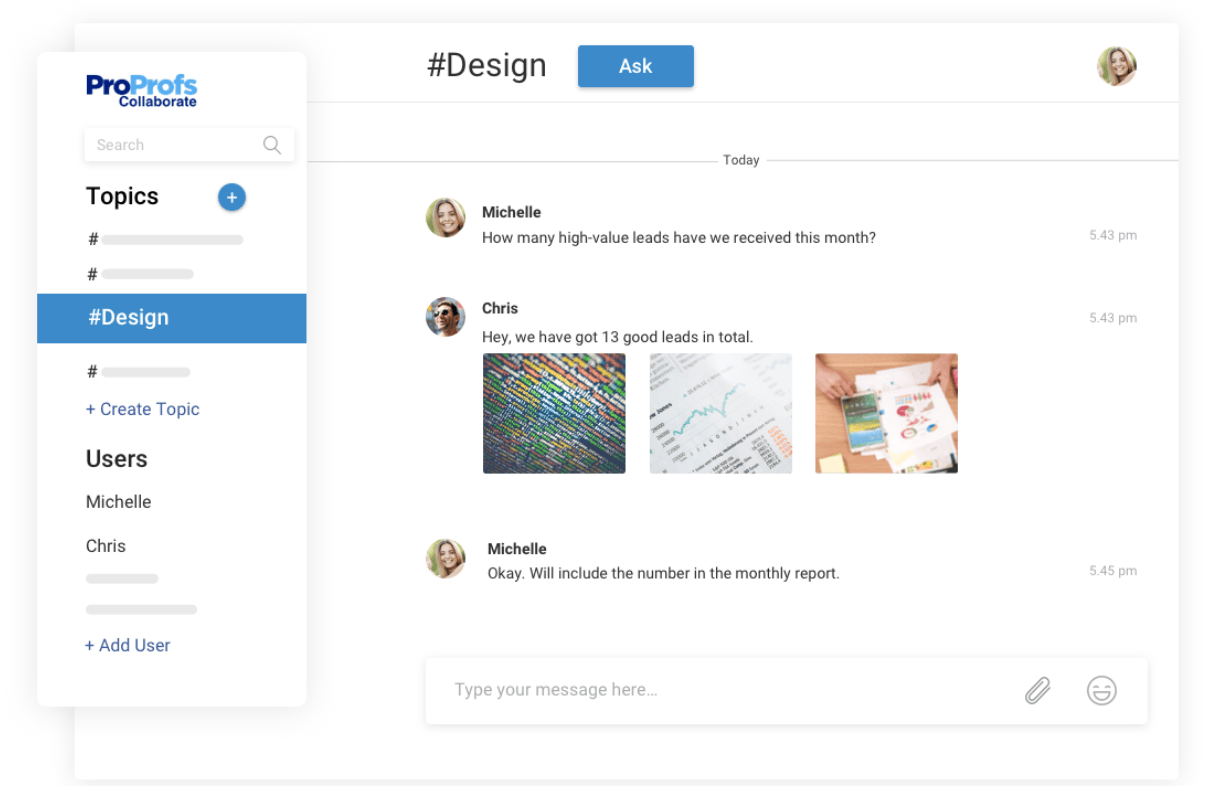 Social learning accounts for at least 75% of the knowledge employees gain in the workplace. Providing a social context to learning is essential since man is a social animal. People think and act best with the right support from others at the right time.
Through this method, learners can learn from each other and compensate for any deficit in knowledge and skills. They get access to peer knowledge and wisdom, for example, through question & answer sessions or group discussions.
In addition to providing a collaboration platform, you can extend eLearning to social media where learners with common interests can connect and interact with each other at any time.
This way, learners get the necessary support from others during learning.
Include Microlearning
According to the Journal of Applied Psychology, bite-sized learning makes the transfer of knowledge 17% more efficient.
Compared to regular learning, microlearning is far more engaging, less time-consuming, and more effective. This makes it another must-have feature in elearning.
The text content should be brief and clear to create microlearning. This applies to videos as well, keeping them short and engaging.
Timed quizzes, podcasts, and flashcards are other examples of microlearning elements that you can leverage for an exciting learning experience.
Make It Learner-Centric
While designing an eLearning program, it is important to keep the learners in mind.
Start off by making learning as personalized to individual needs as possible.
You can use different mediums to deliver engaging eLearning resources, including documents, graphs, PDFs, and webinars. This will make eLearning adaptable to different learning styles and preferences.
Giving learners control over their choice in learning serves their interests best. For example, you can give them the liberty to decide what, when, and where to learn.
You can achieve all this and more by investing in an LMS that supports customization, personalization, self-paced learning, and different eLearning formats.
Use Real-World Examples & Problems
When you include case studies, real-life scenarios, and current affairs, learners can relate to the real world more easily. This will enable them to comprehend a workplace situation, and they can apply the knowledge to their actual everyday work later on.
By pulling out relatable examples from real incidents and events, you're delivering impactful learning experiences that aid in retention.
For example, case studies on sexual harassment training can educate your learners on the unethical and risky behaviors they need to avoid in the workplace. They will learn about what constitutes harassing behaviors and their consequences.
Don't Forget Feedback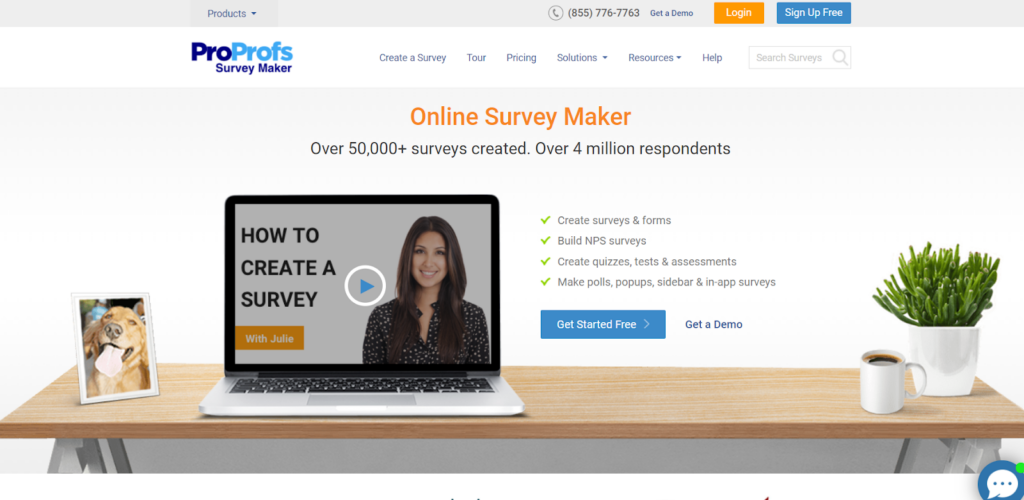 To make eLearning truly effective, you should make it a practice to give and take feedback. For example, you can collect course feedback from learners at the end of a course. This will throw light on what they think about the course, the instructor, and the delivery method.
Similarly, after training assessment, you can share feedback with learners on their performance, milestones, and improvement areas.
You can utilize online survey software to gather feedback from your learners. Some of them come with customizable templates and different question types.
Steps for Creating Impactful eLearning Courseware
Wondering how to design eLearning courseware that truly makes an impact?
With online training and learning already a big trend these days, the demand for eLearning courseware is also on the rise. This necessitates building and delivering courseware at an equal pace.
The following steps can help you move in the right direction while creating eLearning courseware.
Step 1: Identify Learning Needs
The first step to creating courseware is to identify your audience's learning needs. This will reveal any existing gaps in knowledge that you need to bridge before they become an issue later on.
Once you have identified the learning needs, it becomes easy for you to visualize the desired outcome.
The best approach is to analyze how meeting a specific learning need will impact not only the trainee employees but other stakeholders as well, such as customers who do business with you.
Step 2: Set Courseware Objectives
Based on the learning needs, you should set the objectives of your courseware as the next step. To achieve larger business goals, you should first accomplish the objectives.
The objectives should be realistic, relevant, and measurable. In other words, set SMART goals. Tell your learners what they can expect to achieve by the end of the courseware and why it is important.
The end goal is where you want your learners to be and the objectives act as the path to getting to that goal.
Step 3: Use the Best eLearning Software
To make sure you deliver the training materials the right way, you need an eLearning platform. At first, you may find the sheer number of solutions in the market overwhelming. But once you identify the learning needs and the audience type, choosing the right tool should be easy.
Ideally, the software should be user-friendly. It should provide a rapid authoring tool, a content library, as well as other features that make courseware design a breeze.
Customization options are another functionality that you should consider in such tools.
The idea is to adopt an eLearning solution and not regret it.
Step 4: Make Learning Engaging
Engagement is key to eLearning success. Keep your modules as short and clear as possible. Add a variety of multimedia, including visuals, to hold learners' attention.
You may also use real-world examples and discuss scenarios that address actual work situations in the case of employee training. Learning should deal with the pain points your learners encounter regularly.
Short videos, social learning forums, and game-based challenges such as quizzes can also add to the interactivity and engagement of courseware.
Step 5: Conduct Review Post-Delivery
To evaluate whether your courseware performs as it should, you need to conduct a review after the eLearning program. For this, you can take feedback from eLearning participants using surveys on what they think about the courseware. This will provide you ideas on how you can improve the courseware if necessary.
During the review stage, you measure the overall effectiveness of the courseware, including how engaging it is and the comprehension of the learners.
You can use a training evaluation checklist to understand if learners find the training program helpful.
5 Advantages of Using Corporate Courseware for Training
If you are a learning and development professional, you must be aware that today's workforce requires more training than ever before. The pace of change in business and the rapid expansion of technology means that employees need to retool their skill sets almost constantly.
In addition, jobs are becoming more specialized, such that most colleges and universities are not always able to provide the type of education required for graduates to be job-ready.
Considering all this, here are five advantages that corporate courseware offers to online employee training, preparing a workforce for the current and future challenges.
1. It Saves Time on Developing Training Programs
Developing a training program can take a lot of time, especially if you rely on elearning, in which case you first need to design the materials and then develop an eLearning course around them.
But the truth is that many corporate training courses are pretty standard. Regardless of your business or industry, the content is much the same. In these cases, there is no reason for you to reinvent the wheel by developing training courses from scratch.
Corporate courseware, which includes all of the materials and resources you need in a single package, can save you a huge amount of time. Even if your course needs to include some proprietary material, you can use the courseware as the foundation and then add content as required.
2. It Saves Money Compared to Creating in-House Courses
Course development doesn't only take time, it costs money. There are costs associated with gathering resources and developing content, costs associated with putting that content online, and costs associated with running the course.
Corporate courseware is available for a fraction of what it would cost to develop the courses yourself. In fact, it reduces the first two cost categories mentioned above to essentially zero.
3. You Can Select Highly Rated, High-Quality Course Materials
When you develop a new course, how do you know if it is effective?
Many training and development departments don't really know, because they don't have adequate metrics to measure the quality and effectiveness of a course.
But when you purchase corporate courseware from an online course marketplace, you can assess the quality of the materials based on the course author's expertise and the buyers' comments & reviews.
Often, you can try out the course for free to make sure it meets your organization's needs before you buy.
4. You Can Train an Unlimited Number of People
Perhaps the biggest advantage of using corporate courseware is that you can train an unlimited number of people as easily as you can train just one.
Corporate courseware is infinitely reusable, so you can offer the course as many times as necessary, to as many people as necessary.
This is especially beneficial because it lets you put staggered start dates. Unlike instructor-led training, not everyone has to take the course all at once in this case.
5. It Provides a Consistent Learning Experience Across Your Organization
One of the biggest problems with corporate training is a lack of consistency. It is often important that the training is delivered in the same way to all employees. When many instructors (or even the same instructor at different times) impart the training, they can't guarantee consistency.
By using corporate courseware, you can ensure that all employees across your organization have a consistent learning experience.
As a bonus, you can set it up so that they can go back and access the courseware any time for a refresher when necessary.
Recent advances in technology mean that corporate trainers have a lot of new tools in their toolbox. For standard training, corporate courseware is a powerful tool that can save your organization time and money while helping you deliver the best training possible to everyone who needs it.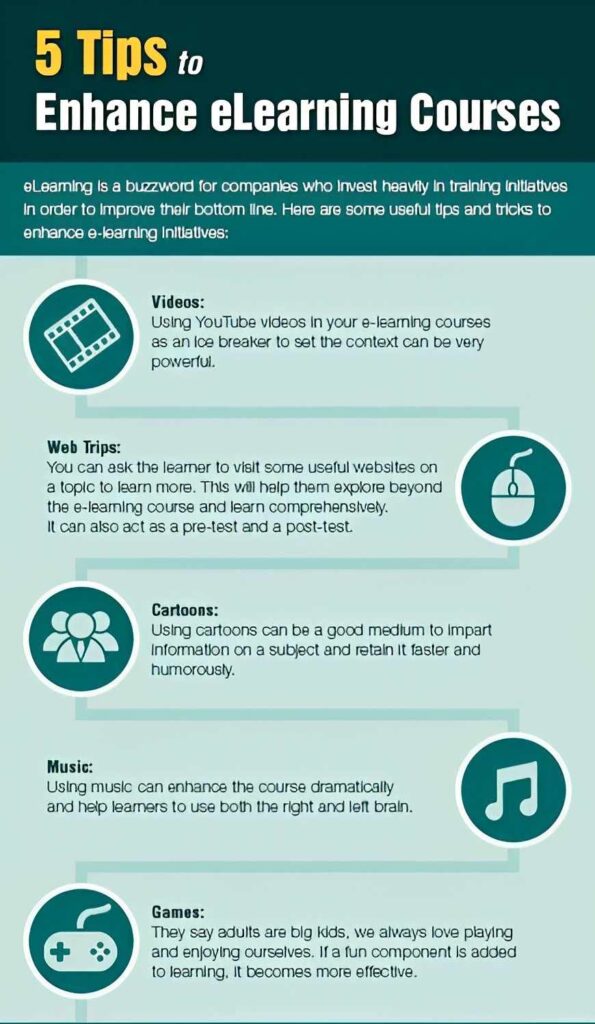 Benefits of Custom eLearning Courseware
Customized eLearning courseware addresses the specific learning & development needs of learners. Such resources are not generic in nature but tailored to suit your industry's requirements and company culture.
Here are some of the main benefits of using custom eLearning courseware:
Time-Saving
Unlike off-the-shelf courseware, custom courseware focuses on specific areas of learning based on the business type, company procedures, and skill gaps. It becomes targeted as it is centered around your audience and their learning needs.
This means learners won't waste any time going through content that they don't even need or they will ever use.
Ease of Modification & Update
When you use third-party courseware, you may not be able to modify the content since you don't have access to the source file. But changing industry trends necessitates businesses to frequently update the content they deliver and keep up with the latest practices.
When you develop your own courseware or use customizable courses from a provider, you get the liberty to make any changes at any time.
Alignment With Business Goals
Since you're the creator of your custom eLearning courseware, you can align the learning outcomes with your business objectives. You can make them reflect your brand, beliefs, and values – everything that you think is important to your business. Goal achievement then becomes easily possible.
Practicality
One of the most important goals of learning is the practical application of knowledge. Learning becomes effective when it is practical and readily applicable to real work situations.
Custom eLearning materials can include case studies, real-life scenarios, and group activities to enable learners to relate to different concepts and apply them to their daily jobs.
Learner Motivation
When course participants find that the eLearning resources are designed around their needs, it motivates them to learn with enthusiasm and stay put till the end.
For example, if most learners prefer to learn via video lectures and you include them in your courseware, it shows your thoughtful consideration and further motivates your learners.
Where to Find eLearning Courseware
In case eLearning course development is not an option for you, don't worry. You can easily access eLearning courseware online.
The key to land the right courses is to find the best eLearning courseware provider.
Digital publishers, training organizations, and online course marketplaces provide a variety of career and corporate training courseware (for both individuals and companies).
Many courses are available free or at a low cost. In addition, many sites now sell courseware through an online subscription, so you can learn as much as you want for just one reasonable monthly price.
Some of the top online training software providers offer professionally designed courses on a range of corporate training topics. These courses are easily customizable and ready for deployment.
When it comes to academic courses, many of the top universities, including MIT and Yale, offer online courseware for free. This courseware is essentially bundles of course materials that have been used at the universities in the past. You can download the readings, lecture notes, assignments, and so on and take your own self-directed university course.
Whether you are an instructor or a learner, eLearning courseware is a great resource for supplementing your knowledge and building your skillset. The advantage of using online courseware is that it is always available and ready to use.
Now let's cut to the chase and discover the right tool for you while learning how it can help you.
Why Use ProProfs Courseware Development Tool?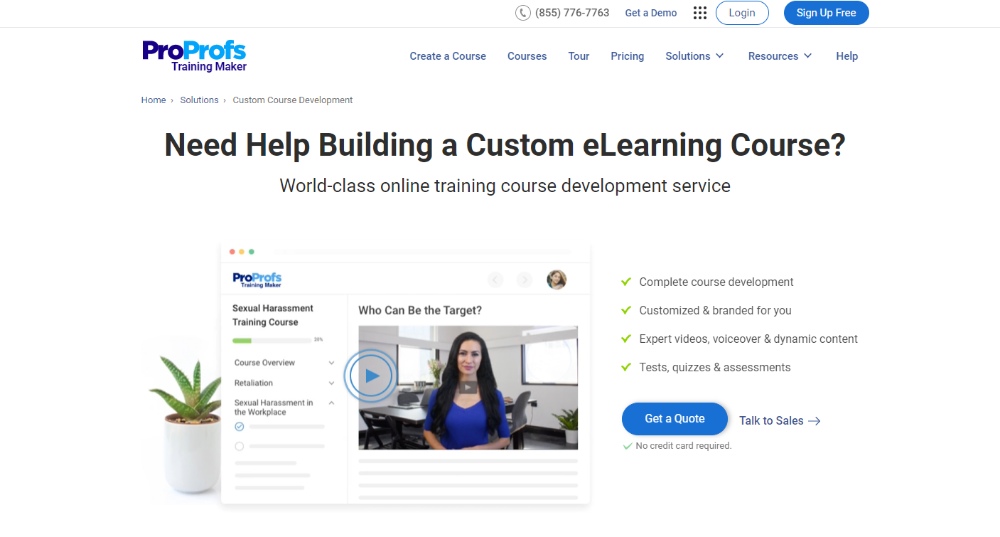 The online courseware development tool by ProProfs is an intuitive platform fully hosted in the cloud. People of all skill levels can use it with ease. Both enterprises and educators use this online course builder to develop eLearning materials and save time and cost in the process.
With ProProfs you can:
Create online courses & quizzes
Customize them with 100+ settings
Deliver learning on any device
Track their progress in real-time
Extract insightful reports
ProProfs is a cloud based LMS used by 15+ million people in over 150 countries.
Ease of Use
It is the world's easiest courseware development software with a flat learning curve. It is as easy as plug-and-play. No software download & installation required.
Premium Library
A fast-growing content library offers more than 100 courses and templates. These resources are designed and developed by industry experts in association with seasoned instructional designers.
Gamification
Add various game elements in your courseware, including learning paths, leaderboards, badges, and scores. Keep learners engaged and motivated from start to finish.
70+ Languages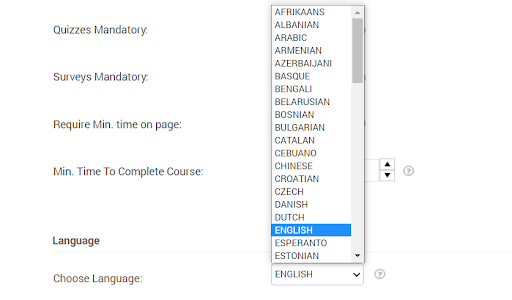 ProProfs speaks over 70 interface languages, including English, Spanish, Japanese, and French. Easily train your audience in a language they understand.
Learning Record Store
Import all your learning data from other connected eLearning tools such as Captivate, iSpring, and Articulate and store them in ProProfs LRS. Keep information organized and track learners' activities easily.
eCommerce Platform
Monetize your courseware by selling them on ProProfs Store. Get advanced sales reports, reach out to millions of potential customers, and use secure payment gateways.
Develop the Best Custom eLearning Courseware
To build effective eLearning courseware and deliver quality learning experiences, you first need to do some homework. You should be aware of the current courseware design trends, use the best materials on the marketplace, and deploy the right tool and strategies. Only then will the courseware make eLearning impactful.
If you need any support in developing courseware, ProProfs can help. It offers not only a user-friendly courseware development tool but also a library of customizable and ready-to-use courses. Simplify, streamline, and standardize eLearning and stay ahead of the game.
Do you want a free Training Software?
We have the #1 Online Training Software for employee training & assessment