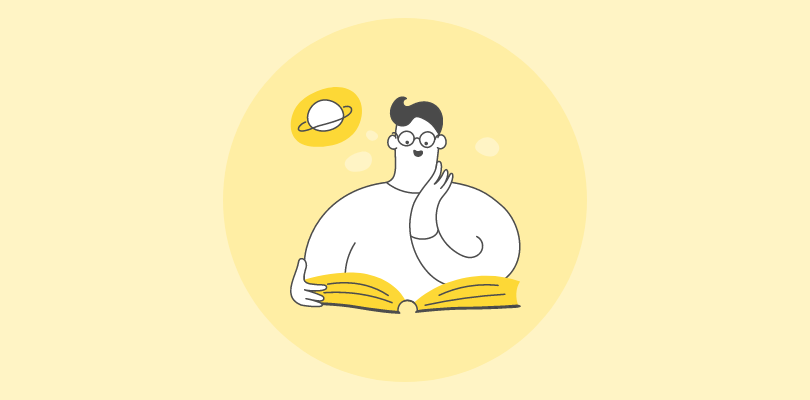 As an e-learning professional, I am thrilled to present my curated list of the 10 Best SCORM Compliant LMS for 2023.
In online education, SCORM-compliant LMSs are pivotal in ensuring seamless integration and effective delivery of standardized e-learning content.
In this guide, I've evaluated each LMS based on its interoperability, tracking capabilities, content flexibility, user experience, and overall performance.
Whether you're an esteemed educational institution, a corporate entity, or a passionate individual trainer, these LMS solutions will take your online training initiatives to new heights.
Let's look at the 10 Best SCORM Compliant LMS for 2023.
SCORM LMS
Best For
Pricing
ProProfs LMS
Best SCORM LMS for Employee Training
Forever free for up to 10 learners.
Paid plan starts at $1.97/active learner/month for large teams. Billed annually.
Docebo
Best SCORM LMS for Automated Learning Experiences
Starts at $25000/ year
LearnUpon
Best SCORM LMS for SMEs
Starts at $599/month (billed annually)
Litmos
Best SCORM LMS for Social Learning
Starts at $3/user/month
iSpring Learn
Best SCORM LMS for Corporate Training
Starts at $2.99/user/month
(billed annually)
Bridge
Best SCORM LMS for Simplified Learning
Starts at $4/user/month (billed annually)
Tovuti
Best SCORM LMS for Learner Engagement
Starts at $11,160/ yr (billed annually)
Absorb LMS
Best SCORM LMS for Training Large Teams
Starts at $800/ active user/month
TalentLMS
Best SCORM LMS for Creating Courses
Starts at $69/month (billed yearly)
360Learning
Best SCORM LMS for Upskilling
Starts at $8/user/month
List of SCORM-Compliant LMSs
I have shortlisted the 10 best SCORM-compliant LMSs in 2023 based on my experience, reviews, and research. These top picks will certainly meet your SCORM learning needs.
1. ProProfs LMS – Best SCORM LMS for Employee Training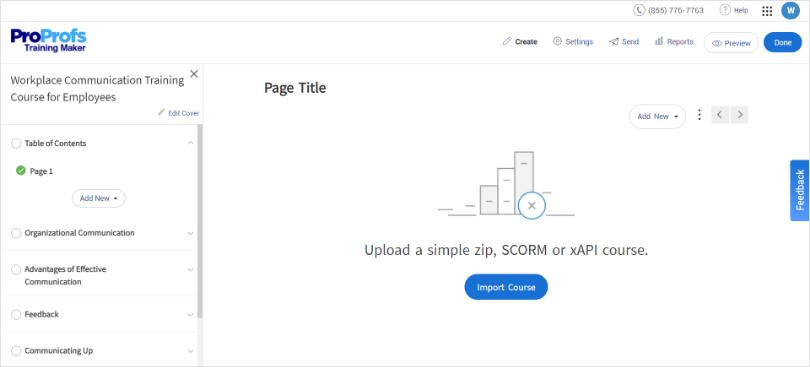 As a training creator, ProProfs LMS has simplified managing and delivering courses for employee training. With its SCORM compliance, I can effortlessly import content from various eLearning tools such as Articulate, iSpring, and Captivate, allowing me to centralize all course materials.
Furthermore, the ability to record learners' interactions is a crucial aspect of tracking their progress. With the SCORM LMS, I can keep track of detailed user activity, identify who has completed the courses, and pinpoint areas where learners may need improvement. This ensures course compliance and helps me assess my courses' quality and make necessary improvements.
ProProfs LMS also integrates with a SCORM-compliant Learning Record Store (LRS), which has been immensely helpful in collecting and analyzing learning data. Having all the data in one central location simplifies tracking learner reports and eliminates the need for multiple tools. The seamless integration of the LRS enhances the overall efficiency and effectiveness of the training process.
What You Will Like:
Import materials from other eLearning tools to save time and effort
Ensure course compliance by creating courses with specific learning objectives
Issue training certificates to validate achievement
Cross-device compatibility for uninterrupted learning experiences
Why You May Not Like:
There are a limited number of course templates
Need integrations with video conferencing tools
The trial period is brief
The look and feel of the interface need improvement
Pricing:
Forever free plan (up to 10 learners). Paid plan starts at $1.97/learner/month (billed annually) for large teams. No hidden charges. 15-day money-back guarantee.
2. Docebo – Best SCORM LMS for Automated Learning Experiences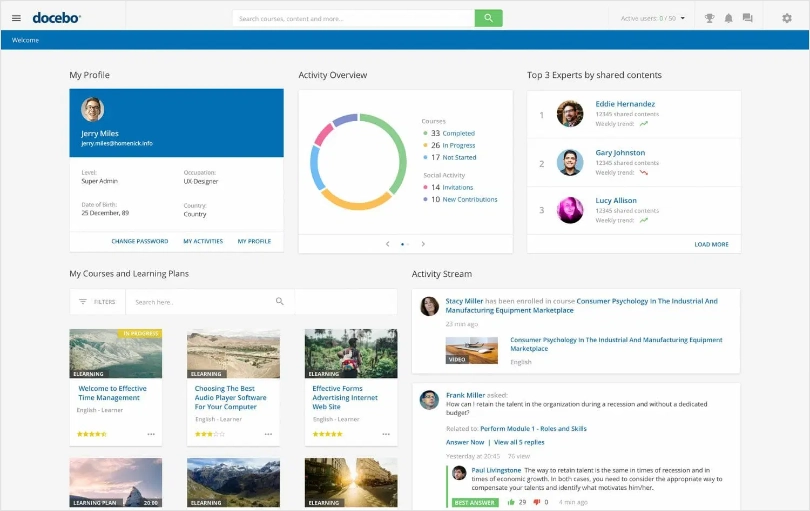 Reflecting on my experience with various learning management systems, one platform stands out: Docebo. I believe Docebo is the best SCORM LMS for automated learning experiences.
When I started using Docebo, I was impressed by its user-friendly interface and intuitive design. Docebo integrates with SCORM content, making importing, managing, and delivering SCORM-based courses effortlessly.
This compatibility opened up a world of possibilities, as I could quickly leverage a vast library of pre-existing SCORM content and create my interactive modules.
One of the key reasons I consider Docebo is its exceptional automation capabilities. Docebo excels in automating various aspects of the learning process, saving me valuable time and effort.
I was able to set up automated course enrollments, notifications, and reminders, ensuring that learners stay engaged and informed without constant manual intervention.
What You Will Like:
Intuitive UI that makes it easy for both administrators and learners to navigate
It's highly scalable and can accommodate the needs of growing organizations
Mobile-friendly tool allowing learners to access training materials from anywhere
Enables you to create learning paths for guided learning
What You May Not Like:
Initial setup and configuration can be time-consuming
Limited reporting options that may hinder in-depth analysis of learner progress
A steep learning curve for beginners. Navigating through the platform and setting up courses is slightly tricky for newbies
Customizing the platform's appearance and branding might be limited, making it challenging for organizations to create a fully personalized learning environment
Pricing:
Starts at $25,000/ year
3. LearnUpon – Best SCORM LMS for SMEs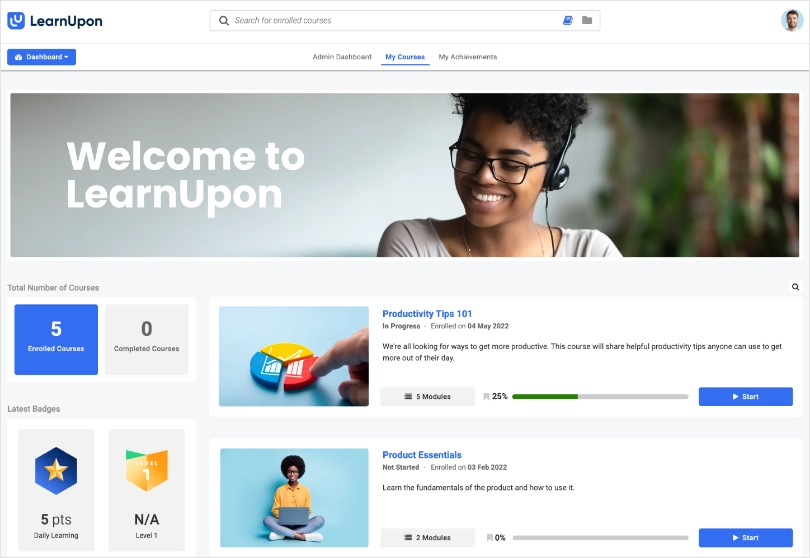 I am genuinely passionate about using LearnUpon as the ultimate SCORM LMS. Its exceptional user-friendly interface has been a game-changer for me. I can easily navigate the platform, managing and delivering my training content effortlessly.
Its incredible flexibility and customization options allowed me to create interactive and visually appealing courses that captivate my learners.
The seamless SCORM compliance ensures that my content is compatible across different devices and platforms, ensuring a consistent learning experience.
The robust reporting and analytics capabilities are like a treasure trove of information, empowering me to fine-tune my training programs based on real-time insights.
Moreover, LearnUpon's affordability is a massive advantage for SMEs as it provides top-notch features without breaking the bank.
What You Will Like:
A robust content library management feature for organizing training materials
Gamification features like badges, leaderboards, etc., for learner engagement
Multilingual support to accommodate learners from various regions
Facilitates seamless integration with third-party tools
What You May Not Like:
Options for creating adaptive quizzes or assessments are somewhat limited
Trainers with limited IT infrastructure may experience performance issues
Ability to create highly customized or complex reports is limited
Some users have found that the initial setup and configuration process is overwhelming, especially for those who are new to using an LMS
Pricing:
Starts at $599/month
4. Litmos – Best SCORM LMS for Social Learning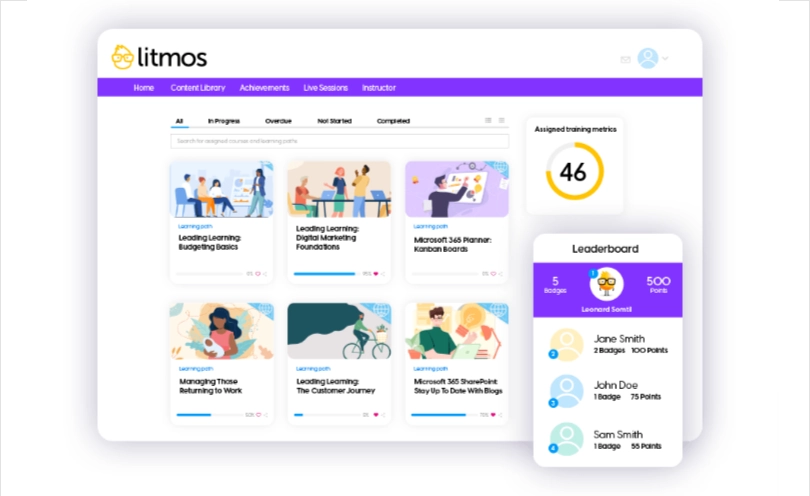 Having explored various LMSs in my career, I have found Litmos to be another game-changer solution for social learning, especially when it comes to SCORM integration.
Its seamless integration with SCORM content allowed me to easily design interactive and engaging courses. One memorable experience was implementing a social learning initiative for a multinational team.
With Litmos, I created SCORM-compliant modules that included discussion boards, collaborative projects, and virtual classrooms. The ability to track learners' progress, completion rates, and SCORM data within the platform provided valuable insights for continuous improvement.
By incorporating SCORM elements into our social learning strategy, we witnessed increased learner engagement, knowledge retention, and a stronger sense of community among the participants. Litmos truly delivers a powerful and effective social learning experience with SCORM capabilities.
What You Will Like:
Rich mobile capabilities for access from anywhere
Strong tracking metrics to see real-time performance
Good support for engaging and interactive content
Nice ability to string courses together into learning paths
What You May Not Like:
Occasional glitches in recording course completion
No support available to take the course offline (but supposedly coming soon)
The mobile version is not up to the mark (issues with navigation, limited functionality, and inconsistent display of content)
Too much manual work due to lack of APIs for automation
Pricing:
Starts at $6/user/month
5. iSpring Learn – Best SCORM LMS for Corporate Training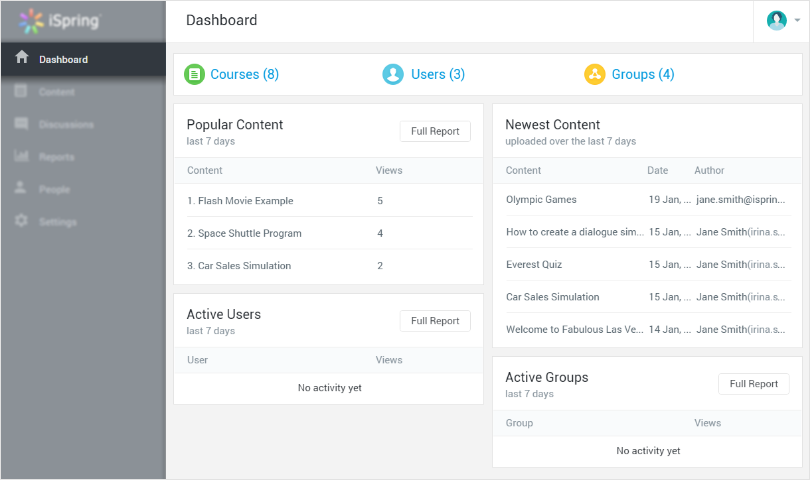 iSpring Learn is an exceptional SCORM-compliant LMS tool for corporate training. Its extensive features and user-friendly interface make it ideal for successful eLearning initiatives.
iSpring Learn excels in content management, allowing easy uploading and creating various content types, including presentations, courses, video tutorials, and audio tracks. Its SCORM support ensures seamless registration and tracking of SCORM 1.2 and SCORM 2004 content.
The tool offers unlimited storage space, enabling organizations to manage a vast amount of content without restrictions. It also allows the creation of interactive longreads within the LMS, making learning materials engaging and visually appealing.
With robust user management capabilities, iSpring Learn can simplify an organization's structure, user invitations, role assignments, and group creation. Learning tracks can be built by combining courses and materials, providing a structured learning experience.
What You Will Like:
Supports multimedia like videos and simulations for an immersive learning experience
Compatible with mobile devices to enable learning on the go
Detailed analytics to get valuable insights into learner engagement
Powerful integration for seamless content creation, management, and collaboration
What You May Not Like:
Customization options for the platform's appearance and branding are relatively limited
Not suitable for diverse audiences as it offers limited language support
Administrators may require initial support to leverage the system's capabilities fully
Need more self-explanatory articles and guides to understand the platform better
Pricing:
Starts at $2.29/user/month (billed annually)
6. Bridge – Best SCORM LMS for Simplified Learning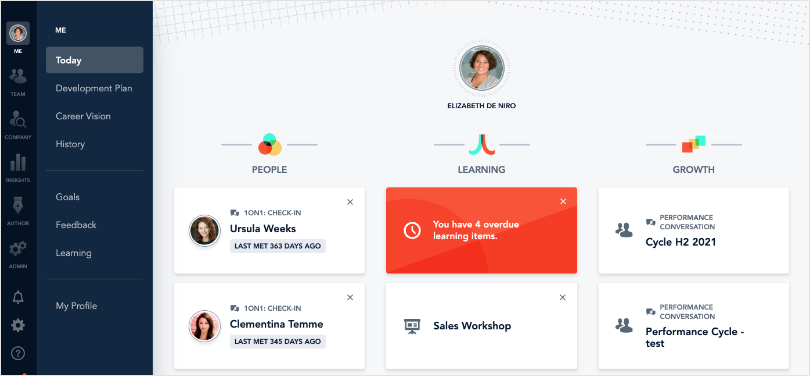 Being an online trainer, I highly recommend Bridge as the best SCORM-compliant LMS for simplified learning. The platform's robust features enable effortless content creation, delivery, and assessment, streamlining the learning process.
Bridge ensures engagement and effective learning outcomes, from interactive quizzes to real-time progress tracking. One of the key strengths of Bridge is its excellent support for SCORM content.
I appreciate how Bridge seamlessly integrates SCORM courses, enabling me to take advantage of interactive and engaging content provided by various e-learning content creators.
Moreover, its responsive mobile app facilitates learning on the go. As a result, I have witnessed significant improvements in learner performance and overall satisfaction. This tool has revolutionized e-learning, making it indispensable for anyone who wants to enhance the learning experience.
What You Will Like:
Bridge accepts raw SCORM data and provides detailed learner interaction reports
The interface is user-friendly and easy to navigate
Facilitates quick registration for live training sessions
Simplifies the process of assigning learning paths for targeted learning
What You May Not Like:
Lacks text editing options in the internal authoring tool
Inconsistent speed of operation, sometimes fast, other times slow and clunky
Reduced frequency of software upgrades
The categorization feature needs improvement (folders would be great)
Pricing:
Starts at $4/user/month. Billed annually.
7. Tovuti – Best SCORM LMS for Learner Engagement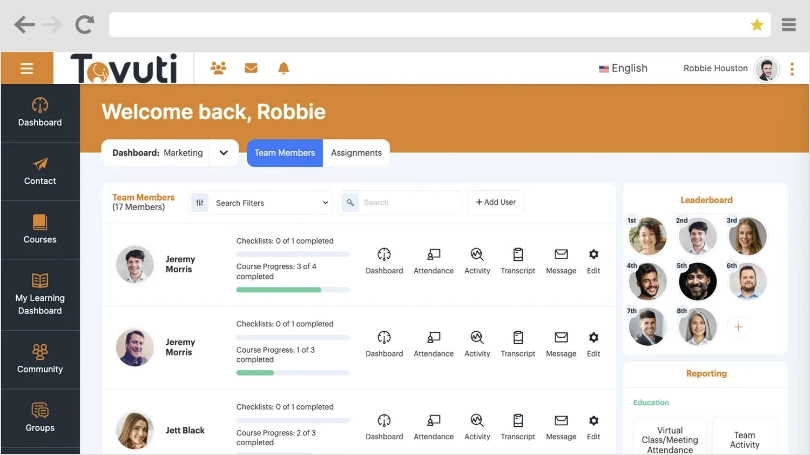 Tovuti has indeed won me over as one of the best SCORM LMSs for promoting learner engagement.
Using Tovuti as my go-to platform has significantly enhanced my interaction with learners. Its user-friendly interface helped me effortlessly create and deliver captivating SCORM courses that keep my participants motivated and eager to learn.
With Tovuti's innovative features and interactive learning tools, it's easy to design dynamic assessments, quizzes, and multimedia content that challenge and excite learners.
Whether conducting live training sessions, hosting webinars, or offering self-paced courses, Tovuti empowers me to create a vibrant learning environment that fosters collaboration and knowledge-sharing among my learners.
What You Will Like:
Very detailed reporting (gives a clear picture of learner progress)
Easy to set up and manage registered courses
Suitable for all sizes of organizations
Supports microlearning for better knowledge retention
What You May Not Like:
Steep learning curve, takes time to understand all features
No dedicated Windows app, must use via a web browser
Limited customization templates for site appearance
Navigation challenges in user mode; no font style selection in Columns mode
Pricing:
Starts at $11,160/ yr (Billed annually).
8. Absorb LMS – Best SCORM LMS for Training Large Teams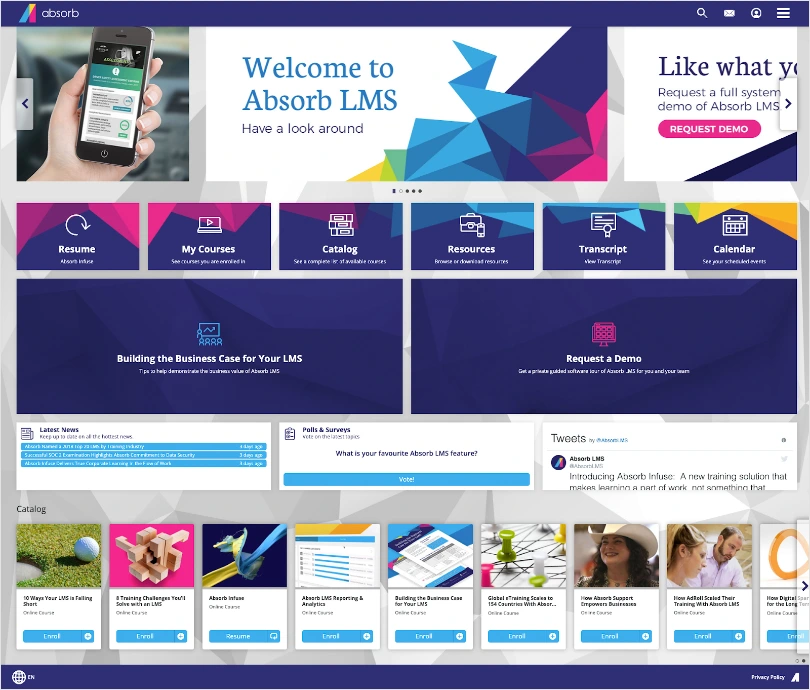 As someone responsible for training large teams, I highly recommend Absorb LMS for delivering impactful eLearning experiences. The platform's smart administration tools make managing and organizing training programs a breeze.
Learner engagement is taken to another level with interactive and gamified content through Absorb Engage. The detailed reporting and analytics offered by Absorb Analyze help us gain valuable insights into our training efforts. I love that Absorb LMS is fully SCORM compliant, making integrating our existing courses effortlessly accessible.
The mobile app ensures our team members can access training anytime, anywhere. Moreover, Absorb Pinpoint's AI-driven personalization ensures each learner gets a tailored experience. Scalable and future-proof, Absorb LMS accommodates growing organizations, making it the top choice for large teams seeking a comprehensive, user-friendly, and effective training solution.
What You Will Like:
Absorb LMS offers a single, unified platform that meets the learning needs of all stakeholders, simplifying management and integration
The platform's user-friendly interface, gamification, personalized learning paths, and social learning keep learners engaged and motivated
Absorb LMS leverages modern technologies like artificial intelligence and analytics, ensuring organizations stay relevant in a fast-paced world
Easily integrates with other tools making it effortless to bring all the learning resources together under a single platform
What You May Not Like:
While Absorb LMS mentions DE&I as a part of its DNA, the platform does not offer sufficient tools and features to address the specific needs of diverse learners
Lack of robust offline access options could hinder learning opportunities
The tool struggles in effectively managing and tracking the mix of online and offline training activities
Lack the ability to schedule recurring training sessions, which can be problematic for training programs that require regular and repetitive sessions
Pricing:
Starts at $800/active user/month
9. TalentLMS – Best SCORM LMS for Creating Courses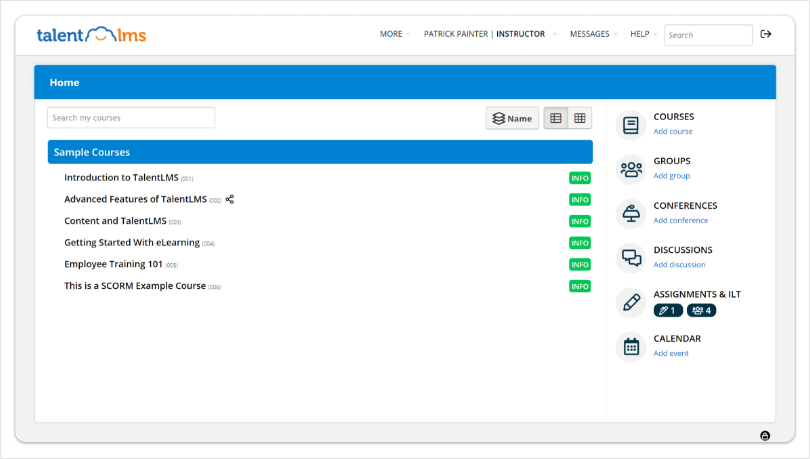 Another SCORM LMS that is my favorite is TalentLMS. As a SCORM, xAPI, and cmi5 compliant LMS, TalentLMS allows easy course creation and progress tracking. Its SCORM reports provide valuable insights into learners' performance, while its mobile compatibility ensures training on the go.
With seamless integration, gamification, and learning paths, TalentLMS offers a comprehensive solution trusted by top companies globally. Whether new to course creation or an experienced professional, you can build a smarter organization and deliver successful training experiences with the help of this platform.
Its easy-to-use course editor enables effortless course creation and customization. The platform's adaptability, top-notch customer support, and positive customer reviews set it apart from its competitors, making TalentLMS the go-to choice for organizations seeking to create a powerful workforce.
What You Will Like:
Centralized location for all training manuals, making it easy to access and manage training content
Section and module organization, which helps in structuring and organizing the training materials effectively
Quizzes for easy assessment and evaluation of learners' understanding
Integrates with HR software, streamlining the training process and ensuring data consistency
What You May Not Like:
General interface could be modernized to improve the overall user experience
Adding training content can be slightly clunky, potentially leading to some usability challenges
Certification management needs improvement to make it more efficient and user-friendly
Reporting features need refinement, particularly in terms of filtering and data analytics
Pricing:
Starts at $69/month (billed yearly)
10. 360Learning – Best SCORM LMS for Upskilling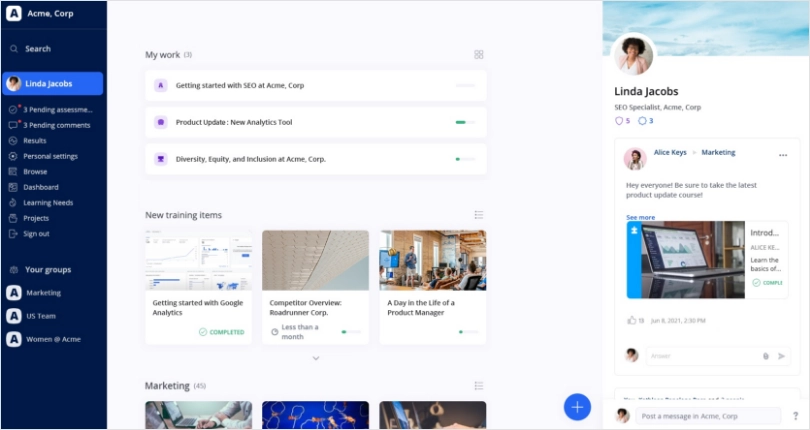 360Learning is a collaborative learning platform that aims to revolutionize corporate learning by promoting a collaborative learning culture. As one of the top 10 SCORM LMS, it lets you embed existing SCORM modules, saving time and effort.
Moreover, using 360Learning, L&D teams can measure the impact of SCORM courses over time. This platform supports various use cases like employee onboarding, compliance training, and more.
What I particularly like about this tool is that it addresses the shortcomings of traditional top-down learning methods, allowing organizations to upskill from within and close skill gaps effectively. The platform boasts high learner engagement with a 91% course completion rate and encourages learners to take ownership of their development.
With a focus on collaborative learning, organizations can crowdsource learning needs, identify subject matter experts, and empower experts and L&D teams to collaborate in course development. Moreover, organizations can access resources such as eBooks, guides, and webinars to enhance their learning culture.
What You Will Like:
Enables organizations to tap into their internal experts and knowledge, allowing them to create and share valuable learning content
The platform supports videos and multiple-choice questions on one page, making learning materials more interactive for learners
Provides data and analytics that help track learner progress and engagement.
The 24/7 online training academy provides instant help to users, ensuring a smooth learning experience
What You May Not Like:
Some users have experienced technical faults and occasional bugs, which may disrupt the learning experience
There are limitations when it comes to customizing learning content, potentially impacting organizations with specific branding or content requirements
Some users expressed a desire for more gamification features to enhance learner motivation and participation
The search field requires improvement to provide users with more effective and robust filtering options for finding relevant content and information
Pricing:
Starts at $8/user/month
As a trainer who has witnessed the impact of SCORM-compliant LMS systems, I can attest to the fact that these top 10 LMSs offer exceptional capabilities to streamline your e-learning endeavors. With seamless integration and support for SCORM packages, these platforms enable a versatile and engaging learning experience.
Which SCORM-Compliant LMS Should You Pick?
Selecting the right SCORM-compliant LMS depends on your specific requirements and preferences.
However, if you want expert advice, then I can help you with that. Based on my experience and expertise, I have the following suggestions.
Option A: ProProfs
ProProfs is an excellent SCORM LMS due to its user-friendly interface, robust tracking capabilities, and diverse content authoring options. It suits businesses and educational institutions seeking an easy-to-use platform to deliver, track, and manage SCORM-compliant eLearning content effectively.
Option B: Docebo
You can consider Docebo when you need a powerful and seamless solution for managing eLearning content. With its automated SCORM compatibility, Docebo simplifies the delivery and tracking of SCORM-compliant courses, saving time and effort. It is an ideal option for organizations seeking a feature-rich platform that supports various content formats and provides a user-friendly experience for administrators and learners.
Option C: LearnUpon
For those with a tight budget, you can consider LearnUpon. This platform offers a cost-effective and scalable solution that caters to the specific needs of small and medium-sized enterprises. LearnUpon's extensive integration options and responsive customer support make it an ideal choice for efficiently delivering and managing SCORM-compliant eLearning content, enabling your organization to grow and thrive in the digital learning landscape.
If you ask me, ProProfs is the best SCORM LMS out there. Its intuitive interface, versatile content authoring tools, and detailed tracking features make it a top-notch choice. Whether you're an educator, corporate trainer, or business professional, ProProfs offers everything you need for successful eLearning management and delivery.
Frequently Asked Questions
What is a SCORM-Compliant LMS?
A SCORM-compliant LMS adheres to the Sharable Content Object Reference Model (SCORM) standard, enabling seamless integration and interoperability with SCORM-compliant e-learning content. It ensures that online courses and training modules created with SCORM standards can be delivered, tracked, and reported accurately across different platforms, providing a consistent learning experience.
Watch What Is SCORM & How Does It Work?
How SCORM LMSs work
SCORM LMS integrates a set of technical specifications defining how e-learning content should be packaged and presented to learners. Content developers create SCORM-compliant modules using authoring tools, which package the content into a standardized format. When learners access the LMS, it recognizes and imports these SCORM packages.
Once the content is imported, the LMS tracks learner interactions, such as completed modules, quiz scores, and time spent. It returns this data to the SCORM package using JavaScript and API calls. This allows the content to respond to learner actions dynamically, providing personalized learning experiences.
SCORM also ensures that learners can resume their progress from where they left off, regardless of the device they use or the LMS platform they are on.
Watch:SCORM in 60 Seconds
What are the benefits of a SCORM-compliant LMS?
A SCORM-compliant LMS offers several benefits. It allows for seamless integration of standardized e-learning content, ensuring consistent user experiences across different platforms. SCORM compliance enables accurate tracking of learner progress, completion, and performance, facilitating comprehensive reporting and analysis.
This interoperability promotes cost-effectiveness, as organizations can easily reuse and share SCORM-compliant content. Additionally, SCORM compliance fosters greater content development and delivery flexibility, enhancing online training programs' overall efficiency and effectiveness.
How to create a SCORM course
Creating a SCORM course involves several steps. First, design your e-learning content using authoring tools like ProProfs LMS, ensuring it follows SCORM guidelines. Then, export the content as a SCORM package (commonly a zip file). Ensure your content is structured with manifest files (imsmanifest.xml) and adheres to SCORM metadata standards.
Upload the SCORM package to your LMS for testing and deployment. Test the content's functionality and tracking capabilities within the LMS to ensure proper data communication between the content and the LMS for learner tracking and reporting.
Here's a quick video on how you can upload a SCORM course to your LMS:
Watch: How to Upload SCORM Courses to ProProfs LMS
How to choose a SCORM-compliant LMS
When selecting a SCORM-compliant LMS, consider the following: Assess your training needs, ensure SCORM compatibility, check user interface intuitiveness, evaluate reporting and analytics features, confirm scalability and integration capabilities, review customer support and security measures, and compare pricing and licensing options. Considering these factors, you can choose an LMS that aligns with your organization's learning objectives and provides users with a seamless and effective learning experience. Watch this video to know more:
Watch: How to Choose the Best LMS Software for Employee Training
What are the common versions of SCORM?
The standard versions of SCORM are SCORM 1.2 and SCORM 2004. SCORM 1.2 is widely used and has broad compatibility, while SCORM 2004 offers more advanced features, such as sequencing and navigation controls, making it suitable for complex e-learning content.
Are all SCORM-compliant LMSs the same?
While SCORM compliance ensures interoperability between LMSs and SCORM content, it does not guarantee identical functionality or user experience. Different SCORM-compliant LMSs may implement the standard in slightly different ways, leading to variations in how content is displayed, tracked, or reported. Additionally, these LMSs may have varying features and capabilities beyond SCORM compliance, making them unique in overall performance and user interface.
What is a SCORM package?
A SCORM package is a collection of e-learning content and resources, such as HTML, multimedia files, assessments, and metadata, packaged together following the SCORM standard. The package is self-contained and can be uploaded and run on any SCORM-compliant LMS. SCORM packages facilitate the easy sharing and distribution of e-learning content while ensuring compatibility and interoperability across different LMS platforms.
Do you want a free Training Software?
We have the #1 Online Training Software for employee training & assessment