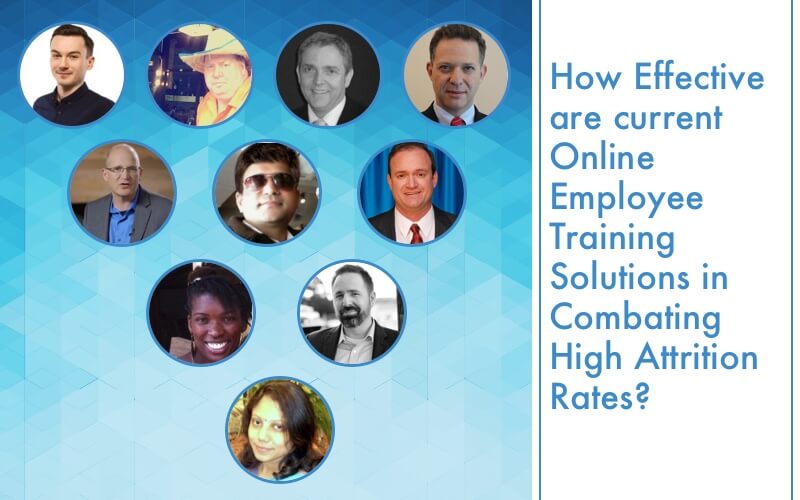 Have you ever thought why some organizations grow continuously while others get stagnant?
Is it because of no or fewer employee benefits, lack of training or probably both?
The reason behind the continuous growth of businesses is that they invest most of their time and resources in training their employees and brushing up their skills.
Employees, on the other hand, seeks growth. And when they get similar opportunities in abundance, they tend to stay longer and work hard to achieve business' targets. Thereby, resulting in low attrition rate.
We asked 10 experts about how effective are the current online employee training solutions in combating high attrition rates. Let's take a look at their opinion.
Watch This Video to Know How to Create Employee Training Courses Online

Bart Turczynski

Employees who feel they are growing professionally, are more likely to stick around for longer. For most, growing is about climbing the corporate ladder, taking on new responsibilities, being challenged, but not overextended.
Workshops in real life as well as training software matter, but only if the course itself provides the employees with useful stuff (yes, that's a technical term.) What's more, it must do so in a way that keeps them interested, wanting to complete the next module.
Training software and online course platforms are very convenient, but if employees don't use them, we're in a weird "If a tree falls in a forest and no one is around to hear it, does it make a sound" situation.
If you really want to use them to keep people on board, you simply must pick only the best courses and software and plenty of it. Otherwise, employees we'll see through you. They'll understand these options are there just so that your company can list "access to courses" among another 20 bullet points in the next job ad.

How do your employees keep up with all the changes in technology and laws that affect many companies? The answer has to be Life-Long Learners (LLL). Today companies need to have an effective employee training software available for helping its employees to keep their skills fresh and up to date with everyday changes that happen very frequently. If your employee's skills aren't kept up to date then this will cause unnecessary employee turnover and a high cost of recruitment expenses for hiring new employees.
E-Learning is a necessity in today's global economy. This all can be tailored to your company's and employee's specific requirements. Today employees are using Microlearning instead of the community college systems that we had used in the 20th century. Now employees can learn or refresh their skills at a time that is convenient for them 15-30 minutes and they can do this from any device, computer, or smartphone. The right Elearning platform, app, or software will also play a key role in keeping the stress levels down among your workforce.

I read a stat from an IBM report on the value of training that indicated, "New Employees are 42% more likely to stay when receiving the training they need to do their job properly." Employers need to have a focused, well-designed and well-articulated employee training program if they want to keep employees. Certainly, software providing training, guidance, a review of company and other critical information can play an important role in helping to avoid employee attrition but the real key is a well-designed, well-executed, continuous training program.

Training (or lack of training) and employee attrition levels are directly correlated, there is no doubt. Employee training software that is engaging and in context performs a significant role enhancing job satisfaction. This investment can be very cost effective in reducing recruitment costs caused by high attrition rates and accelerating time to competence. A multi win solution.

Employee Training Software can be a valuable tool with which to combat high attrition, as long as it is deployed properly and for the right reasons. Assuming that a proper business analysis is completed to ensure that the organization understands the underlying reasons for attrition, and has determined that lack of training is one of the drivers of attrition, then using a solid software delivery platform, with solid content to go along with, to address the problem is often a beneficial path for several reasons.
Read More: 10 Best Employee Training Software
Primarily, most software platforms allow us to provide training and materials to our audiences where they work and often just-in-time. Many employee frustrations stem from the fact that training takes them away from their workplace (a particularly sensitive issue with salespersons), and using software to deliver can typically alleviate this. Also, depending on the content being delivered, most platforms allow us to distribute training content nimbly, which makes it possible to respond to employee feedback before most reach the point of leaving the company.

A learning culture can be the key differentiator for a business to attract customers as well as talents.
But implementing a good learning culture is easier said than done. It requires constant focus and unwavering commitment from management, not to mention buy-in and championing at all levels of the organization. At the same time, technology too plays a crucial role in making this a reality.
Employee training software can transform the way an organization upskills its people and the way the employees keep themselves up-to-date.
Apart from providing a centralized platform for a seamless learning experience, good employee training software can pool the organization's knowledge in a single place, streamline communication, facilitate collaboration across siloes, create feedback loops, support various modes of learning, align employees' learning goals with business goals, and help track those goals to completion.
The result is higher productivity and increased employee engagement, leading to better retention and lower attrition rates.

Training employees and giving them an opportunity to advance their skills to grow professionally and personally goes beyond combatting high attrition rates, it actually increases performance and reduces numerous costs. An employee training software solution is required for consistency and scalability in developing workforce skills and driving your desired business outcomes.

Fostering an environment that focuses on employee engagement, morale, and professional growth is how we decrease attrition rates. The implementation of effective online training solutions plays a crucial role in meeting these needs, as one of the major goals of online training is to develop and empower an ever evolving workforce.

Employees want to be a part of organizations that share their transformational goals and that seek growing participation. Since most transformations require employees to learn new practices and skills, organizations should establish learning programs where employees have access to training and time to learn and experiment." – Isaac Sacolick, President and CIO of StarCIO and author of Driving Digital

In my opinion, every individual is different, but everyone needs professional growth. If any company provides a better learning opportunity and platform where the employee skills are enhanced, employees tend to stay. Thus, reducing the attrition rate. It is because employees know more than anything else their skills are going to help them in future to become a successful person. Moreover, online training software used by companies is the best platform to make their employees learn, track their progress and tell them where they need to improve.
Take Away
Choosing the right online training solution is crucial in terms of employee growth and reducing attrition rates. It not only provides flexibility to the employee to take courses from the comfort of their own pace but also offers easy accessibility. In addition, employee benefits and motivation adds an extra perk in retaining employees.
Do you want a free Training Software?
We have the #1 Online Training Software for employee training & assessment