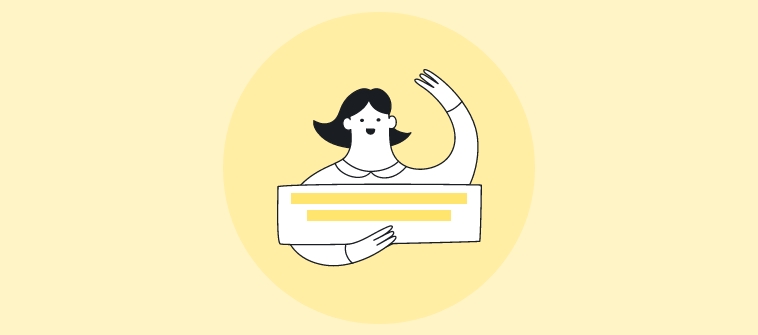 Are you following proven best practices for new employee onboarding? If you're yet to see the best side of onboarding, this post is for you.
Without a set of generally accepted methods, new hire onboarding will never fetch you the desired results that you want to see in your new team members.
According to data from Techjury:
35% of companies spend zero dollars on onboarding

a negative onboarding experience doubles the chances of an employee seeking opportunities elsewhere

new employees with positive onboarding experience are 18x more committed to their employer

organizations with formal onboarding training are less likely to lose more than 60% of their entire workforce within four years
These statistics show the significant role employee onboarding plays in retention, which no right-thinking companies can ignore.
In fact, the stage for employee engagement, performance, and productivity is set right at the time of onboarding. Companies with the best onboarding programs will agree to this.
Considering all this, it helps to know the best onboarding practices so that you can make the most of the process.
Read on to find out what a good onboarding process looks like.
Watch: What Is Employee Training?
10+ Best Practices for Onboarding New Employees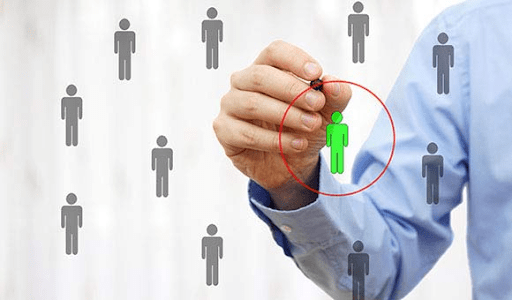 Every quality onboarding process is set up for maximum engagement with new hires, faster opportunities for contributions to a business, and retention. Only sound onboarding practices can help you achieve these goals.
Go through the following best practices for employee onboarding and implement your onboarding standards for positive results.
1. Start Early
Contrary to what most organizations think, onboarding should kick-start well before new employees' first day at work. Generally, there is a gap of a few days, weeks, or even months between receiving a job offer and joining a new workplace.
As a part of your pre-onboarding checklist, you can use that time interval to stay in touch with the incoming employees and help them warm up gradually.
For example, you can share the upcoming onboarding plan to give them an idea of what they can look forward to. This can remove the silent interval arising from a complete lack of communication.
2. Give a Memorable Welcome
A memorable first impression should be the day's main theme when new employees join your organization. For this, you can:
send out a warm welcome email

set up their workspace

distribute a welcome kit

provide job-related tools & resources

arrange a meet-and-greet with colleagues & managers

organize a lunch with teammates
The idea is to let the new hires feel at home the moment they step into your office. Show how excited you are to have them on board as new members by setting the right tone from the first day onwards.
3. Complete the Paperwork
Ideally, the HR paperwork shouldn't take too much time. Get these out of the way as soon as you can.
Documents such as offer letters, employment contracts, benefits forms, tax forms, and others are important both for employers and employees. So, you should complete them in the initial days of new staff onboarding.
These documents serve as official employment records with a company and outline employees' rights and responsibilities. Once you're done with the paperwork, you can initiate onboarding and role-based training.
4. Share Company Information
A key part of employee onboarding is introducing new hires to a company. To ensure that they get to know your organization better, you need to share information on your company history, structure, key members, vision, mission, values, and corporate culture.
Avoid overwhelming employees with streams of information. Share a custom booklet to enable them to go through the particulars quickly. There are many other similar steps you can take to communicate your company culture.
This practice will enable new hires to understand and adjust to the new environment helping them align better to the new culture, people, and work style.
5. Involve Top Management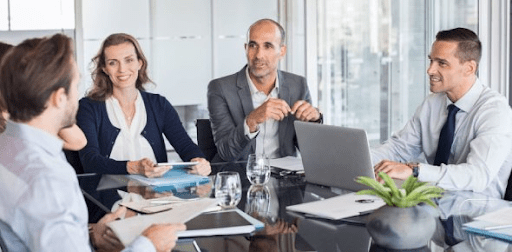 It is true that HR departments usually run the show when it comes to onboarding, but that doesn't mean it is solely their responsibility. It takes senior management, managers, and team members to successfully implement an onboarding program.
This situation is similar to what an African proverb says, "It takes a village to raise a child." it takes an entire company to induct a new hire successfully.
An interactive session or two between new hires and top management can add value to onboarding. It shows the management team's interests in welcoming new hires and transitioning them to productive members of the company.
It also serves as an icebreaker and provides opportunities for employees to know the management's thoughts and beliefs.
6. Use Onboarding Software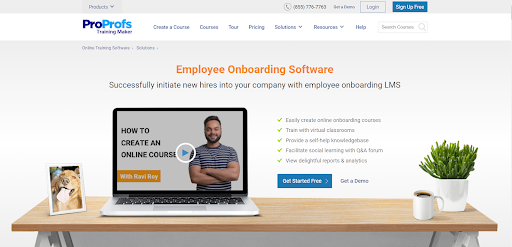 Employee onboarding software can help you streamline the process by automating many of the tasks. By using them, you can create onboarding courses and assessments, share them with your new hires, track progress and completion, and view detailed reports.
These solutions drastically cut down paperwork as most of the tasks are performed online. You can use these tools to onboard new employees remotely. Best of all, you can ensure consistency in training across your organization.
Some of the top learning management systems support social learning and knowledge base, which new hires find helpful while learning the ropes.
7. Conduct Regular Check-Ins
A regular one-on-one check-in with new hires is indispensable in onboarding. It enables you to gain insights into how things are shaping up, whether the employees are adjusting to their newfound position, and so on. You can provide the best employee onboarding experiences accordingly based on this information.
Likewise, the new hires will feel heard, and they can share their challenges and other experiences directly. This practice will motivate them to make the most of their onboarding.
This way, you can reduce the risk of losing new employees due to miscommunication, unclear expectations, and low morale.
8. Facilitate Team Interactions
Just like a regular one-on-one between managers and new employees, an interplay between the employees is crucial. Provide ample opportunities to them to connect and exchange ideas. Such activities will foster the necessary support and create a sense of belonging to the new environment.
While onboarding new employees, you can organize a team lunch, group discussions, team introduction, joint projects, and other team-building activities toward this end.
Watch: Team Building Activities Training Course
9. Assign a Buddy/Mentor
Research by Gartner shows that 74% of new hires consider their peers to be the most helpful source of support during onboarding.
A buddy or mentor can be a new hire's right-hand man for everything, right from showing around the office to demonstrating how a task is done. They usually work in the same department and in a similar role as the new hire.
They serve as a point of contact for any queries and concerns, enabling a smooth transition of the new hires to new work culture. Make sure you choose employees who show leadership skills as the buddy or mentor.
10. Set Goals & Expectations
When you set clear job goals and expectations at the outset, your new hires can start working on them early on. This practice will make them easier to visualize what they need to do in their position.
The goals should be both short-term and long-term, and they should not be vague. For example, you can set SMART goals that revolve around specific and realistic deliverables that employees are supposed to achieve in a time-bound manner.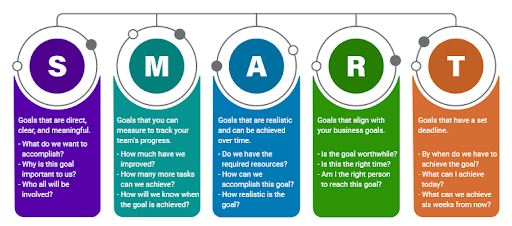 New hires should be able to contribute to your organization in a measurable way. These goals and expectations can guide them through every task with single-minded focus.
11. Get Timely Feedback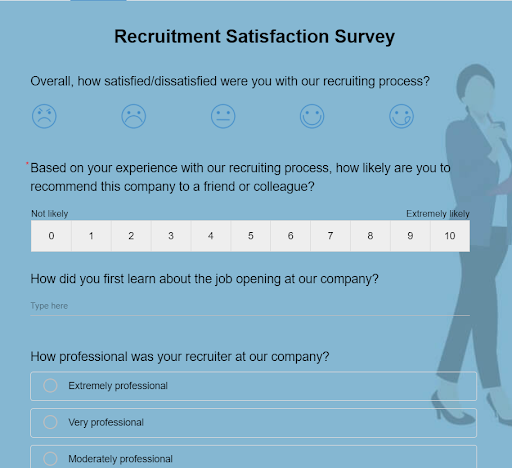 Nothing can be more discouraging to employees than managers dismissing the employees' ideas and suggestions right away. If you leave the room open for feedback, new hires can present solutions to problems and give you a new perspective on things that you didn't know about.
Online surveys can be a great way to feel the pulse of your new hires, what they think about your onboarding program, and what suggestions they have to offer.
Feedback from them is the best way to confirm whether all the hard work you put in the process is actually paying off.
This makes it one of the best practices for onboarding new hires.
12. Take Offboarding Seriously
The primary goal of every onboarding process is to maximize employee retention and productivity through systematic acclimatization. However, if a new hire does leave your organization within a few weeks or months, it's essential to examine what went wrong and whether you could have prevented that from happening.
This is where offboarding can help you. You can conduct exit interviews to gather feedback from outgoing employees. By seeking information on their impression of your organization, and what they think did and didn't work, you can do a course correction and prevent avoidable mistakes from recurring.
A standardized offboarding can, thus, help improve your new employee onboarding for better outcomes.
Give Employee Onboarding Your Best Shot!
Some people say employee onboarding is easier said than done. It is true only when you don't know where you're directing your efforts and attention and when everything becomes disorganized.
Initially, it may look like an uphill task, but it will become manageable once you chart it out.
With these best practices, you can take charge of employee onboarding and save any critical steps from falling through the cracks. You can streamline the process and expect only positive results.
Attract, engage, and retain the right talent in your industry. All you need to remember is what you need to do each day or week of the onboarding with these examples of onboarding process.
Do you want a free Training Software?
We have the #1 Online Training Software for employee training & assessment