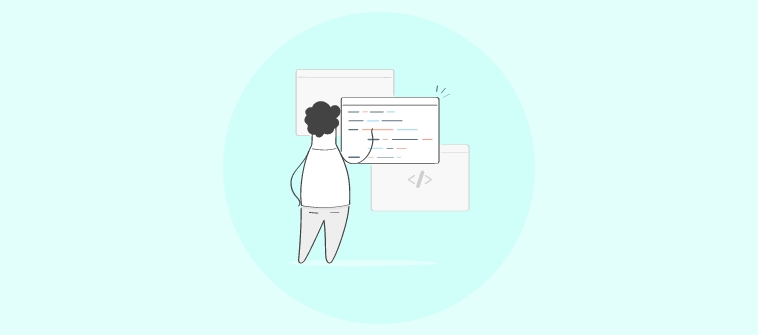 Top eLearning companies provide great service to training companies, enterprises, and training managers with their eLearning development solutions. These solutions include:
online courses and templates
learning management systems
training videos
gamification/simulations
project managers
consulting & coaching
performance support
By making mostly customizable tools and resources available online eLearning content development companies help users get their eLearning programs up and running in record time.
The fact that this kind of support comes from established and award-winning companies makes it credible.
This post looks at 10 such eLearning development companies that you can partner with to strengthen and transform your online learning experience.
Continue reading to find out.
A Quick Comparison Table of the 10 Best eLearning Companies
10 Best eLearning Development Companies
Why Is It Best?
Pricing
ProProfs

eLearning Authoring Tool
Course & Template Library
Cloud LMS
Multimedia
Quizzes
Awesome Support

Starts at $1.97/learner/month
AllenComm

40 Years of Experience
Trusted for Quality Solutions
Wide Range of Expertise
Custom Training & Learning Solutions
1,300+ Projects
343 Awards

Available on contact.
EI Design

Nearly Two Decades of Experience
Partner in Digital Transformation
Learning & Performance Support
Caters to 26+ Industry Verticals in 24 Countries
ADDIE Development Model
Focus On Research, Exploration, & Innovation

Available on contact.
SweetRush

Bespoke Training Solutions
L&D Talent Pool
Immersive Learning Tech
Consulting & Coaching
Support for Non-Profits
200-ish Committed People

Available on contact.
Paradiso Solutions

End-to-End eLearning Products & Services
Off-the-Shelf Courses
Course Creation Services
Managed Learning Services
Top Cloud LMS
3A Delivery Framework

Available on contact.
G-Cube

Innovative & Revolutionary Solutions
Custom eLearning
Performance Support
Off-the-Shelf Courses
Interactive Videos
Games-Based Learning

Starts from $25/year.
Articulate

Award-Winning Products & Services
Used in 161 Countries
Human-Centered Company
8.3+ Million Course Assets
Live & On-Demand Online Training
Project Review App

Starts at $1,299/user/year.
Lectora

Collaborative Authoring
Rapid Modular Development
Design Frameworks
Interactive Wireframe Templates
Mobile-Ready Themes & Style Packs
Built-In Asset Library

Starts at $899/year.
Elucidat

Award-Winning Authoring Platform
Ready-Made Templates
Reusable Assets
Project-Based Coaching
Customer Success Team
36,000 Projects Released

Available on contact.
SHIFT eLearning

Recognized Industry Leader
Custom eLearning Development
Off-the-Shelf Contents
AI-Powered Solutions
Future-Proof Business Solutions
Best-In-Class Technology

Starts at $0 for 30 days.
Before we look at these eLearning companies in more detail, let's quickly understand the following:
What is eLearning Development?
eLearning development is the planned process of developing eLearning experiences for formal education and training. It is preceded by learning needs analysis and the identification of measurable learning goals. The design and development of eLearning content follow next.
The process also involves creating an environment for administering eLearning seamlessly through a learning management system or LMS.
As such, it indicates the combined effort of arranging eLearning materials, experience, and medium for delivery.
Hallmarks of Top eLearning Development Companies
There are some distinctive characteristics of professional eLearning production companies. These qualities make it easy for you to distinguish them from the rest. Let's check out some of them.
Extensive Industry Experience
One of the trademarks of a reputed eLearning development company is its extensive experience in developing online learning assets. This is a key consideration in partnering with such a provider, as with long experience comes professionalism. You can rest assured of the best eLearning services from this type of company.
Professional Teams
A leading corporate eLearning solutions company boasts of a team of professionals from diverse fields. They include eLearning designers, project managers, head of learning technology, and multimedia developers. They put their heads together in designing, developing, testing, and delivering effective eLearning experiences.
Clear-Cut Project Management
All top eLearning development companies have in place a proven project management system to manage eLearning projects successfully. For example, Agile project management is the most commonly used project management system. It keeps eLearning projects organized and progressive with the active participation of all stakeholders.
Custom eLearning Solutions
Another trait of superior eLearning development companies is custom eLearning designs for their clients. This is what makes them the best. They deliver their clients' specific online learning needs and generate revenues in the process. It is this symbiotic relationship that sustains both parties.
Thought Leadership
The expertise of eLearning companies can be seen in their thought leadership and how they influence the whole eLearning narrative. You can witness their innovative ideas and practical solutions on eLearning in publications, social media, and online communities. This makes them learning and training specialists.
Benefits of eLearning Development Companies' Services
eLearning development companies bring several significant benefits to companies in terms of meeting the latter's learning & development requirements.
Access to Expertise
When you outsource eLearning development to a distinguished company, you access some of the best industry experts.
eLearning development is a specialized area that requires detailed planning and flawless execution, and only the right expertise can handle this responsibility with authority. They are generally up-to-date with the latest eLearning tools, best practices, and trends.

Time to Focus on Learning
By partnering with a strategic eLearning developer, you get more time on your hands to devote to other business areas. More importantly, you can focus on learning and course compliance rather than on creating eLearning materials.
In other words, eLearning packages are home-delivered, ready for implementation, and you don't need to worry about time constraints that plague most in-house eLearning development projects.
Cost-Saving
Hiring a full-time internal eLearning development team can add up to your business costs. You need to keep the best people for the job, set aside funds for their remuneration, and invest in hardware, software, and other resources.
But when you use the services of an eLearning development company, it takes care of these ongoing expenses. They have a dedicated team with all the necessary resources to develop eLearning.
Faster Turnaround Time
With years of experience in the field, a top eLearning agency can assure a fast turnaround time, regardless of the size of the project. These companies are equipped with rapid eLearning authoring tools and qualified human resources.
Businesses that need to offer online training to their employees at short notice but don't have the bandwidth to make it internally can turn to professional eLearning companies.
Innovative Solutions
At times, you may feel like you've run out of fresh ideas and come to a roadblock for delivering engaging eLearning experiences to your learners. In such situations, an external third party can come to your rescue.
They consist of some of the most creative professionals who always come up with innovative solutions to eLearning. They can present a different perspective to it that you've not considered before.
Scalability
Startups and small & medium enterprises with a pint-sized learning & development team can rarely push the envelope and ramp up eLearning development in a short time.
Unlike this, professional eLearning companies can take additional loads without breaking under pressure because they are designed for it. That means they can scale up as your learning requirements grow.
10 Best eLearning Development Companies
Now that we've learned a few things about eLearning and eLearning development companies let's proceed and see 10 of the best eLearning companies. They can be your long-term partner in eLearning projects.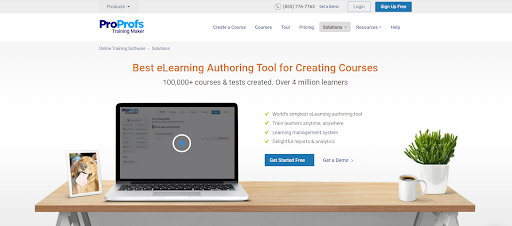 ProProfs LMS is a provider of cloud-based corporate eLearning solutions that include an authoring tool, an LMS, and a project management tool. These solutions are user-friendly and you can use them to create, design, manage, share, and track eLearning programs.
These smart tools provide a centralized platform to instructors to assign courses and tests, add learner groups and admins, and administer eLearning. Similarly, learners can access the courses and quizzes you created using these tools from anywhere, at any time, and on any device.
Not just for these, ProProfs is also pegged as one of the best eLearning companies as you can expect excellent customer support that exhibits the knowledge, patience, and empathy to serve customers throughout their journey with the company.
Over the years, ProProfs has received numerous prestigious awards, including the title of the best corporate training software, top learning management system, and best eLearning software for employee training.
Renowned companies such as Acer, Ford, DHL, and Nestlé are among its longstanding customers.
ProProfs eLearning Solutions

World's simplest eLearning authoring tool
A premium library of 100+ customizable courses
Engaging quizzes, surveys, & polls
Support for images, videos, presentations & docs
100+ customization options
An intuitive online training software
Centralized virtual classroom software
Tool for collaboration & discussions
Branding support
Insightful reports & analytics
Pricing: Forever free plan (up to 10 learners). Paid plan starts at $1.97/learner/month (billed annually) for large teams. No hidden charges. 15-day money-back guarantee.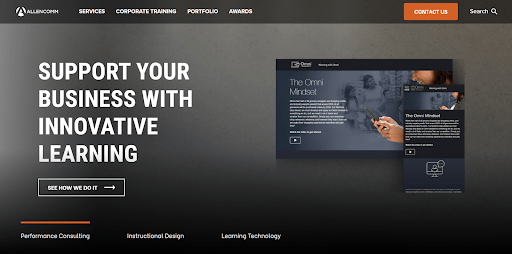 With over 1,300 projects and a community of more than 140 creative minds, AllenComm is one of the top eLearning companies. It designs, develops, and deploys innovative eLearning solutions to help organizations transform their online learning content and practices.
According to trainingindustry.com, AllenComm is one of the world's most decorated corporate training companies. The company was among the top companies in training outsourcing, custom content development, and gamification.
It has been partnering with Fortune 100 companies to deliver transformative eLearning experiences.
AllenComm eLearning Solutions
Needs analysis
Performance mapping
Video services
On-demand learning
ILT & VILT
Learning content platform
Performance support
Client advisory board
Strategic planning
Research-proven industry best practices
Pricing: Subscription & one-time purchased license. It offers different starting prices for different solutions. All solutions are custom-made for clients.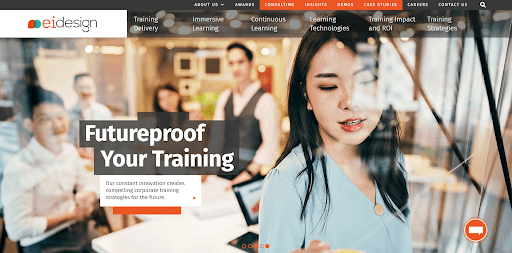 EI Design is another renowned digital learning company that reports an enviable customer retention rate of nearly 90%. This is testimony to its investment in long-term relationships with its customers.
EI Design has been helping its customers in digital transformation through sticky learning experiences for nearly two decades.
The eLearning company delivers high-impact learning and performance support solutions to help businesses achieve a high engagement quotient, drive sustainable performance, and get assured ROI.
It caters to diverse industry verticals worldwide through its holistic approach to eLearning. Its eLearning development model is optimized for 100% remote operations, providing an onshore experience from a distance.
EI Design eLearning Solutions
eLearning accessibility considerations
Personalized learning
Video & story-based learning
Content curation
Performance support tools
Authoring tools expertise
Learner analytics
Application simulations
Predictive learnability
VR & AR
Pricing: Available on contact.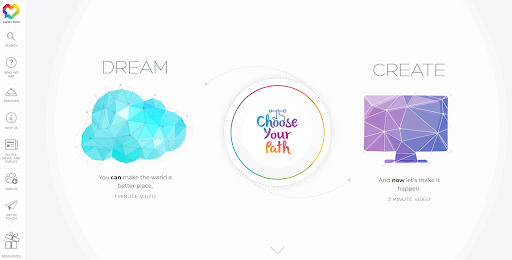 SweetRush knows that long-term collaboration with a trustworthy eLearning partner can significantly impact business success. That's why, it offers custom eLearning solutions to help businesses change, improve, and thrive. The company is driven to positively influence its clients through a culture of commitment.
Its engaging, effective, and award-winning eLearning programs ensure high client satisfaction and retention rate.
SweetRush's mission is to use its talents and tools to help its clients thrive and become successful.
SweetRush eLearning Solutions
Training needs analysis
Custom training solutions
L&D consultants
VR, AR, & AI
Coaching & consulting services
Support for non-profit organizations
Gamification
Microlearning
Performance support
Content conversions
Pricing
Available on contact.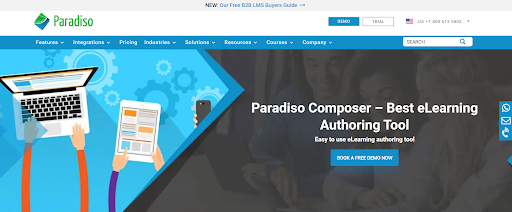 Paradiso is an eLearning company with the DNA of Silicon Valley and a global presence. eLearning solution is one of its successful offerings. It provides end-to-end eLearning products and services, including authoring tool, LMS, off-the-shelf courses, course creation services, and managed learning services.
The company's 3A delivery framework – easy access, trusted advisors, and adapt to changes – is designed to provide clients with the best experience and value beyond their expectations.
Paradiso caters to clients in 22 countries and it is expanding in different geographies, technologies and industry verticals.
Paradiso eLearning Solutions

Authoring tool
PPT to SCORM package conversion
Social tools
Reusable content
Gamification
Course publication
Downloadable free resources
Knowledge management system
Course catalog
Course development
Pricing: Available on contact.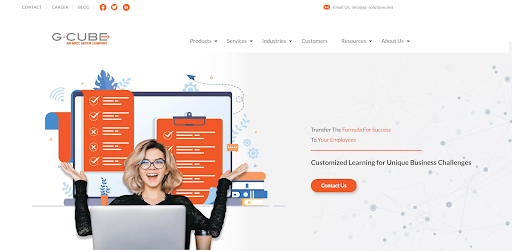 G-Cube's custom eLearning development team helps customers create significant learning solutions specific to their business requirements. Its eLearning solutions are designed to solve specific business needs by aligning learning with the core values of its customers.
With G-Cube's engaging, meaningful, and memorable learning solutions, businesses can unlock new potential.
By designing custom and practical eLearning solutions, the company empowers learners to learn in the best possible way.
The company has received over 80 awards in the last six years, and it has footprints in the U.S., Europe, and India.
G-Cube eLearning Solutions
Custom eLearning
Automated content creation
Microlearning
Performance support
Interactive videos
Game-based learning
Off-the-shelf courses
Learning experience platform
Simulations
Pricing: The starting price is $25/year. Contact G-Cube for detailed pricing information.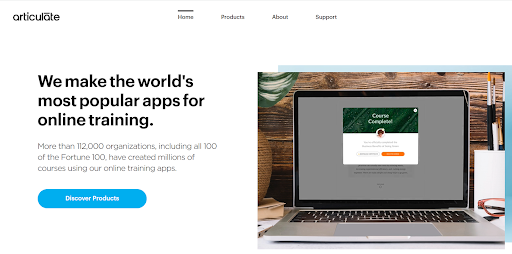 Articulate offers two popular eLearning products – Articulate 360 and Rise – to help create, distribute, track, and manage online training programs in one platform. More than 119 million learners in 161 countries have learned new skills and boosted their careers by using Articulate apps.
Its customers include Fortune 100 companies and 19 of the top 20 U.S. universities.
As a human-centered organization, Articulate is driven by a vision to empower people to live better lives. It is committed to providing the best value to its customers. It has created over 3 million courses in the last 12 months.
Articulate eLearning Solutions

Authoring apps
Project review app
8.3+ million course assets
Live & on-demand online training
Templates
Courses from best-selling authors
150+ business lessons
360° images
Sample courses
Modern player
Pricing: Starts at $1,299 per user per year.
8. Lectora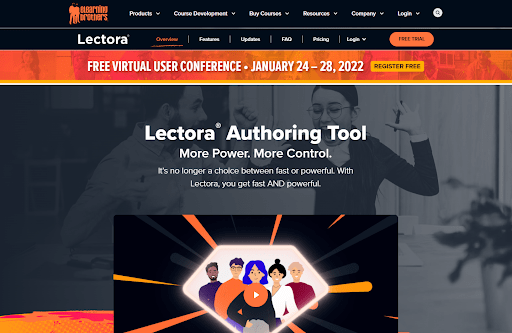 Lectora's eLearning products and services are designed to help its customers amplify online learning and achieve better outcomes. It offers a comprehensive suite of integrated eLearning development and delivery tools.
A proven eLearning course development process, experienced experts, and delivery on time, on budget, are some of the highlights of Lectora. This makes it one of the best companies to partner with to solve some of the biggest training challenges.
Over the years, the company has become a leader in the eLearning industry. The company was included in the Inc. 5000 list for six consecutive years.
Lectora eLearning Solutions

Responsive course design
Collaborative authoring
Unmatched interactivity
All-new framework templates
Built-in asset library
120+ million stock images
55,000+ stock videos
Screen recorder
A/V editor
Translation & text to speech
Pricing: Starts at $899/year
9. Elucidat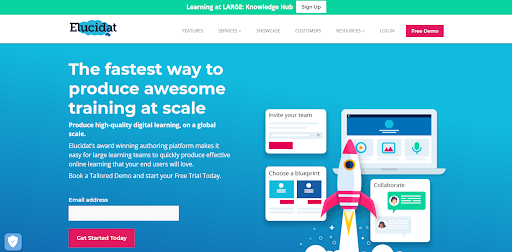 If you're looking for a company that provides learning and development platforms for training at scale, you may consider Elucidat. Its mission is to help big employers drive down training costs by making everything easy and fast. It does the heavy lifting to produce training just the way users want.
Team-level permissions, reusable assets, brand control, and localization tools enable users to manage digital learning.
Elucidat's customer success team is with its customers as a partner in eLearning success every step of the way so that you don't have to go it alone. Over 25,000,000 people worldwide are already benefiting from the company's solutions.
Elucidat eLearning Solutions
Coaching & consultancy services
Best practice workshop
Tailored template
The 5C framework
Content conversion plan
Brand style design
Project prototype
Project review
People-centered eLearning
Podcasts
Pricing: There are four plans – Basic, Team, Enterprise, and Scale. Prices for each are available on request.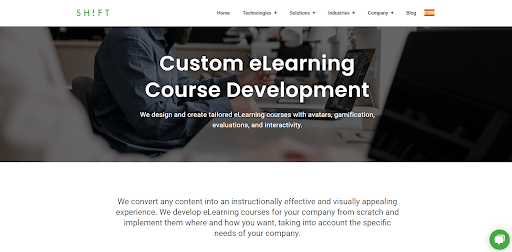 SHIFT eLearning helps organizations create, deliver, and analyze content for online learning and communications. It offers products and services to support customers in their digital transformation initiatives. More than 3,000 organizations worldwide power their eLearning with the support of the company.
As a recognized industry leader and trusted technology partner, SHIFT eLearning works closely with its clients to create tailored eLearning courses. For this, the company relies on a team of eLearning experts, instructional designers, graphic designers, and project managers.
It acts as a one-stop-shop for businesses' eLearning needs.
SHIFT eLearning Solutions

A multi-functional team
Specialized content
Project managers
A world-class LMS platform
Infrastructure support
Performance analysis
Different content formats
Artificial intelligence
AWS-powered neural voices
Video subtitling
Pricing: Starts at $99/month
Partner With the Best eLearning Companies
ELearning content development is an inevitable predecessor to delivering engaging online learning and training in today's digitized professional environments. When you join forces with one of the best eLearning companies, it can be a shot in the arm. You can ensure effective learning through the world-class products and services that these companies provide.
Get to know each of these eLearning development companies we discussed in this post and compare their offerings. You can then decide which one you want to make your long-term eLearning partner. Remember, it is better to work together with someone who shares the same objectives as you than go at it alone.
Do you want a free Training Software?
We have the #1 Online Training Software for employee training & assessment