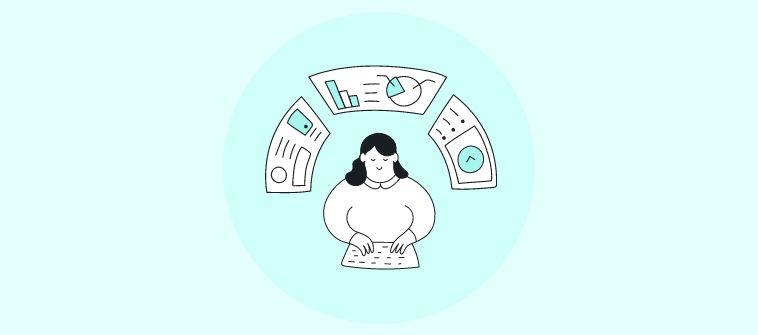 Learning management systems (LMSs) have been powering the world of corporate training for years. Starting as a teaching machine resembling a typewriter in the early 1920s, LMS tools have now become a must-have platform for businesses and educational institutions everywhere.
In fact, the LMS market is projected to grow from USD 13.38 billion in 2021 to USD 44.49 billion in 2028 at a CAGR of 18.7%.
What's so fascinating about these tools that more and more businesses are adopting them as their staple learning platform?
To understand this, you need to know what a learning management system is, how it works, who can use these solutions, and what are some of its features and benefits.
By the time you're through with this post, you'll know all the answers to these questions. You'll certainly find it informative if you're new to the concept of an LMS.
So, let's get to it.
What Is an LMS?
A learning management system, or LMS, is a software platform that enables users to create, share, administer, and track online courses and tests. Training departments, instructors, and teachers use it for regular in-house and remote learning. An LMS is the perfect solution for continuous learning programs in the workplace.
As a modern and smart training solution, LMS platforms are instructor and learner-friendly and help you take full charge of learning. They streamline and accelerate training development and ensure transparency and accountability.
The best part of LMS software is that they take care of the nuts and bolts of online learning, encompassing the entire employee lifecycle. Keeping learners engaged is also easy with these tools through multimedia, quizzes, surveys, collaborative social learning, and learning paths.
Watch: What is a Cloud-Based Learning Management System?
11 Key Features & Benefits of an Online Learning Management System
Now that you've understood what an LMS is let's get down to examining the top 11 features and corresponding benefits you can expect from a standard LMS.
1. Course Builder for Easy Content Creation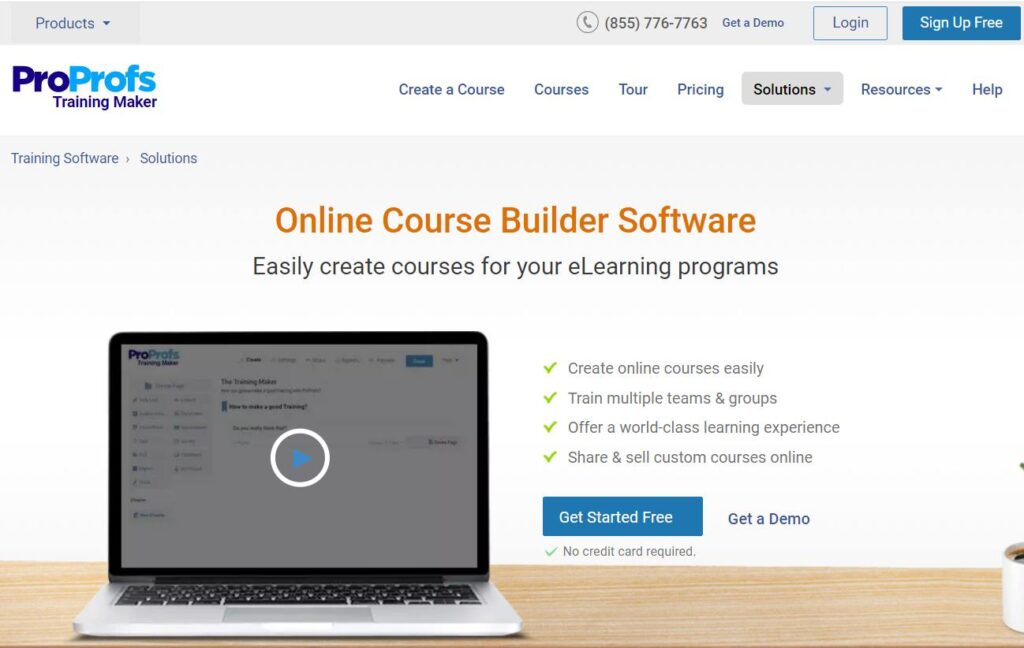 One of the most basic functionalities of a learning management system is its ability to build courses. It lets you build professional-looking courses within minutes. You can add audio and video multimedia files and even upload training materials in Word or PDF format.
You can apply white-label by adding your company logo, messaging, and color schemes to meet your branding needs. You can also organize content topic-wise and by chapters.
Watch: How to Create an Online Course
2. Content Library to Save Time in Course Creation
Some of the LMS providers offer a library of professionally designed courses. Generally, these resources are ready to use with or without customization. Such learner management systems can significantly reduce your course development time.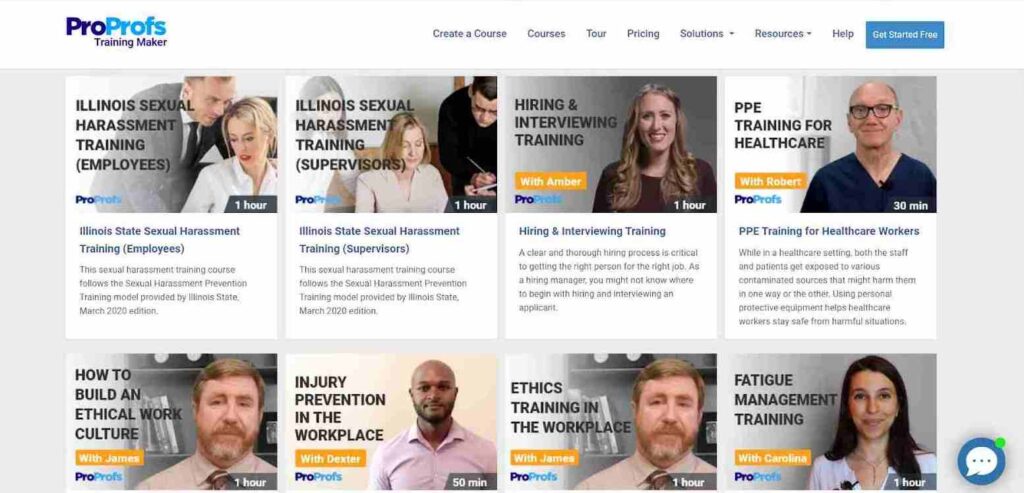 Many people who don't know what a learning management system is don't know that you can also create course bundles out of these courses and provide designated learning paths to each learner or group.
3. User & Group Management for Ease of Administration
Like in conventional classrooms, a learning management system lets you organize learners into groups based on training type, department, location, role, and other criteria.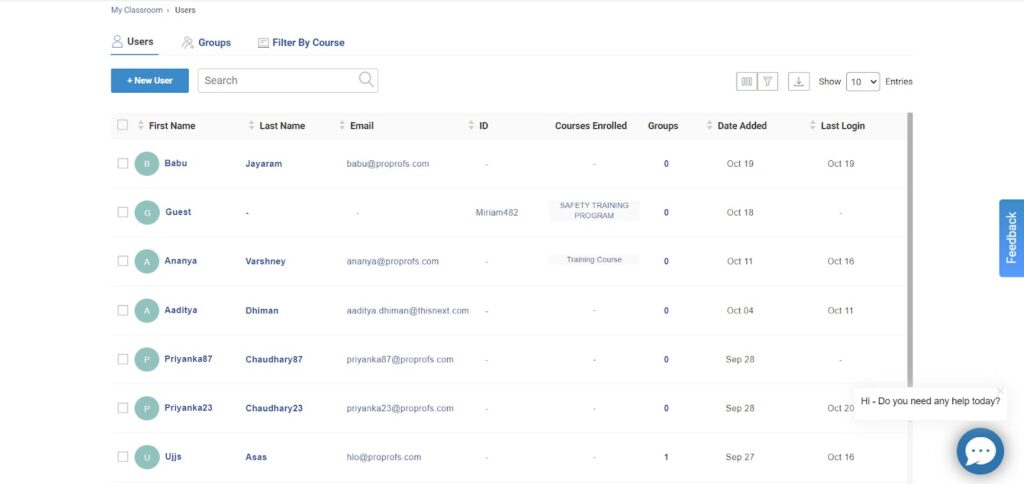 After that, you can do the following:
4. Testing & Assessments to Assess Knowledge Retention
Regular assessment remains indispensable in any outcome-based eLearning program. This is true whether you're training five people or 500.
You should be able to measure progress against your L&D goals with the help of online quizzes.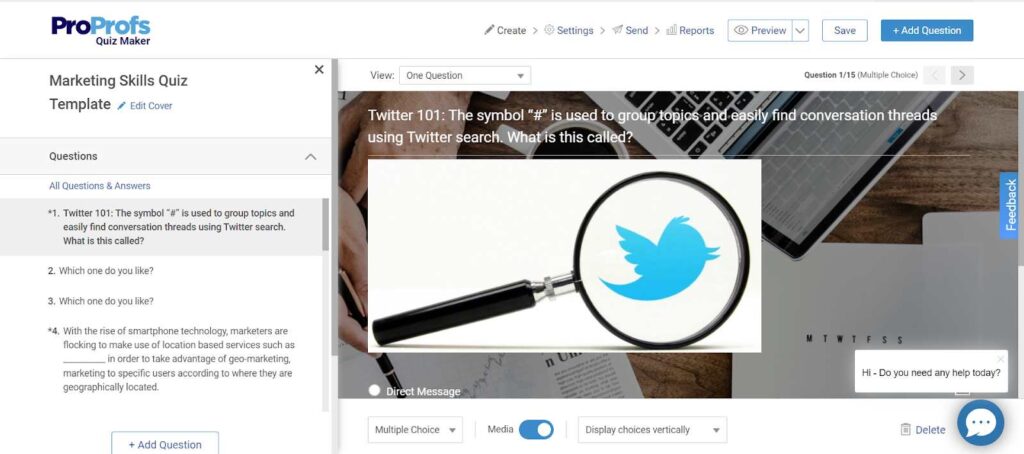 Add these quizzes at the end of each course chapter as a final assessment to test retention. By embedding quizzes right into your courses like this, you make learning more exciting.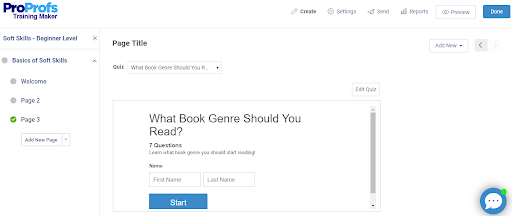 Leverage the social media sharing feature in an LMS platform so learners find your quizzes more easily.
5. Reporting & Analytics to Track Progress in Real-Time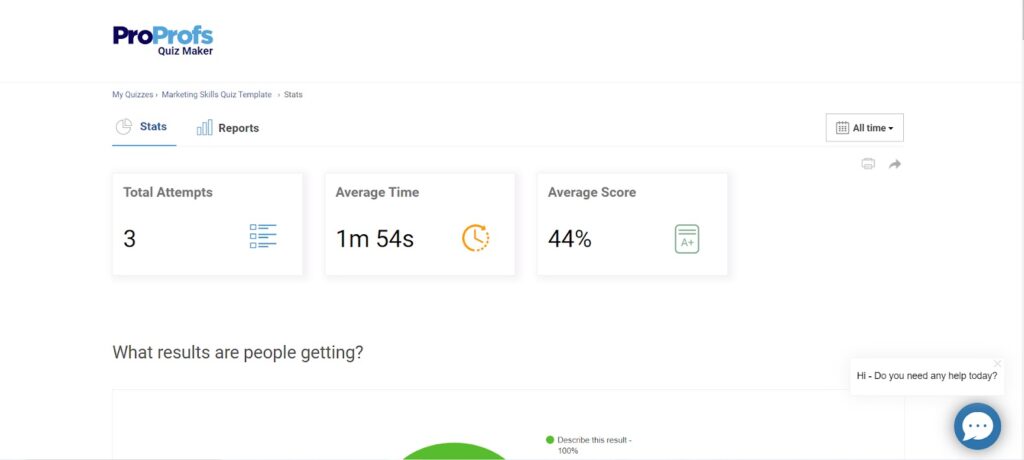 These features in most LMSs let you access actionable learning data as and when you want them. View consolidated reports of individuals and groups. These reports present a bird's eye view of your learners' scores in the form of a grade book.
Similarly, you can filter reports by time, such as today, yesterday, and the last seven days. View just what you need without having to scroll up or down a report.
Watch: How to Analyze Training Course & Quiz Results
6. Multi-Lingual Support to Train a Worldwide Audience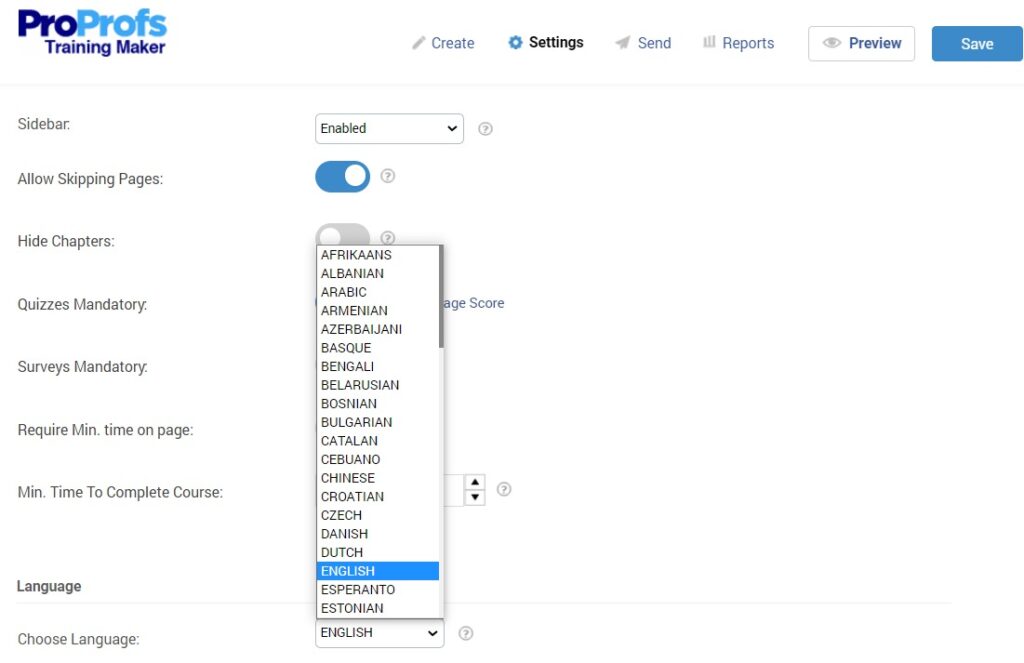 Language is one of the major factors for learners to enroll in a course. Make sure the learning management system you choose supports multiple languages.
Remove language barriers and train learners in the language they prefer. Make your system available in numerous linguistic regions. This will enable you to teach or train a global audience easily.
7. Self-Paced Learning for Better Knowledge Retention
This LMS feature acknowledges that no two learners learn at the same speed. It addresses the need to calibrate learning according to individual needs.
Remove common scheduling issues, and let learners learn at their own convenient pace as long as they meet the deadlines. Enable learners to retake a course or test as often as they want.
8. Collaboration Tools for Group Discussions & Knowledge Sharing
This social learning feature is common in most online training management software. It promotes collaborative learning, which is an essential element in modern learning.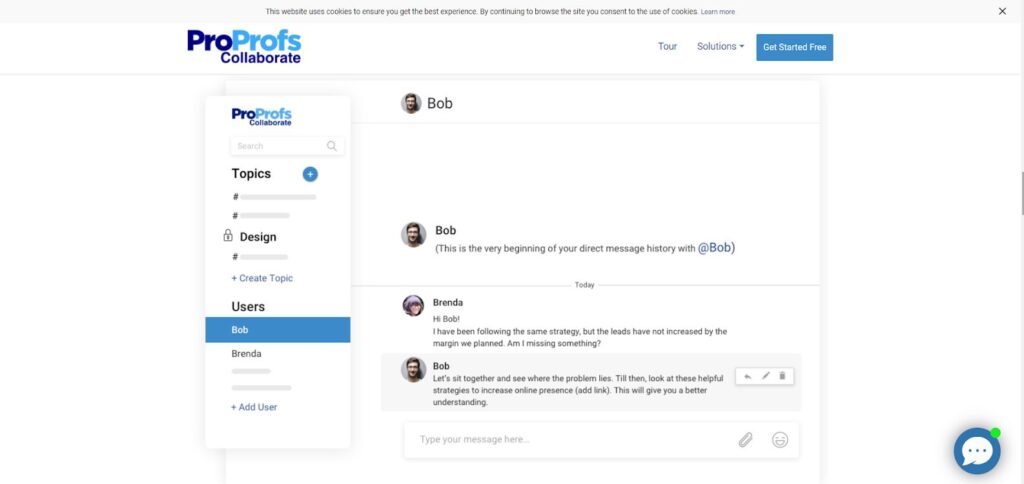 Build an online community of learners and facilitate discussions and collective problem-solving in real-time. Promote higher-level thinking skills in learners through peer-to-peer learning, and boost their confidence.
Read this Guide: How to Integrate Collaborate with Training Software
9. Reminders & Announcements to Ensure Ongoing Compliance
Reminders are another key feature in an LMS for training. These enable learners to abide by course completion or certificate expiration dates.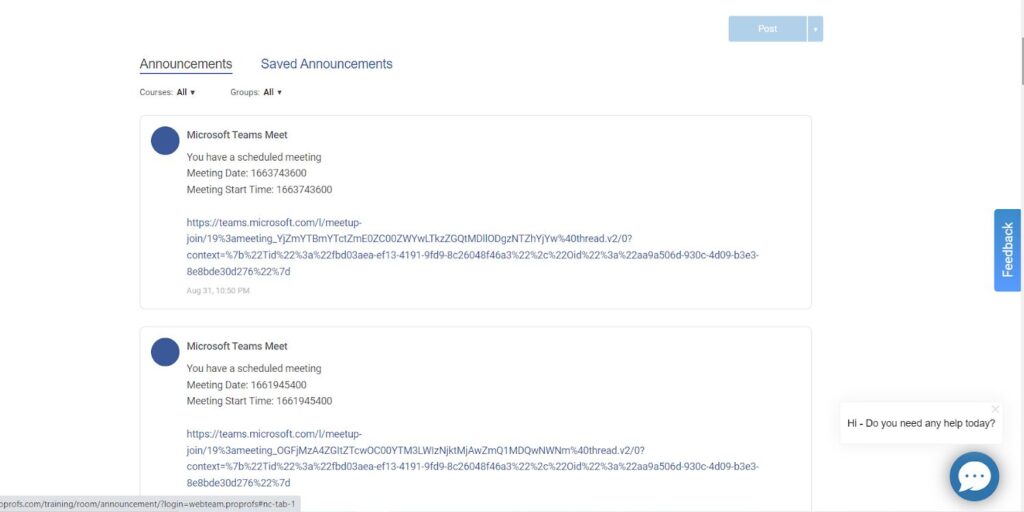 Instructors can use this feature to set a complete-by date for courses or quizzes. Similarly, they can set certificate expiration dates.
Doing so can easily ensure ongoing compliance and achieve a higher course completion rate.
10. Integrations to Leverage Software Interoperability
What if you could get the benefits of two tools perfectly merged into a single platform?
A learning management system makes that possible. No more switching constantly between platforms.
Powerful integrations with popular tools such as CRMs and CMSs bring the advantages of software interoperability to LMS users and make these learning tools more powerful than they already are.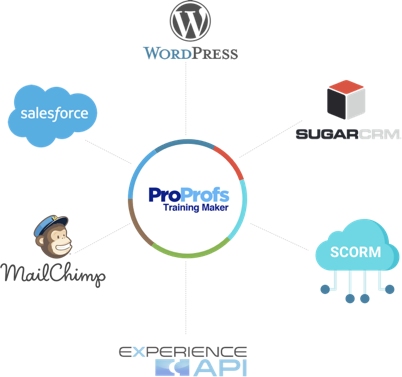 For example, integration between an LMS and SugarCRM allows you to train your customers and channel partners while engaging in marketing automation at the same time.
11. Security & Permissions for Access Control
Some of the top cloud-based LMS training systems available today are easily configurable in terms of security settings. You can set up secure access control and assign user roles and permissions to users.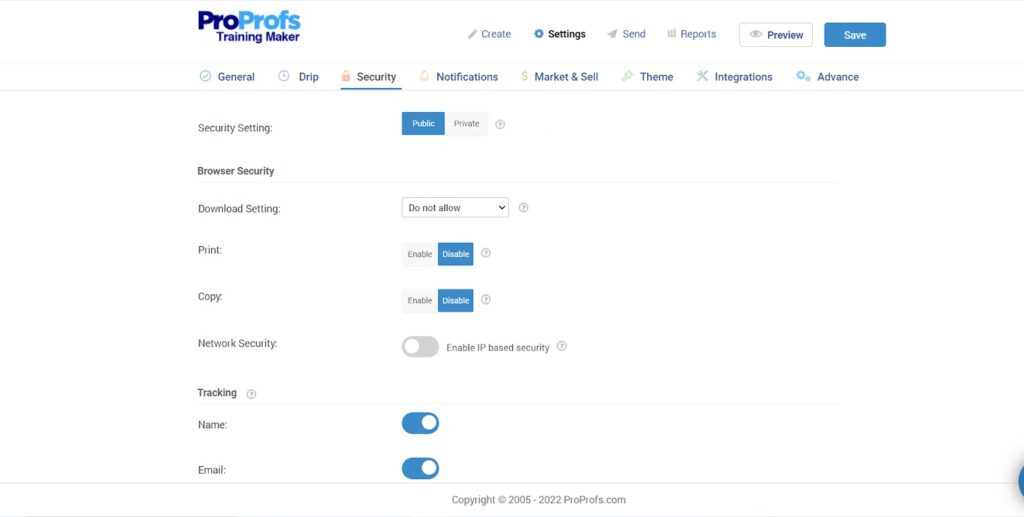 You can also control user login by using Single Sign-On (SSO) and REST API. You can keep your courses public or private through password protection.
A GDPR-compliant cloud LMS ensures personal data privacy and helps build customer trust.
Watch: How to Configure Your Online Course Settings
Now that you know what a learning management system is and what it is capable of doing, let's have a look at its different types.
Types of Learning Management System Platforms
There are different types of LMS based on the hosting type, pricing model, source, and other criteria. They are:
1. Installed LMS
This type of LMS is installed on a local server and maintained by an in-house IT team. It entails setup and IT infrastructure maintenance fees.
It is an LMS available on a web browser via the internet. Software updates and maintenance take place online. It incurs just a fraction of the costs of an installed LMS.
3. Self-Hosted LMS
In the case of a self-hosted LMS, you, as a business or educational institution, are responsible for hosting the LMS yourself. You're in complete control of the platform, including upgrades.
4. Cloud LMS
A cloud or SaaS LMS is one where the vendor takes complete responsibility for hosting the LMS for its clients. The vendor owns and manages the IT infrastructure.

5. Free LMS
Free LMS solutions are for those on a shoestring budget. They come with limited features and suit small organizations with limited learning needs.
This class of LMS is suitable for large-scale, commercial training programs. They come with various premium features, including course creation, e-commerce, scalability, and 24/7 support. Such LMSs are more stable and dependable.
7. Open Source
Any techno-geek will readily understand open-source software products. As a learning management solution, an open-source LMS offers the liberty of development and customization. You have more control over data and features.
8.
Closed Source
A closed-source LMS is one with a proprietary code. Only the provider can make changes to the software and not the end-user. If we talk about smartphones, it is like iPhones, which don't share their original code.
9.
Integrated LMS
LMSs that support integration with other applications come under this category. You can integrate the LMS with HRIS, payroll systems, marketing platforms, CRMs, and many other popular tools.
10.
Non-Integrated LMS
This type of LMS is just the opposite of the above. They offer built-in core features and don't support many third-party integrations. They are usually a one-stop solution and work best if those built-in features are all you need.
How Do Learning Management Systems Work?
Learning management systems take care of the entire training lifecycle – from identifying learning needs to developing, delivering, tracking, and evaluating training programs. See how a cloud LMS such as ProProfs works to users' advantage.
Easily Create Online Courses & Tests
An LMS makes it super easy to create online courses and tests. While you can create these training resources from scratch by uploading your existing material, an LMS with a content library can save you significant time and effort on course development.
Check out this guide on How to Create an Online Course for more information.
Share Courses & Assessments Any Way You Want
Generally, you can share courses or assessments as a link via email. You can also embed them on your website or share them on social media.
Watch: How to Share Your Courses With Learners
A virtual classroom acts as a centralized platform for you to manage all activities. From here, you can add learners, create learner groups, share assignments, track progress in real-time, view detailed reports, and issue completion certificates.
To set up your virtual classroom for the first time, watch: How to Set up Your Virtual Classroom in 5 Minutes
Choose From Customization Options
A customizable LMS lets you tailor the platform according to your unique teaching and learning requirements. You can set up rules for:
Privacy
Course availability time
Security
Notifications
Access control
Easily keep track of where your learners are in a course. View completed and pending courses. Identify learners who are falling behind schedules and take corrective action. View stats by individuals or groups.
View Insightful Reports & Analytics
An LMS' reporting system auto-generates learning data on instructors' behalf. More specially, it does the following:
Monitor individual and group progress
Track completed and pending courses
Show the total time taken
Identify top performers
Show points and scores
Help improve online courses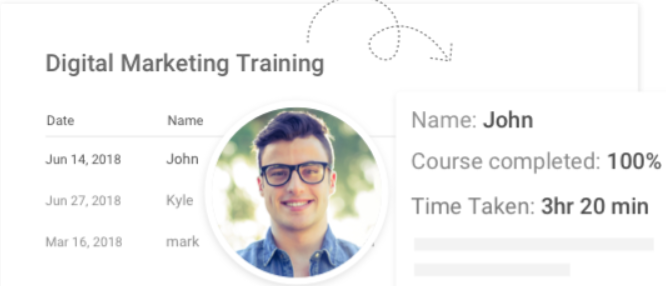 Watch: How to Analyze Training Course & Quiz Results
Who Can Use a Learning Management System?
The answer is almost anyone. Those who are engaged in online learning or training programs and looking to streamline the process can take the help of an LMS. The primary customers or end-users of an online learning management system include:
Businesses of All Sizes
Generally, LMS doesn't discriminate between businesses based on size. All of them can equally leverage these tools to meet their L&D needs, both in-house and remotely. An LMS does the heavy lifting for you to focus on your core training activities.
K-12, Colleges, and Universities
Educational institutions rely on these innovative software applications to make learning more efficient and effective. Ease of administration and seamless learner experiences are the main benefits.
Independent Tutors
Independent and private tutors can take charge of online learning with an LMS. No juggling administrative tasks with teaching. You can automate most of the tasks in a learning management system.
Let's now see a few examples from ProProfs to better understand the use cases.
McKeel Academy of Technology
Problem: McKeel needed a foolproof and sustainable mechanism to test its students. It wanted to get an indication of their level of understanding. It also wanted the students to get immediate feedback after each test. The paper-based assessment that it used until recently was time-consuming.
Solution: With ProProfs, McKeel can easily determine whether students have or have not taken a training or test. Its students also prefer the platform because they receive immediate results and feedback.
McKeel could provide its students with a link, and they then can take training with all randomized questions, and the academy doesn't have to deal with papers.
Result: ProProfs Training Maker has helped McKeel to organize its lessons. It is so easy to make pop training and tests. The results, the data, students' tests, cumulative reports, and stats are all in one place.
Watch another case study on how Tupperware used ProProfs for training employees on leadership, code of conduct, and quality assurance training.
Case Study – How Tupperware Used ProProfs for Training & Assessment | ProProfs LMS
LMS Use Cases
Learning management systems enjoy a large customer base as a user-friendly, highly functional, and effective solution. Corporate sectors, NGOs, healthcare industries, etc., deploy these platforms for different use cases. In this context, let's take a look at the different use cases of an LMS.
Businesses use learning management systems for different employee training requirements, regardless of their industry. Some common examples are onboarding, sales, HR, safety, compliance, and sexual harassment training.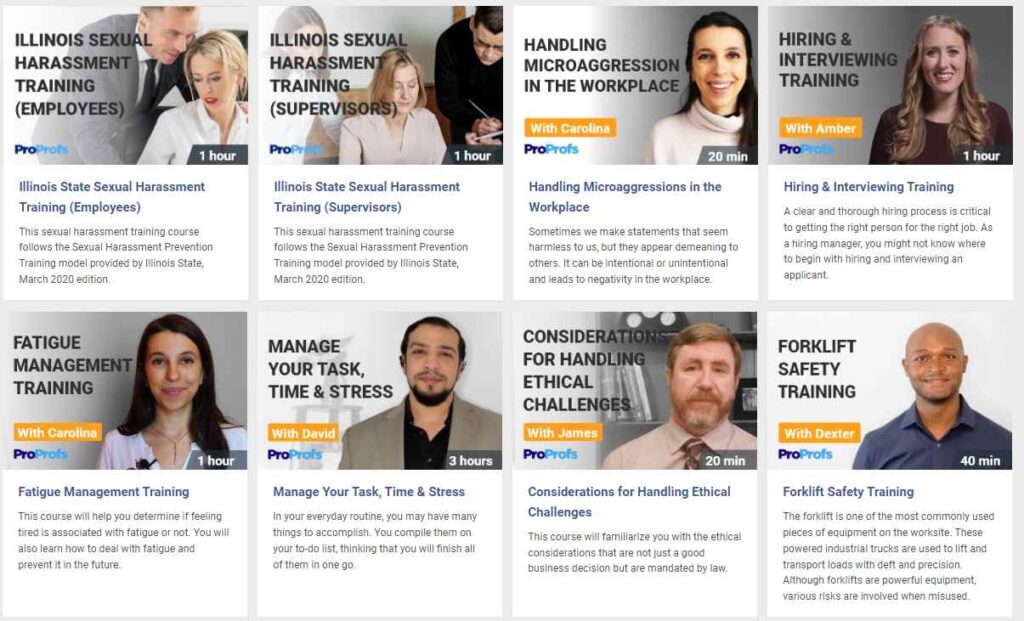 Employee Development & Retention
Hiring and onboarding employees are one thing; retaining them through continuous development is a different ball game altogether.
Organizations use LMS as a support tool in training and retaining current employees. They assign courses to help employees acquire the right skills for the job and grow in their careers.
Whether it is employee recruitment, termination, leave policies, or resolving workplace conflicts, LMS platforms prove useful for countless organizations in deploying HR training.
Watch: What Is Workplace Conflict Resolution Training Course
This keeps HR personnel efficient in their roles and responsibilities and helps build positive and healthy relationships with employees.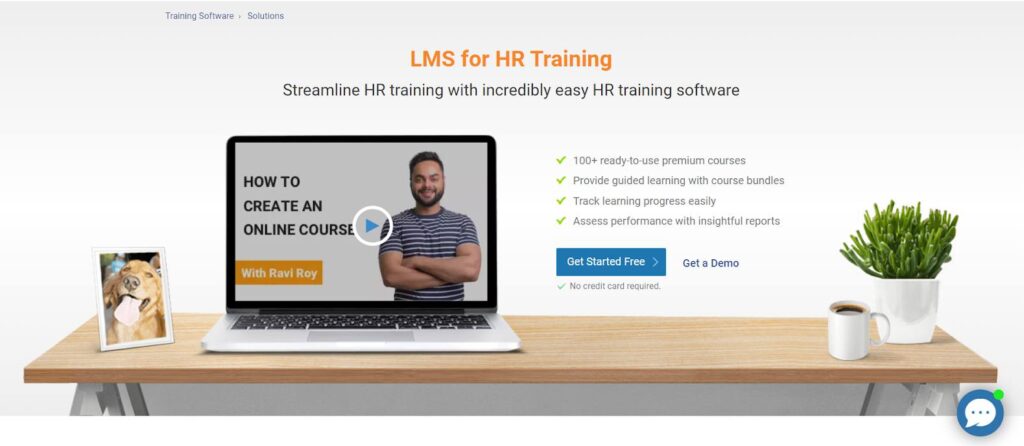 The utility of an LMS is not restricted to employee training. Enterprises also use it to train their customers on products and services.
By providing information and other training materials, an LMS can help educate customers on products and services to extract maximum benefits from them.
Through intensive training programs, many non-profit organizations keep their volunteers motivated, engaged, and clear about their social roles and responsibilities. They often turn to a learner-friendly solution such as an LMS. This tool helps you provide training on admin tasks, fundraising, and spreading awareness.
Sexual harassment training is compliance training mandated by federal and state governments. You can deploy it easily using a learning management system.
Organizations use LMS to train supervisors and employees 1-2 hours every two years or as required by law. You can also train your remote employees with an extended enterprise LMS.
Watch: What Is Sexual Harassment Training?
It is one of the most common use cases of LMS deployment. Employers use LMS to bring recruits up to speed and integrate them successfully into their company culture through various education and training programs.
Watch: How to Create an Employee Onboarding Training Program
Salespeople are central to business survival. Several organizations use learning management systems to train their sales teams and keep them up-to-date with market trends.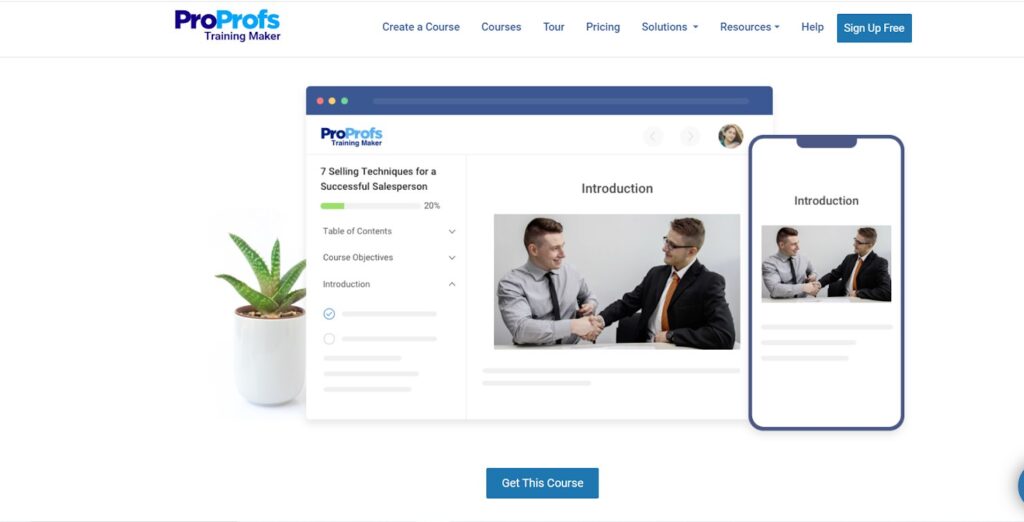 They impart the necessary knowledge and skills to attract potential customers, close deals, generate revenues, and achieve business goals.
This is another area where LMS tools find applications. Employers use these tools to train their employees on workplace hazards and accidents.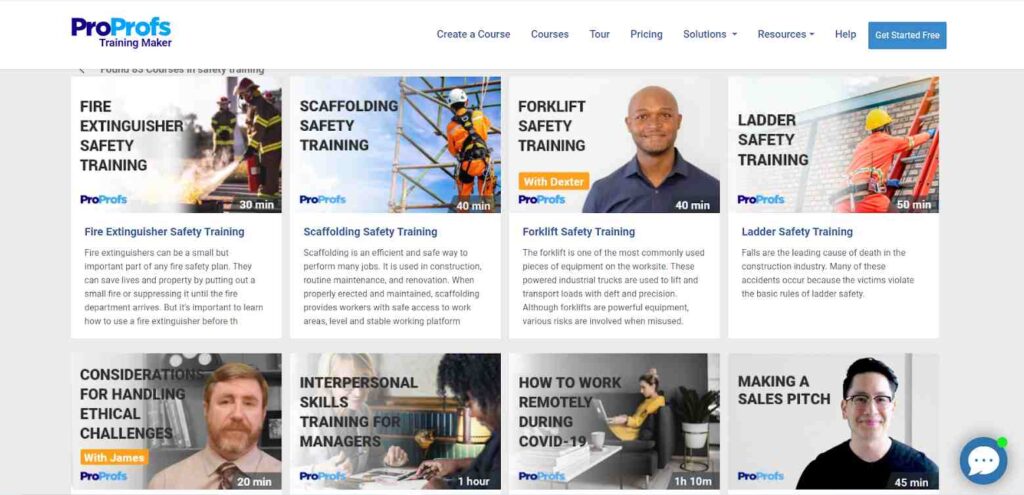 This ensures compliance with industry regulations and keeps employees safe in the workplace.
Extended enterprise training, such as channel partner training, is strategically important for businesses. They can easily train their partners locally and remotely by using an LMS. The training programs encompass onboarding, training, development, and certification.
Online Education or eLearning
In-person teaching and learning are not enough in today's society, characterized by increased mobility and extensive use of personal devices. That's where cloud LMS tools become significant.
Watch: What is an eLearning Course Authoring Tool?
A learning management system supports asynchronous and blended learning online. Teachers and training instructors can use LMS to create and share online courses, quizzes, and tests super-easily. They can also leverage real-time tracking and reporting features.
How to Choose the Best LMS
Even as you read this, several new LMS platforms are released somewhere in the world. But with more solutions, it gets harder for people to pick the right one for their needs. Still, you don't need to lose hope.
Watch: How to Choose the Best LMS Software for Employee Training
Just keep the following learning management system features in mind while shopping. These attributes are highly valued as they work great for any use case.
Ideally, the LMS you choose should be intuitive. The layout, design, and navigation should involve a flat learning curve. This will ensure that you can implement the tool quickly without spending much time learning the ropes.
Courses are at the heart of any L&D program. Without the right tools, you will take a long time to create them. So, you should be able to develop courses through drag-and-drop.
Choose an LMS that allows you to import existing materials through an integrated course builder or provides access to a library of ready-to-use courses.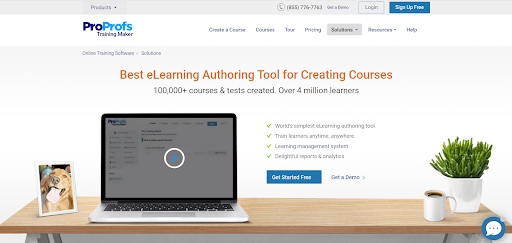 This is another must-have feature. It can help bring learners and admins together in one centralized and secure place.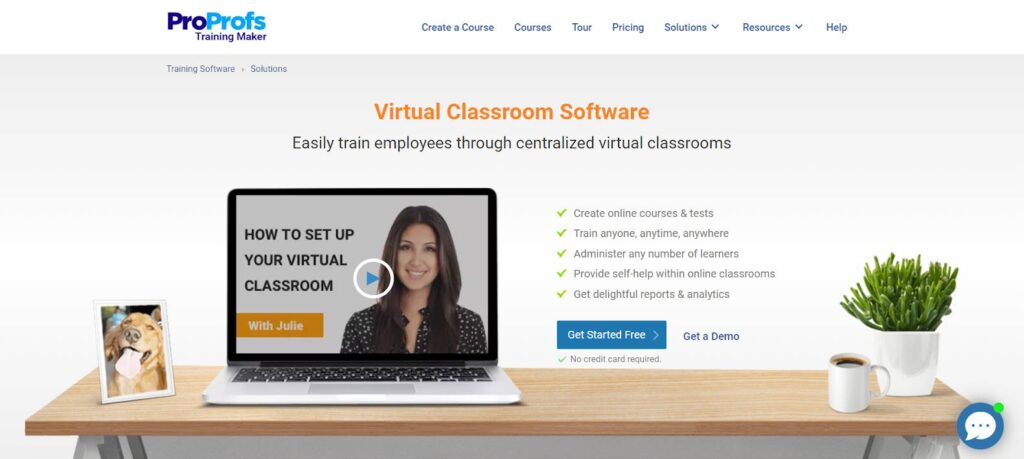 Course assignments, assessments, reporting, and certification – you can do everything via a classroom.
Watch: How To Set up Your Virtual Classroom in 5 Minutes
LMS users have different training and branding needs depending on their audience type and business plans.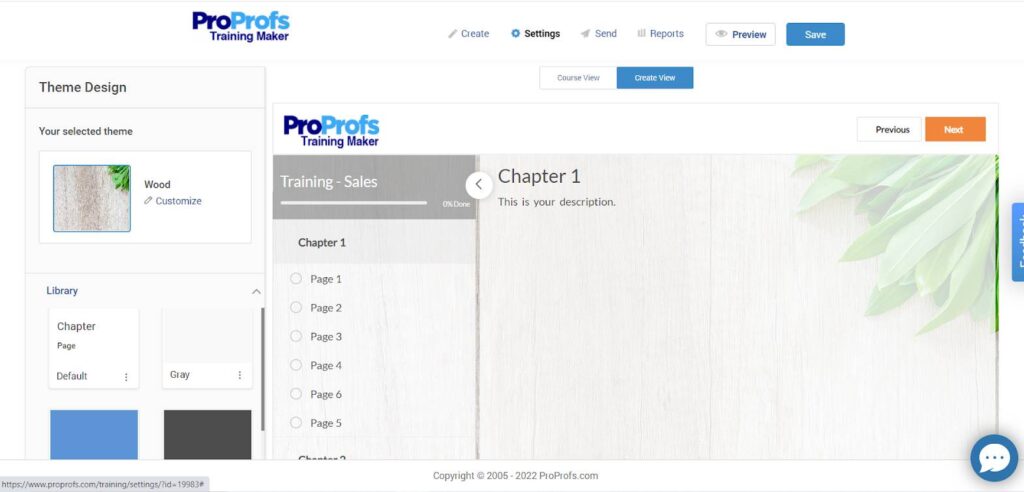 The LMS you adopt should be flexible enough to customize according to these requirements. Make sure it offers settings for privacy, security, notifications, design, and integrations.
A quiz-making tool with templates, questionnaires, and other helpful resources should be one of the primary considerations in an LMS. Also, it would be great if the tool had features like preventing question skipping and the option to record video responses.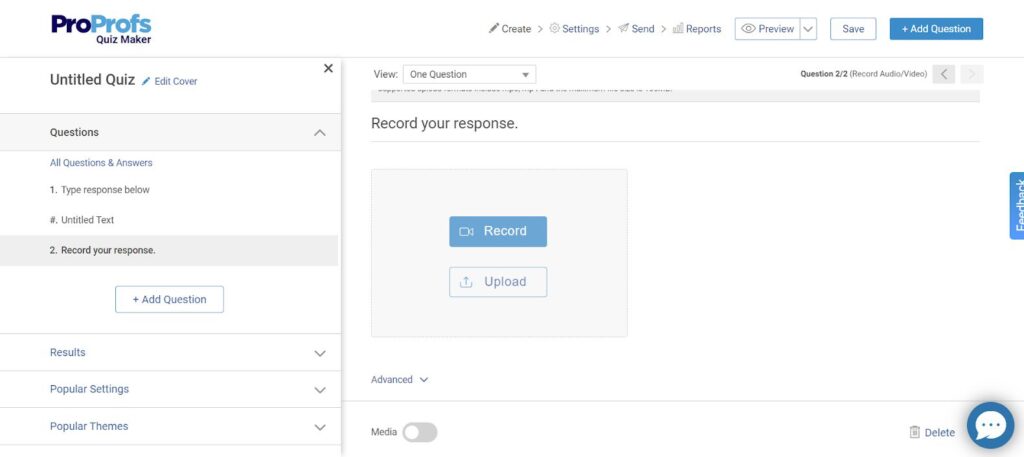 This will make learner assessment easy and quick while keeping your learners engaged with beautifully designed quizzes and tests.
Regular feedback on your course content and instructors is necessary to continuously improve training delivery.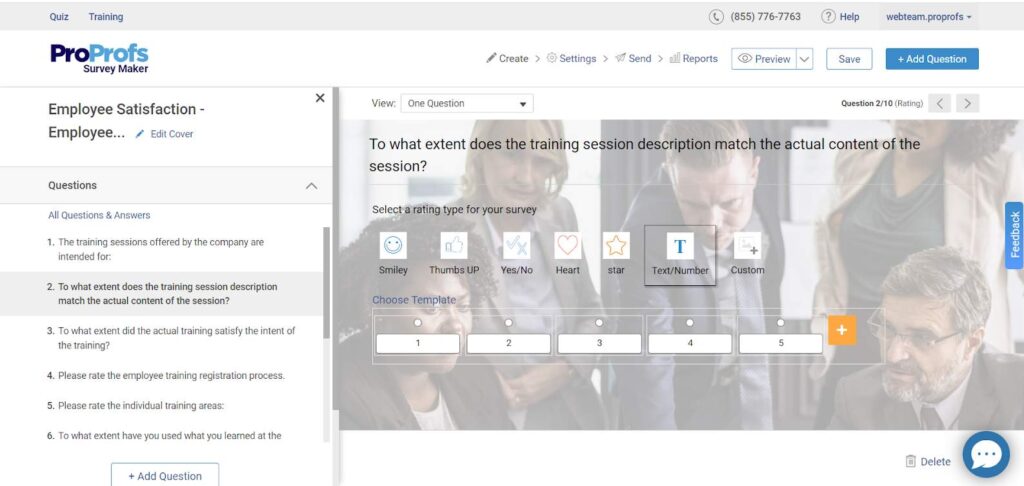 You should find in-app surveys and polls to collect immediate feedback on these areas. This will reveal engagement level, learner satisfaction, and the overall effectiveness of your programs.
For any training to be effective, it should be measurable. You should be able to track learning progress in real-time and get actionable data.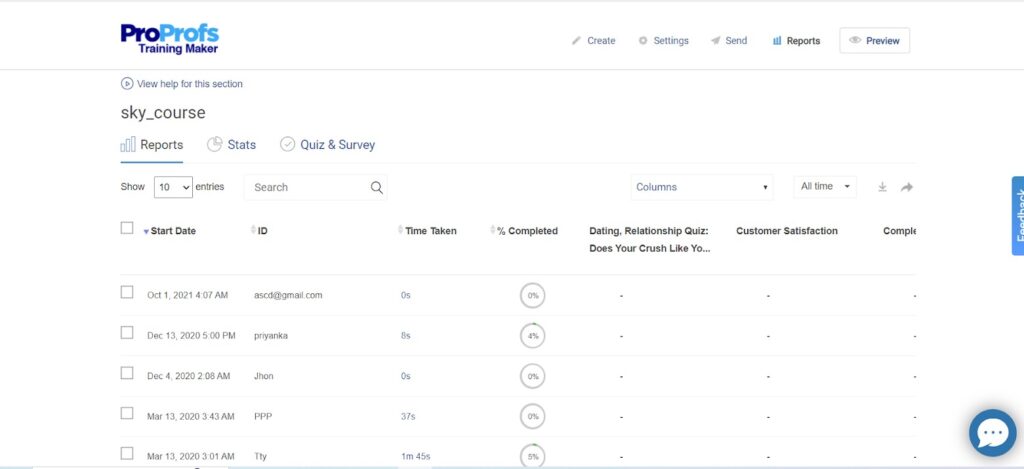 The LMS you choose should offer consolidated reports on individuals and groups to get a complete picture of your learners during and after training.
Never overlook the customer service aspect of the LMS, as it will decide your experience and relationship with it. Go for software with a service that has got your back for after-sales services. They should be available 24/7 through emails or phone calls.
LMS Licensing and Pricing Models
There are basically five different pricing or licensing models for an LMS. Providers use one of these models for their software products.
Model
How Does It Work?
Who Is It Suitable For?
Pay Per Learner
You pay a flat fee based on how many learners are signed into the product rather than for simply buying it.
You're charged irrespective of the usage.
The total price is usually calculated monthly or annually.
The plan is suitable for enterprises that know how many learners they exactly need to train.
Calculating monthly or yearly expenses becomes easier.
Pay Per Active User
You're charged for only users who actively used the LMS during a billing cycle.
Businesses that need to train different batches of learners at different times can avail this plan.
Pay As You Go
It is directly linked to your LMS usage pattern. The price increases only with a peak in usage. You aren't charged for inactive users.
It best suits organizations with inconsistent demands for training. As a result, the final bill will fluctuate from one period to another.
Subscription-Based
You pay a fixed license fee for a certain period and add as many learners as you want. Generally, the price is tiered based on the features on offer.
You know the total cost upfront and do not have to worry about the number of registered users.
Enterprises with a large number of users can benefit from this plan.
If you know the set of LMS features you need, you can easily settle with a suitable pricing model.
Free or Open Source
You don't pay anything for accessing the LMS. But you may incur costs in the software's setup, customization, hosting, and maintenance.
Comes with limited features.
Go for this model if you want the freedom of LMS customization independent of the provider. It gives you features tailored to your specific needs.
However, you need to have your own IT team and be ready to manage with limited features.
10 Best Learning Management System Examples
After learning everything you can about learning management systems, you would certainly want to ask: Where can I find a list of the best LMS software with all the enablements?
Well, we've done the groundwork so that you can sit back and go through the list anytime you want.
Go through the following list of the 15 best LMS systems that can support you and your learners in learning & development.
Frequently Asked Questions (FAQs)
What is a Learning Management System example?
Some of the best LMS examples include ProProfs LMS, Docebo, eFront, TalentLMS, and iSpring Learn. These are the popular enterprise-level LMSs available on the market. They come with almost all the features users need in such a tool.
What is the role of an LMS?
There are many roles of an LMS. In the most basic sense, an LMS facilitates training. It enables you to create, deliver, and track all learning activities in a single platform. It's a virtual hub where learners can access all training materials anytime. The idea is to train all employees irrespective of time and geographical location.
What should I look for in a Learning Management System?
The must-have features of a Learning Management System (LMS) include course authoring tools, customization options, readymade templates and courses, assessment tools, and reporting and tracking facilities. Check if the LMS supports multiple languages and has an intuitive interface. It should be easy to use, and learners should be able to access training materials 24/7 from any device. Click here to know more in detail.
How can I get the most out of my LMS tool?
There are plenty of ways to make the most of your LMS tool. Make your content engaging and meaningful, create learner groups and assign relevant courses and roles, gamify the learning experience, provide certificates on completing assignments and tests, and encourage employees to provide feedback.
Kick-Start Your Delightful LMS Experience!
Online learning management systems are the backbone of modern workplace training programs. They act as a one-stop solution for both training managers and learners. Using them, you can streamline and standardize online training for optimal results.
Switch from old-school learning practices to a fully virtual training experience with an LMS. Easily create online courses and assessments and train employees, partners, and customers, in-house or remotely.
Do you want a free Training Software?
We have the #1 Online Training Software for employee training & assessment