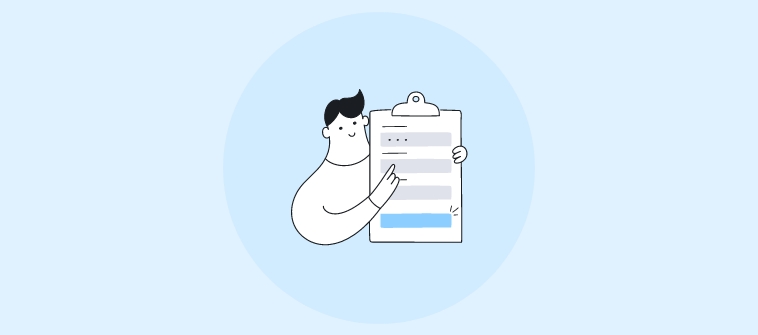 Whether it's corporate training or an eLearning program, it can never be a shot in the dark. As a business owner or instructor, you often invest your time and money in organizing training sessions.
That's why, such programs should be measurable to see if they are effective and meet the learning goals.
Above all, you'll need to align the training with your business objectives.
One of the best ways to ensure positive outcomes from online training is to add surveys and include the right training survey questions.
Why surveys?
Surveys help you collect feedback on all types of training programs, including leadership training, diversity training, or sexual harassment prevention training. Based on this, you can make necessary changes to enhance the learning experience.
Clearly surveys are extremely crucial in online training.
But creating them is a pain, right? Especially thinking about what to ask.
Don't worry, in this blog you'll get the top 26 effective training survey questions that you must add in your surveys. But before that, find out why and when you must conduct a training survey and get valuable tips on how to make your training surveys effective.
What Are Training Surveys?
Training surveys are evaluation tools that help understand a training program's effectiveness. They are used in the process of collecting qualitative and quantitative insights from participants to make changes to the training program and improve the learning experience.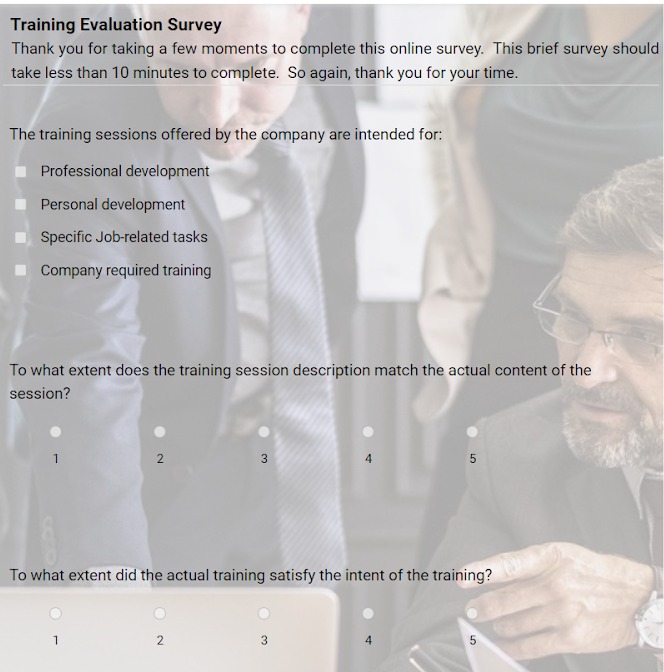 You can easily conduct training surveys in online and offline modes. For example, you can share online surveys through social media, website popups, email, and more.
Similarly, you can conduct offline surveys through newspapers, feedback at events, and kiosk surveys. You can print and distribute the survey to your audience in this mode.
Employee training survey questions can be of different types, such as open-ended and closed-ended questions.
Let's take a look at each of these types.
Open-Ended Questions
Open-ended questions are not governed by a simple yes or no response. In other words, these surveys let the respondents share descriptive answers, giving them the space to explain their opinion in detail.
There's no strict word limit within which they need to answer. This type of survey is applicable in cases where your audience has more than one idea to share. The main benefit of open-ended questions is that you can get meaningful and qualitative information from the respondents.
You can ask open-ended questions before a training session because it keeps you abreast of your employees' knowledge. In other words, it becomes easy to find the knowledge gaps, and accordingly, you can create your training program.
Sample training survey questions of this type include –
What is your expectation from this course?
What skills do you want to improve after completing the course?
Which topics would you like to learn during training?
Closed-Ended Questions
Closed-ended training evaluation questions provide quantitative information. These questions have pre-defined answer choices, and your respondents can pick a suitable answer. It can be multiple choice questions, yes or no, agree or disagree, and satisfied or unsatisfied.
Let's understand the different types of closed-ended questions in detail.
Multiple Choice Questions – You provide multiple answer options in this type. You can also add the 'other' option if the respondents find other choices irrelevant.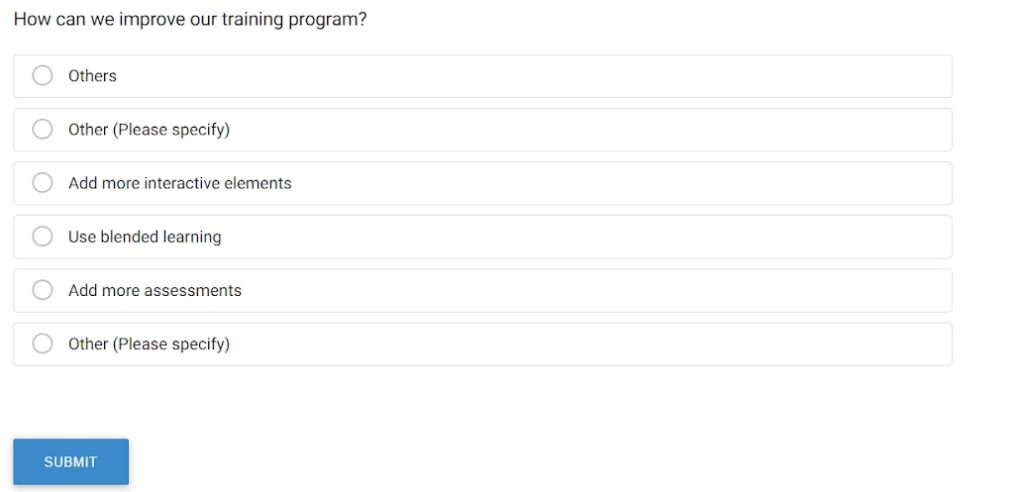 Likert/Rating Scale – As the name suggests, these questions use psychometric testing to evaluate your respondents' attitudes, beliefs, and opinions. It gives an idea of how much they like your training program. In this type, you let the respondents share their satisfaction levels.

So, from the above discussion, we can say that training survey questions for employees, be it online or offline, can help in:
Determining training effectiveness
Assessing the satisfaction of participants
Evaluating the effectiveness of the instructor
Knowing the kind of training you need to offer

If you're conducting online surveys, make use of software that has all the training survey templates and pre and post survey questions examples in it. This will save you time and money on survey creation.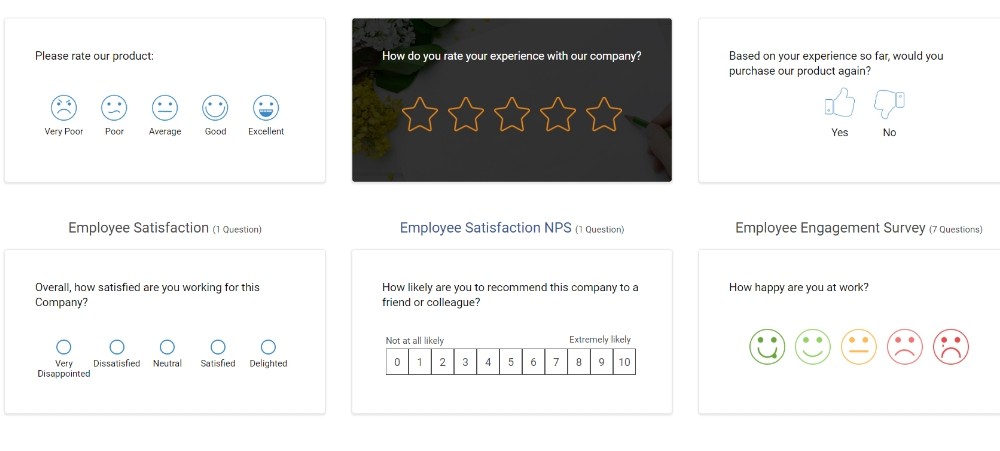 Pro tip: You can conduct all these surveys easily if you make use of an LMS that supports survey integrations as well. You can embed surveys at any point right within the course to collect anonymous feedback that can be analyzed to see how learners feel about the course. This, in addition to the training reports can give you a complete picture about your learners.
Watch: How to Analyze Training Course & Quiz Results
Now, let's now understand why you must conduct surveys and which are the best training feedback questions that you must incorporate in your surveys.
Top Reasons to Conduct Training Feedback Surveys
Continuous training evaluation is essential to understand not just the effectiveness of the training program but also the instructor, learner activities, and course delivery methods. The results from these evaluations help make necessary improvements and changes to your training program.
In this context, let's understand the main reasons for conducting surveys and adding the correct training survey questions.
Measure the Effectiveness of the Training Program
With surveys, you can get actionable feedback on the overall effectiveness of the training program. Surveys help you collect substantial data on your training program, such as
how relevant the program was,
what new skills were learned, and
what improvements the learners want to see
In a nutshell, you get a holistic view of your training program.
Make Improvements in Your Training Program
Training feedback survey questions help you make essential adjustments and changes to your training program. The evaluated responses are instrumental in improving your overall training program.
Know the Learners' Reaction
By asking questions such as – 'how much did you enjoy the training?', 'did you like the course content?' you can understand the learners' reactions.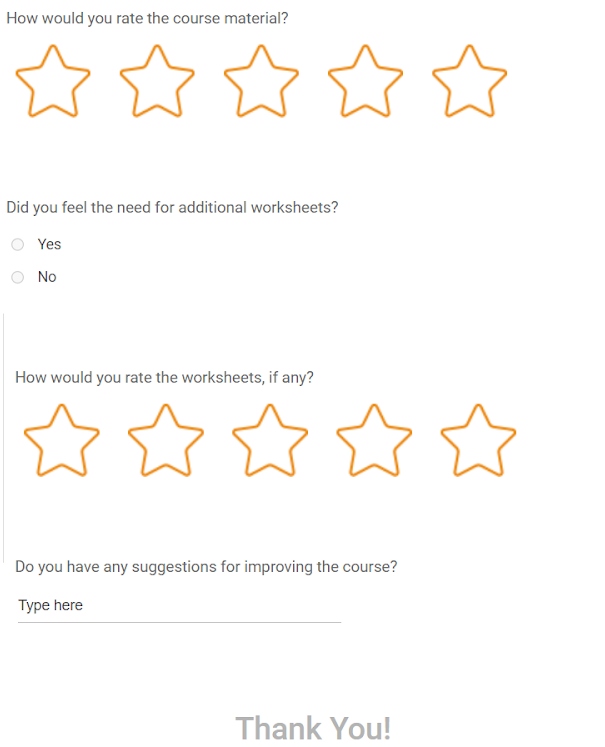 You can understand what they liked and what they didn't about your training program. Surveys can also help you understand how engaged your participants were throughout the program.
Improve Relation with Participants
Training feedback surveys go a long way in establishing a strong connection with your learners. You not only assess knowledge retention but also give them the chance to share their opinion regarding your training program. This creates a sense of engagement and a feeling of oneness.
When to Conduct a Survey for Training Feedback
The best time to run a training survey is right after the training session, when your participants' minds are still fresh. This will reveal whether the training created the right impact and whether learners learned in the best way possible.
In addition, you might consider surveying before delivering the training. This will help you assess the training requirements, knowledge gaps, and preferred delivery methods of would-be participants. Even quizzes can help you with this.
In fact, you can also ask questions for feedback on training during the trainingl. After every course/lesson, you can find out how helpful the content was or how much your learners were able to understand the course content.
Here are some examples of training survey questions that you must include in each survey stage.
Stage 1: Before Training
Pre-training survey questions for employees provide an idea of what your training participants expect from the program. This can be in terms of the course quality, proficiency of instructors, and other key takeaways.
Here are some examples of training survey questions that you can ask before the commencement of training:
What do you expect from this training?
The chances are that your training participants don't have the same expectations from the training as you. That's why it's essential to know their expectations before you deploy the training.
Surveys can help you find their training needs, and you can use their responses to adjust the course to meet training expectations. Doing this can improve the overall effectiveness of the training.
What topics would you like to learn during the training?
This question will highlight the participants' interest areas based on their learning needs. Is it leadership training that they would like to focus on initially? Or is it some role-based technical skills that they require to adapt to the work environment quickly?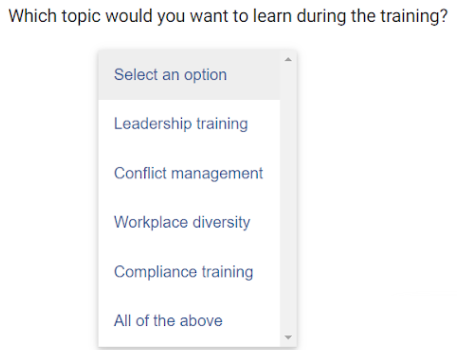 Whichever is the case, it's a good idea to understand their preference first and set up the training accordingly.
Have you taken any similar training before this course?
If your participants have already taken a similar training, chances are they won't be interested in learning the same things again. If they respond yes to this question, you should further ask them to elaborate on the areas they have covered previously.
Based on that, you can add new topics to your training program, whether it's diversity training, or sexual harassment prevention training so that they can learn new things about the same subject/topic.
What is the performance problem you're experiencing?
Unless it's compliance topics, most training programs intend to address some performance or productivity issues. Employees are expected to contribute to business growth and goal achievement to their best capacity.
So, a question like this will reveal the learning needs of your training participants to bridge any gaps in knowledge and skills. It will help you address them directly through training and make everyone's effort worthwhile.
Pro tip: You can use such surveys across online training programs like these: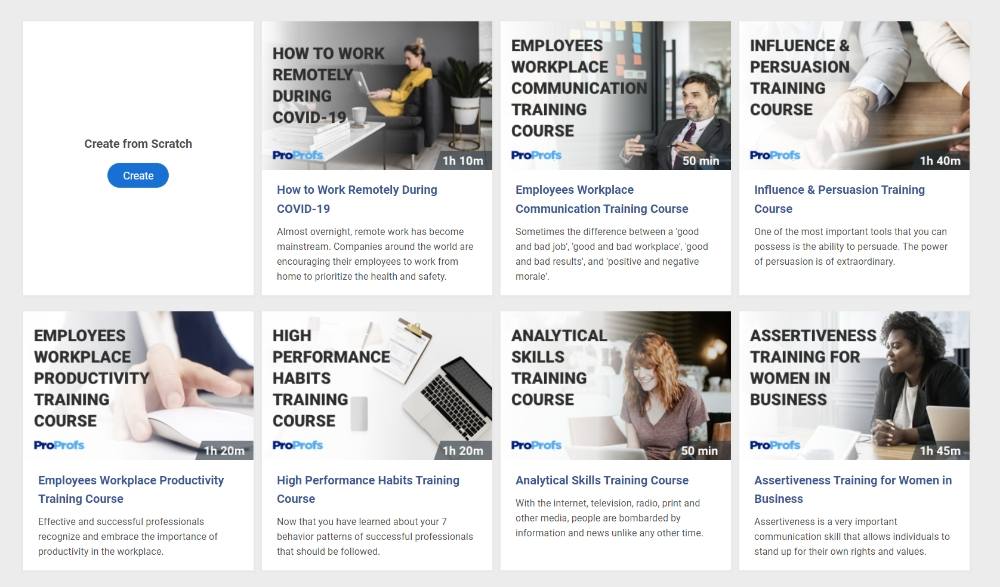 Which skills do you want to improve during the training?
If your participants feel they need improvement in certain areas of their job, obviously, they will be specifying those skills.
It can be learning soft skills, acquiring the skills to do teamwork, or time management skills. It's about understanding the expectations of your learners.
Watch: How to Manage Time | Training Course Introduction
Stage 2: During Training
Adding a training survey feedback after each lesson or course can be extremely helpful for understanding if your learners are enjoying it. When you embed training surveys while the training is on, you get to know how each lesson is performing.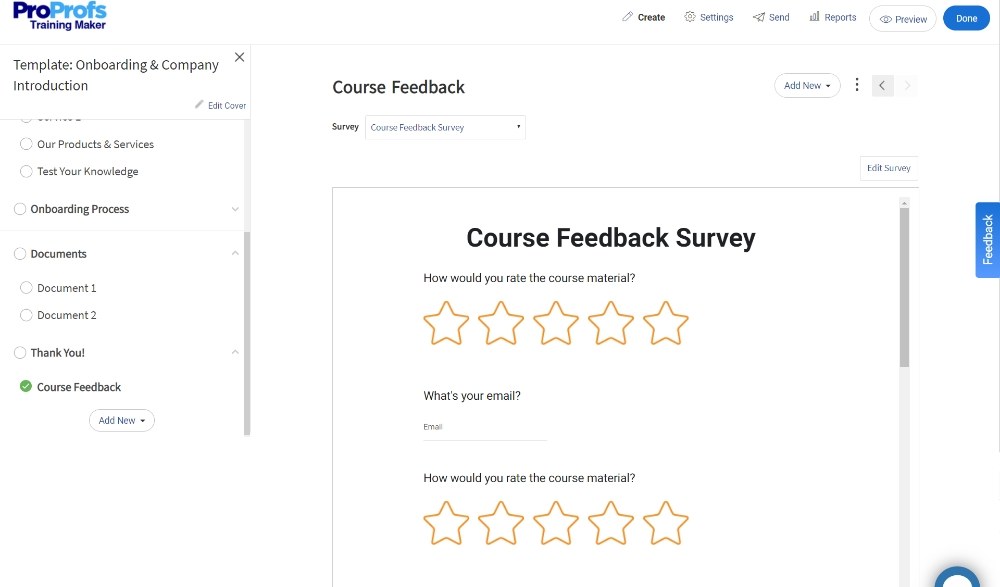 Are you happy with the training?
This question helps you understand if your learners are happy with the training program. You can measure your participant's satisfaction levels by asking this question.
Based on the response, you can improve each lesson and add all the missing elements to improve the course quality.
Is the language used in the course easy to understand?
This is one of the most important training evaluation questions you must ask. No matter what subject or topic you teach, choice of language is critical. You should speak to your course participants in a colloquial language like you would do in person. Avoid using complex words or jargon.
This will remove any room for confusion and misinterpretation and enable learners to learn faster and better.
Which part of the course are you enjoying the most?
Since a course will have several topics and sub-topics, you can ask this question to determine which part of the course your learners have liked the most.
This response will help you understand why learners have liked a certain part of your course, and accordingly, you can also make improvements to the other sections.
How engaging is the training content?
A course can be engaging when you combine texts and other interactive elements such as videos, images, audio, PDFs, and more. While developing training courses in a short time, you may miss including all the essential interactive elements in them.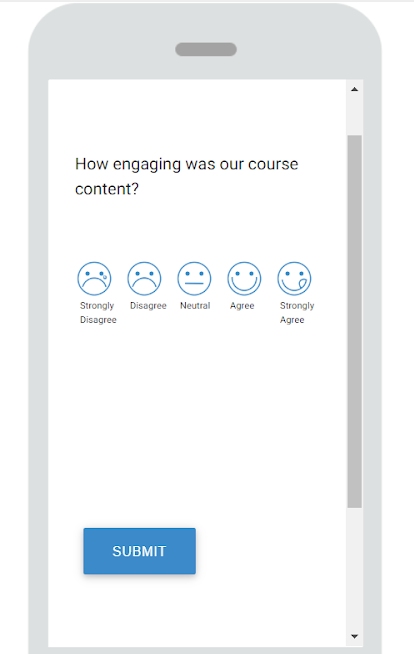 Not including these means a lost chance to learn effectively. This survey question will give an idea of what you should include in your future courses.
Are you able to view the course on any device?
This question will help you gauge the comfort level of your learners while taking a course. You should know how they took your course, when, and where. An understanding of their learning habits is key to perfect training delivery.
Are you liking the flow of the course?
Do your learners find the course logical, consistent, and easy to follow? Are there distinct separations between different sections? Do they find each section equally engaging?
These are some insightful evaluation questions for training that will throw light on the course's flow.
Are you facing any technical issues while taking the course?
Technical issues of any kind can ruin a seamless learning experience. It can be a bug, downtime, or freezing. Identifying and resolving them will offer a positive experience to the participants.
Depending on the response to this question, you can troubleshoot the issues and rectify them so that learners can engage in uninterrupted learning.
Stage 3: Post-Training
In addition to the above survey questions we discussed earlier, you can ask a few more important post-training survey questions. This will address the problem of not knowing which questions to ask at this stage.
Find out.
Was the class size of the training optimal?
The size of the training group should also be on your radar. The course participants should feel that they were treated equally and that their needs were met.
This after-training survey question will indicate whether your learners felt at ease in their group. Along with a 'Yes' or 'No' reply, give respondents some space to add a comment to elaborate on their replies.
This will help you change the number of enrollees per session for better results.
Response type: Yes or No. You may consider revising the instructor-to-class size ratio if the response is negative.
How much time did you take to complete the course?
It's essential to identify whether your learners have sufficient time to review all the course topics thoroughly.
Response type: In this case also, a yes or no response would suffice. If you want a more elaborate answer, you can ask them to pinpoint the issue they faced.
Are you satisfied with the length of the lesson?
If your lessons are too lengthy, chances are your learners will skip the lesson and move on to the next. When they skip a chapter, they might miss out on some of the important areas, making the learning process ineffective. You need to keep your chapters short and crisp.
Response type: Again, this survey can be based on a yes or no reply. If the answer is no, you may consider revising the length of the topic.
What did you specifically learn that you think is new and invaluable to you?
Different learners learn different things at the same time that you allocate to a course. That's why it's interesting to know, as an instructor, what exactly each of your learners learn through your course.
This will provide you insights into the values your course is adding to their learning and development (L&D) process.
Response type: The answer for this post-training survey would generally be in the free form of 1-2 sentences as your respondents share what they find most valuable about the training.
How did you feel while going through the course?
This question can help you know what's on your learners' minds.
Did your learners feel excited while taking the course? Or did it bore them to death? These are some of the questions that you'd certainly want an answer to right from the moment you deliver the course.
Response type: Learners can respond to this question by choosing from various emotions, such as great, indifferent, bored, and discouraged.
Could you complete the assessment within the stipulated time?
If you have assigned a time for completing each assessment, you need to know whether the time is sufficient to complete all the answers. To make learning effective, learners should be given at least 30 seconds time to complete each answer.
Response type: This survey can be a yes or no response type. If the answer is no, you should give them some space to mention how much time they feel would be sufficient for completing all the questions.
Did you find the course content helpful?
Feedback questions on training like this are a great way to derive useful information about your course. They help you identify whether the training content meets the expectations of the course participants.
For instance, if your respondents conveyed that the training failed to meet their expectations, this possibly indicates a problem with the course content.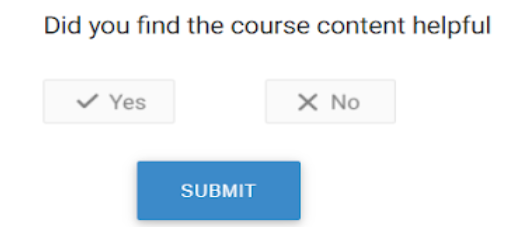 Response type: Generally, respondents can answer the question with a simple 'Yes' or 'No.' If you wish to get more detail, you could include a 'Why' or 'Why Not' question.
Pro tip: For this you'll need to apply branching logic in the survey. Here's how it works.
Do you think the ideas and concepts in the course are easily applicable?
When we talk about workplace training, we talk about applying whatever the employees have learned during the course of training to their day-to-day job responsibilities.
So, it's important for corporate instructors to learn about the practicality of a course. It would be meaningless if it were just like studying for school exams.
Response type: Survey takers will answer this question with a simple yes or no. If you want more detail, you can add a "why" and "why not" to the end of the question.
Was the training relevant to your job role?
Participants should be able to establish a connection between the training and the value it adds to their learning & development needs. They should find the program relevant and meaningful to their job roles.
To get to know how appropriate it's for them, you should ask this question.
Response type: Like most answers to survey questions, the answer to this question will be a "yes" or "no." If the answer is a no, you may add room for explaining what the participants thought was irrelevant and inapplicable.
Any suggestions on improvement that you would like to share?
This is one of the most important post-training survey questions that you should ask. No matter how many high ratings your course received, there's always room for improvement.
As long as you're open to constructive suggestions, your training will continue to improve in quality and the value they bring to learners.
Response type: Depends on what your training participants think the need for the course or overall training improvement is.
Would you recommend the training to your colleagues?
A willingness of course participants to recommend your training readily to someone they know is another indication of its success. A 'Yes' or 'No' response is most common for this kind of question.
You may also add NPS scales to check how likely they are to recommend your training program to their colleagues.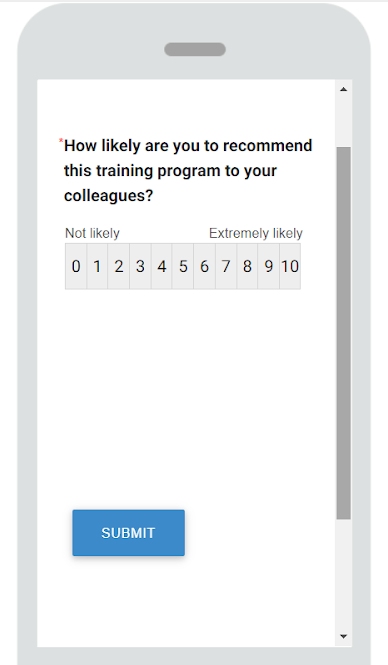 Response type: It can be a yes/no, or you can add NPS scales.
Would you love to take a course like this again?
It's a simple 'yes' or 'no' training survey question, but it can be a strong message indicating the success or failure of your course.
A willingness to take similar courses in the future shows that your learners find the current course interesting and helpful. On the other hand, a negative response is a signal for you to revisit and examine what is wrong with the course.
Response type: Yes or No.
How would you rate the overall training?
You can ask your learners to rate the overall training on a scale of 1 to 5, 1 being poor and 5 being outstanding. Or, you may ask them to rate it from worst to excellent.
This will give you a fair idea of how your online training turned out. A majority of low ratings indicate that your training failed to give the impact you envisioned, which provides you a chance to revisit it for a post-mortem.
Response type: Participants can rate on any rating scale, like numerical, descriptive, smiley, or comparative scale.

Watch: How to Create Online Surveys Easily
How to Make Your Training Survey Questions Effective
There are always certain ways to create your survey questions. It doesn't matter whether you're talking about online HR training, customer service training, or channel partner training; the same rules apply everywhere. Among those rules, the following can be helpful:
1. Keep the Surveys Short
Keep surveys as short as possible. Ideally, a survey should be made up of 10 questions maximum so that participants can attempt them in just 2-5 minutes. This will ensure a higher completion rate and check the number of dropoutsdropout-offs of respondents.
If there are many questions, learners cannot give sufficient attention to each as they race to complete them. This can jeopardize the accuracy of the results you're expecting.
2. Choose a 4-5 Point Scale
A rating scale of 1-2 is too less, while anything above 5 can be too much. Give learners an optimal range to decide their response. This will make it easier for them to choose an option.
3. Never Force Learners to Make Comments
Sometimes, people do not have anything to say. Respect that. Don't make filling out a comments field mandatory unless you request the respondents to type in some random text just to complete a survey or skip it altogether.
4. Use Statements, Not Just Questions
Give participants the chance to respond to survey questions for training effectiveness beyond a mere yes or no answer. Let them rate their level of agreement with your statements.

5. Avoid Vague Questions
When creating feedback questions on training, make sure they are not vague.
For instance, you have asked a question – ' Is the length of the training fine?' with agree or disagree as a response option.
If a respondent disagrees with this statement, does it mean it was too long or too short?
There is no simple way to know.
Remember, when you make your survey questions effective, you work towards training effectiveness. Questions should be clear and specific so that each respondent can answer properly. Use neutral language, avoid jargon, and keep out personal preferences or opinions out of your survey.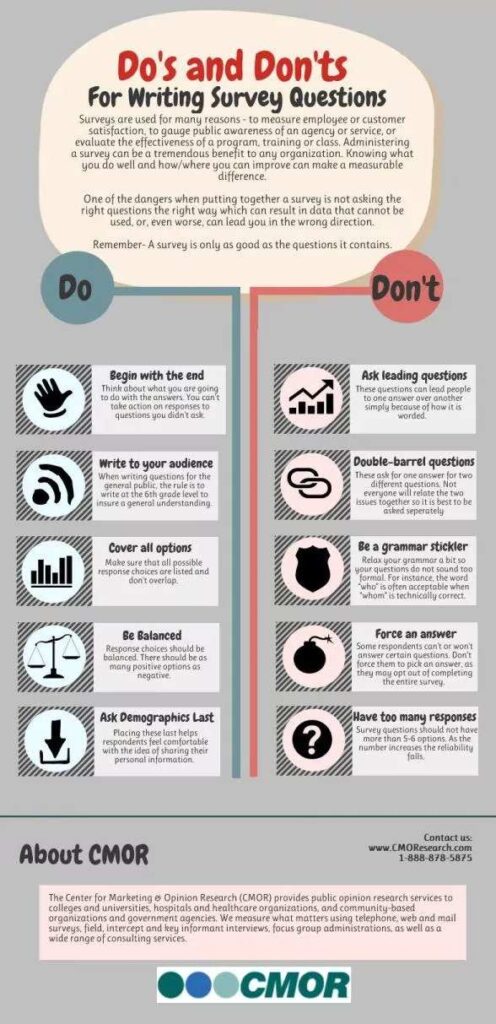 (Source: cmoresearch.com)
Create Engaging Training Survey Questions for Your Learners
On many occasions, you'd find that your training survey questions are to blame if you're not getting the right responses from training participants.
If you know what you want from your online training, framing the right feedback survey questions for training will take just a few minutes.
The simple rule of thumb is:
ask the right questions
get the right responses
improve your training
sustain it
Remember: A training program can be effective only when you continuously improve it. Just like asking the right questions is important, reviewing all the survey answers is crucial for developing and improving future training. But most importantly, getting the right tools in the form of a robust training software that lets you create and modify courses easily and also lets you plugin surveys can go a long way in making all of this possible!
Do you want a free Training Software?
We have the #1 Online Training Software for employee training & assessment