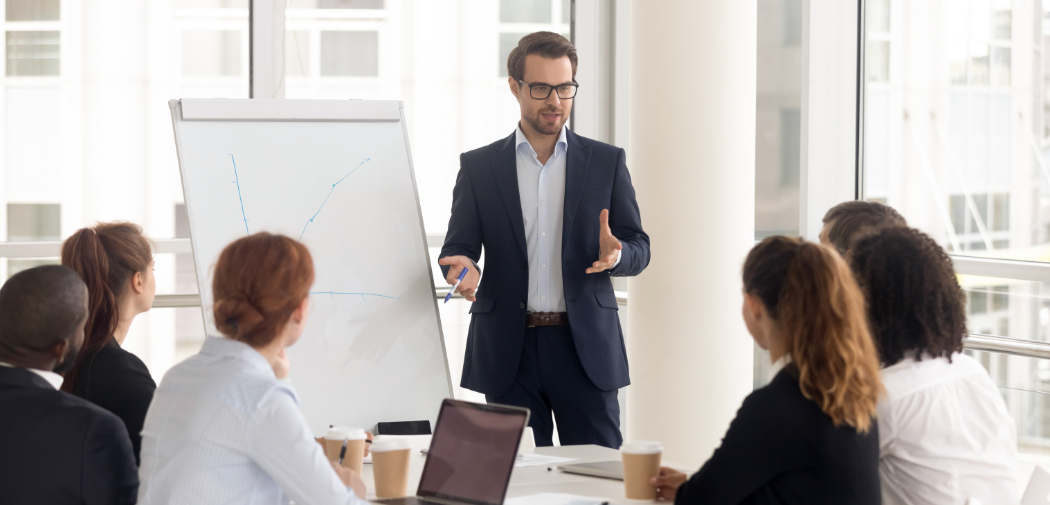 What Makes a Sales Training Course the Best?
The best sales training courses are designed by industry experts. Mobile-friendly design, ease of customization, and clear-cut learning objectives are a few identifying features of these sales training courses. Such courses also support the assessment of course participants, for example, with fun and engaging quizzes.
According to the Association for Talent Development (ATD), most companies spend $954,070 on sales training on an average.
And for every dollar a business spends on sales training, it receives back about $4.53.
So if you look at the ROI of sales training, it is worth all the investments.
That's because a trained sales force is able to better understand the products and services they sell, close more deals, and boost revenue generation.
From this, you can conclude that sales training is critical to business growth and success. No wonder then that sales training courses are among the key elements in successful sales training programs.
With so many programs available out there, it can be difficult to choose the right one for your team. Considering this, in this post, we bring you a comparative list of the 10 best sales training courses, including their features, prices, and pros & cons.
Take a look.
Features and Pricing Comparison of the Best Sales Training Courses
10 Best Sales Training Courses
Why Is It the Best?
Pricing
ProProfs Sales Training Course

Premium Course Library
Centralized Virtual Classroom
Quizzes for Assessment
Q&A Community
Anytime, Anywhere Access
AI Reporting & Analytics

Forever free for up to 10 learners.Paid plan starts at $1.97/active learner/month for large teams. Billed annually.
Online Sales Pitching Course by VirtualSpeech

27 Online Modules
Online Classes
Simulation Training
English Language
AI-Driven Feedback

$150
Enterprise Sales Course by edX

3 Skill-Building Courses
Self-Paced
4-6 Hours/Week
Designed for Starters & Professionals
Certification

$401.84
Academy Inbound Sales Course by HubSpot

Free Certification Course
Designed for Sales Managers & Reps
5 Lessons
21 Videos
5 Quizzes
2:11 Hours

Free
Sales Negotiation Training Course by Negotiation Experts

Customizable
Role-Play Exercises
Classroom & Online
Six 4.5-Hour Sessions
Certificate of Completion

Available on request.
Social Selling Success Course by Sandler Training

4 Video Lessons
Sales Scripts
Worksheets
E-Learning Library
Private Forum

$147
Value-Based Sales Training by ValueSelling Associates

Online Demand Online Courses
Virtual Instructor-Led Training
Reinforcement
Assessment
CRM/SFA Integration

Available on request.
The Art of Sales by Northwestern University

100% Online
Fexible Schedules
Course Subtitles
Hands-On Projects
Shareable Certificates

Not disclosed. Financial aid available.
Selling to Different Personality Types Training by The Brooks Group

Customizable
In-Person or Virtual
Three 2-Hour Sessions
Workbooks
Mobile Reinforcement

Available on request.
How To Close More Sales by Applied Excellence

On-Demand Video
12 Articles
Access On Mobile & TV
Certificate of Completion
Lifetime Access

$5.30. Subject to change.
Before we go ahead and look at the sales training courses list in greater detail, let's understand the following:
What is Sales Training?
Sales training is the organized process of training sales managers and sales representatives in their trade. Such training programs are aimed at improving sales knowledge and skills and maximizing sales over time. As a practice, most companies deploy a sales training course via a learning management system or an LMS. and a professional instructor to conduct sales training online.
Talking of sales training, the Training Industry recently released a report titled, "The State of the Sales". Among other information, the report provides an overview of the current market for sales training and discusses the common training delivery methods. It is something you'll certainly find useful as it comes from the leading authority for corporate training.
Watch: Training Course Introduction
What Are the Different Types of Sales Training?
Depending on the stage of the sales cycle your employees are in and where they are conducting the sales from, you can deploy different types of sales training.
Basic Sales Skills
This training is targeted at those who are new in the field and it is intended to help participants master the fundamentals of sales training.
For example, some of the training topics under basic skills may include composing an email to prospects, active listening, asking questions, handling sales objections, following up, and negotiation.
Demand Generation
This is a specialized form of sales training in which a sales force is trained on how to generate demands for a product or service in the market. The training is designed to help a sales team identify the audience and guide them through the sales funnel.
For example, if you're a startup that launched a new product or service, your priority would be to create awareness around your brand through intense advertising and marketing. This generates demands based on customers' needs that your offerings can fulfill.
So, exceptional skills in demand generation, qualifying prospects, and finally converting prospects into long-term customers are the main topics of this training.
Inside Sales
According to LinkedIn, inside sales makes up 45.5% of all sales in the U.S.
In inside sales training, sales personnel are trained on the effective use of the traditional methods – email, phone, and chat.
In other words, the training focuses on how to conduct sales remotely from one's office using these conventional tools.
Field Sales
Field sales teams make up 71.2% of the total sales force.
In this type of training, field sales representatives or outside sales representatives undergo in-person or face-to-face sales training.
So, interpersonal skills are an essential area that this training covers. The focus here is on consultative selling, which is based on identifying customers' needs and addressing their pain points.
Vendor Differentiation
Growing competition necessitates businesses to create a unique selling proposition (USP) and strive to stand out from the crowd. This is what vendor differentiation training is all about.
It trains sales representatives on how to make customers feel that they should buy from you instead of your close competitors. In other words, it is training that focuses on the strategies and techniques for positioning a business as the best choice in the market.
Vendor differentiation capitalizes on prospects who are actively weighing different product or service alternatives and facing the challenges of making an informed decision.
Why is Sales Training Important?
"How you sell matters. What your process is matters. But how your customers feel when they engage with you matters more."
~ Tiffani Bova
Sales training is interlaced with improved sales, more revenues, and business growth. Ongoing sales training equips a sales team with all the in-demand sales knowledge and skills and enables them to face present and future challenges.
In this sense, sales training is as important to a business as compliance training programs, such as sexual harassment training, if not more.
A well-designed sales training program can lead to increased sales, meeting and exceeding your sales targets.
More win rates are another benefit of effective sales training as sales personnel are trained on how to close more deals.
As a bonus, sales training can check employee turnover. Like in any other training program, sales training can make your employees feel valued since you invest in their professional development and career advancement.
7 Sales Training Techniques to Include in Your Program
The success and failure of a sales training program depend on the processes, tools, and methods you use. Make sure you keep the following in mind:
1. Assess the Learning Needs of Your Sales Team
First of all, identify gaps in your sales team's knowledge and skills. This will help you devote your time and direct your effort to the right areas.
You can begin by assigning them sales assessment quizzes like this one to get an idea of their understanding:
2. Choose the Right Format for Your Training
The best decision would be to deploy an online training software that supports different file types or multimedia. This will ensure that your program caters to different learners with different learning styles and preferences.
3. Keep It Short and Engaging
Brief, clear, and attention-grabbing content should be a norm, not an exception. This will make self-paced microlearning and knowledge retention possible for learners.
4. Use Real-World Examples
The importance of using real-life examples in employee training cannot be overstated. If you want to build a sales team that is capable of dealing with real sales challenges, you should let them learn from real examples.
5. Include Job-Shadowing
Job-shadowing opens up opportunities for learning in the workplace through first-hand experiences. It is one of the fastest ways to learn a work process, how to operate a tool, and more.
6. Don't Ignore Field Training
Give hands-on sales experience to your sales teams by getting them out in the field. It is where they get the best chance to face the different facets of sales, including identifying prospects, contacting them, pursuing them, and closing deals with them.
7. Reward Best Performers
Keep your sales reps motivated by using a reward & recognition program for their contributions. Sales incentive ideas, such as a job promotion, a ticket to a sporting event, and subscription boxes, can be an excellent way to acknowledge them.
What is the Best Sales Training Course?
There are not one but several best-selling sales training courses on the market. Many of them are developed by industry leaders and top universities. If you want to choose the best course, look at the following:
Curriculum
The number of hours
Flexibility in schedules
training formats on offer, and so on.
Price is just one of the factors that you'd like to consider.
If you're still wondering how to choose the best sales training program for your organization, take time to go through these tips.
How to Maximize Your Sales Training ROI
A sales force acts as a vital link between your business and customers. Achieving measurable sales training ROI begins with having the right training in place.
So, it always comes down to systematic training.
To start with, assess skills gaps in your sales personnel, which may be holding them back from reaching your sales goals. They should be capable of building trust with prospects so that they can be turned into loyal customers.
Setting SMART goals is another means to ensure better learning and evaluation. The training goals should be realistic, measurable, and time-bound. such force is known to exhibit a better understanding of the products and services they sell, close mor
Use online training software to train your salespersons. Such training systems are not only cost-effective but more efficient and impactful.
Finally, reinforce the training by following up on learners and making sure they actually implement what they learned during the training. This will make everyone's efforts meaningful while making learning sustainable.
Let's now resume discussing the 10 best sales training courses.
Top 10 Sales Training Courses
1. ProProfs Sales Training Course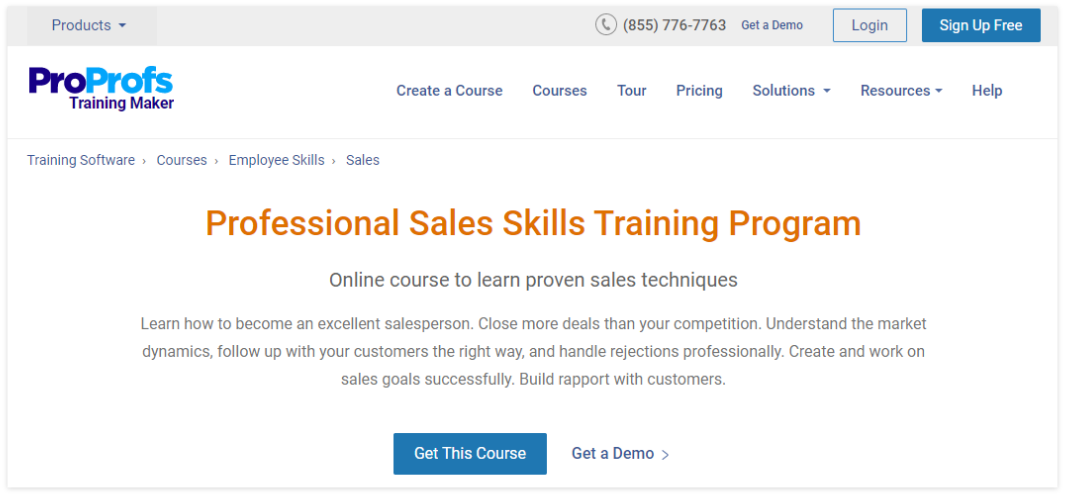 The sales training course by ProProfs is designed and developed by industry experts. This course is easily customizable with your own training resources and branding. ProProfs' advanced reporting features make it easy to keep an eye on learning progress and course completion rate in real-time.
Among others, the course discusses the market dynamics, setting sales goals, building relationships with customers, and handling sales objections professionally.
At the end of each chapter, you'll find engaging quizzes for knowledge assessment and surveys for chapter feedback.
Features
✓ Premium Course Library
In addition to the sales training course, you get access to a premium library of 100+ ready-to-use courses on other corporate training topics.
✓ Virtual Classroom Software
Manage your employee training programs easily using a centralized and secure virtual classroom dashboard.
✓ Learning Paths
Use course bundles to let your learners follow well-designed
learning paths
based on your course curriculum and their learning needs.
✓ Multilingual SupportProProfs speaks more than 70 interface languages, which means you can train an audience in a language they understand.
Pros
+

Easy to use

+

Highly configurable

+

Awesome customer service
Pricing:
Forever free plan (up to 10 learners). Paid plan
starts at $1.97/learner/month
(billed annually) for large teams. No hidden charges. 15-day money-back guarantee.
2. Online Sales Pitching Course by VirtualSpeech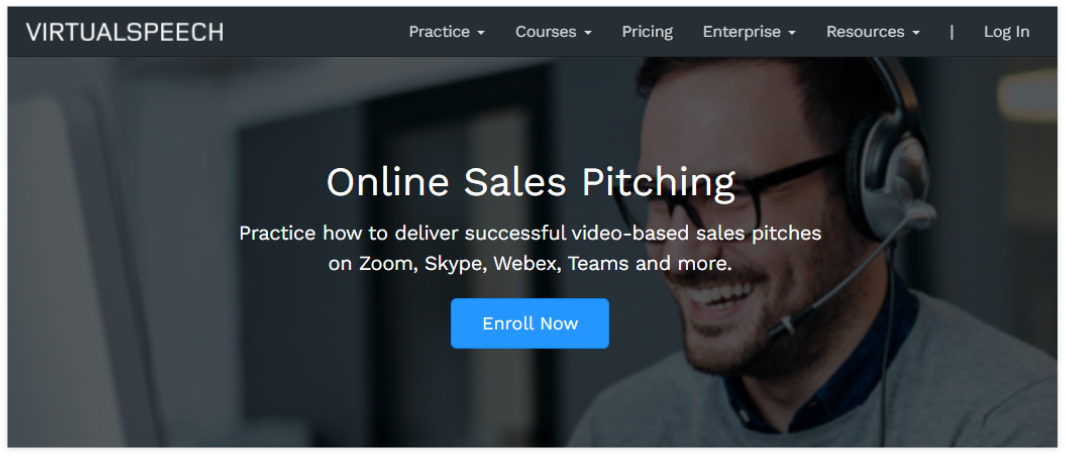 VirtualSpeech's online sales pitching training enables sales professionals to practice how to deliver video-based sales pitches over platforms like Zoom, Webex, Teams, and Skype. The program is designed to help improve clarity and confidence in establishing remote connections with prospects. The training consists of 27 online modules and simulation sessions.
Course participants can learn how to successfully adapt their in-person sales techniques to video-based pitches. By helping you set up the right tools, identify prospects' needs, and handle objections professionally, this course can make virtual pitching a success.
Features
✓ Online ClassesThe course includes about 2-3 hours of online classes that discuss the fundamentals of video-based sales pitches.
✓ 27 Online ModulesTrain your teams on everything they need to know about remote sales pitching in 27 comprehensive modules.
✓ Simulation TrainingLet your learners practice what they've learned during training by pitching in a virtual simulation that mimics real online meetings.
✓ AI-Driven FeedbackReceive instant feedback on the way you pitch through an Artificial Intelligence-powered feedback system. Use it for performance evaluation.
Pros
+

Market leader in VR-based training

+

Variety of courses

+

Realistic simulations
3. Enterprise Sales Course by edX

Offered under Smith School of Business, Queen's University, this certificate course can help you acquaint yourself with enterprise sales concepts, strategies, and processes. The program is designed for beginners as well as experienced professionals.
The course is divided into four sections – enterprise selling, strategic account management, sales enablement & analytics, and job outlook. The program is conducted by two qualified instructors from Queen's University.
The training can help prepare course participants for a rewarding career in enterprise sales.
Features
✓ 3 CoursesThe program consists of three skill-building courses designed to launch aspiring individuals in a sales career.
✓ Expert InstructorsGet trained under the guidance of professional instructors from one of the top public universities in Canada.
✓ Self-Pacedet your learners learn at a pace that is convenient for them. No rush. No compromise on thorough understanding.
✓ CertificationEarn a sales professional certificate at the end of the program. Learners can flaunt the certificate in their resume to show their achievement and expertise.
Pros
+

Accredited certificates

+

Partnership with top universities and companies

+

14-day refund policy
4. Academy Inbound Sales Course by HubSpot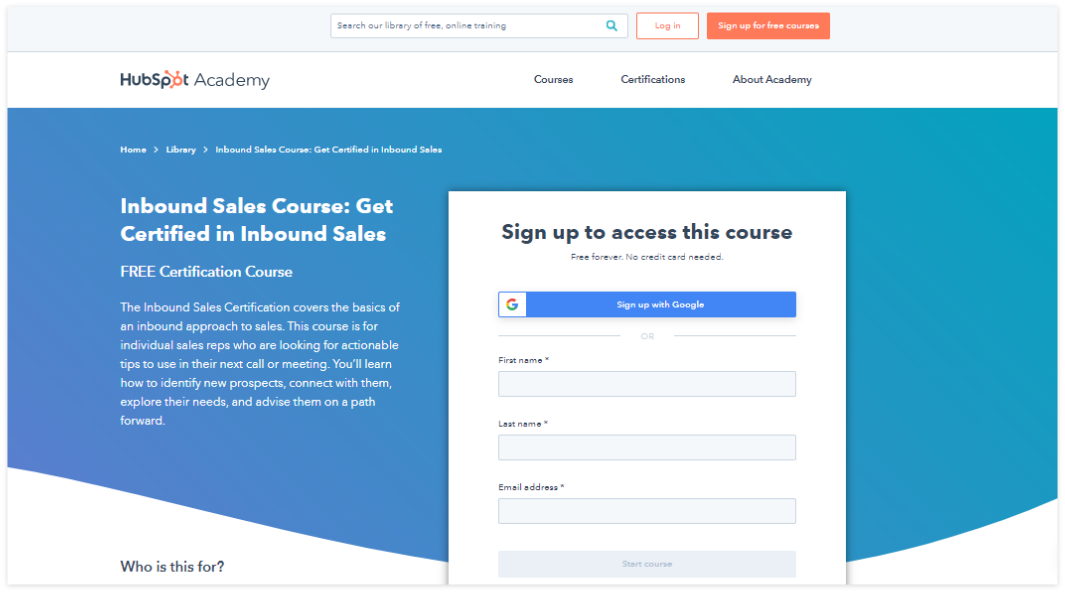 HubSpot Academy's inbound sales course is a free certification course. It covers all the basics of inbound sales. Sales reps and managers can take this course to learn actionable tips on identifying prospects, connecting with them, understanding their needs, and offering solutions.
The free sales training course comes loaded with five lessons, 21 videos, and five quizzes. Each lesson has a different instructor.
Features
✓ Qualified InstructorsThis course features senior, dedicated, and world-class instructors with varied sales experiences.
✓ Rich Learning ExperienceBy offering a combination of lessons, videos, and quizzes, the course offers a rich learning experience to course participants.
✓ Designed For All Sales ProfessionalsThe course is designed for both sales representatives and managers. This means you can use just one course to train both groups of professionals.
✓ Credible Certification ProcessThe HubSpot Academy certification process is based on the latest insights and continuous research.
Pros
+

Free certification course

+

Personalized account

+

Globally recognized certification
5. Sales Negotiation Training Course by Negotiation Experts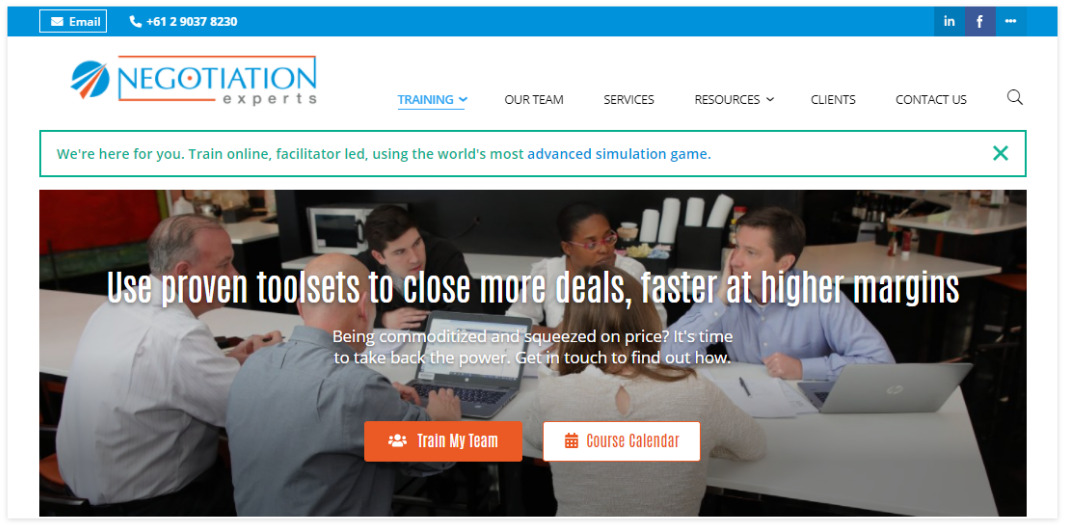 This sales negotiation training course from Negotiation Experts discusses how you can advance your sales career by consistently closing big deals in less time and at higher margins. You can customize the training program around your business' needs. A role-play simulation game is also one of the elements you'll find in the course.
The program offers an effective way to give your salespersons the necessary tools and best practices to maximize value creation.
Features
✓ Practical ApproachThe training program uses highly experiential seller-buyer role plays to get to the nuances of sales negotiation.
✓ Online & Classroom MethodsThe course supports an online delivery method consisting of six 4.5-hour sessions as well as classroom training spanning three days.
✓ Training CustomizerThe training customizer lets you customize your training preferences according to events, number of participants, number of days, etc.
✓ Certification
The program includes a sales negotiation certificate, plus an optional LinkedIn certificate.
Pros
+

Role-plays

+

Negotiation simulation

+

Course customization
Pricing:
Available on request.
6. Social Selling Success Course by Sandler Training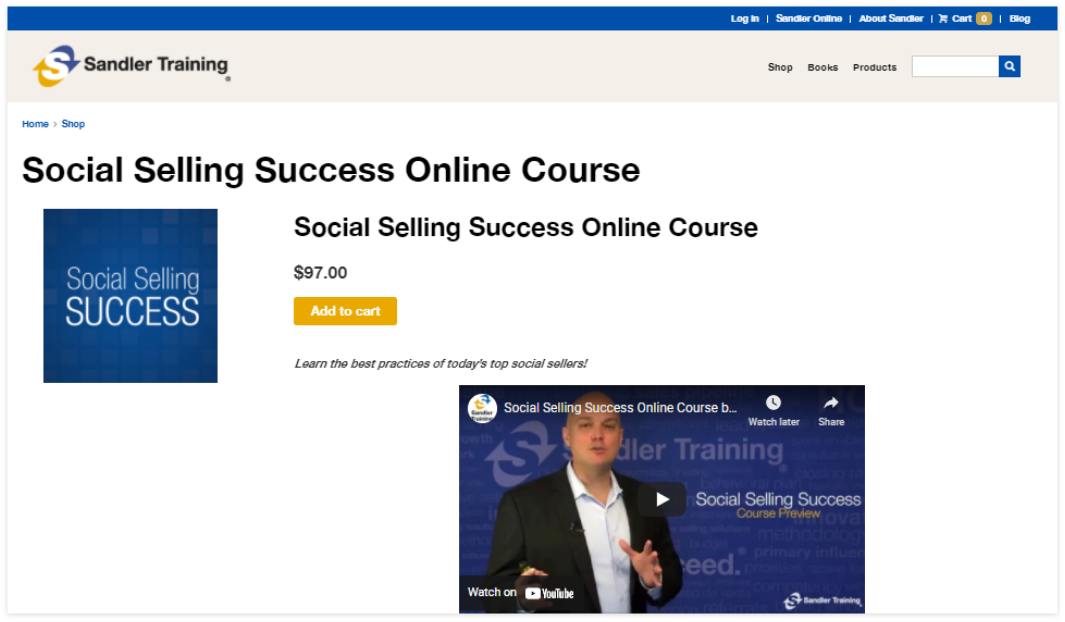 This course is designed to help salespersons leverage the latest information, technology, and social networks to build relationships and start sales conversations. It is a social prospecting and social selling course for sales reps and others.
It discusses some of the best practices followed by today's top social sellers. The course includes video coaching, worksheets, and access to Sandler's eLearning library and private online community forum.
Features
✓ Video LessonsThe course includes four full video lessons and other resources to help course takers build their sales profiles and leverage social selling.
✓ WorksheetsYou'll find four worksheets in the course on building profiles, identifying ideal clients, pre-call planning, and collecting best practices & taking action.
✓ Elearning LibraryThe library houses podcasts, webinars, newsletters, and white papers.
✓ Private ForumGain exclusive access to a private sales community forum.
7. Value-Based Sales Training by ValueSelling Associates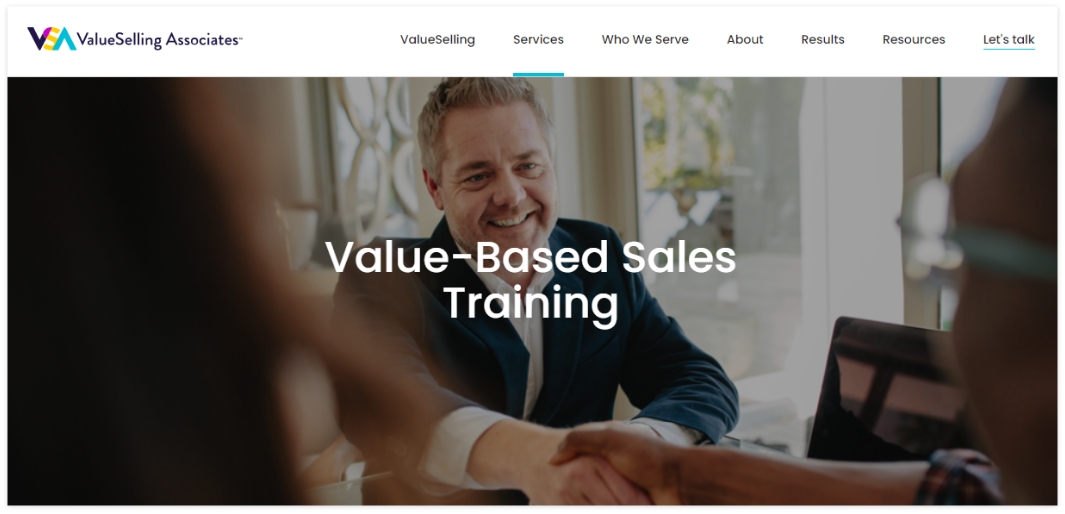 ValueSelling Associates' sales training is an award-winning course designed by salespeople for salespeople. The framework it uses for training customer-facing professionals is modular, customizable, and scalable, allowing users to easily meet all kinds of sales training needs.
Instructor-led virtual training, on-demand training courses, and assessment are some of the highlights of the training program.
Aas one of the providers of top sales training courses, the process that ValueSelling follows in its value-based training includes diagnosing sales issues, offering tailored solutions, and providing ongoing support.
Features
✓ ValueSelling FrameworkThe ValueSelling Framework is easy to implement and is based on proven processes and tools to drive conversions and sales.
✓ On-Demand CoursesIn addition to live instructors, video reinforcements, and workshops, you get access to on-demand courses.
✓ Virtual Sales TrainingTake advantage of a virtual instructor-led learning environment and gain sales skills in a collaborative manner.
✓ Sales CoachingBenefit from holistic and ongoing sales coaching for individual and group sales representatives.
Pros
+

Easy & practical training methods
Pricing:
Available on request.
8. The Art of Sales by Northwestern University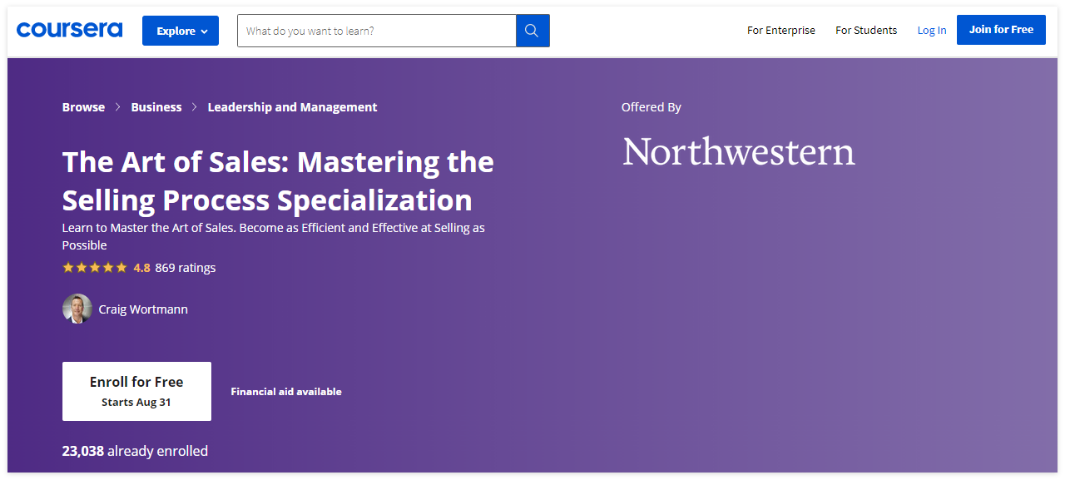 The Art of Sales: Mastering the Selling Process Specialization is a four-part specialization sales training program designed to help companies achieve efficient and effective sales. It includes readings, videos, practice quizzes, and shareable certificates. When you subscribe to a course in the specialization, you're automatically subscribed to the full specialization. The program is offered by Northwestern University and is now available on Coursera.
Features
✓ 4 CoursesThe specialization consists of four courses – Customer Segmentation & Prospecting, Connecting with Sales Prospects, Sales Pitch & Closings, and Building a Toolkit for Your Sales Process.
✓ Hands-On ProjectsYou'll find a hands-on project in every specialization. On successful completion of the projects, learners earn a certificate.
✓ Qualified InstructorThe instructor of the specialization is the CEO of Sales Engine and clinical professor, Kellogg School of Management.
✓ Self-Paced LearningYou can start, pause, and resume the program based on your schedules and convenience.
Pros
+

100% online

+

Flexibility in schedules
Pricing:
Not disclosed. Financial aid available.
9. Selling to Different Personality Types Training by The Brooks Group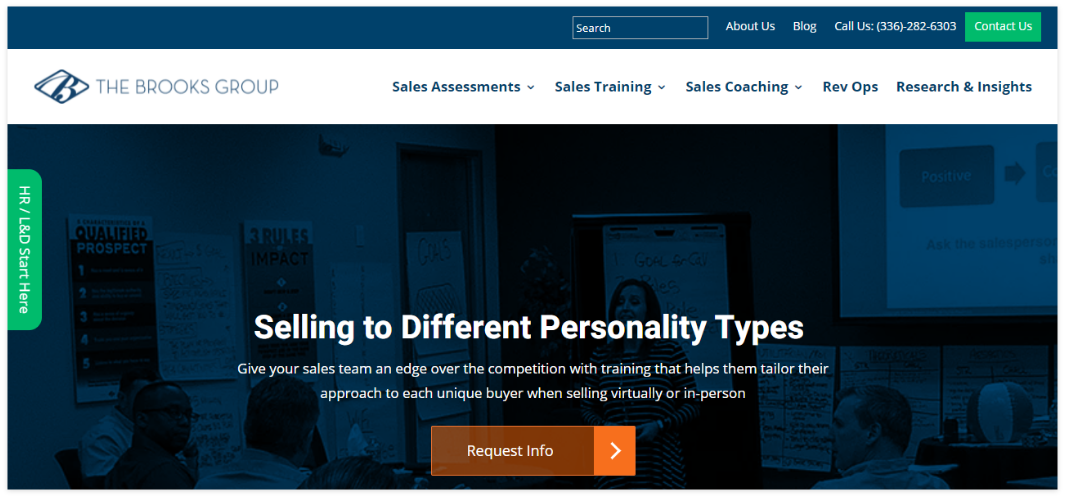 This is a customizable training program that can help salespersons recognize the personality types of buyers and adapt the selling approach for success. Course participants will learn how to identify a prospect's personality based on the DISC (Dominance, Influence, Steadiness, and Compliance) personality assessment.
The training program is meant for any sales team that wants to adjust its selling strategy according to the buyers' personality. This is intended to help reduce any kind of friction that puts resistance in making purchasing decisions.
Features
✓ Virtual & In-Person TrainingGet access to either three 2-hour virtual sessions or 1-day in-person training with sales experts.
✓ Sales ReportsIdentify sales reps' strengths and blind spots based on the Sales Behavior Coaching Report consisting of 25 pages.
✓ WorkbooksThese workbooks are helpful for self-study and practice exercises on sales.
✓ Mobile ReinforcementThe Qstream mobile reinforcement tool lets you reinforce training with tips and quizzes for your sales personnel.
Pros
+

Among the top sales training programs
Pricing:
Available on request.
10. How To Close More Sales by Applied Excellence

This course discusses some of the in-demand sales topics, including how to build trust with customers, communicate value to them, and exercise positive influence. By the end of this course, participants will learn some of the top sales skills and strategies that every high-performing sales professional exhibits.
The course is intended for both beginners and advanced sales professionals. No prior knowledge is required to take the course. Videos, articles, certificates, and downloadable resources are some of the highlights of the course.
Features
✓ On-Demand VideoUdemy offers a 1-hour video on demand as a part of the sales training program.
✓ 12 ArticlesThe course includes study materials on the topic in the form of 12 articles.
✓ Lifetime AccessThe course provider offers full lifetime access to buyers. This means once bought, you enjoy access to a course as long as you have an Udemy account.
✓ Certificate of CompletionLet course participants demonstrate their achievement through completion certificates.
Pros
+

Great course content with practical examples.

+

Lifetime access
Pricing:
$5.30. Subject to change.
These are the 10 best online sales training courses on the market at the moment. With this comparative view, you'll find it easier to shortlist the top courses from them. Take the next move to decide which course or courses you should deploy for your sales teams.
Choose the Best Sales Training Courses
With the right sales training course in your hand, you're one step closer to achieving your learning goals. These courses are a must to master essential sales skills, such as communication, prospecting, social selling, and objection handling. Make sure you use as many of them as possible when training your sales force.
ProProfs sales training course is designed by professionals and it is easily customizable by adding company policies, guidelines, and branding. Using it, you can create sales training courses, share them with learners, and track them in real-time.
ProProfs doesn't just offer online courses; it also provides an LMS software to enable users to centrally manage online learning and training.
Do you want a free Training Software?
We have the #1 Online Training Software for employee training & assessment