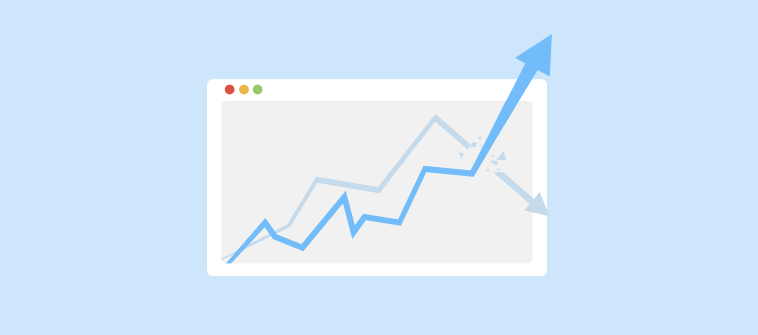 According to a 2016 Statista report, the share of American students who exclusively take online education courses shows a permanent 0.6% average yearly increment.
The number of students who blend visiting campus and taking online courses has a 0.9% index of yearly growth.
The total number of distant students already exceeds over 7 million.
A Digital Learning Compass 2017 report reveals a 3.2% decline of campus enrollments across the U.S. from 2012 to 2015.
These statistics show a rather slow but nevertheless stable growth of distant learning attendees in parallel to the similar fall of the traditional approach.
At the same time, the growth of U.S. corporations eLearning establishment is significant. Forbes reports that in 2015, the eLearning market share reached $107 billion and it is expected to double in 2020.
Over 70% of companies apply learning technologies such as eLearning software.
ToBeProductive.com figured out the reasons for the growth of online education and make predictions based on their studies.
Actual Benefits of eLearning
Watch this video:

As you can see, the pace of traditional education transformation is rather slow. Universities do not tend to be as progressive as business organizations because many campus leaders and other academics fear the changes.
For instance, a professor at the University of Virginia, Mark Edmundson, said to Forbes, "Can distant learning ever become the education of the very best sort? It's impossible!"
This quotation represents the state of the traditional educational system. The entrenched principles of delivering knowledge were formed at a time when all the technological wonders that we have today were beyond the fantasies of the best thinkers.
Watch this video to know How to Design Online Training Courses Effortlessly
Universities accumulated knowledge and attracted everyone who could dive into the system and contribute to the knowledge base later on.
The Internet is a technology that allows us to accumulate and structure data without any territorial limitations. Even YouTube tutorials and lectures mark a breakthrough. You don't have to spend time going to the library or trying to find someone who can teach you something. Lecturers can simply access the minds of millions instead of the elite circle of classroom attendees.
---
Read More:- 5 Benefits of Responsive eLearning Courses
---
Everything is a few clicks or taps away now, which means that the only genuine thing that unites you and, for example, Isaac Newton, is the appetite for knowledge.
Now, look at the numbers of How Businesses Benefit from Online Learning.
A 2016 Brandon-Hall study says that American employees save up to 60% of their time by learning online, thanks to some of the best eLearning software available today that makes it possible.
Amazingly, the quality of such knowledge doesn't seem to be lower. It's quite the opposite.
The retention rates of eLearners are from 25% to 60% more than the rates of students who take face-to-face courses.
IBM figured out that control over the digital process allows students to obtain five times more knowledge per time unit. This means that companies can reduce expenses on teaching and then return employees to work quicker or even teach on-the-job.
The same IBM research calculations say that every single dollar invested in digital learning produces over $30. The law "Time is money" is unshakable.
Talking about students who are the right age to attend their first colleges and universities, their learning productivity rates don't differ. The time they save may be used for additional courses, literature, and better living conditions.
Anyway, you always have to compare pricing because online courses may sometimes cost you more.
Generally, universities have the options for several categories of students to provide them with graduate programs at lower prices than you can see on their websites or provide grants. Contact universities to figure out whether there are special offers for your category. Sometimes, their plans are more feasible and offer comfortable housing.
Courses that are Likely to Become Online Exclusives
The range of jobs you can get online is rather big. The vast majority of them relates to IT and realms that require specific knowledge and practical skills of working with the software.
Below is a list of jobs that you can study through the use of online tools such as LMS Software without in-class learning:
Web/App Development – All enterprises need websites and applications to communicate with clients. It's not enough to launch a service as it must always be serviced and kept up to date. This job requires regular participation of professionals.
UX/UI Design – Every web source needs a proper cover to reach the target audience. Like other IT realms, this one is always in progress.
Computer Graphics and Animation – Video games, movies, clips, and many other large industries need professionals who can implement ideas into visual concepts and products.
Coding – Without coders, we couldn't use software products, secure operating systems, and the Internet. There's nothing more to add.
Writing – Journalism, the second oldest profession, has evolved into copywriting. The article you are reading right here, or any other text on the web, is the result of human work. The quality of this work affects a website's productivity and citation. Good writing can gain significant profits.
Digital Marketing – Any product or service, including educational establishments, requires effective promotion via the web because it's the biggest worldwide sales market.
Project Management – The market can't run without people who are responsible for the organization and the right placement of accents.
Mobile Technology Influence
Mobile applications allow users to consume knowledge on-the-go and boost engagement. Smartphones and tablets are a convenient means for non-location-dependent reading, listening, and watching.
Applications are capable of providing an environment for studying the theory of social subjects and exact sciences.
There are many free, freemium, and paid apps for studying languages, such as DuoLingo, Memrise, Hello Talk, and Rosetta Stone; as well as for higher maths – Math Ref, Calcbot, Algebra Touch, MathStudio, etc.
The biggest benefit of involving mobile applications into the educational process relates to the organizational process.
According to Statista research in 2018, 96.7% of USA mobile devices have productivity apps installed. Educators and students can use such apps to create team schedules, deliver homework and manuals, conduct webinars, check the progress of group educational projects, and more.
The vast majority of these services are cross-platform and provide the ultimate level of flexibility.
Predictions
The traditional education system that requires you to attend face-to-face courses certainly won't vanish completely. There are multiple jobs that you can't qualify for without direct contact with tutors and fellow practitioners. They mostly relate to the realms of manufacturing goods, scientific research, and practices that need involvement in an asynchronous live discussion.
At the same time, all realms of education that may be transferred into digital courses are likely to become online exclusives due to reduced costs and universal accessibility. eLearning authoring software that instructors can use to create courses will play a major role in this regard. In other words, Blended Learning will become the order of the day.
Many people still take out huge loans to pay for elitist universities. Will the bill for face-to-face education still be worth a "golden ticket" into a better life or is it just a relic of the past? This question remains open.
Do you want a free Training Software?
We have the #1 Online Training Software for employee training & assessment