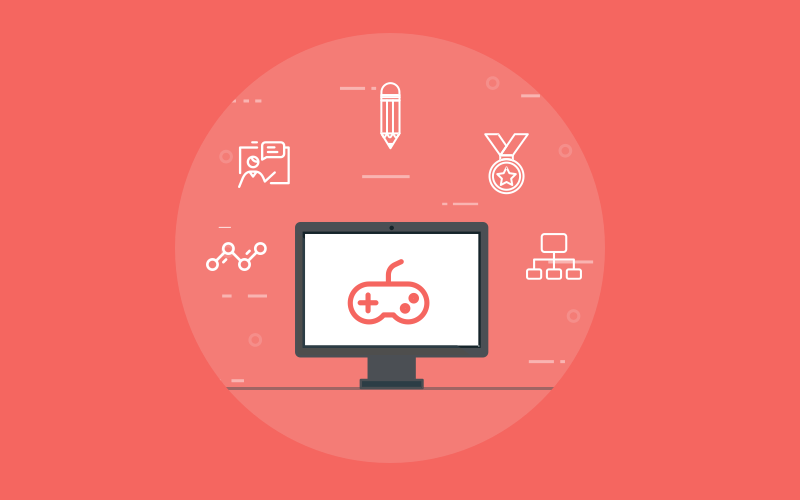 Life is more fun if you play games
Roald Dahl, British novelist and fighter pilot.
72% of people firmly believe that gamification at their workplace inspires them to work harder.
When implemented in the right manner, gamification in corporate training can enhance employee engagement and productivity level in a big way.
Before we discuss the finer details of the topic, let's understand the question: what is gamification in corporate training?
Simply put, gamification in the context of corporate training is the application of gaming theories to training in order to shape a better learning outcome. It is how trainers add the fun element usually associated with games to training so that learners become more engaged than they would have been otherwise.
Gamified training is known to increase the stickiness of learning, completion rates, and the application of learning to work. It does so by capturing and retaining the attention of learners during learning activities.
Challenges, rewards & recognition, and user feedback also form an integral part of the gamification of training.
Reshaping Corporate Training
Game-based learning is reshaping and redefining corporate training in more than one way. By introducing various game strategies, it transforms what would have been a monotonous supply of information to something that is enlivening and fulfilling.
Instructors can use game elements such as challenges (learning objectives), levels (learning paths), scores (gratification), and collaboration (multiple teams play) in business training. Of course, this will largely depend on the type of training tool or platform you use, but choosing the best one shouldn't be a problem at all. The only precondition is to know what you want in such a training software.
Read More: 20 Best Online Training Software
Watch this how-to video on choosing the best LMS:
Encouraging Innovation in Employee Education
The whole idea behind gamification of training is to wean trainers from the mechanical approach to traditional training and help them embrace an innovative training model.
Using the right enterprise software, they can develop skills in trainees in a fun way where learning becomes voluntary and interactive. This enables learners to govern their own learning.
Gamification also addresses the problem of forgetting curve commonly noticed in a typical learning environment by improving the retention capacity in learners.
What Makes Gamification Tick
Learning & development based on game principles such as designated learning paths, scoreboards, badges, and certificates present in some of the advanced learning management systems (LMSs) incentivizes workforce training. Prospects of rewards, when used side-by-side with challenges, excite the minds of learners and boost their motivation to pursue a course till the end.
It improves the learning experience
Researchers have found that relaxing video games can make people happier through positive experience. When trainees are put in a game-like situation, their engagement level shoots up. Such involved learning translates to better knowledge retention, which in turn increases the capacity to apply them to actual work situations.
It leads to greater productivity
It is not hard to understand that engaged employees make productive employees. When learning becomes fun and rewarding, it naturally increases productivity across the board. To put it in another way, productivity is bound to follow when employees enjoy what they do in the workplace.
---
Read More:- 10 Skills and Training Tools Every Corporate Trainer Must Have
---
Increasing the Learnability Quotient
Learnability is a major factor in every training. It can be the way a course is designed or how users interact with the user interface. If you make a huge investment in training resources and yet the training lacks usability, ease of learning, and memorability, it can lead to dissatisfaction on the part of learners.
Gamification can rescue you from such a dismal situation by bringing game concepts and designs to training sessions. It goes beyond mere lesson plans and makes use of interactive and real life-like learning situations. All this makes learning easy and increases retention power.
Need for Groundwork
By using the principles of gamification, organizations can solve a number of L&D challenges at the workplace. Be it compliance training or sales training, gamification has always something to contribute and make a difference.
Having said that, it should not, however, be an off-the-shelf type. Proper planning and execution of game models in corporate training form the basis of successful results. Identify who you are training and choose the best LMS software with suitable features that can fulfill your training needs.
Guard against overuse of game technology in corporate training. Otherwise, it can backfire and prove costly as in the case of Omnicare six years back.
In a Nutshell
It won't be an overstatement to say that when it comes to corporate training, gamification is a game-changing concept. In fact, in its Gamification 2020 report, Gartner says that along with other emerging technologies, gamification is going to have an enormous impact on personal development, employee education, and employee performance.
Whether you rely on classroom-based LMS, online learning, or blended learning, you can always enhance the coursework and other learning activities through game mechanics. It is easy to use, cost-effective, and reliable. It is definitely the future of corporate learning & development.
Do you want a free Training Software?
We have the #1 Online Training Software for employee training & assessment