What Makes a Learning Management System the Best?
The best learning management systems on the market are characterized by certain compelling features. They are user-friendly, easily configurable, support collaboration, and come integrated with a number of other useful tools. From easy course creation to tracking and assessment – they provide complete enterprise-grade solution for all kinds of training programs including OSHA, sexual harassment, diversity, and customer service.
According to the leading software review site Capterra, adopting the wrong software is worse than having no software at all.
Picking the right training software that is designed to meet your kind of needs can be overwhelming, if not impossible.
To help you navigate through the entire process easily, here's a list of some of the best learning management systems for 2022 and beyond. Go through each of them and see which one can best meet your learning and development needs.
Top 10 Learning Management Systems and what they are perfect for:
10 Best LMS Software
Perfect for
ProProfs LMS

Those planning to shift to a virtual classroom experience
Providing a complete self-paced eLearning solution
Adding interactivity to courses such as quizzes & flashcards
Building a learner community and collaboration
Selling and monetizing courses on ProProfs Store
Get Started Free (Pricing starts at $1/learner/month)

TalentLMS

Ensuring comprehensive course management
Streamlining the training process
Formulating detailed learning paths

Litmos

Building intuitive courses
Creating a transparent communication channel between learners & educators
Providing a personalized learning experience

Docebo

Scaling eLearning requirements efficiently
Leveraging AI for perfect learning management
Providing multilingual courses

LearnUpon

Delivering blended courses
Enhancing learner engagement
Monetizing courses

Mindflash

Implementing different training methods
Accessing trainers & measuring course performance
Supporting 1000+ students in real-time

Lessonly

Helping teams learn, practice, and perform better
Increasing productivity
Cutting onboarding time in half

Moodle

Providing a secure and personalized learning experience
Delivering quality distance education
Managing students batch-wise & promote them to the next class/level automatically

LearnDash

Creating and selling creative online courses with WordPress
Providing a platform for class discussions
Delivering private sessions

Canvas LMS

Giving assignments to students
Providing online course material
Taking course quizzes and tests
Now, let's dig a little deeper into the individual features, pricing, and why to use the above LMSs.
1.

ProProfs LMS Software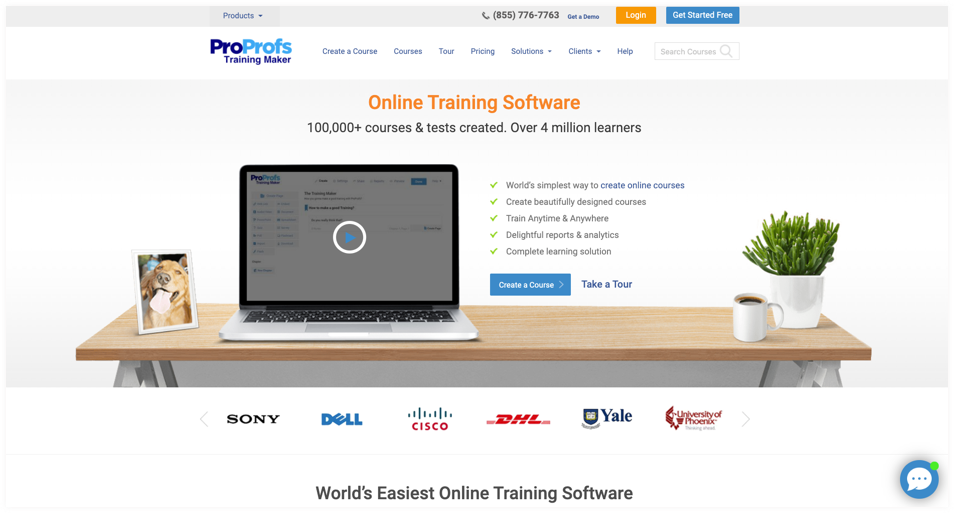 ProProfs LMS
is counted among the best cloud-based learning management systems today. This intuitive SaaS LMS software with awesome customer support is a good value for money. It empowers users to streamline and take control of online training like never before.
From creating online courses effortlessly to sharing, tracking, and certification, everything becomes a smooth sailing with this online training system. A centralized virtual classroom, a well-stacked course library, a clean interface, and other compelling features make ProProf LMS a ready choice for thousands of users around the world.
LMS Features
✓ Ready-to-Use TemplatesProfessionally built and customizable templates for all kinds of corporate training programs.
✓ Self-EnrollmentEnable learners to enroll themselves in a course using unique join code.
✓ Anytime, Anywhere LearningEmpower learners to take a course whenever they want and from wherever they want.
✓ Learning PathsDeliver learning using well-structured routes according to the needs of each learner.
✓ Multiple Language SupportDeploy online training in a language that your learners understand.
✓ Virtual ClassroomOrganize and manage all learning activities using a centralized online classroom.
✓ Powerful IntegrationsGet the benefits of two powerful tools in one without having to switch between platforms.
✓ White-Labeling & BrandingDeliver your courses under your brand on your own website.
✓ Custom Certificates & BadgesKeep learners motivated by awarding beautiful badges and certificates.
✓ Reports & AnalyticsView data on each learner at the end of each course using a built-in reporting tool.
Pricing starts at:
$1/learner/month, no strings attached
Why Use ProProfs Learning Management System?
Easy to UseThe tool is designed in such a way that people of all skill levels can use it without any specialized knowledge. No software download and installation. No need for HTML knowledge.
ConfigurableYou can easily personalize the platform to suit your training needs and according to the type of your audience. From the theme and background of your classroom to language, font, and login information, you can set everything up as you want it.
Advanced ReportingTrack learning activities in real-time, view pending and completed courses, and get final scores of an individual or group in the form of grade books.
IntegrationsProProfs LMS software supports seamless integrations with a number of third-party tools such as Salesforce, Mailchimp, Campaign Monitor, and WordPress, allowing you to leverage them at the same time.
2.

TalentLMS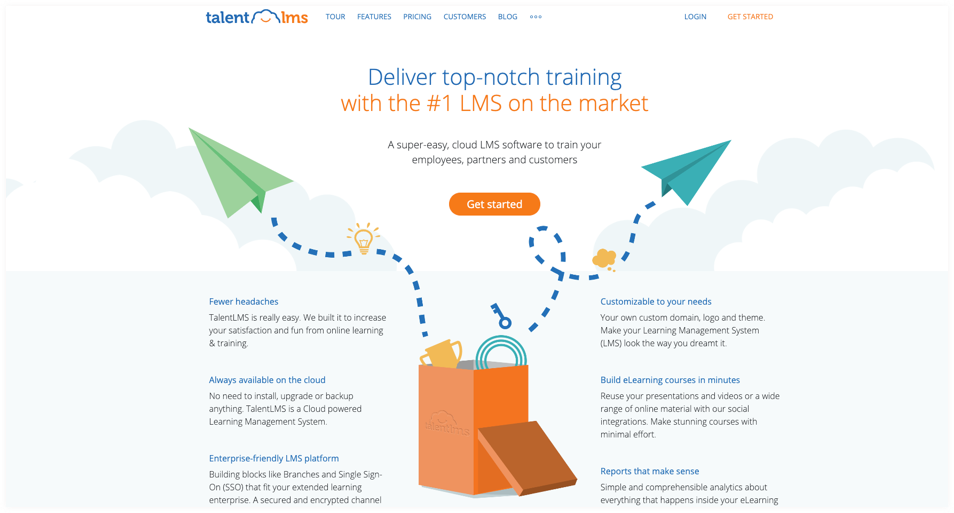 TalentLMS is among the best corporate LMSs for training employees, partners, and customers. The platform caters to both sophisticated users as well as aspiring beginners. Its course authoring tool makes
creating online courses a breeze
while the course catalog makes course distribution even easier. Further, integration with social media gives you a wider audience reach.
Features:
✓ Built-In Course AuthoringBuild beautiful courses having all the attributes of an eLearning material.
✓ Course MarketplaceOpen to both content creators and content buyers, the TalentLMS marketplace catalog boasts of more than 240 quality courses.
✓ Learner PortalA customizable learning portal that all users can access with ease and convenience.
✓ Blended LearningGive your learners a mixed experience of ILT and online learning. Manage both with just one platform.
✓ SCORM ComplianceThe LMS supports the latest industry standards in content interoperability.
✓ Video ConferencingLeverage the free video conferencing tool that comes integrated and activated by default with the platform.
✓ E-CommerceUse PayPal and Stripe to sell online courses easily with the help of built-in e-commerce tools.
Pricing starts at:
$59/month/40 learners
Why Use TalentLMS?
Suitable for All BusinessesNo matter the size of your business and the training types you need to deploy, TalentLMS fits into your requirements in an uncomplicated manner.
Rich Feature SetThe tool offers a comprehensive set of features usable through an intuitive user interface.
Easy SetupTalentLMS is easy to set up and configure in just a few steps. This works in favor of those with zero experience, making it one of the best LMS software applications.
3.

SAP Litmos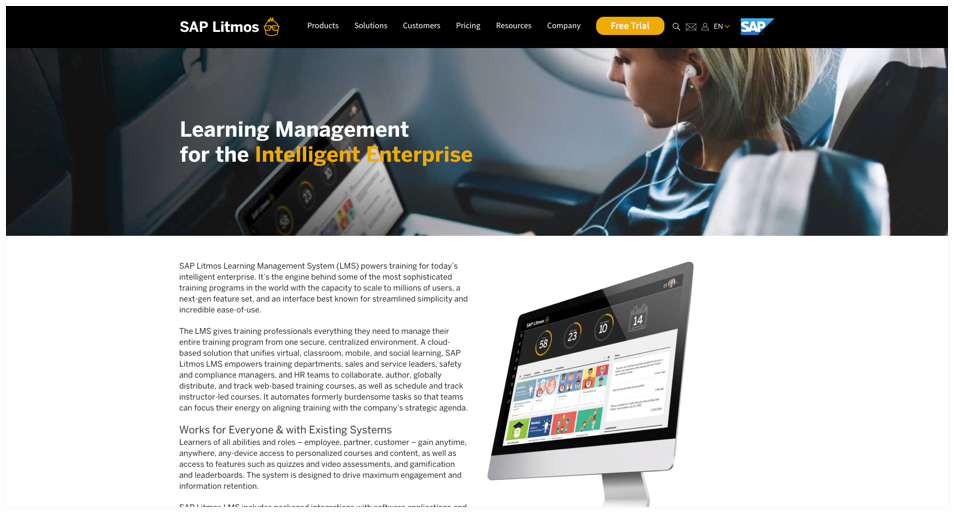 Litmos is a cloud-based integrated learning platform comprising a learning management system, an extended enterprise system, pre-packaged content, and more. Designed keeping in mind learner experience, the platform enables learners to undergo continuous learning using any device. It works for everyone and with existing systems.
Features:
✓ Course GeneratorThe course authoring tool enables you to create, package, distribute, and manage online courses.
✓ Self-RegistrationYour learners can self-enroll themselves for courses without you having to make the slightest effort.
✓ Blended LearningCreate an engaging experience by using a blended learning method for your learners.
✓ Third-Party IntegrationsLitmos supports seamless integration with other third-party tools, giving you additional system functionality and productivity.
✓ Offline AccessSAP Litmos places zero limitations on how and when learners access training, even supporting offline access and wearables.
✓ Custom BrandingWith Litmos, you can create your own custom branding using a business logo and themes before you sell a course online.
✓ Multilingual & Localization SupportEasily train learners using the language they speak and understand.
Pricing starts at:
$6 per user/month for 150-500 users
Why Use SAP Litmos?
Designed for Experience EconomyLitmos is crafted to deliver outstanding experiences – employee experience, learner experience, and customer experience across all channels.
Customizable CoursesYou can easily customize the courses to fit the knowledge level of your learners and the skills they need to acquire.
24/7 Support ServicesThe platform offers customer support services round the clock over the phone, email, and more.
4.

Docebo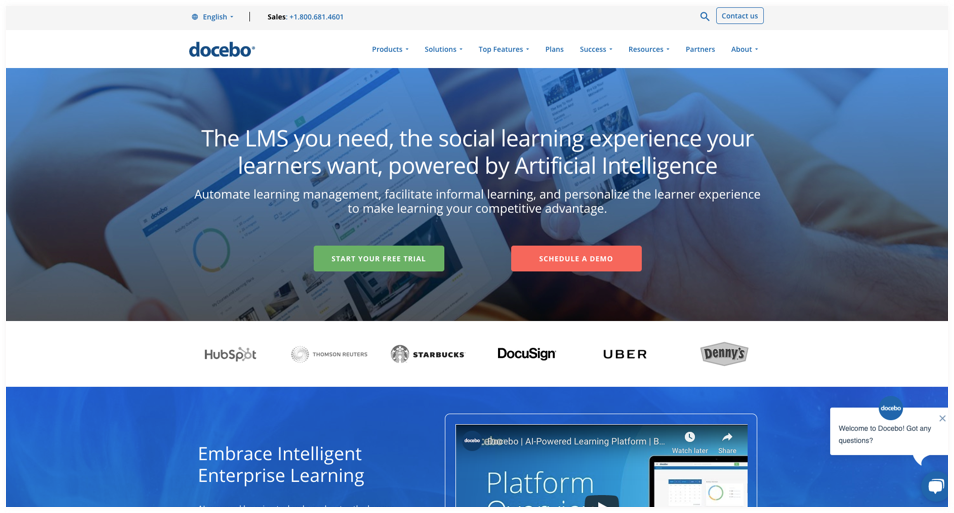 Docebo is a SCORM and Tin Can-compliant software as a service LMS. It is regarded as the best LMS for small businesses. The learning portal is used extensively for training employees, partners, and customers. Its advanced but easy-to-use toolset features make it one of the top learning management systems.
Features:
✓ Automated Admin TasksAutomate recurring and tedious tasks such as group enrollment, user grouping, and deactivation.
✓ Content MarketplaceComplement your learning content available in-house with quality courses sourced from the industry's top providers.
✓ ILT Classroom
Take advantage of ILT­ classroom in addition to administering
eLearning courses
.
✓ Mobile AppDocebo Mobile App, available for both iOS and Android devices, let users access the LMS platform directly from their mobile devices.
✓ Coach & ShareDirect your learners to a place whenever they need information, and fine-tune social learning by enabling learning as it happens.
✓ Third-Party IntegrationsBoost your online learning management with 30+ off-the-shelf integrations with authoring tool, web conferencing, Salesforce, and other useful software.
✓ Game MechanicsKeep your corporate learners motivated with game elements such as leaderboards and badges.
Pricing starts at:
Based on Active Users
Why Use Docebo?
AI-PoweredDocebo is driven by artificial intelligence in delivering a high degree of customization, content curation, and process automation.
ScalableThe modular design of the online learning system makes it highly flexible, which enables you to scale it based on your L&D requirements.
Extended EnterpriseYou can use the platform to train employees and stakeholders who are located outside the four walls of your office.
5.

LearnUpon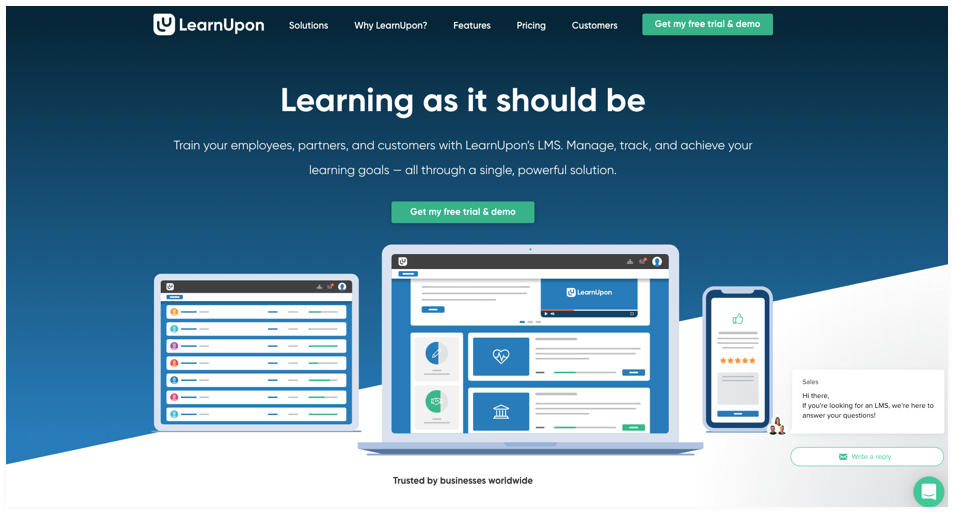 LearnUpon is designed to help users get more out of corporate training as it was founded upon over two decades of eLearning experience. You can easily manage, track, and achieve your learning goals by using just a single solution. As one of the best online LMS systems, LearnUpon is committed to facilitating learning as it is supposed to be.
Features:
✓ Course Management SystemsCreate diverse, engaging, and modular courses using the drag & drop method without technical expertise.
✓ Salesforce IntegrationIntegrate LearnUpon with Salesforce and let your learners access and complete their courses in an environment they are already familiar with.
✓ Users & GroupsCreate users and groups to make training management more efficient.
✓ Exams & SurveysAssess your learners' knowledge and collect feedback using exams and surveys.
✓ Social LearningEmpower your learners to engage with one another in conversations and respond to important topics using discussion forums.
✓ Automated WorkflowsGet more done with less effort. Automate workflows and streamline your training processes.
✓ ReportingGet actionable reports at your fingertips and track your learning objectives.
Pricing starts at:
$599/month (billed annually)
Why Use LearnUpon?
Mobile-Responsive CoursesCreate mobile-responsive courses, and make them accessible wherever you or your learners need them, using the best learning management system.
Reinforced EngagementWith the help of social learning and gamification tools, LearnUpon serves to reinforce the level of engagement that learners have, resulting in better learning experience and results.
SCORM & xAPIThe learning management system supports the delivery of SCORM and xAPI courses and tracking the depth of learning experiences seamlessly.
6.

Mindflash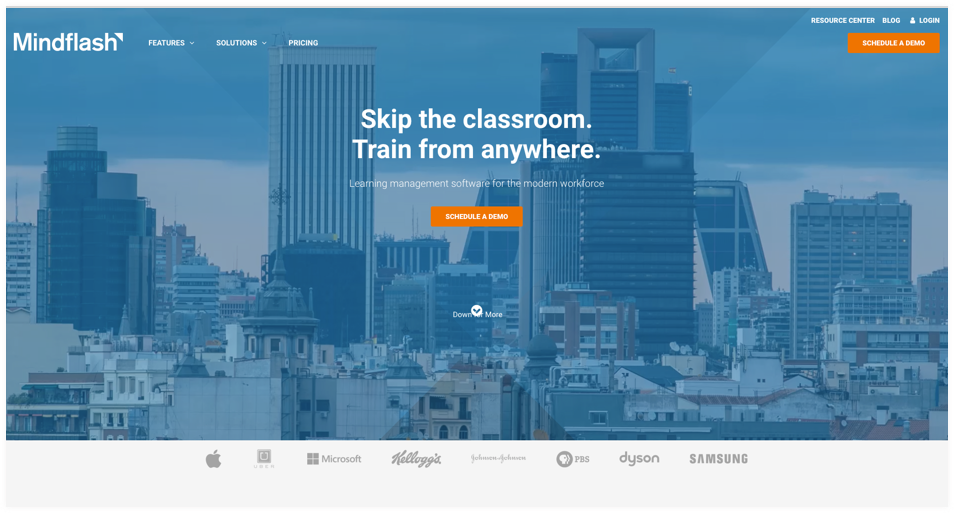 Mindflash is an efficient and effective online learning management software hosted in the cloud. It is a useful tool for deploying marketing, sales, and other training programs on business-critical topics. As an on-demand,
cloud-based learning management system for modern businesses
, it enables users to make training a strategic driving force for growth and profitability.
Features:
✓ Dynamic ContentOptimize your existing content using any format, including Word docs, presentations, PDFs, videos, and voice-overs.
✓ Live Course EditingEdit your live courses on the fly to incorporate updates.
✓ Mobile ResponsiveLeverage mobile-ready feature to make learning accessible across all devices, anytime, anywhere
✓ White Label PlatformUse white-labeling to ensure that your course content resonates with your brand.
✓ SCORM-CompliantMake content shareable across a variety of Learning Management Systems with SCORM-compliant Mindflash.
✓ Virtual ClassroomCreate, deliver, and manage continuous learning through online classroom software.
✓ Easy File ConversionUpload files in any format and Mindflash will convert them into a web-based course viewable on a desktop or mobile device.
Pricing starts at:
$599.00/month (billed annually)
Why Use Mindflash?
Global ReachAs one of the most popular LMS software, it has delivered 10,000,000 courses in 177 countries and registered 97% customer satisfaction.
Unlimited CourseUsing Mindflash, you can create an unlimited number of online courses, including customized, courses converted from existing files, and templated.
Powerful AnalyticsYou can easily measure the impact of your online training and make data-driven decisions with real-time access to statistics on trainees and courses.
7.

Lessonly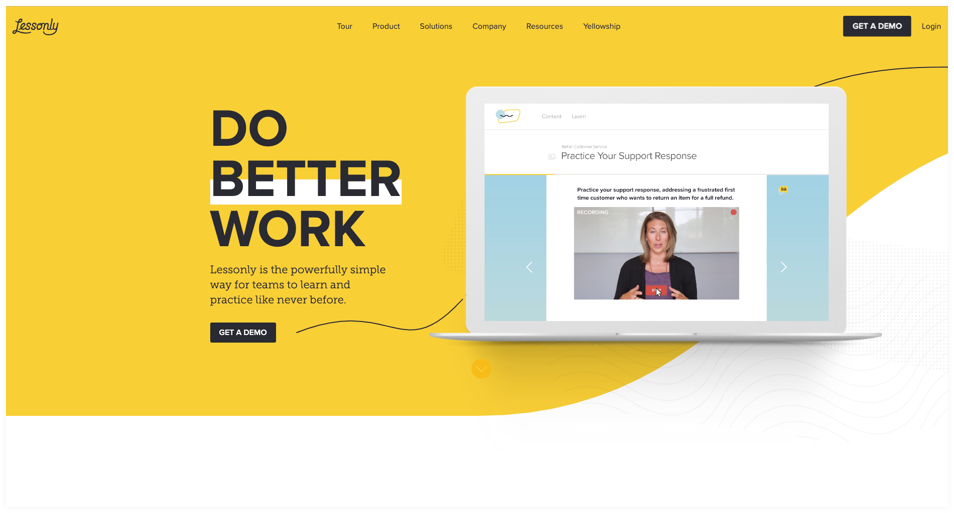 Lessonly is a simple yet powerful learning management software that helps users learn and implement knowledge better. It is the tool behind growing technological powerhouses such as
Cisco
and
Zendesk
. The tool is noted for its easy lesson creation, coaching functionality, and learning metrics.
Features:
✓ Lessonly UniversityMake the most of eLearning with a constantly updated portal comprising how-to materials, lesson templates, and more.
✓ Learning LibraryLet learners find the on-demand content they need at the Learning Library.
✓ PDF ExportingShare easily printable online lessons as PDF with those who don't have a Lessonly account yet.
✓ Bulk UploadEasily add new employees in bulk to Lessonly and categorize them by departments and functions.
✓ Unlimited LessonsAs a next-gen team learning tool, Lessonly allows you to create as many tests, lessons, and courses as you need.
✓ Learning PathsBuild paths to guide learners through learning and towards productivity.
✓ Multi-Device SupportGive learners the freedom to learn on the go by using any device.
Pricing starts at
$300/month and covers up to 20 learners
Why Use Lessonly?
Easy to UseLessonly is considered one of the best LMS systems because it is one of the easiest and incredibly effective tools out there that makes online learning simple.
Customizable LibraryCustomize the Lessonly library by topics. Choose what's important to your learners and what they see.
Huge Client BaseLessonly is used by more than 2.5 million learners in over 600 leading companies to develop, share, and reinforce industry best practices.
8.

Moodle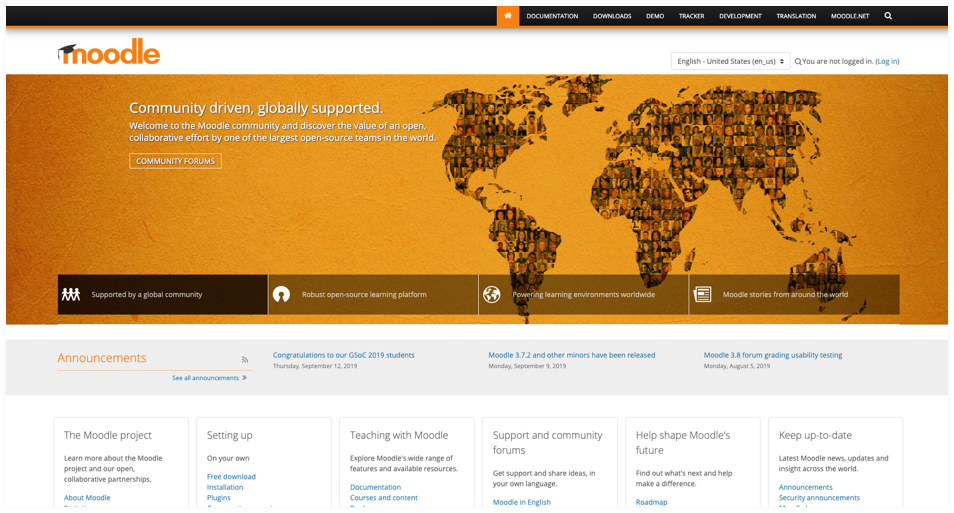 Moodle is an open-source online learning platform designed to provide users a robust, secure, and integrated system of personalized learning environments. It is available in more than 100 languages. The platform powers a number of eLearning environments worldwide as organizations of all sizes rely on it. The
open-source nature of the software application
means that a community of developers keeps fixing bugs and making improvements with updates coming every six months.
Features:
✓ Open SourceThe platform is available free to download, customize, use, modify, and redistribute.
✓ Collaborative Tools
Build a collaborative learning environment by using various communication tools, including chat, forums, and
wikis
that Moodle offers.
✓ Mobile AppBrowse content offline, contact people, and receive notifications with the official Moodle mobile app.
✓ Automated AssessmentMake objective and unbiased assessments of learners by automating the entire process.
✓ Detailed Reporting & LogsAccess learning reports on who took a course and when, as well as the activity log of each learner.
Pricing starts at:
$80/year (AUD) for a single class
Why Use Moodle?
Freely AvailableMoodle is available for use free under the General Public License (GPL) license. Organizations are free to download and use it right away.
On-PremiseBased on an on-premise setup, the software entails a lower total cost of ownership and provides users greater control over it.
IntegrationsThe platform's interoperable design supports integration with scores of plugins and add-ons that extend its functionalities.
9.

LearnDash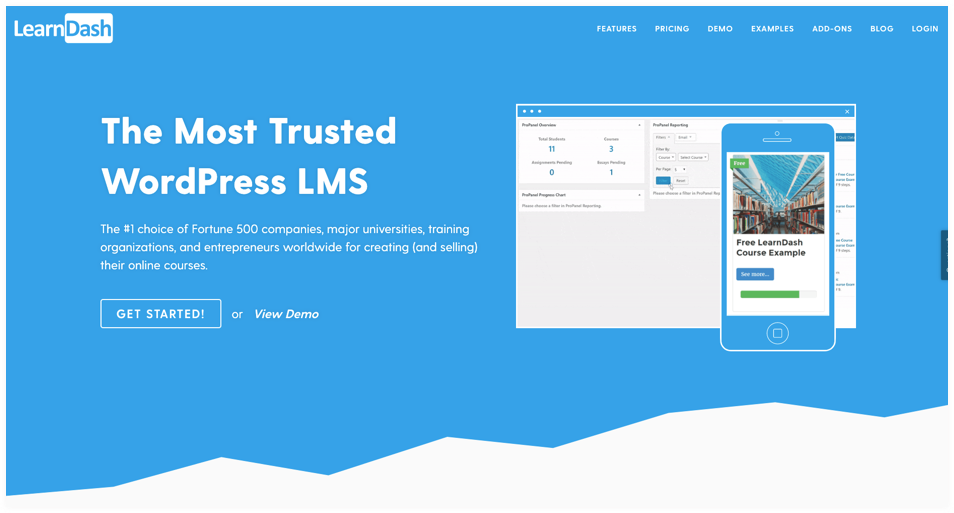 LearnDash is a WordPress LMS trusted by Fortune 500 companies, top universities, and training institutes. Using this top LMS solutions platform, users can
easily create and share or sell online courses
. It offers one great way to manage online learning with ease and create awesome learning experiences.
Features:
✓ Easy Course BuilderBuild multi-layer courses with user-friendly drag-and-drop Course Builder.
✓ Quizzes & Question BanksMake learning engaging with advanced quizzing supported by question banks.
✓ Drip Feed LessonsSchedule the delivery of lessons over a specified period of time to provide a guided learning experience.
✓ LearnDash Focus Mode
Eliminate distractions, increase learning retention, and completion rates with Focus Mode.
✓ Private/Public ForumsLet visitors see forum topics or block forum contents to provide exclusive access to your enrolled users.
✓ GradebookManage grades and track online progress from a centralized location without switching between tools.
✓ Certificates & BadgesAward badges and certificates to learners on successful completion of online courses.
Pricing starts at:
$159 for the basic plan (billed annually)
Why Use LearnDash?
Best of eLearning FinalistElearning! Magazine nominated the LearnDash WordPress LMS plugin for their annual "Best of Elearning!" awards. LearnDash was the only WordPress-based solution nominated.
Great SupportLearnDash provides customer support whenever one needs it in the form of a ticket desk and an active social media community.
Settings & ControlsThe software offers a range of settings and controls to instructors (such as who can access your course) to help them take full charge of online learning.
10.

Canvas LMS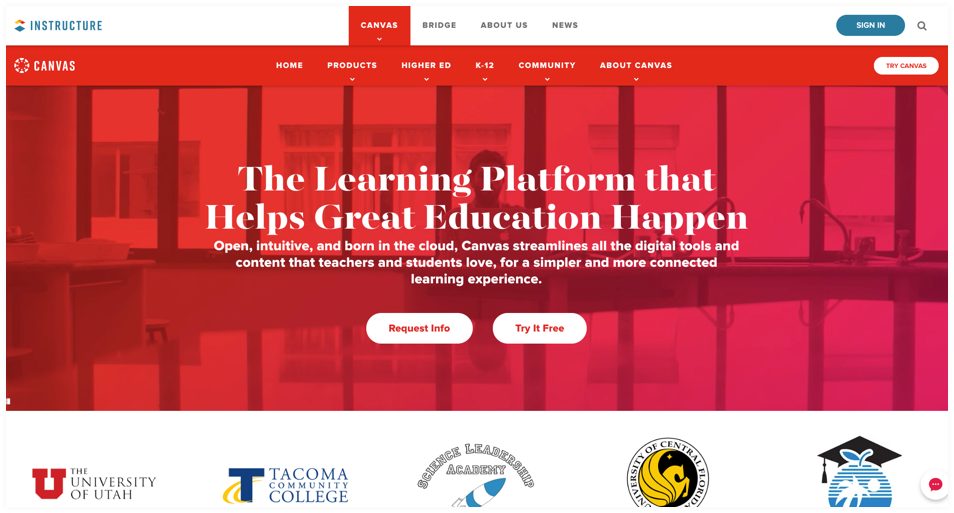 Canvas by Instructure is one of the fastest-growing learning management systems that deliver a simpler and more connected learning experience. The tool is extensible by design, which means users can add other tools to it to specifically meet their teaching and learning needs. As a cloud-based LMS and among the top 10 LMS platforms today, it offers a Service Level Agreement (SLA) of 99.9% guaranteed uptime for all customers.
Features:
✓ Flexibility
Deliver both blended and online learning while enjoying the freedom to explore and evolve your approach to teaching and learning.
✓ Collaborative Workspace
Facilitate file sharing, video conferencing, and announcements through collaborative tools.
✓ External Service Integrations
Offer a more integrated experience by integrating with a number of external tools.
✓ Web Conferencing Tools
Use audio, videos, presentations, and other resources to allow web conferencing between instructors and learners.
✓ Personalized Learning
Give every learner the opportunity to gain knowledge and develop skills in the most effective way.
Pricing starts at:
Contact the vendor. Pricing is based on the number of users.
Why Use Canvas LMS?
Supportive StructureThe tool is built upon a pedagogical structure that supports the continuous addition of content and other tools to a course so that instructors can meet the needs of their learners.
ScalabilityAs one of the best learning management systems, Canvas is designed to handle peak demand, for instance, when there are simultaneous logins from multiple users. The system can quickly scale up to meet all the needs in real-time.
Simple Pricing ModelThe price model that Canvas follows is simple. Users pay a one-time implementation fee and an annual subscription fee based on the total number of users. No fine print, no hidden costs.
Ready to Adopt the Best LMS Software?
Hope this shortlist of top 10 learning management systems makes your decision-making a little easier. While you may find most of these software applications share many common features, yet there are a few functionalities that make each product unique.
Identify your training needs and go for the one that you think is cut out to meet your needs.
We're here to help if you need us. Give us a call at (855) 776-7763 (Toll Free) and one of our team will help you zero in on one.
Do you want a free Training Software?
We have the #1 Online Training Software for employee training & assessment