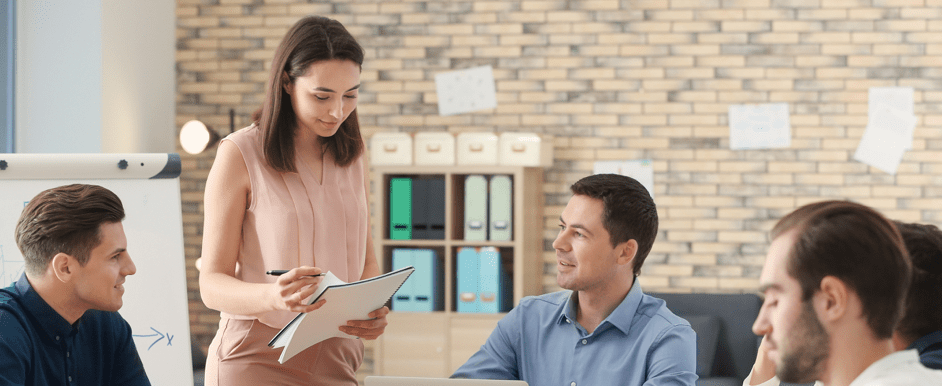 There has been widespread enthusiasm for LMS software solutions worldwide, and there are several significant reasons for it.
Some of them include flexibility, speed, efficiency, transparency, improved learning, productivity, and competitive advantage.
These are metrics no business, regardless of size or industry, would easily overlook.
There are scores of other reasons like this that explain why these online training systems are inevitable.
If you're yet to be a part of this breakthrough in learning technology, it's never too late to take the first step.
This post lists the best learning management systems to help you land the best one for your needs.
But before we look at them, let's quickly understand the following.
What Is LMS Software?
LMS software is a cloud-based platform used to manage, deliver, and track online training programs. Most of the LMSs are cloud-based and sold as software as a service (SaaS). By helping users take charge of course creation, administration, task automation, tracking, and reporting, an LMS serves as a complete online learning solution for schools, businesses and corporate training. For more on LMS, read What is an LMS?
These software applications are best for web-based or computer-based training. They are accessible from anywhere and at any time. They are also easily customizable and support gamification, mobile learning, personalized learning path, quiz-based assessments, and multiple admins.
Watch : What is a Cloud-Based Learning Management System?
Best LMS Software: A Quick Comparison Table
LMS Software
Why Is It Important
Pricing
ProProfs LMS
Ready Courses & Templates

Quizzes & Surveys

English, Spanish & 70+ Other Languages

Collaborative Learning

Mobile Learning

AI Reports & Stats

Forever free for up to 10 learners.Paid plan starts at $1.97/active learner/month for large teams. Billed annually.
Absorb LMS
Content Libraries

Observation Checklists

Mobile App

SCORM Compliance

Reporting and Analytics

Get in touch with the company for a quote
TalentLMS
Drag-&-Drop Course Builder

Ready-Made Courses

Videoconference

Gamification

Supports 30+ Languages

Starts at $69/month. Billed yearly
Moodle LMS
Fully Customizable

Quiz Activities

Advanced Automation

Supports 100+ Languages

Secure Authentication

Starts from $160 AUD
Cypher Learning LMS
Content Creation

Automate and Gamify

Collaborate and Chat

Track Progress

Powerful Integrations

Get in touch with the company for a quote
iSpring
Build Engaging Courses

Customization Options

Reporting

Performance Appraisal

Software Integrations

Get in touch with the company for a quote
Docebo
Social Learning

Gamification

Advanced Reporting

AI-Powered Learning

400+ Integrations

Get in touch with the company for a quote
D2L Brightspace
Create Content

Discussion Boards

Virtual Learning

Video Notes

Mobile-First Design

Get in touch with the company for a quote
Blackboard LMS
Course Messages

Offline Content

Announcements

Collaborate

Discussions

Get in touch with the company for a quote
Canvas LMS
Course Creation

Audio/Video Support

Personalized Learning

Grading Scheme

Assessments

Get in touch with the company for a quote
360Learning
Course Creation Tools

SCORM Compliance

Powerful Analytics

Asynchronous Learning

Gamification

Starts at $8/per user/per month
Adobe Learning Manager
Video Conferencing Integration

Learning Paths

Gamification

Social Learning

Personalization

Get in touch with the company for a quote
SkyPrep
Intuitive UI

Course Creation

Multi-Tenancy

Workflow Automation

Enterprise Grade Security

Get in touch with the company for a quote
SAP Litmos
Content Authoring

Social Learning

Robust Reporting

Task Automation

Video Assessment

Get in touch with the company for a quote
Tovuti
Course Management

User Experience

Virtual Classroom

Media Library

Report Builder

Starts from $775 /month/per month, billed annually
Trakstar Learn
Create/Import Course Content

Quizzes

SCORM & API Compliance

Reports and Dashboards

Anytime, Anywhere Learning

Get in touch with the company for a quote
LearnWorlds
Flexible Courses

Interactive Video

Live Sessions

Assessment Builder

Analytics & Reports

Starts from $24/month
Easy LMS
Course Builder

Multilingual Support

Automatic Certificates

Learning Paths

Track Progress

Starts from $50/month
LearnUpon
Course Creation

User Management

Webinars

Out-of-the-Box Reports

Enterprise Grade Security

Get in touch with the company for a quote
Thinkific
Custom Course Creation

Course Website

Multilingual Support

Course & Community Connection

White Labeling

Starts from $0/month (Limited to one course only)
Let's now take a closer look at the list of learning management systems in 2023 below to better understand why they make it to the top list.
20 Best LMS Software for 2023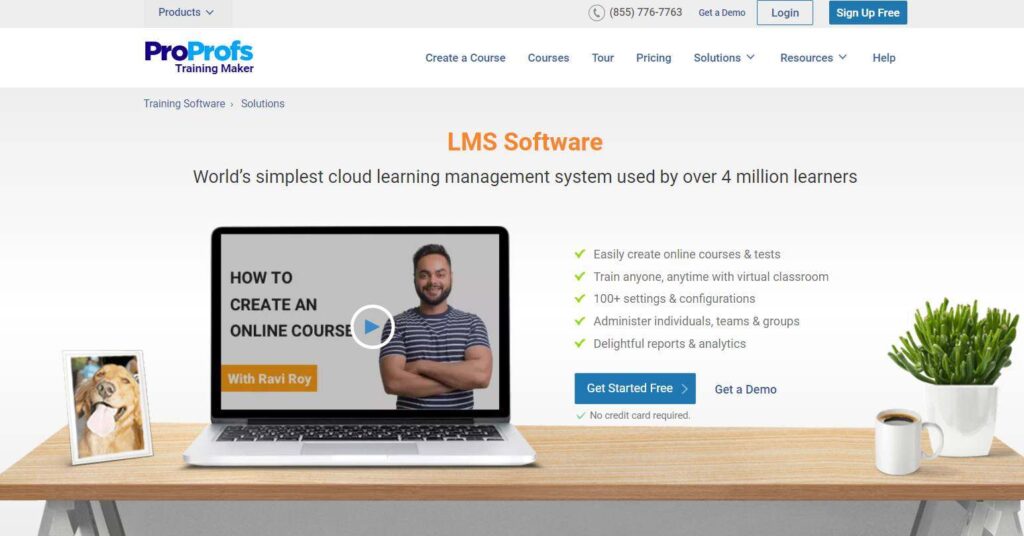 ProProfs LMS is an award-winning and the world's easiest-to-use cloud LMS software for online employee training. It is designed for users of skill levels. As a recognized leader in employee training, the solution caters to the needs of every industry, be it construction, manufacturing, retail, hospitality, or healthcare.
Using the platform, you can create online courses from scratch and upload pre-existing content, such as videos, docs, PDF files, and presentations. You can also leverage a library of 100+ training courses and templates on various topics, including safety & compliance, employee skills, harassment, and leadership & management.
Add quizzes, videos, surveys, and visuals for an engaging learning experience. Personalization lets you deliver your courses under your brand.
As an AI-based LMS, ProProfs automates routine admin tasks, such as enrollment, reminders, announcements, progress tracking, grading, scoring, and reporting.
Features:
Premium Course Library
Get online training or eLearning up and running in minutes. Access a well-stocked library of professionally designed, editable, and ready-to-use courses and training templates. New courses are added regularly.
Interactive Course Videos
Make your course videos highly engaging by adding questions. These questions will help you measure knowledge. The video will pause when the question pops up, and as the learner responds, the video will resume again.
Virtual Classroom
Centrally administer learners and courses and manage groups, admins, and roles and permissions using a secure virtual classroom environment. Provide self-help, track progress, and view reports from within the classroom.
Quizzes & Surveys
Boost engagement and make assessment easy with engaging quizzes. Get video responses from learners and prevent question skipping. Collect feedback from participants on courses and instructors for improvement.
English, Spanish & 70+ Other Languages
Ensure better comprehension and retention by deploying training in a language your learners speak. ProProfs LMS supports English, Spanish, and over 70 other major languages.
Collaboration
Facilitate peer-to-peer social learning through an online community-based Q&A forum. Enable collaboration and discussion among learners.
Reports & Analytics
View advanced LMS reports showing pending and completed courses, total time taken, challenges, and quiz scores of individuals and groups. Use this measurable data to make learning decisions.
Why We Picked ProProfs:
+ Delightfully user-friendly
+ Powerful integrations
+ Rich customization options
+ Ready courses on hundreds of topics
Pricing:
Forever free plan (up to 10 learners). Paid plan starts at $1.97/learner/month (billed annually) for large teams. No hidden charges. 15-day money-back guarantee.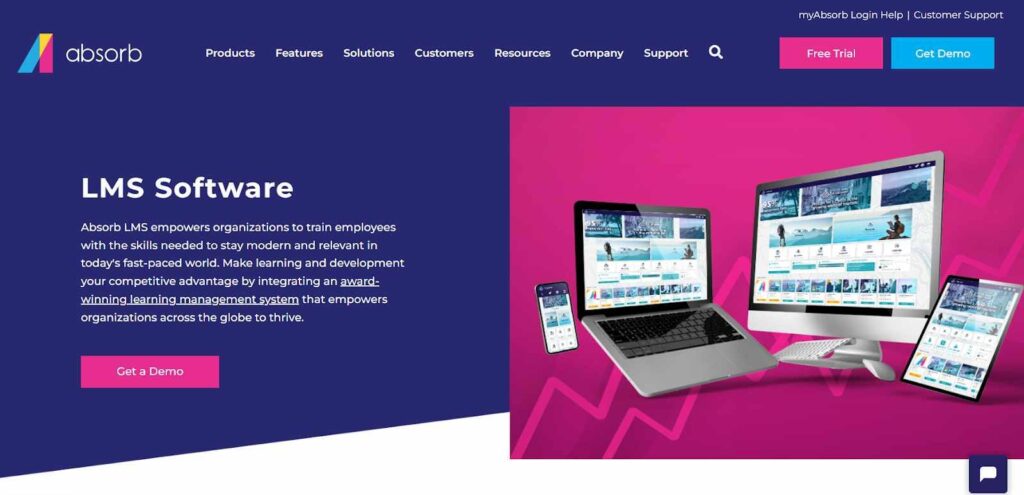 Absorb LMS is one of the most popular learning management systems engineered to inspire learning and fuel productivity and growth. It has been intelligently crafted to meet the needs of all types of businesses and learners so that they can stay relevant in today's fast-paced world. The thoughtful design of the tool is inspired by the idea that anything worth doing is worth doing incredibly well.
From onboarding to employee development and extended enterprise training, Absorb LMS supports all of it and more. The easy-to-use nature of the tool makes it effortless to accelerate learning and achieve results faster. Businesses, governments, higher education, and non-profit organizations worldwide use the LMS.
It lets you tap a learning technology that grows as your business grows. The LMS is compliant with WCAG 2.0, SOC 2 Type 2, and GDPR, and it is hosted on Amazon Web Services (AWS) to ensure speed and reliability.
Features:
Content Libraries
Access thousands of pre-built and quality training resources from leading providers. They include microlearning courses, videos, and quizzes. The content library is mobile-compatible and covers a range of skill areas.
Mobile App
Empower your learners to learn anytime, anywhere, both online and offline, with a mobile app for iOS and Android. Improve flexibility, drive engagement, and boost productivity.
Smart Administration
Run the LMS on your own terms, automate processes, and increase efficiency. Access data at your fingertips and leverage integrated systems. Create admin dashboards and choose who can and can't have access to them.
Observation Checklists
Use this feature to verify whether your employees have the knowledge, skills, and capabilities to get their jobs done. Streamline record-keeping and maintain accurate and up-to-date records.
Reporting & Analytics
Get the data you need to make informed decisions. Track training progress and milestones and improve the ROI. The reports include learner activity, course summary, course evaluations, and other insights.
Why We Picked Absorb LMS:
+ Curated content
+ Ease of training administration
+ Customization
Pricing:
Get in touch with the company for a quote.

With TalentLMS, you "come for the training, stay for the experience." A user-friendly interface makes any training feel right from the get-go. You can create courses in a few simple steps, add learners, and go live by the end of the day. Similarly, ease of accessibility enables learners to learn using any device, anytime, anywhere.
Powered by Epignosis, a global pioneer in learning technologies, TalentLMS is one of the best LMS software that empowers users to open up new possibilities in employee training and development. The LMS makes it easy to build, organize, customize, deliver, and scale any training type, including onboarding, compliance, customer, and sales training.
Get access to some of the best tools to supercharge every step of your workforce training programs. Train them, measure results, and continuously drive growth.
Features:
Course Management
Easily build courses from scratch or reuse your existing training materials. The LMS also provides a fast-growing course store featuring hundreds of pre-made online courses.
Videoconference
Interact with your learners in live training sessions with the help of an integrated video conferencing tool. You can also connect with apps such as Zoom, GoToTraining, and Microsoft Teams.
Multilingual Support
Train your learners in the language they speak. Choose from over 30 languages, including English, Spanish, German, and French.
Single Sign-On
Simplify user logins with LDAP and SAML2. Integrate with Active Directory, OpenID Connect, OneLogin, and Okta.
Reporting
View extensive reports on all activities happening in your account. Get the learning data you need when you need it. Use filters to track only the information you need. Easily share reports with stakeholders.
Why We Picked TalentLMS:
+ Clean & easy to use
+ Course cloning
+ Value for money
Pricing:
Starts at $69/month. Billed yearly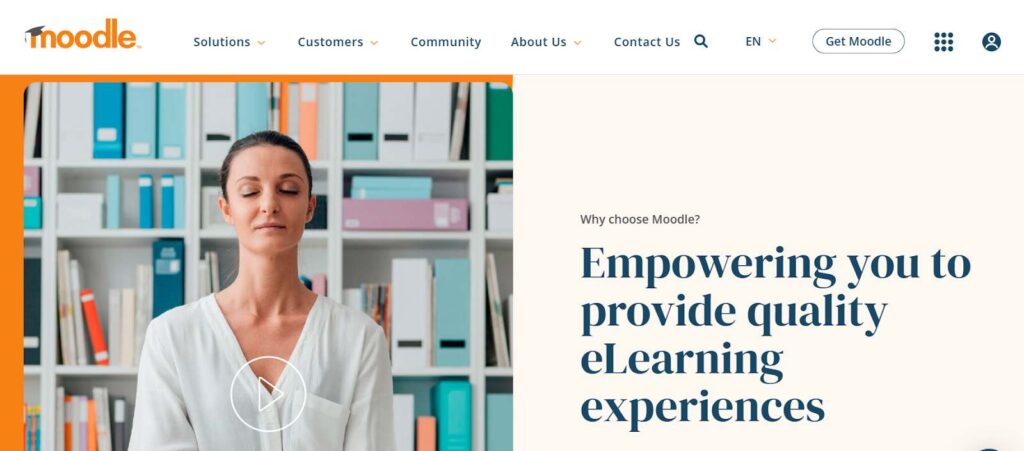 Moodle LMS is one of the most popular learning management system in education industry specially for students, schools, vocational training, and workplace training. The solution enables users to streamline onboarding, skills training, and compliance training and drive measurable learning outcomes. Being open-source, the LMS is easily customizable to suit end-users' teaching and learning needs.
This feature-rich LMS platform for education time-saving and designed to help deliver a stress-free teaching and learning experience. A dedicated team, a culture of excellence, and a community are the driving force behind Moodle's excellent products.
One of the best LMS software, it makes quality education and training accessible to all. Hundreds of millions of people in thousands of educational institutions and organizations worldwide use Moodle to manage online learning.
Features:
Modern UI
A contemporary interface, an easy navigation system, and an updated course experience enable you to manage courses while letting learners prioritize coursework with unnecessary distractions.
Mobile App
Deliver a seamless learning experience, online and offline, with Moodle app. Learners who don't have access to a desktop or stable internet connection can learn whenever and from wherever they want.
Integrations
Connect the LMS with third-party platforms and services such as video conferencing, plagiarism detection tools, and student information systems.
WCAG 2.1 AA Compliance
Moodle versions 3.10 and 3.11 are WCAG 2.1 AA compliant. People with different learning needs can access a huge range of resources and engage in different activities to learn optimally.
Security
Control how your learning data is stored and used. Easily configure the LMS to meet privacy and security requirements, including GDPR.
Why We Picked Moodle LMS:
+ Open source and free
+ Security system
+ Customization & flexibility
Pricing:
Starts from $160 AUD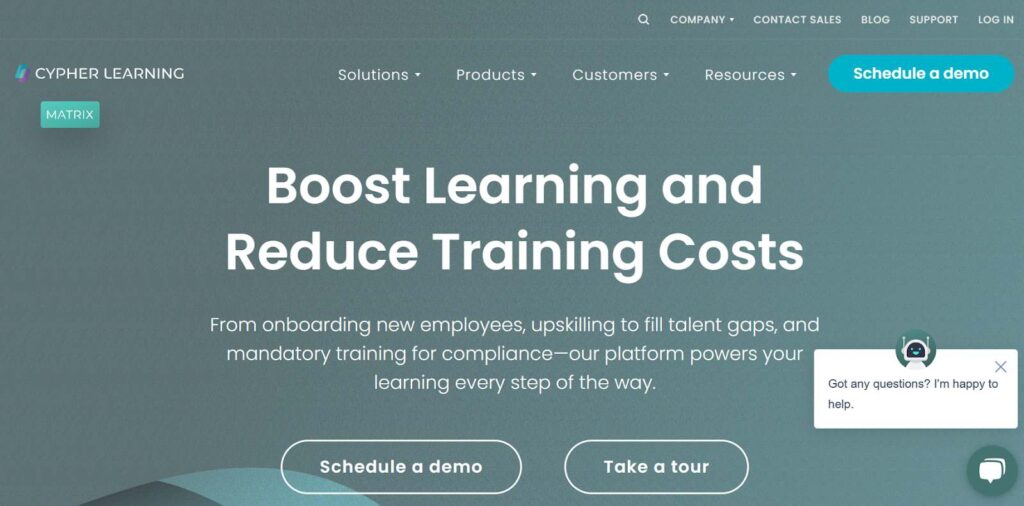 Matrix by CYPHER LEARNING LMS is one of the best LMS systems for business and an intelligent learning platform for delivering high-quality training programs for your businesses. This tool can be used for various use cases like onboarding employees, teaching students, or selling online courses.
It makes the whole learning process enjoyable and engaging for learners. The seamless integrations with third-party applications, multilingual support, and other accessibility features make it one of the top learning management systems of 2023.
Cypher Learning LMS also has the best LMS app version, which supports mobile learning, reducing the need for learners to become desk-bound. It's a complete solution packed with indispensable features, such as gamification, collaboration tools, learning paths, ad-hoc reporting, and more. The LMS brings innovation by facilitating competency-based learning and personalized recommendations.
Features:
Content Creation
Design unique and engaging courses without any technical expertise. The built-in authoring tools let you create high-quality content on various topics.
Automate and Gamify
Automate repetitive tasks like enrolling your learners in courses and sending custom messages. Promote healthy competition and make learning more effective with points and badges.
Collaborate and Chat
Encourage learners to share knowledge and solve doubts in real time. Chat with employees and other members in public or private groups.
Track Progress
The built-in reports let you track learner progress. Get rich insights into various aspects of your business and make necessary changes to improve your training programs.
Powerful Integrations
Cypher Learning LMS plays well with some of the top third-party apps like Salesforce, Zapier, GoToMeeting, Zoom, Mailchimp, and more.
Why We Picked Cypher Learning LMS:
Personalized learning
Skills development
Professional certificates
Web conferencing
Pricing:
Get in touch with the company for a quote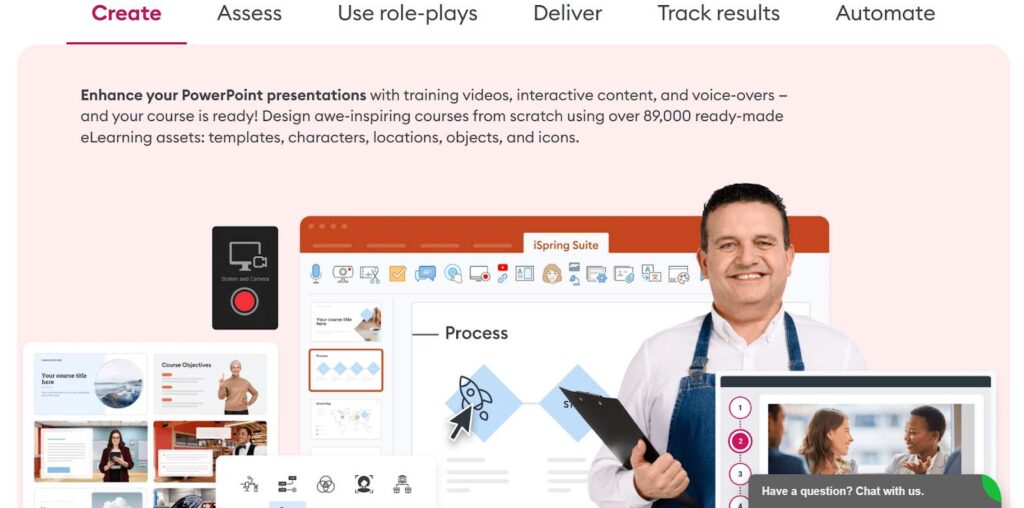 iSpring is a cloud-based learning management system for online corporate training that enables you to quickly create and deliver courses. It has an intuitive interface, making it easy to train managers and employees. This powerful LMS is used for various purposes like employee onboarding, sales training, product training, channel training, compliance training, and more.
iSpring is considered the best learning management system software for obvious reasons.
Besides creating interactive content with templates, objects, icons, and characters, you can perform knowledge checks through quizzes.
By leveraging role plays, you can enable your learners to build strong communication skills. Create scenario-based activities and let the participants practice in a risk-free environment. Collect training metrics and take full charge of your training programs.
Features:
Build Engaging Courses
Upload and create content in minutes with your own presentations, SCORM courses, audio, flash clips, and video tutorials.
Customization Options
Add your branding elements to boost your corporate identity. Add your brand logo, favicon, and color to make the platform look your own. Translate the portal into any language to reach audiences who don't speak English.
Reporting
Track your learners' progress through robust reports. Identify users who show great interest in your training programs. The simulation results provide you insights into attempt details, average score, answer breakdown, and more.
Performance Appraisal
Use the 360-degree assessment to gauge the competencies of employees in real-time, collect feedback on their performance, and know about the hidden conflicts in a team.
Software Integrations
The API technology lets you interact with the training data generated on this platform with the third-party systems that are currently used within your organization.
Why We Picked iSpring:
Powerpoint animations and interactions
Develop custom navigation
Video editing is easy
Pricing:
Get in touch with the company for a quote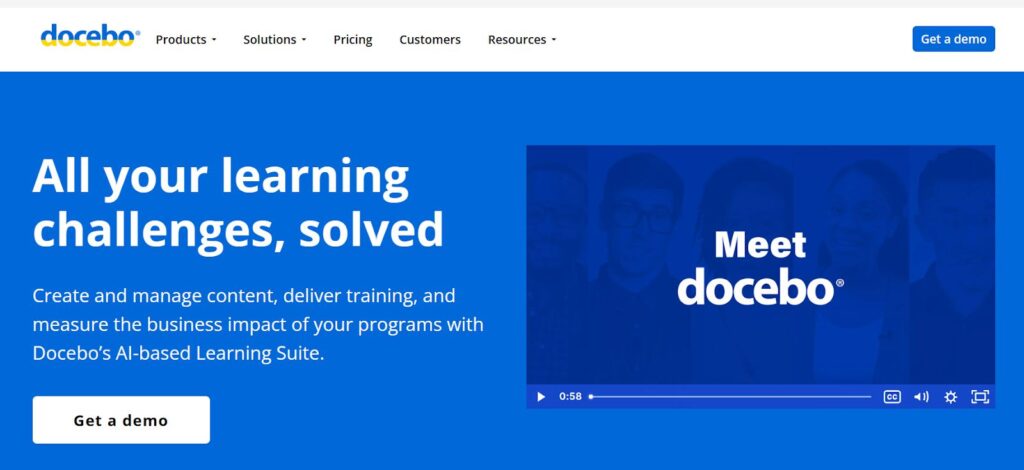 Docebo comes with unmatched configurability that lets you set up the LMS based on your audience, their learning needs, and your business requirements. Its 400+ software integrations enable users to combine all the necessary and connected learning systems under one ecosystem.
Training external audiences such as customers and channel partners also becomes easy with the LMS. Similarly, you can redraw the boundary of formal training by including social learning to drive more productivity.
The easy and fast nature of the LMS lets users focus on managing course content rather than on routine administration. At its core, the application is simple, yet you can extend its functionality based on the complexity of your requirement. More than 2,000 well-known brands worldwide power their online training and learning systems with Docebo.
Features:
Mobile Learning
Deliver mLearning experiences with Docebo's mobile learning app Go.Learn. Let learners access the training platform directly from their personal devices and learn at their convenience.
Social Learning
Merge your formal learning system with informal, social learning. Discover, Coach & Share improves communication and collaboration across an organization and lets you pull reports.
Integrations
Easily connect the LMS with third-party systems using Docebo Connect. Leverage free and paid native integrations and integration platform as a service (iPaaS) to extend the power of an already powerful solution.
Accessibility
Docebo is compliant with WCAG 2.1 AA, making the LMS software accessible to users regardless of their learning ability, situation, or location.
Extended Enterprise Training
Train your customers and partners with the help of an extended enterprise solution and build lasting relationships with them. Ensure a higher product adoption rate, reduce churn, and earn more business profits.
Why We Picked Docebo:
+ Quick to deploy
+ Easily configurable
+ Works with existing tech stack
Pricing:
Get in touch with the company for a quote.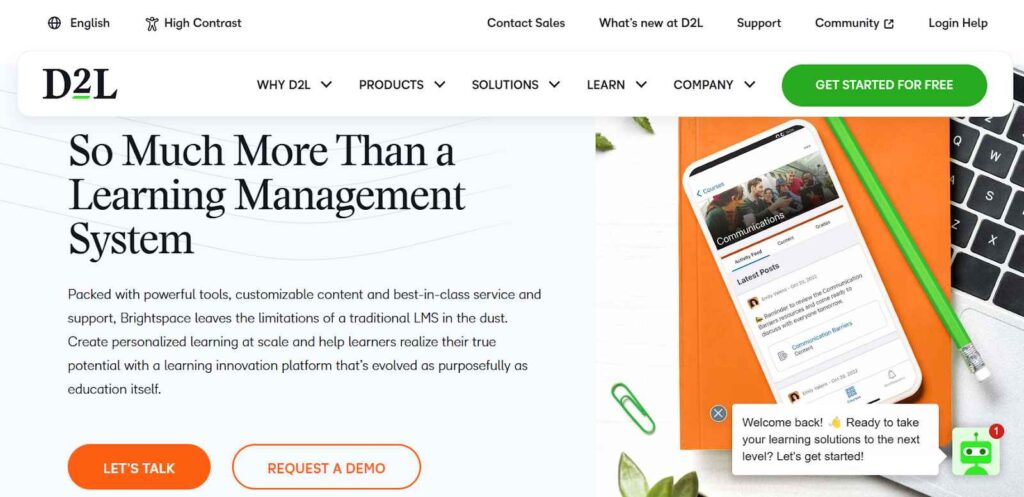 Packed with powerful tools, D2L Brightspace LMS is more than just an LMS. No matter where and how you teach, this LMS software empowers your learning programs through technology, service, and customer support.
Build personalized learning at scale and enable learners to understand their potential. Seamlessly craft beautifully designed courses and get performance-improving insights. This LMS supports 1800+ integrations to help you keep using the tools you love without leaving this platform.
Leverage the tools to collect actionable feedback and mastery-based progression while supporting learners' journeys. Take your corporate learning programs beyond compliance with this robust LMS and keep your employees, partners, and customers one step ahead.
Features:
Create Content
The high-impact e-authoring tools let you create sound content and save time with ready-made templates. Add multimedia elements with the Capture App and boost engagement.
Discussion Boards
Encourage learners to discuss important topics and share thoughts with their peers through discussion boards. Discuss course content, and work together in assigned sections and groups.
Video Notes
With the Video Notes tool, you can record videos and add them anywhere. You can use these videos for various purposes, such as submitting video assignments, providing video feedback, and conducting asynchronous video discussions.
Virtual Learning
This tool combines various tools, services, and support to let you deliver the best virtual learning experience. From small to big virtual schools, this platform works for everyone – educators, students, and IT as well.
Mobile-First Design
The responsive design supports learning on any device and adapts to any screen size. Learners can take courses and assessments anytime, anywhere.
Why We Picked D2L Brightspace LMS:
Award-winning accessibility features
Outcome-based assessments
Personalized feedback
Pricing:
Get in touch with the company for a quote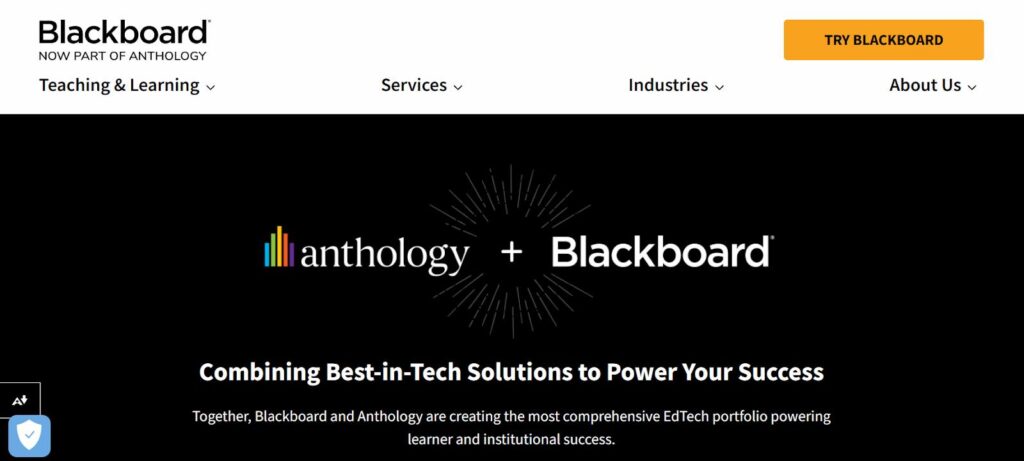 Blackboard LMS, now a part of the educational technology services provider Anthology, is advanced, responsive, and reliable. It's the best LMS for corporate training to deliver game-changing learning experiences. Businesses use it to deliver various professional training and development programs and turn enterprise learning into a strategic advantage.
The intuitive LMS platform lets you provide an engaging learner experience anywhere, anytime, and on any device. You can use the tool to develop and retain your top talent.
Blackboard LMS complies with global accessibility standards such as Web Content Accessibility (WCAG) Guidelines 2.1 Level AA and Section 508.
There's also a global learning community where you can connect and collaborate with like-minded people and share knowledge, innovate, and forge partnerships.
Features:
Registration & Management
Access a fully integrated system for learner registration and enrollment management with a manager dashboard and reporting tools. You can customize the system according to your specific needs.
Course Design & Development
Take the help of an instructional design team to develop custom training courses based on industry best practices. During the process, training managers can attend Drop-in Clinics with an "Ask me anything" format led by experts.
Responsive Design
The LMS is characterized by a mobile-first responsive design that lets instructors and learners connect from anywhere and at any time using a device of their choice.
Mobile App
Let your learners view course content and learn on the go. See detailed course activities with an activity stream. The Blackboard mobile app supports both Android and iOS devices and it is available in over 30 languages.
Analytics
Leverage the services of a team that provides learning insights to drive better enrollment management, onboarding, retention, and instructional design as well as identify at-risk learners.
Why We Picked Blackboard LMS:
+ Simple UI & easy navigation
+ Assignment management
+ Easily configurable
Pricing:
Get in touch with the company for a quote.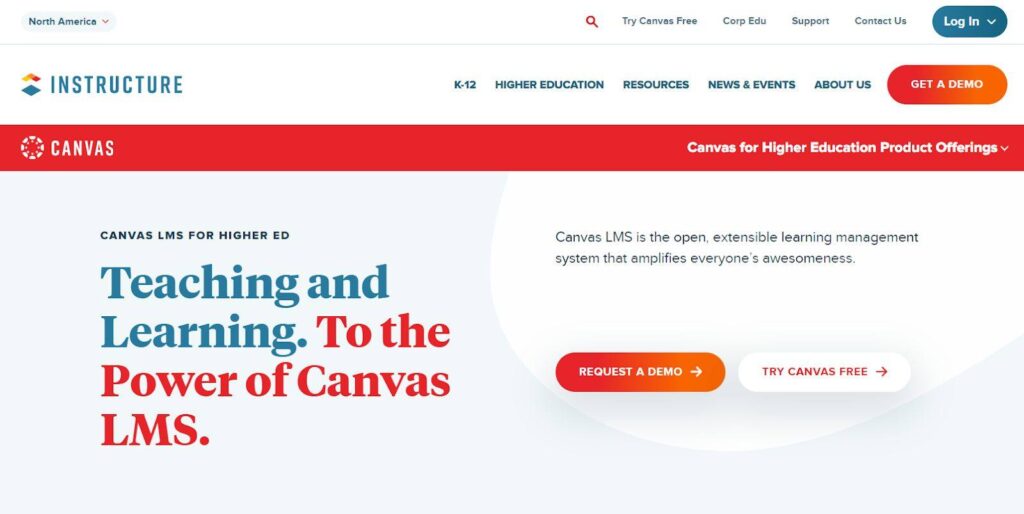 Canvas LMS by Instructure is the world's fastest-growing and one of the best learning management software. It is free, open-source, and extensible. The platform acts as a robust digital foundation to deliver engaging and dynamic online learning experiences.
From course content to learner interactions, quizzes, and grades, you can find everything in one place. The LMS takes over the admin tasks so that you can focus on teaching and learning for increased productivity. Deliver engaging and unforgettable employee training across your organization at any scale.
Canvas LMS can help you align your learning objectives with company goals to drive better business results. Make learning an integral part of your organization with a secure, reliable, and scalable solution.
Features:
Mobile Learning
Reach out to every learner with industry-leading mobile applications. These apps are fully featured and responsive for unmatched accessibility.
Rich Communication System
Communicate with individuals and groups through messaging, video, or audio notes. Let your learners collaborate between themselves via a chat group, video, and other messaging tools.
Unlimited File Size
When it comes to file size, you're limited by your imagination only. Upload as many audio, videos, and other media as you like. Provide an enriching learning experience without worrying about the size of the files.
Mastery Paths
Divert your learners to different learning paths based on their scores in an assignment or quiz. These paths are based on conditional items that differentiate learners according to their performance.
Reports
Access default reports to view data related to an admin account. See reports by users, courses, and outcomes. Configure reports showing course start and end dates and enrollment status.
Why We Picked Canvas LMS:
+ User experience
+ Messaging system
+ Grading
Pricing:
Get in touch with the company for a quote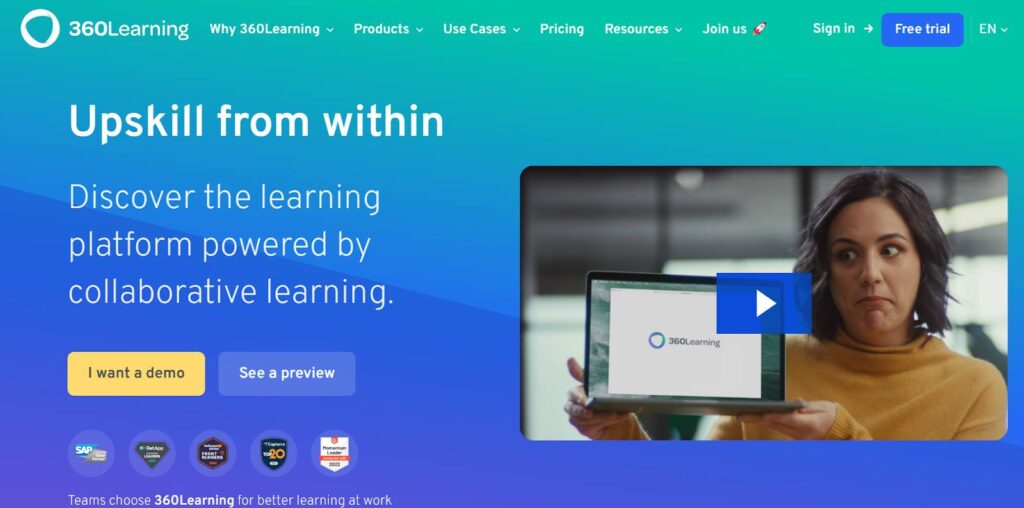 360Learning is an incredible tool that supports collaborative learning and transforms how companies train their employees, customers, and partners. This solution empowers L&D teams to drive growth and boosts training efficiency.
The crowdsourcing feature lets your learners tell you what training they need to succeed. From mobile learning and content integrations to video recording and in-depth reporting, 360Learning offers all the capabilities of a modern LMS.
The best part is that you can streamline training delivery and get a bird's eye view of your project with features like task assignments, project timelines, learner notifications, and deadlines. Maximize your course quality with real-time feedback from learners.
Features:
Course Creation Tools
The course creation tools let you build engaging courses and learning paths, enabling you to choose the exact topics you want. You can create multiple content formats, such as documents, texts, quizzes, videos, assessments, and other media.
Powerful Analytics
With analytics, you can understand how learners interact with your courses. View completion rates and how satisfied your learners are with your training programs.
Co-Authoring Tools
With this feature, multiple users can collaborate on course creation. It supports comment threads, course chats, user revisions for course reviews, and more.
Gamification
Encourage learning with game design principles for better learning outcomes. Define milestones and foster healthy competition for the highest accomplishment.
In-Course Feedback
Derive richer information through in-course feedback like ratings and comments. This will help you create stronger courses while making it easy for learners to share their opinions.
Why We Picked 360Learning:
Modern interface
Incredible reporting mechanisms
Collaborative learning
Powerful integrations
Pricing:
Starts at $8/per user/per month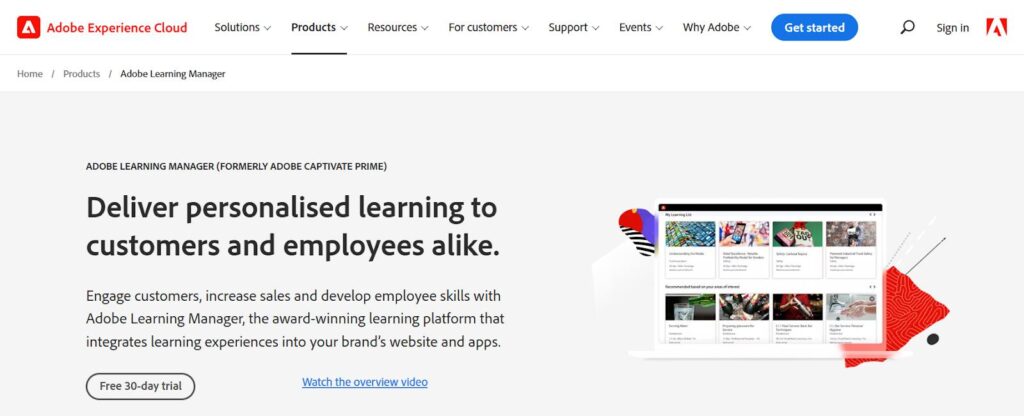 The Adobe Learning Manager (formerly known as Adobe Captivate Prime) by Adobe Experience Cloud is an online learning solution best for creating mobile-ready courses in just a few minutes. With this LMS, you can deliver a unified learning experience that offers your learners a complete view of the courses and tests assigned to them.
Built on artificial intelligence and machine learning, this platform lets you create learning journeys with relevant recommendations to keep your learners engaged and motivated. The course library gives you access to over 86,000 courses, ranging from leadership and sales modules to a wide range of soft skills.
The intuitive data visualization tools offer powerful insights into your training program. Other features of this platform include AI-powered recommendations, easy administration, a calendar widget, certification, and more.
Features:
Multilingual Support
Enable your learners to change the language or format when taking a course. Offer a personalized learning experience and improve course completion rates.
Video Conferencing Integration
Conduct live classes through video conferencing integrations like Adobe Connect and MS Teams without leaving the platform. The API-based connectors let you connect other video conferencing tools as well.
Learning Paths
Help your learners achieve mastery of a particular subject through personalized learning paths. Customize mandatory and optional courses to guide learners through different courses.
Gamification
Help your learners achieve milestones and foster a culture of continuous improvement with points, badges, and certifications.
Social Learning
Give your learners a chance to show off their new skills and facilitate social learning through topic-based discussions.
Why We Picked Adobe Learning Manager:
Excellent interactions
Intuitive UI
Powerful integrations
Pricing:
Get in touch with the company for a quote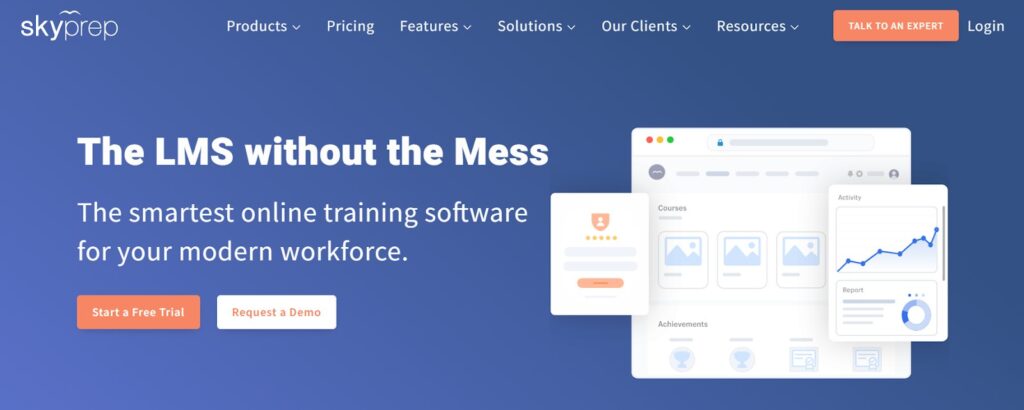 SkyPrep is designed to help enterprises deliver a better learning experience. With these LMS platforms, you can automate online training, facilitate distance learning, and boost employee productivity. The intuitive nature of the tool makes it easy to tackle any training challenge.
If you're looking for the right learning management system that improves learner engagement, reduces the time spent on learning, and increases retention, then SkyPrep can be one of the best choices. It provides integrated corporate learning solutions for modern enterprises.
The award-winning product delivers proven online training solutions to millions of users worldwide. Its ease of use and extraordinary customer service are among the top aspects customers like most in the LMS.
Features:
Course Creation
Create online courses using an easy course creator and include knowledge checks. Upload pre-existing training materials and set up course-specific settings.
Customization
Easily customize the platform to resonate with your brand. Add a logo and colors, and personalize your emails and certificates. A custom API in the LMS lets you manage and automate the platform.
Learner Engagement
Keep the engagement and interactivity levels high with software applications characterized by modern designs and irresistible features such as gamification.
Multi-Tenancy
Set up different platforms for clients, business branches, and products but manage them with one account. Create a dedicated learning space for each of them.
Reporting & Analytics
Get actionable learning data from out-of-the-box reporting and analytics. Track different parameters about your learners and courses. Easily preview, filter, and download reports.
Why We Picked SkyPrep:
+ Modern & easy to use
+ Course building
+ Gamification
Pricing:
Get in touch with the company for a quote.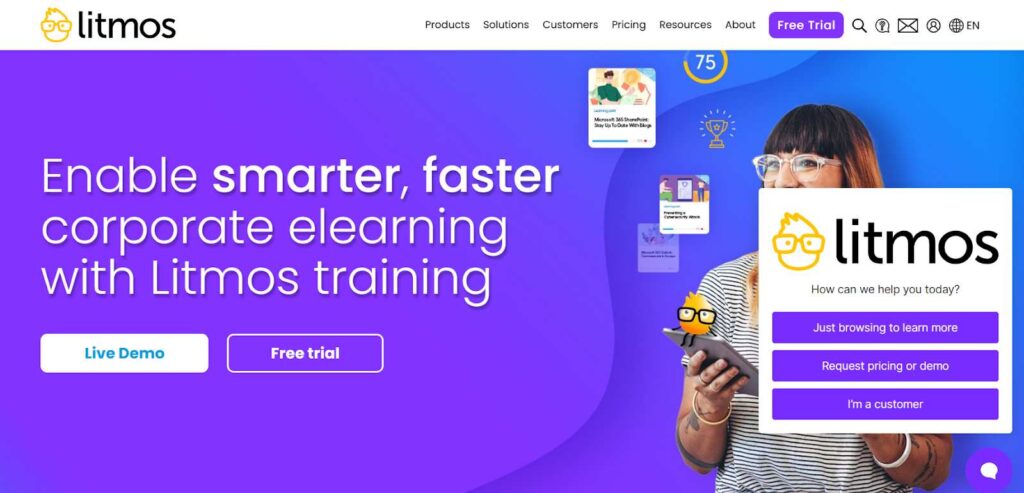 SAP Litmos is a cloud-based LMS system that enables training professionals to manage an entire training lifecycle from one centralized and secure environment. Designed for maximum engagement and retention, it is the engine that propels some of the most sophisticated online training programs worldwide.
LMS platforms for companies is built with training success in mind, so it adopts a simple and constructive approach to learning. Thousands of companies use the LMS to deliver transformative training to their employees, customers, and channel partners.
It is scalable, flexible, and deploys in minutes. The LMS software comes with more than 30 integrations or connectors. It is highly secure, GDPR compliant, and provides a range of security setups for a risk-free training environment.
Features:
Content Authoring
Create dynamic SCORM-compliant content with the built-in authoring tool. Both beginners and seasoned trainers can use it and remove the need for external course creation apps.
Task Automation
Get more time at your disposal to focus on training by automating repetitive admin tasks such as learner enrollment and course assignments.
Social Learning & Notifications
Receive notifications of your learners' activities in real time and keep yourself posted. Drive greater engagement and course completion rates through collaborative social learning.
Video Assessments
Give your learners the option to record and upload videos as a part of your training assessments. Add these assessments to your courses so you can review them later to check retention and challenges.
Tracking & Reporting
Track your learners' progress and performance with reports and dashboards. You can also create custom reports on users and course content.
Why We Picked SAP Litmos:
+ Intuitive UI
+ Video quality
+ Easy authoring tool
Pricing:
Get in touch with the company for a quote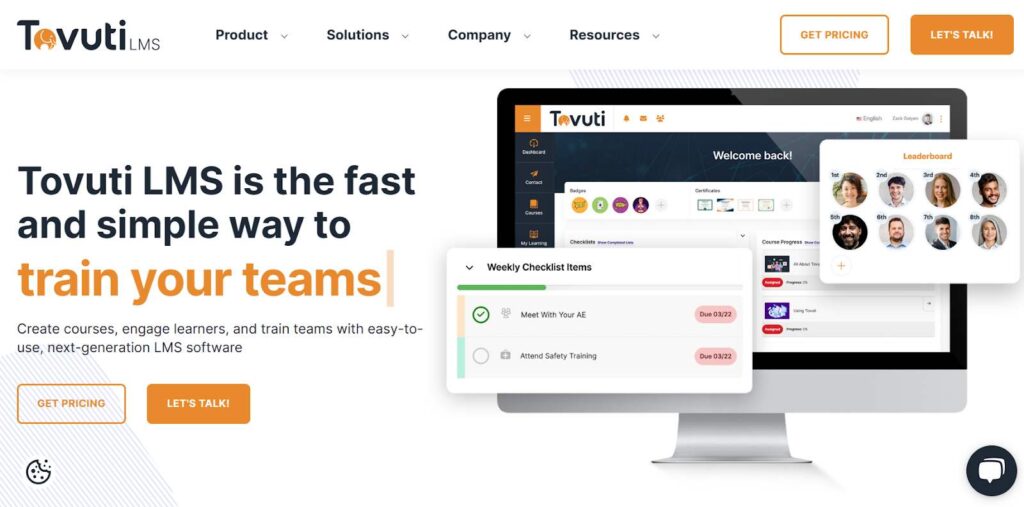 Tovuti LMS is a next-gen LMS that is easy, fast, and engaging. You can launch training programs in a matter of days, not months. It is one of the best LMS software to standardize employee training and build a learning culture.
Thanks to its coaching support, tutorial library, and other professional services, new users can easily switch to the LMS from their existing systems. The tool complies with Section 508 of the Rehabilitation Act, which means it is accessible to all, even those with learning disabilities.
Tovuti has an open API library compatible with SCORM 1.2 and SCORM 2004. You can use the LMS under its assigned domain or your domain and sub-domain.
Features:
Course Management
Build, deliver, and track online courses. Use lesson gating to ensure your learners take them according to an assigned order. Track all the ways your learners interact with your course content.
User Experience
Give your learners everything they need for their learning on a personalized dashboard. These dashboards display courses, certifications, badges, upcoming events, and more.
Virtual Classroom
Leverage a live virtual classroom system to engage your learners in synchronous learning. The classroom has several premium features you can't find on similar platforms.
Media Library
Provide a storehouse of videos, handbooks, technical documentation, and other resources with a media library. Learners can access them as and when they need them.
Report Builder
Build custom reports on your training participants' performance. Get an aggregate or filtered view of the data. You can give your reports a name, select a type, and add a theme.
Why We Picked Tovuti:
+ Responsive support
+ Simple and easy to use with a polished interface
+ Easy class and event setup
Pricing:
Starts from $775 /month/per month, billed annually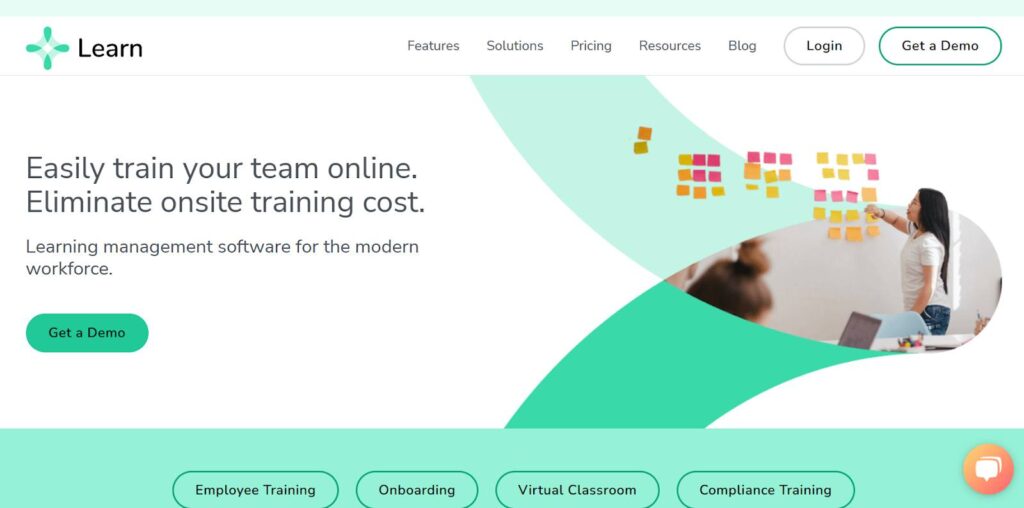 Trakstar Learn (formerly Mindflash) is purpose-built to help users develop better training systems. It can be your best partner for attracting, engaging, and retaining top talent. The LMS is SCORM-compliant and intuitive. It comes with responsive service and little to no downtime.
The LMS uses up-to-date online learning tools and processes, making it suitable for modern learners. All the products by Trakstar, including the LMS, are built around the idea of helping companies hire the right people, effectively communicate expectations, and develop talent.
As the industry's leading talent development platform, Trakstar Learn works together with three other complementary products. This makes it easy for users to hire people, train them, manage their performance, and conduct analytics.
Features:
Course Creation
Build multimedia and game-based training content. The LMS makes it easy for instructors to create courses and for learners to take them. It is compatible with other course creation systems.
Quizzes & Assessments
Ensure every training information is well received by your learners. Add fun quizzes and assessments to engage them and evaluate their understanding.
Onboarding
Set the tone for role-based learning by automatically enrolling new hires, setting clear expectations, and encouraging growth and development within your organization.
Adaptable Training
Use a single LMS to train your workforce on safety & compliance, products, and industry skills. The platform caters to different industries, including enterprises, government, higher education, and retail.
Reporting
Get real-time updates on your learners' progress, compliance, and success. Improve the efficacy of your programs by upgrading them based on the insights.
Why We Picked Trakstar Learn:
+ Clean interface
+ Content management
+ Historical training records
Pricing:
Get in touch with the company for a quote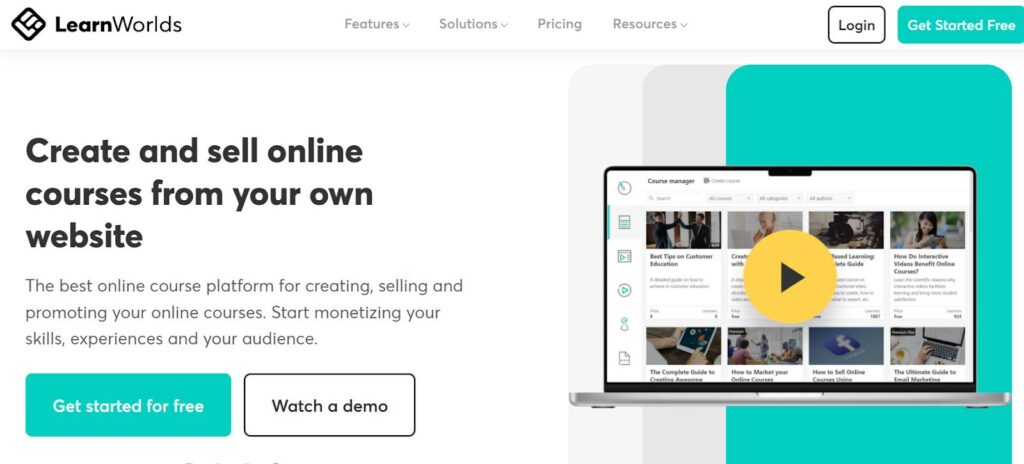 LearnWorlds is an intuitive and lightweight learning management system that you use to create and monetize online courses. It is one of the best solutions for crafting online learning experiences, including onboarding, formal training, and continuing education.
It is another award-winning LMS that provides everything a user needs in one place, including connection to tools that they regularly use. Its drag and drop block-based builder lets you create high-converting websites and landing pages. For this, it offers hundreds of templates.
LearnWorlds caters to more than 4,500 organizations in five continents by providing training solutions for employees, customers, and partners. They use the tool to deliver fully online, hybrid, and social learning.
Features:
Course Creation
Create awesome online courses and add videos, audio, eBooks, assignments, quizzes, and more. The LMS comes with a customizable course player to make course-taking easy. You can include pathways, drip feeding, highlights, and note-taking.
Site Builder
Build an amazing eLearning website by choosing from hundreds of ready-made and customizable templates. No coding or design skills are required.
Mobile App Builder
Build your mobile app for Android and iOS with an intuitive app builder and personalize the look with branding. Add and edit the mobile app's content in any language you want.
Custom User Roles
Assign roles and permissions to team members. Create instructors, admins, and other user types. Let them manage courses and projects effectively.
Reports & Insights
Make data-driven decisions by accessing the LMS' Reports Center, where you will find advanced data visualizations. Know how your learners interact with your training courses, and optimize your business.
Why We Picked LearnWorlds:
+ Accessible and stable site
+ Full control over customization
+ Course player
Pricing:
Starts from $24/month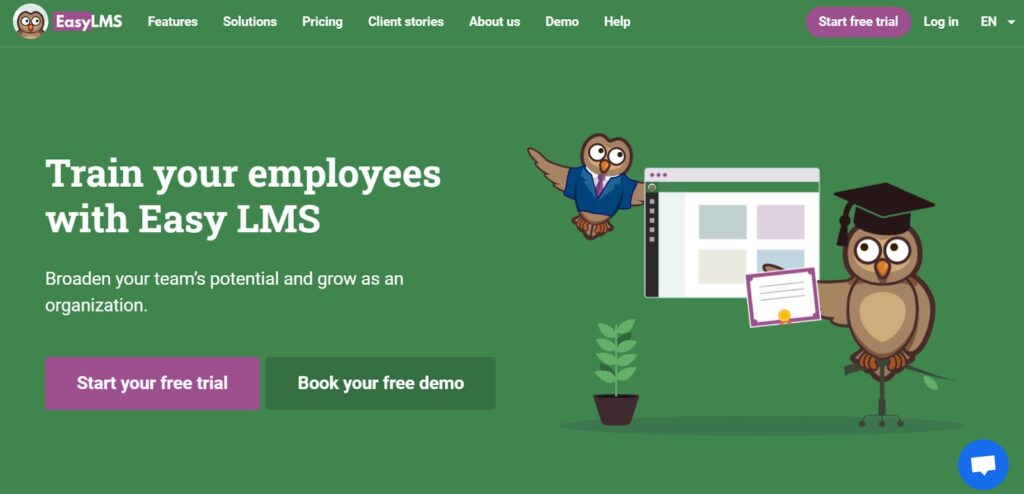 Easy LMS is a simple and fully-fledged LMS with powerful features. It serves as one platform for all training needs. The tool is time-saving and cost-effective and it has been optimized for easy course creation and management, onboarding, continued education, and certifications.
The LMS lets users create a custom Academy and provides employees with a centralized location to access all training materials.
Designed to provide a happy learning experience, Easy LMS enables you to train your employees and help them reach their full potential. This makes it an easy, effective, and the best LMS for small businesses.
The LMS platform is affordable, accessible, and fun at the same time. It stimulates the passion for learning in participants and makes learning in any scenario and for any team truly enjoyable.
Features:
Courses & Assessments
Build unlimited courses and add assessments to upskill your staff. Use different types of media and set up automatic certification. Set a minimum time on each course content to ensure learners don't miss any of them.
Multilingual Support
Train your geographically distributed employees in any language they want. Easy LMS supports 24 different languages, including English, Spanish, French, and Chinese.
Learning Paths
Let your learners follow a preset learning order with well-defined learning paths. Structure your training programs and guide your employees through their journey.
Software Integrations
Leverage multiple integration options and make your life easier. Easy LMS is available in Zapier and it connects with your favorite applications.
Tracking & Reporting
Track your learners' progress, identify knowledge gaps, and improve your training materials. Filter and analyze selected learning data. Share training results with other systems via webhooks.
Why We Picked Easy LMS:
+ Easy to use
+ All features in one solution
+ Easily integrated with existing tools
Pricing:
Starts at $50/month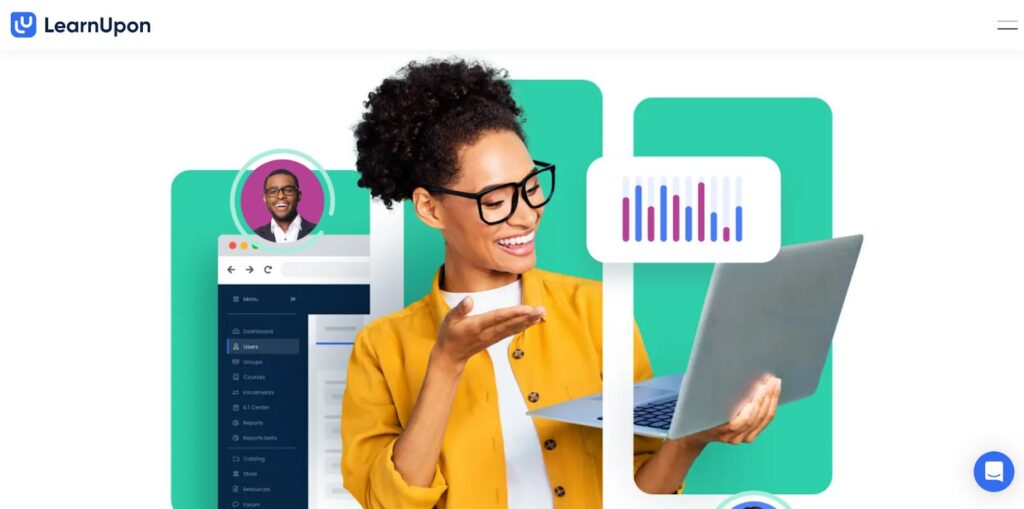 LearnUpon is one of the best LMS platforms to create, manage, share, and measure training for the success of employees and other stakeholders. You can use this solution to deliver exceptional experiences across audiences. It lets you adopt a strategic and consistent approach to learning that grows your business over time.
Whether it is the setup or implementation, LearnUpon's Customer Success team, with industry-leading expertise, provides assistance so that you can maximize your training's impact. Its customer-first approach is focused on building the LMs features you need to succeed.
Deliver large-scale corporate training using simple, engaging learning ideas and global 24/7 support.
The LMS helps Fortune 100 companies and growing SMBs revolutionize workplace training. LearnUpon makes this possible by providing a learning platform that is not necessarily easy but is the best.
Features:
Course Creation
Design online training in a format that is ideal for your learners. Add SCORM files, videos, and docs. Mix and match course content based on your choice.
User Management
Easily manage users according to your team structure. Automate enrollments and create users manually or bulk upload. Organize users sharing common attributes, and show only relevant content to them.
Webinars
Connect the LMS to a webinar tool of your choice. LearnUpon integrates with Zoom, GoToWebinar, Adobe Connect, and other popular tools.
Integrations
Link LearnUpon with your business tools so learning and learner data flows seamlessly and tasks are automated. A robust API lets you connect it with the tools you already use.
Reporting
Leverage out-of-the-box and comprehensive reports. You can schedule and share them with anyone in their inbox. Get the bigger picture of your online training programs.
Why We Picked LearnUpon:
+ Easy and reliable
+ User-based customization
+ Webinars
Pricing:
Get in touch with the company for a quote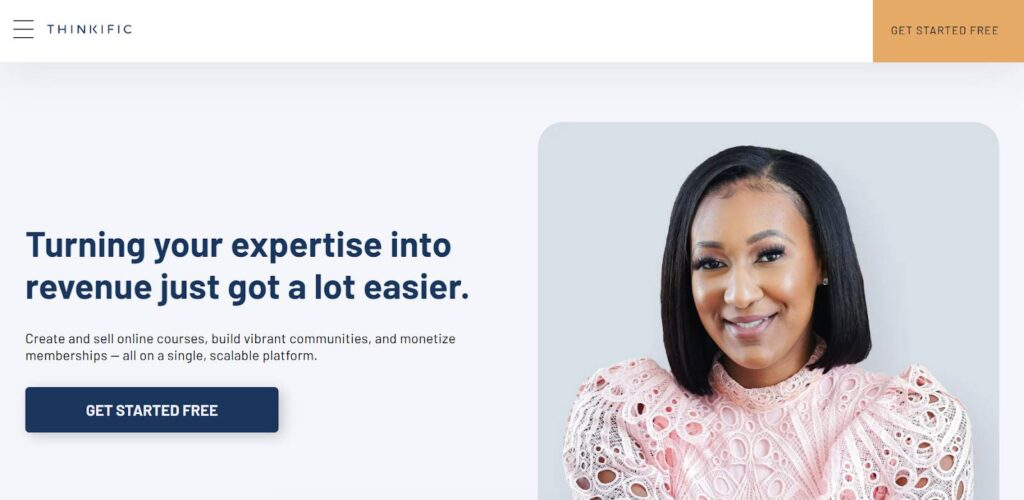 Thinkific is an LMS platform where you can create, market, deliver, and sell online courses. Its mission is to revolutionize the way people learn and earn online. For this, it provides them the tools they need to turn their expertise into a sustainable business.
The LMS is easy to set up and it gives users complete control over their content and data. Similarly, the tool is easily customizable to match your brand requirements. Its #1 rated support team helps customers every step of the way through inspiration, motivation, and coaching.
Engage your employees from the start by creating unique experiences. Use thoughtfully designed learning initiatives that support their growth and development. Build and deliver strategic and consistent onboarding and ongoing training to equip your team with the skills they need.
Features:
Course Builder
Create online courses easily and quickly using templates and drag-and-drop editing tools. No coding needed. Include self-paced multimedia and live lessons.
Course Website
Easily market your eLearning products through a course website. Use custom domains and customizable website themes. You can also add a homepage, instruction bio page, sales page, and testimonials page.
Learning Community
Add more value to your learning & development initiatives by creating a community of learners. It can serve as an online forum where they can connect and interact productively.
Multiple Environments
Build multiple eLearning environments with multiple site admins, course admins, instructors, and group analysts. Overcome the feeling of restriction that attends a single learning environment.
Reporting
Track employee engagement, progress, and course completion rates with in-depth reports. Gain insights into your learners' performance and their impact on your business to make sound decisions.
Why We Picked Thinkific:
+ Ease of navigation
+ Course templates
+ Quick & responsive support
Pricing:
Starts from $0/month (Limited to just one course)
How to Choose the Best LMS Software
There are some best practices for choosing the right LMS for your needs. Go through the following proven steps:
First things first. Identify your audience and their learning needs
Define the features you want to see in the tool based on it
Explore the market to select top vendors
Make a shortlist of a couple of them
Request a demo and a free trial with all of them
Choose the one that can meet your specific requirements
No matter which LMS you finally choose for your organization, make sure it meets the following criteria. This is because regardless of your training type, class size, and learners' skill level, these attributes will always prove handy.
Ease to use
A high degree of customization
Versatile enough to fit into any program
Out-of-the-box courses & templates
Works across devices
Easily scalable
Secure and reliable
Responsive customer service
Watch : How to Choose the Best SaaS LMS Software
Frequently Asked Questions
What are top learning management system examples?
Some of the top learning management systems that you'll find are ProProfs LMS, Moodle, Docebo, Canvas, Blackboard Learn and Cypher Learning LMS, to name a few. There are many other LMSs to choose from. However, as per the latest trends, these LMSs are considered to be among the best ones in terms of pricing, ease of use, and capabilities. You can review these LMSs and choose the best one that suits your learning needs.
What is an LMS for schools?
An LMS (Learning Management System) for schools is a software platform designed for creating, managing, sharing, and tracking online courses, tests, lessons, exams, materials and other educational activities within an educational institution. An LMS for schools typically includes features such as assignments, evaluations, collaborations, and other activities.
It serves as a centralized hub for teachers, students, and administrators to access and interact with digital learning materials, assignments, assessments, and communication tools.
Start Training Better With the Best LMS Software!
Whether you need to train your employees, customers, or partners, the best learning management system can be invaluable to your training toolbox. The best thing about these platforms is that they serve as a one-stop solution for an entire learning lifecycle. You can create, design, administer, track, and analyze your training initiatives.
The LMS software discussed in this post is among the top-rated, so it should make it to your shortlist. They support easy course creation, multiple admins, different eLearning formats, reporting, and other compelling features. By adopting them, you'll be signing up for online learning success.
To land the best one, understand your audience and their learning needs, including their technical proficiency. Based on this, you can do a feature and price comparison.
Also, all the best LMS software offers a free trial. So, make sure to use it to arrive at a better software decision.
Do you want a free Training Software?
We have the #1 Online Training Software for employee training & assessment