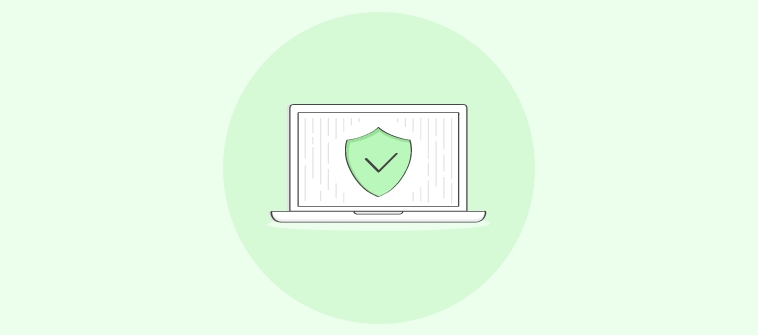 Behind every impactful learning experience, there is an instructional designer and the instructional design software they use. Regardless of your experience level as an instructional designer, you need one of these solutions to simplify your job, gain more control, and design effective learning experiences for your audience.
These tools enable you to plan, design, create, implement, and evaluate instructional materials for maximum engagement. Whether you plan to build personalized learning, on-demand microlearning, presentations, or video lessons, you can do all this and more with solid eLearning authoring tools.
This post presents some of the best instructional design tools out there so you can find a tool that'll let you successfully create great learning experiences. Keep reading to find out more.
A Quick Comparison Table of the Best Instructional Design Software Tools
15 Best Instructional Design Software Tools
Why Is It Best?
Pricing
ProProfs Training Maker
Easy to use

eLearning authoring tool

Quizzes & assessments

Videos & voiceover

White-label & branding

Real-time reports

Forever free for up to 10 learners.Paid plan starts at $1.97/active learner/month for large teams. Billed annually.
Adapt
Free & easy

Authoring tool

HTML5 content

Award-winning developer framework

Responsive eLearning

Community

Free
Articulate 360
Creator tools

Course assets

Templates

Support from experts

Project review app

Videos & webinars

Starts at $499
Adobe Captivate
Intuitive UI

Asset store

Ready-to-go slides

Fluid boxes

Studio-quality videos

Text to speech

Available on contact.
Lectora
Fast & powerful

Rapid modular development

Design frameworks

Wireframe temples

Themes & style packs

Collaborative authoring

Starts at $899/year
Whatfix
Intuitive interface

No coding needed

Works across all browsers

Content customization

Content aggregation

Content management

Quote available on contact.
Camtasia
Screen recorder

Video editor

Video templates

Themes, shortcuts, presets

100+ transition effects

Audio & music

Starts at $299/user
Gomo
Simple to use

Collaborative working

HTML5 & web technologies

Multilingual & localization

Theme libraries

Secure hosting

Available on contact.
Brainshark
Mobile-friendly

Video-based content

PPTs & screen recordings

Interactive surveys & polls

Scorecards

ISO 27001 certified

Available on contact.
EdApp
Easy-to-use templates

PowerPoint conversion

SCORM upload

AI translation

Media library

Course Library

Starts at $0
Elucidat
40+ years' experience

Powerful authoring tool

Fully compatible

In-app support

Styles for branding

Serious data protection

Available on request.
dominKnow
Cloud authoring tool

Asset library

Supports multiple formats

Responsive & adaptive

Real-time collaboration

Translation & localization

Starts at $997/author/year
Evolve
HTML5 eLearning content

SCORM 1.2 & offline courses

Powerful building blocks

Quick deployment

Review & comment

Simulations

Available on contact.
RoboHelp
HTML5 & CSS3

Microcontent

Document version control

Seamless content reviews

Auto-translation

Multiformat publishing

Available on request.
Vyond
Easy & fun

Animated videos

Animated GIFs

Template library

Collaborate tools

Secure environment

Starts at $49/month.
What Is Instructional Design Software?
Instructional design software is a software application that instructional designers use to create eLearning content. It may be in any format such as texts, podcasts, presentations, videos, eBooks, games, and others.
These tools generally have all the necessary features and assets to help users create high-quality online learning and training content. In this sense, they can also be referred to as learning experience design tools.
Importance of Instructional Design Software
Instructional design software can help users in several ways. When used to author instructional materials, these platforms help you:

create a better learner experience

communicate information and ideas more effectively

ensure higher knowledge retention through greater engagement

keep learners motivated

ensure a high course completion rate

save development time and costs
How to Choose the Right Instructional Design Tool
Keep the following attributes in mind while choosing an instructional design tool:
Easy to use

Flexible and versatile

Supports multiple users

Ease of content update

Media and course library

Screen recording & sharing

Learning management system (LMS)

Collaboration & review tools

Multi-language support

Course & template library
Top 15 Instructional Design Software Tools

Let's now take a closer look at the top 15 software applications to learn why they make it to our list.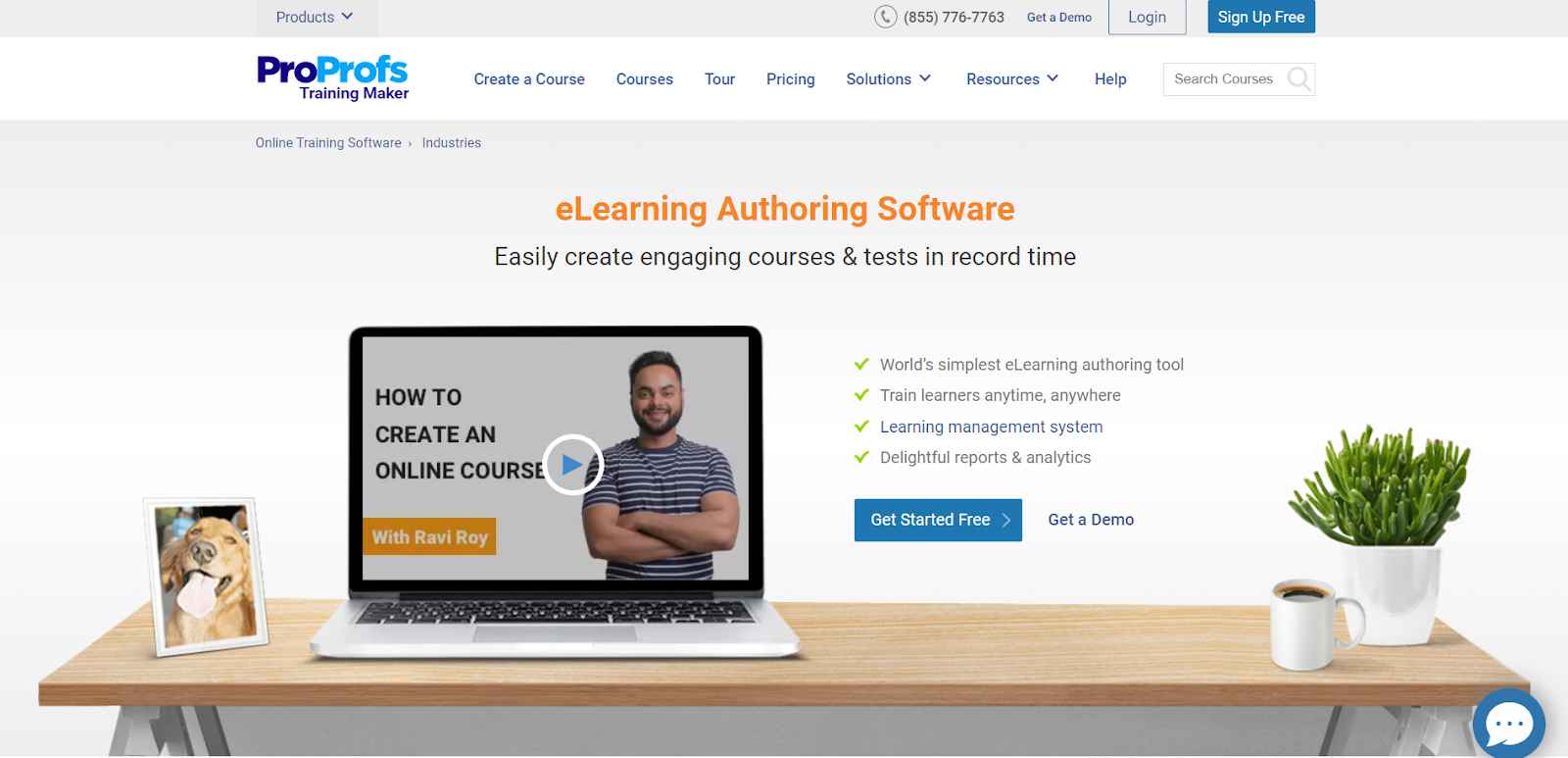 ProProfs Training Maker is the world's easiest learning management system with an equally intuitive and built-in eLearning authoring tool. It covers all the bases for all your instructional design needs. You can easily create custom online courses, lessons, and tests in minutes and roll them out quickly.
Add images, docs, videos, quizzes, audio files, and presentations to deliver an engaging learning experience. The LMS makes it easy to share and manage the eLearning content you create. It also supports gamification, English, Spanish & 70+ other languages, and 100+ customization options.
A real-time collaboration tool, it makes things easy for stakeholders to brainstorm their instructional materials. There's also a library of courses and templates to help you get started quickly.
Along with this, ProProfs offers custom course development services from expert instructional designers for easy and cost-effective eLearning content development.
Features
Accelerate eLearning development with a user-friendly and robust authoring tool. Easily create and update content. Deliver learning tailored to meet different learning styles and preferences.
Access a regularly updated library of 100+ professionally designed, customizable, and ready-to-use courses and templates. Save time and labor you'd otherwise invest in developing content from scratch.
Keep your learners engaged and motivated by using beautifully crafted online quizzes and surveys. Add them to your courses and lessons to assess learners and collect feedback.
Gamify your instructional materials by incorporating game elements such as challenges (learning objectives), levels (learning paths), multiple players (learner collaboration), and scores (completion certification).
Expert Instructional Designers
Rely on the knowledge of professional instructional designers for training course development. They plan, analyze, design, develop, test, and implement eLearning content for you.
Get actionable reports on who took your course and when, engagement level, gaps, and satisfaction ratings. Make data-driven decisions.
Pros
+ It's easy to use
+ Ready courses & templates to get started
+ Excellent support
Pricing
Forever free plan (up to 10 learners). Paid plan starts at $1.97/learner/month (billed annually) for large teams. No hidden charges. 15-day money-back guarantee.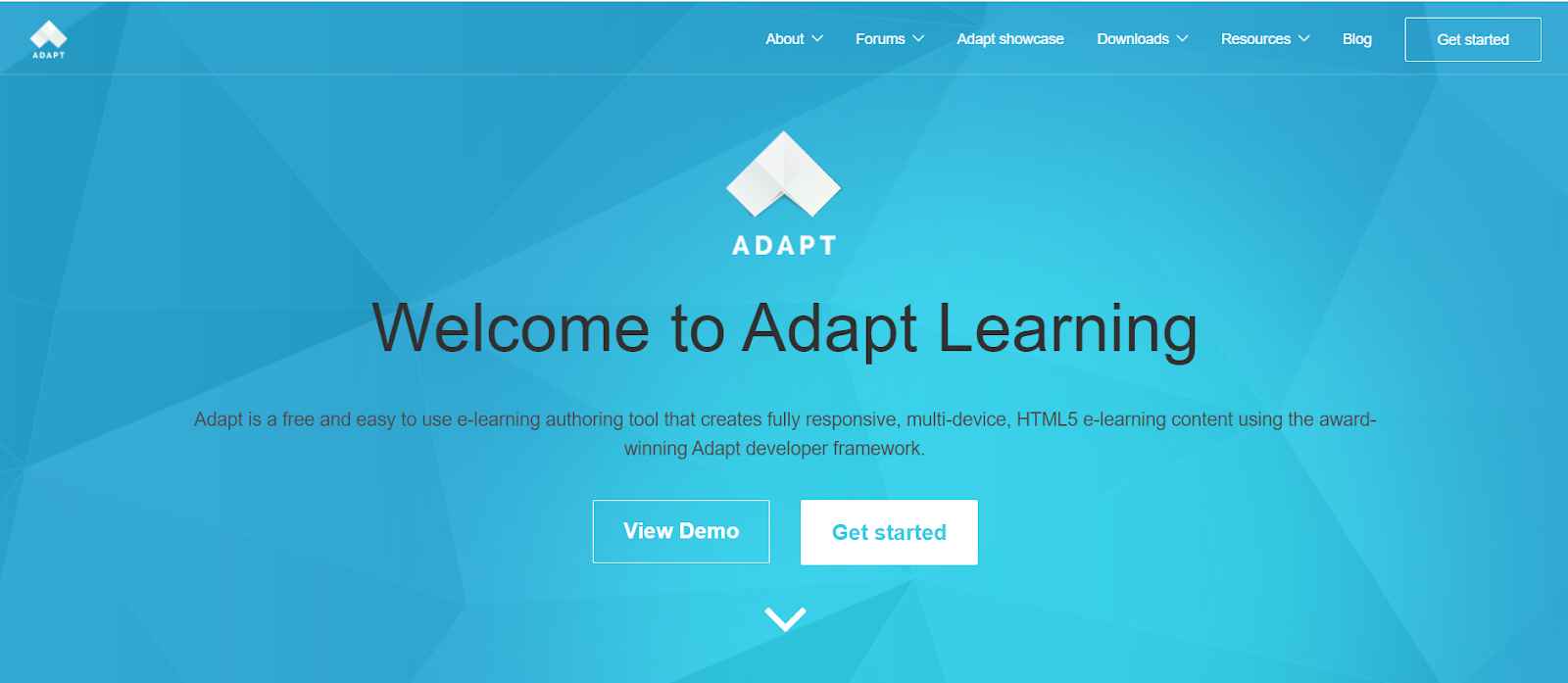 Adapt is an open-source, free, and easy-to-use eLearning authoring software tool. Its award-winning developer framework lets you create fully responsive and multi-device content based on HTML5. All you need to do is create an account, log in, create courses, add interactive elements, preview, and publish them. No need for a programming language.
This open-source project is driven by community forums for technical discussions where you can ask questions, make suggestions, and leave comments.
The courses you create with this instructional design authoring tool offer a webpage-like experience in terms of navigation and vertical scrolling. The tool also offers great flexibility to course creators for custom designing courses without the restrictions of fixed templates.
Features
It is based on the Adapt Framework and allows users to build online content quickly. Get started by simply creating an account, after which you can build courses and publish them.
Adapt supports the markup language HTML5 and the courses it creates work on any device, with an optimized viewing experience.
HTML5-based Adapt offers an extensible eLearning design framework for developers. The courses created using this framework can be delivered via a SCORM-compliant LMS or a web server.
Adapt provides more than 200 plugins for its framework in the form of extensions, components, menus, and themes. These include plugins for SCORM tracking, MCQs, sliders, footers, etc.
The highly configurable nature of the tool enables users to easily set up styles for layouts and functionality.
Its mobile-first design gives users the ability to scroll on their mobile to view content on a single page, thereby giving a continuous visual flow.
Pros
+ Free
+ Simple interface
+ Supports Windows & Mac
Pricing: Free
Articulate 360 is one of the most popular tools for instructional design. It offers award-winning creator tools with millions of assets. You can use its course templates to build training programs on hundreds of topics ranging from onboarding to compliance. Articulate 360 makes it easy to add quizzes and interactive activities to keep your learners engaged.
Its project review app enables stakeholders to view courses and provide feedback in a web browser without any software download.
On-demand videos and webinars hosted by the
industry's leading experts help you
grow your course creation skills and master them.
Features
Create beautiful and responsive content once and deliver it across devices using this fully web-based authoring tool. Save your course development time with 1,000+ pre-built courses, lessons, and templates.
Access 9+ million course assets, including templates, characters, videos, and icons. Get your instructional design work started quickly with all the resources you need in one place.
Leverage stakeholder reviews and get approval on your instructional materials faster. Let them review and provide feedback on courses using the app. Keep everyone on the same page.
Watch exclusive videos and attend webinars led by eLearning gurus. Get the training you need on the topics you want and get productive quickly.
Create and publish your instructional content in Storyline 360. The content automatically plays well on any device. The tool is intuitive and integrates seamlessly with Content Library 360.
Screen-recording app Peek 360 is included with the Articulate 360 subscription. This app is intuitive, fast, and compatible with Windows and Mac.
Pros
+ Free
+ Easy even for beginners
+ Community support
Pricing: Starts at $499.
This is another well-known authoring tool you can use as instructional design software. All-new Quick Start Projects, ready-to-use slides, and out-of-the-box interactive elements allow users to create beautiful and mobile-ready courses in minutes.
Convert your PowerPoint presentations to interactive videos. Add questions as video overlays for knowledge check.
You can record your on-screen content and webcam to create screencasts. Enhance the learning experience by adding interactive quizzes that learners can take after completing a module.
There is a library featuring 75,000+ free eLearning assets, including royalty-free images, themes, characters, audio, videos, interactions, buttons, and much more.
Features
Kick-start your instructional design projects in minutes with interactive slides for designing the menu, layout, introduction, objectives, scenarios, interactions, and quizzes.
Automatically align objects so that learners always enjoy a responsive experience regardless of their device or browser. Easily customize and control your Fluid Boxes.
Use automatic voiceover to change text into high-quality speech. Keep your learners tuned in to your eLearning content.
Scalable Vector Graphic (SVG) images scale across devices and sizes without distortion in quality. Automatically add images to the library so that you can reuse them across projects.
Remove the guesswork from your instructional design work. Get a preview of how your content will show on specific devices by selecting a preset device menu.
Record your own videos or import YouTube or Vimeo videos. Add overlays at selected points on a video.
Pros
+ Ease to use
+ Interactivity
+ Great control
Pricing: Available on contact.

Lectora is based on rapid modular development. It comes with pre-built course logic, mobile-ready themes, and wireframe templates. Develop a responsive course once and publish it anywhere. Let your learning come to life with interactivity. Engage in collaborative authoring.
You can enhance the quality of your courses with icons, cut-out characters, stock images, videos, and more.
Offer the most effective training to your audience and create a better experience for them by leveraging the software's built-in accessibility settings. Lectora is compliant with Section 508 and WCAG 2.0.
The solution supports seven languages and XML Localization Interchange File Format (XLIFF).
Features

Design and create custom eLearning courses with Lectora's help. Get services for needs analysis, experienced designers, technology use, and more.
With ReviewLink, you can make do with fewer revisions and get approvals faster. Subject-matter experts and stakeholders can easily add their comments to your courses.
Include knowledge checks, quizzes, branching navigation, and click-to-reveal interactions. Add animation and event-based triggers for maximum engagement.
Build pedagogically sound and beautiful eLearning programs using all-new project templates, including course frameworks, themes, and style packs.
Multilingual & Translation
Lectora supports seven languages – English, French, German, Spanish, Chinese (Mandarin), Swedish, and Brazilian Portuguese. In addition, XLIFF lets you save time in exporting and importing translation files.
Easily create simulations and scenario-based exercises using the BranchTrack app. Build a realistic environment where your learners can experience situations they would face at work.
Pros
+ Easy to use
+ Flexibility
+ Reasonable pricing
Pricing: Starts at $899/year.
Whatfix is a leading digital adoption platform that helps businesses adopt and scale with emerging technologies. Towards this end, it delivers software onboarding, training, and support through in-app and contextual content. The in-app guidance trains users in the actual environment of a software application.
The tool lets you create engaging content in any format without any coding experience. Its content creation functionality is characterized by an intuitive interface and advanced content customization options. It is compatible with all popular browsers.
Whatfix promises an 84% reduction in training content creation costs and a 30% reduction in knowledge discovery time.
Features
Quickly create engaging, interactive, and helpful in-app content to provide guidance and support for applications. No need for code or an IT team.
Use the content aggregation engine to contextually present relevant and up-to-date content in the moment of need. Automatically curate content from different sources, showcase them, and provide access across all connected apps.
Reduce your content management effort with the content management solution. Automatically display new updates and simplify content versioning.
Offer step-by-step guidance and train software users in real-time. Increase the utilization of key software features. Understand and optimize user experience for best results.
Provide contextual support on demand and improve the proficiency of your software users. You can personalize support based on user roles and reduce the workload of your support team.
Get feedback from users on their in-app experiences and your Help content. Leverage real-time data to identify issues and provide a seamless experience.
Pros
+ Ease of content creation
+ Multilingual guides
+ Good support
Pricing: Quote available on contact.

Camtasia by TechSmith is a popular instructional design tool for creating training videos, screencasts, software demos, and tutorials. It can be a great option if you're into developing primarily video content for eLearning. You can use the tool for screen recording, quizzes, surveys, captions, music, narration, and annotations. It is backed by powerful editing capabilities.
Camtasia is quick to get started. You don't need excellent video editing skills or a huge budget. Simply use a video template and custom theme. The tool supports SCORM, Windows, and iOS apps.
PowerPoint integration enables users to turn presentations into a video. Transitions, media import/export, and pre-built assets are other offerings from the solution.
Features
As an all-in-one screen recorder, Camtasia lets users record anything on a screen – websites, software, video calls, or presentations – as well as choose an entire screen or a specific area, and then add transitions & effects.
Use the solution's video templates to start creating the videos you want. Create a branded design by adding your own themes that present a consistent look and feel.
Choose from 100+ transitions to use between scenes. Improve the flow of your videos with slides. You can also add royalty-free music and sound effects.
Pre-built assets let you build custom videos and add a professional touch to them. Leverage a collection of animated backgrounds, motion graphics, icons, and music tracks.
A simple drag-and-drop video editor simplifies how you add, remove, trim, or move sections around. Build the best version of your software tutorials.
Get instant access to tools and effects that you often use. Save your custom styles and design configurations for frequent use.
Pros
+ Easy video editing
+ Useful assets
+ Great support
Pricing: Starts at $299/user.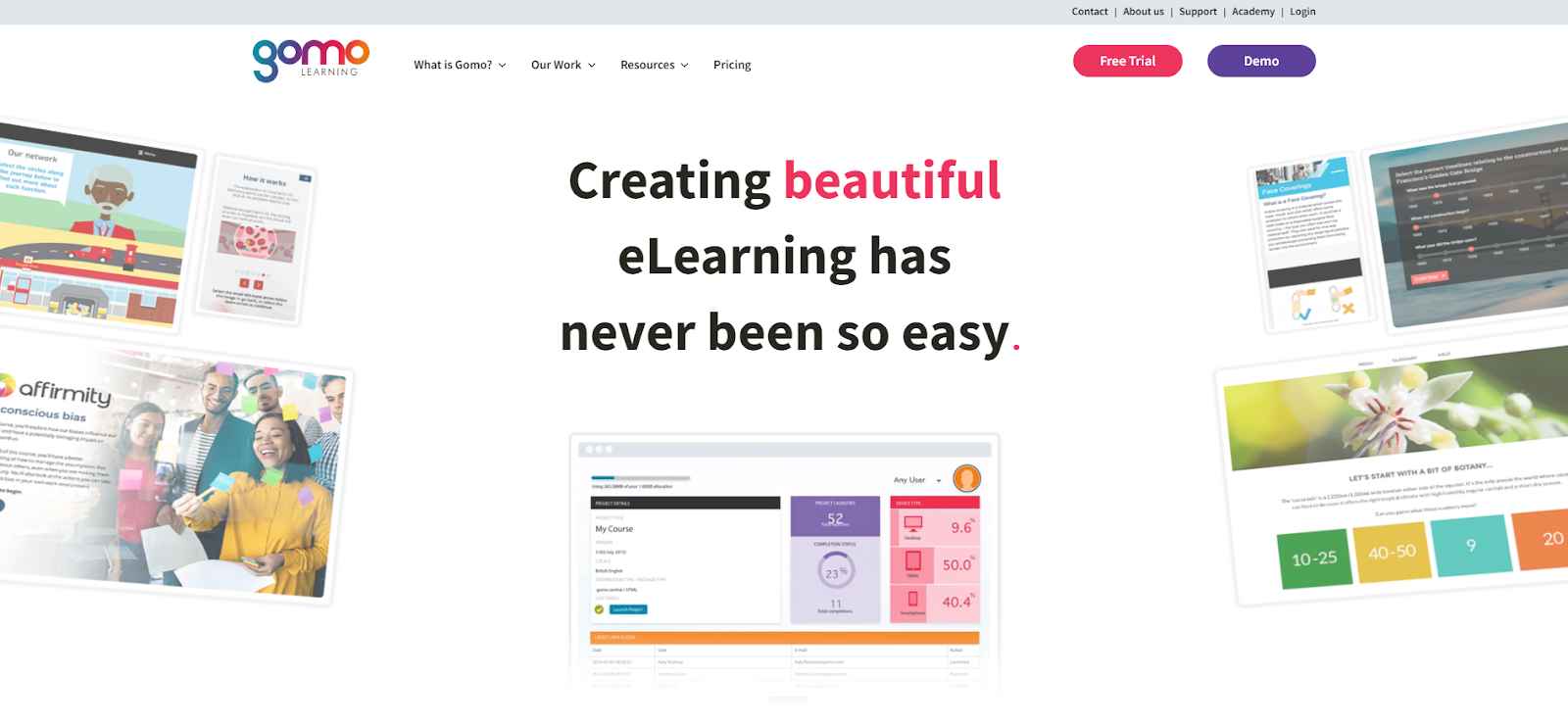 Gomo is a simple eLearning authoring tool with advanced features for designers. It supports collaborative work, quick updates, and easy distribution of content. You can create courses based on HTML5 and the latest web technologies. These courses work effortlessly across devices.
Options for language selection and localization enable users to teach and train a global network of learners. Add to this the ability to create visually stunning courses that your learners will love.
As Gomo is cloud-based, you can simply log in via any web browser to create, review, and share online course content.
Features
Use a responsive eLearning authoring tool to easily create great-looking courses that work on any screen size, device, and orientation.
Access a library of preset themes to give your eLearning programs a consistent look and feel. No matter which course you're creating, it is easy to build on-brand and smart-looking courses with Gomo.
Gomo provides a wide variety of pre-configured screen layout templates to save users' time. You can easily edit and customize the layouts to match your specific requirements.
The tool makes it easy to build branching scenarios into courses. Use a mix of display conditions and variables to track learners' decisions. Build eLearning journeys based on pathways.
Make instant content updates and deliver them at scale to a worldwide audience. Gomo takes the pain out of uploading, updating, and delivering eLearning content via an LMS.
Add knowledge checks to your course topics using a library of question interactions. Check your learners' understanding at the end of each chapter.
Pros
+ Easy to use
+ Offers a variety of templates
+ Customizable interactions
Pricing: Available on contact.

Brainshark is a platform for sales training and enablement to prepare client-facing teams for sales readiness. You can easily create, enrich, and update engaging eLearning content using this tool. Record yourself or your screen, add voice to PowerPoint presentations and share videos & slides.
Easily onboard and train your learners with just-in-time learning. Empower them with the knowledge, skills, and insights they need to perform at their best capacity.
Share mobile-friendly sales content during formal training and let your learners access and review them at any time. Get visibility into your sales teams' learning progress and performance by using various metrics. Diagnose knowledge gaps and rectify problems before they impact your team's performance.
Features
Leverage one of the best eLearning authoring tools with quality features and capabilities to create online content for sales enablement, readiness, and mastery.
Multiple Learning Options
Brainshark provides flexible learning options, including online courses and peer learning with its best-of-breed sales training technology.
Offer on-demand courses and learning paths for onboarding and training. Enable your sales reps to learn anytime, anywhere, regardless of the way they work.
Ensure your sales team has mastered key concepts through text and video-based coaching and practice sessions based on real selling scenarios. Assess and reinforce your messages.
Get visual insights into your team's progress, performance, and readiness. Automatically track your readiness programs based on different metrics.
Brainshark provides sales enablement solutions – from content management to onboarding and skills development. Keep your reps up-to-date with new products, market trends, internal processes, and more.
Pros
+ Easy content creation
+ Sales enablement
+ Tracking
Pricing: Available on contact.

EdApp is a mobile LMS with built-in and ready-to-use templates for building courses and enhancing them with videos, quizzes, games, and assessments. It also supports PowerPoint conversion and SCORM uploads so you can quickly put together beautiful online courses and train audiences. There's no need for instructional design or coding experience.
The solution acts as a platform for microlearning, spaced repetition, and reinforcement through quizzes. It offers a free and comprehensive course library to help users deliver the best training. Add to this a media library consisting of millions of images and videos.
Whether you deploy EdApp as a standalone LMS to create a continuous learning culture, or you use it to extend the capabilities of a traditional LMS, this mobile-first LMS can help you set the standard.
Features
The tool is simple and based upon immersive and fully interactive experiences. You can use it as an independent system or as a part of your existing solution. All you need to do is add your custom content, and you're all set. No need for a developer and coding.
Deliver micro lessons easily via push notifications. EdApp's microlearning software works on all devices. It also comes with advanced tracking and analytics.
Switch from yesteryear's PowerPoint slides over to EdApp. Simply upload your training slides and convert them into beautiful, mobile-friendly lessons.
EdApp partners with some of the world's leading brands and thought leaders to offer a free and editable library of world-class courseware. Select, rebrand, and customize any course.
Transform regular learning into a healthy competition. The built-in gamification in EdApp lets you give scores and prizes for best performance.
EdApp provides a cloud-based translation tool to translate courses into 100+ languages.
Pros
+ It improves with time
+ Secure to use
+ Good support
Pricing: Starts at $0. Unlimited users.

With Elucidat, you can build quality eLearning courses up to 4x faster. This makes the instructional design platform a great choice for enterprises looking to make a business impact quickly. It is compatible with Windows and Mac OS.
The software application offers an extensive library of templates, gamification, polls, and branching to enable users to create memorable interactive experiences.
Elucidat has dedicated teams and processes in place to help its customers succeed. It helps define your digital learning strategies and provides project-based coaching.
Its mission is to make business-critical training easy to produce while driving down costs.
Features
Use expert-designed templates to start your instructional design projects. These templates come with in-line guidance, a live example, and a downloadable storyboard.
Customizable Page Layouts
Create fully tailored page layouts with unlimited possibilities. The interface based on the WYSIWYG system makes it easy to create and save customized page templates.
User Management & Collaboration
Provide role-based access to your account to different users. Add, manage, and remove authors from an account. Review all resolved and open comments on a dedicated review page.
Set up formatting styles such as logos, fonts, colors, and icons. Create a unique and easily identifiable brand identity of your own.
Embed audio and videos into your courses. Personalize the content for each learner. Use page transitions and interactive polls.
Easily create eLearning content that is compliant with the section 508 accessibility standards.
The platform is committed to ensuring digital accessibility for people with disabilities.
Pros
+ Simple, user-friendly & easy on the eye
+ Easy to make edits and save
+ Collaboration tool
Pricing: Available on request.

dominKnow is a powerful cloud-based authoring tool with built-in simulation. It lets you easily create, share, collaborate, and reuse content faster by managing assets centrally. Use beautiful templates to create interactive eLearning content and customize it the way you want. You can publish the content as SCORM, xAPI, AICC, or Web.
dominKnow delivers immediate results for learning & development teams. It lets you easily create different types of formal and informal content for microlearning and performance support. Users save 50% of the time they spend on the review process and an equal reduction in the translation costs.
As one of the top instructional designer tools, dominKnow is a strategic partner of ATD Atlanta and a member of xAPI Down Under.
Features
The powerful authoring tool enables users to create almost any type of content accessible on any device. Easily get started with templates and customization options and create visually-stunning content.
The tool's responsive design, HTML5 output, and mobile app empower users to deliver any eLearning content on any device.
With dominKnow, you can stop working in silos and start working together with your team members and stakeholders. This means you can get your eLearning projects across the finish line quicker.
Translation & Localization
Simplify the process of translation and localization of your eLearning content. Clone any course and choose one of the pre-loaded languages. Export text for translation and import the translated version.
Easily publish and distribute your content. Create SCORM and AICC-compliant content and publish them in one click. The tool supports Package Exchange Notification Service (PENS).
Organize assets in a centralized location using a learning content management system. Create shareable and reusable content that you can easily update across versions.
Pros
+ Quick to build professional courses
+ Working in teams is easy
+ Responsive support
Pricing: Starts at $997/author/year.

Evolve by Intellum is the go-to content authoring tool for brands like Google, Pearson, WeWork, and Cotton On. The tool makes it easy to create online courses, educational experiences, and simulations that work seamlessly across all devices and browsers.
Publish content authored in Evolve directly to Intellum. No need to export and import files.
With Evolve, it becomes easy to align educational content with brand guidelines. Add logos, colors, fonts, and styles.
See all the changes you make to your instructional designs in the tool's powerful Live Preview. Every edit or update is reflected in real-time.
Features
Leverage a powerful authoring tool to create professional-looking and responsive HTML5 courses and simulations natively in the Intellum Platform. Build a course from scratch or use a template across different use cases.
Choose from diverse question interactions like multiple choice, matching, sorting, and drag & drop. Apply branching or content locking to quizzes, assessments, and assignments.
Add comments to any part of a course in real-time. Collaborate with your co-workers by providing instant feedback.
Whenever you upload images, Evolve ensures that they are optimized for your learners' devices. Update or replace an image and Evolve will correctly update it in every course.
Access 50 powerful building blocks called Evolve Interactions to easily combine sliders, tables, flow charts, carousels, and videos for an engaging experience.
If you're an eLearning development novice, don't worry. Evolve's resource hub has everything you possibly need to kick-start your instructional design journey.
Pros
+ User-friendly
+ Continuous improvement
+ Ease of content customization
Pricing: Available on contact.

RoboHelp by Adobe is next-gen authoring software for creating and publishing policies, knowledge base, and help for Windows and Mac. It is based on HTML5 and CSS3. You can use it to create micro-content, add rich media, and manage document versions with source control platforms.
The solution supports single-source publishing for any device, screen, and format. This powerful and future-ready platform enables instructional designers to work faster. Out-of-the-box online review solutions make content review cycles seamless.
You can easily import your existing content in Word or HTML into RoboHelp. Convert Markdown content to HTML topics.
Features
Create immersive online learning experiences with out-of-the-box authoring support for HTML5 and CSS3. Easily add images, audio, videos, text effects, and other effective elements.
Develop information-rich and modular micro-content snippets that you can leverage with search engines, social media platforms, and in-context help.
A minimalist yet powerful user interface enables users to work their way through the tool easily and fast. A lighter and faster system ultimately boosts productivity.
Easily import MS Word files into RoboHelp with optimized images and styles. You can also import HTML or Markdown content as HTML topics.
Leverage SVG support to import and use stunning visuals that look great across mobile, web, and print.
Collaborate and review your content with subject-matter experts by using a web-based review process. Easily import comments from reviewers into a RoboHelp topic or project as tracked changes.
Pros
+ Revamped UI
+ Easy content migration
+ Faster than other authoring software
Pricing: Available on request.

Vyond is a cloud-based animation software tool with a mission to put the power of videos in the hands of everyone regardless of their skill level. With Vyond Studio, you can build animated video courses, GIFs, and more.
A huge library of templates, sounds, props, and other multimedia content can make your job a lot easier.
You can use dialogues, lip-sync, and movements to create an immersive experience. The platform lets users create dynamic content for every occasion.
Active storytelling, content repurposing and customization, and visual communication can help you improve learning outcomes.
Features
Create dynamic videos for any eLearning situation. Produce custom characters, blend multiple styles, and add realistic movements, actions, and lip-sync. Simply import media to one of the pre-made templates.
Training & eLearning Videos
Elevate your content above PowerPoint presentations and PDF files with creative training & eLearning videos.
Use the effective storytelling method in your training programs with Vyond's eLearning videos. Allow your learners to learn through life-like characters.
Gain complete creative control over your eLearning videos. Create your unique content using characters, colors, movements, sound, and music for any situation. Add depth and drive engagement.
Enhance your existing content with videos and deliver blended learning. Import MP4 files into your learning management system and spice up what you've already got.
Vyond provides the highest data security and privacy standards. It is ISO/IEC 27001 certified and complies with GDPR and CCPA.
Pros
+ User friendly
+ Easily customizable templates
+ A variety of characters and props
Pricing: Starts at $49/month. Single user plan.
Choose the Best Instructional Design Software

Armed with these tools for instructional design, you can get started with eLearning development quickly. These offer ready-to-use templates, media files, brand controls, and other useful assets. This makes them a must-have solution to simplify and accelerate the process of designing instructional materials professionally.
It doesn't matter whether you are a novice or a seasoned instructional designer. The intuitive, flexible, and customizable nature of these platforms can help you get the job done like a pro.
If you're unsure which tool you should choose, take a free trial for a test drive or request a product demo with as many tools as possible. This way, you'll know which one you can adopt for your individual or team requirements.
Do you want a free Training Software?
We have the #1 Online Training Software for employee training & assessment